Is Genius Sports Limited The Bloomberg Of Sports Betting?
Summary
Genius has built a full suite of data, technology and software solutions to serve sports leagues, sports betting and sports media customers.
The company is growing rapidly, achieving 75% YoY revenue growth in 2021 and many of its customer agreements are multiple years in length. GENI's net revenue retention rate was 135%.
The company's business model is a differentiator and will be hard for others to replicate due to its ability to deliver data, transactions and content in sync in real-time globally.
Rapid growth, a vast product portfolio and recent acquisitions pose significant execution risks for the company.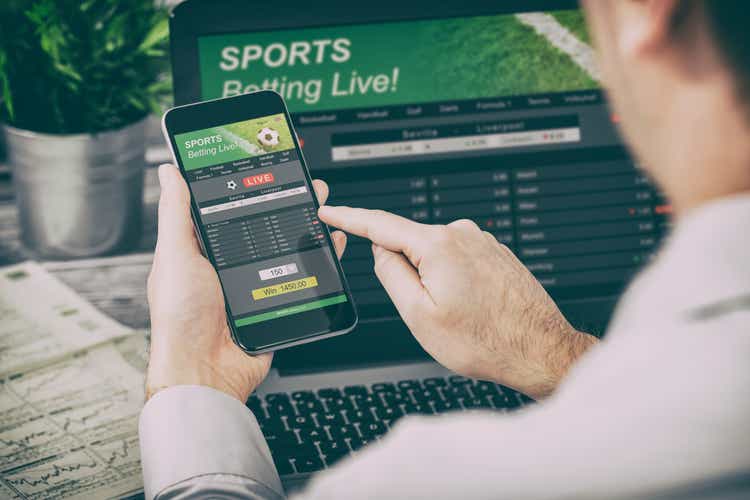 Introduction
Genius Sports Limited (NYSE:GENI) is a leading provider of technology and data solutions to sportsbooks, sports leagues and sports media companies around the world. Similar to Bloomberg in the financial world, the company's products, data and services sit in the middle of the global sports value chain. After going public via a SPAC transaction in 2021, the company's stock price has fallen from a high $25 per share to the mid $4 per share range today. Genius Sports has a powerful and full suite of technology solutions that are powering some of the largest sports industry corporate players around the world. Although the company is exhibiting positive operational momentum and benefitting from favorable industry conditions, several execution risks remain. If the company can execute its strategic growth plan, it's possible GENI could carve out a niche as a "mini-Bloomberg" in the sports industry.
Company Overview
Genius is a B2B provider of scalable, technology-driven sports, sports betting, and sports media products and services. Genius' objective is to be the official data, technology, and commercial partner that connects sports, betting, and media throughout the world. Genius' software spans the whole sports data journey, from apps that allow for accurate real-time data collecting to the generation and distribution of in-game betting odds and digital content that helps Genius' customers build engaging experiences for their end-users.
Genius provides technical infrastructure for sports leagues to collect, integrate, and distribute live data, which is critical to running a league's operations and developing income streams. Through worldwide bet monitoring technology, online and offline education initiatives, and advisory services such as integrity audits and investigations, Genius works alongside leagues to defend the integrity of their contests from the possibility of match-fixing. Genius' technology, content, and services enable sportsbook operators to outsource certain key, but resource-intensive operations required to run their business. This covers live sports data collection, oddsmaking, risk management, and athlete marketing. Genius also engages with sports media customers from both the gaming and non-gaming sectors to deliver a range of online marketing, advertising, and fan engagement tools that promote customer acquisition and retention for Sports Media (brands and digital publishers).
Investment Case
When looking at the investment thesis for GENI, there are several factors that are indicative of competitive advantages, the strength of the company's business model and potential for compounding returns. Starting with GENI's customer relationships, most of the company's contracts and agreements are multiyear commits (7-years on average) and leave room for significant upside potential. In many cases, as more of GENI's tech solutions are used and more sports bets flow thru the platform, the company will see increased revenue. Additionally, in its sports media segment, GENI's content widgets, programmatic ad solutions and gaming offerings also offer upside potential as more users access GENI's various offerings presenting further monetization opportunities. With long-term commits and several usage-based product models, the stage is set for revenue to continue growing in the coming years.
Another area core to the investment thesis is that GENI has built a complete end-to-end product suite to serve betting, league and media customers. With this end-to-end offering, GENI has the opportunity to build a revenue flywheel that will see growth for years to come. In fact, a recent company investor presentation highlighted a net revenue retention rate of 135%, showing that the company is having success expanding its relationships with customers.
Management also does not plan to stop with its current product and service portfolio. The company believes it has the ability to layer on additional services in the future, which should further enhance the flywheel effect. Leadership has noted that there are opportunities to add services thru both organic and inorganic means. Most recently, the company acquired Second Spectrum, FanHub, and Spirable to complement its existing core business.
Second Spectrum is an optical tracking solution that uses computer vision and machine learning to generate performance data, analytics, insights, and visualization solutions for major sports leagues such as the NBA, EPL, and NCAA that drove a significant portion of Sports Technology revenue in 2021. FanHub and Spirable provide Genius with additional capabilities that complement Genius's Media and Fan Engagement Platform. FanHub is a market leader in free to play games such as fantasy, trivia, and contests, which allow sports leagues, media companies, and sportsbooks to engage casual sports fans. Spirable is an automated content creation platform that uses live sports data and audience data to create, distribute, and optimize personalized video at scale.

Source: Company Annual Report
The company's difficult-to-replicate business model is also a core strength. GENI's ability to capture real-time stats, data, betting info and transactions are processes that are not easy to recreate. In the world of sports betting, data, content feeds, transactions and user inputs all need to be in-sync around the world and captured in real-time. Even the slightest differences can throw off the betting process and give certain users advantages over others. Building a tech stack to sync these processes is very complicated and difficult to replicate. Additionally, the company has setup a global data collection network with 7,000+ statisticians to capture sports data and information. It would not be easy for others to setup a similar network and capture verified data across 300,000+ events. GENI has also established itself as a leading and trusted provider of verified sports data. With millions of dollars and transactions bet daily, capturing secure and trusted data is critical to sports industry customers. GENI can be thought of like a Bloomberg within the sports industry. Although others may be able to capture data and information, customers don't want to have to go to multiple different sources which may or may not produce reliable real-time data.
Although my view is generally to be cautious about market/opportunity statistics, we would also note that the sports betting market is a large and growing industry. According to management, sports betting is a $49 billion industry today and will grow to $128 billion 2030. This offers a long runway for growth and while it's important to note that many of these dollars will flow to casinos, media companies and leagues, GENI is a partner to all of these groups which should help them capture market share. Further markets are also opening up in the sports gambling space. In the US, sports betting is only live and legal in about half of the 50 states today. According to the company, there's a similar story playing out in Europe -
Regions such as Europe also have several countries, such as Germany, that remain in the early stages of liberalization and proliferation of sports betting. H2 Gambling Capital expects Europe to generate an estimated $30 billion in GGR in 2026, increased from an estimated $20 billion in 2021. Europe remains a key market for Genius due to its large scale and relevance within the global sports betting industry.

Source: Company Annual Report
For the sports media segment, the company pegs the digital ad market at $60 billion. GENI may never be a leader in digital advertising compared to the Trade Desk or Google, but it only needs to capture a small share of the sports digital ad market for the revenue flywheel effect to start kicking in.
Lastly, before moving to investment risks, it's important to note that this is a founder-led company where insiders own more than 50% of the shares. Having more than tripled revenue since 2018, GENI has an experienced management team that appears poised to continue growing the business.
Investment Risks
Although the highlights above make a strong investment case for GENI, there are several areas of risk that could impact future results. Above, I discussed the company's full tech stack and broad suite of product offerings. While this has been a source of strength for the company to-date, it is also worth noting that GENI may be at risk of trying to "conquer" too many areas. Sports media, for example, is a difficult and competitive market. GENI's content and ad-tech solutions will be going up against both well established and high growth industry players. Investors will want to keep a close on GENI's expansion and ensure the company is not "spreading itself too thin" across products and markets.
For similar reasons, acquisition integration is another area of risk for GENI. The sports betting industry overall appears to be in land-grab mode right now and as mentioned above GENI has scooped up 3 companies recently at a total price of $250 million. For a company of GENI's size, these acquisitions might be a lot to digest. Additionally, these all bring more services which the company must effectively manage going forward. At this stage of its lifecycle, GENI is a company that comes with a fair amount of execution risk.
On the technology front, GENI is also heavily dependent on cloud services and infrastructure to support its services (AWS in particular). Any outages from its cloud partners would have downstream effects on GENI and its customers. Data privacy and security is also a risk for GENI. Not only do they have to ensure data is safeguarded and verified, but the company is subject to compliance risks (fines) from policies like the EU's GDPR and CCPA in the US.
COVID also presents a somewhat unique risk to GENI and its business model. Any further spikes in COVID which led to global shutdowns and cancellations of sporting events could temporarily drastically reduce revenues. At the moment, GENI has significant cash on the balance sheet to weather this type of storm, but the unpredictability of COVID is something for potential GENI investors to consider.
A final area of execution risk is that GENI's processes, services and systems need to continue to run in real-time in order to serve its customers. Any long-term disruptions to these processes and systems would have a material impact to GENI's business. Additionally, customers would likely lose some faith in the company in this scenario, which could materially impair revenue and earnings.
On the competitive front, GENI primarily competes with Sportradar (also recently public) and Stats-Perform Group. These 3 companies are the primary providers of data solutions to the sports market. As noted above, the tech, ad and app development areas are hypercompetitive.
Financials
Similar to the strategic investment case, the financials for GENI are a bit mixed. Since 2018, revenue has grown from $88M to $262M, including 75% year-over-year growth in 2021. The company has also posted 4 straight quarters of 50%+ revenue growth.
In the last 2 quarters of 2021, GENI was nowhere close to profitability, having a negative net margin of (63%) in Q4. However, it should be noted that the company had significant expenses associated with going public in both Q3 & Q4 and also ramped up sales investments and league partnerships late in the year. Much of these investments are one-time and the profitability picture for GENI should become much more clear in 2022.
At present, the company has $222M of cash on the balance sheet and about $10M of short term borrowings. GENI appears well positioned to weather any financial storms over the next year or 2.
Prior to going public, the company was operating cash flow positive and per Seeking Alpha data generated $191M of free cash flow last year, after adjusting for 1-time items. This is a very good indicator of the company's financial future, particularly as operations post public market debut begin to normalize.
Over the next 2 years, equity analysts are forecasting revenue to grow to $342M in 2022 and $437M in 2023. This represents 31% YoY growth this year and 28% growth next year. These projections could turn out to be conservative if the company is able to further implement its revenue flywheel. According to the consensus analyst projections, however, the company will not reach net profitability over the next 2 years.
Valuation & Recommendation
With earnings & profitability likely to be several years, valuing GENI from a price-to-sales approach is a reasonable starting point. With a current market cap of $860M and expected sales of $342M in 2022, GENI is trading at just 2.5x sales. Looking at next year's expected sales, the P/S ratio falls to 1.98x. Both of these multiples strike this author as a bit low given the growth profile of the business. For comparison, DraftKings (DKNG) trades at 6.0x sales. On the other hand, GAN Limited (GAN) is closer to 1.6x. Given the volatility in the Sports Betting sector right now, coupled with the fact that industry participants are at very different stages of their corporate lifecycles, it's hard to assign an industry-wide multiple. For GENI, given management's public commentary around revenue expectations, as well as the fact that the company has multiyear agreements in place with most customers, it's reasonable to expect 30% revenue growth annually over the next 3 years. If GENI hits this growth target, 2024 revenue would be close to $575M. Holding constant at today's P/S multiple would indicate that the business would be valued at $1.4 billion in 2024, a 67% total return for shareholders. While a 22% average annual return is certainly reasonable, this level of return doesn't warrant an immediate buy in my view given the execution risks associated with the business and general uncertainty around when GENI can reach net profitability. For this reason, I'm neutral on GENI and assigning a hold rating. If GENI's market cap falls another 10-15%, the stock would be in consideration as a buy, as potential investors could then expect closer to 30% average annual returns, which reasonably accounts for the risks discussed previously. Although there is much to like about GENI's business model, market positioning and future opportunities, further evidence of scaling is needed before a buy rating can be assigned. GENI is a stock to actively watch for the time being.
This article was written by
Corporate strategy and finance professional with an investing focus on long (3 - 5 year) opportunities. Primary sectors of expertise include technology, media, consumer products and industrial goods. Served as a strategy consultant for Internet of Things opportunities and as an investment banking M&A associate prior to joining the tech industry.
Analyst's Disclosure: I/we have no stock, option or similar derivative position in any of the companies mentioned, and no plans to initiate any such positions within the next 72 hours. I wrote this article myself, and it expresses my own opinions. I am not receiving compensation for it (other than from Seeking Alpha). I have no business relationship with any company whose stock is mentioned in this article.
Seeking Alpha's Disclosure: Past performance is no guarantee of future results. No recommendation or advice is being given as to whether any investment is suitable for a particular investor. Any views or opinions expressed above may not reflect those of Seeking Alpha as a whole. Seeking Alpha is not a licensed securities dealer, broker or US investment adviser or investment bank. Our analysts are third party authors that include both professional investors and individual investors who may not be licensed or certified by any institute or regulatory body.