Amylyx And ALS: Muddied Results
Summary
Problems with the trial design make it difficult to determine the effectiveness of Amylyx's AMX0035 against ALS.
AMX0035 combines two compounds - sodium phenylbutyrate and tauroursodeoxycholic acid - that inhibit and scavenge peroxynitrite. This may be the key to the treatment of several neurological diseases.
Compounds that are better inhibitors and scavengers may produce better results than AMX0035.
The FDA will likely follow their advisory board's recommendation not to approve AMX0035 based on one trial.
Amylyx's stock would then drop further. Phase 3 clinical trial results for ALS (and perhaps eventually for Alzheimer's disease) will likely determine the fate of the company.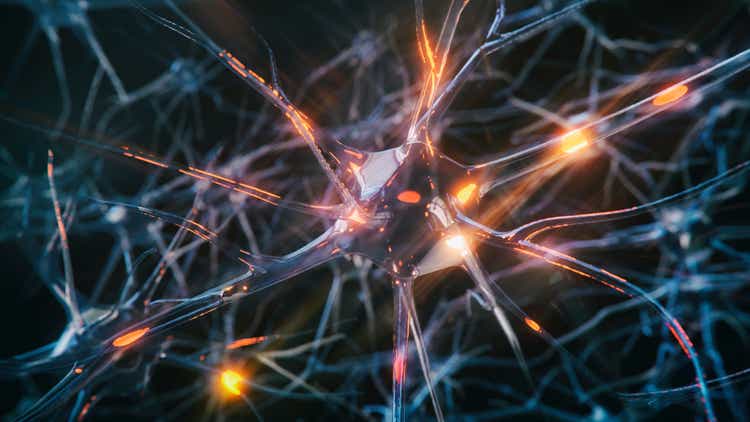 Oxidative stress mediated by nitric oxide (NO) and its toxic metabolite peroxynitrite has previously been associated with motor neuron degeneration in amyotrophic lateral sclerosis (ALS)… Motor neuron death was largely prevented by NOS inhibitors and peroxynitrite scavengers but not by trophic factors that otherwise will support motor neuron survival in the absence of astrocytes (source of quote).
Before examining the relevance of this quote for Amylyx's (NASDAQ:AMLX) AMX0035 and the results of their trial, I want to reemphasize that the combination of inducible nitric oxide synthase inhibitors (inducible nitric oxide combines with superoxide anions to form peroxynitrite) and peroxynitrite scavengers is likely the key to treating a series of neurological diseases including ALS, Alzheimer's disease, multiple sclerosis, Huntington's disease, Rett syndrome and other autism spectrum disorders, and Parkinson's disease (peroxynitrite in neurological diseases). AMX0035 is probably the best test of this hypothesis for ALS, but it produced middling results.
AMX0035 is a combination of sodium phenylbutyrate and taurursodiol/tauroursodeoxycholic acid (which is the taurine conjugate form of ursodeoxycholic acid). Sodium phenylbutyrate is an inhibitor of inducible nitric oxide synthase and taurine is a peroxynitrite scavenger, so if the quote above is correct, then AMX0035 should have had a significant impact on ALS.
The problem is that its impact was obscured by a number of trial problems. For instance, 14 out of the 89 people in the treatment group were on the ALS medications riluzole or edaravone whereas only two out of 48 in the placebo group were on these drugs. Another issue was that the drug only seemed to slow down the progression of ALS when the assumption is made that the disease progresses in a linear fashion. There was also the question of whether the discontinuation rate in the extension part of the trial affected survival rate statistics that seemed to favor the drug (analysis).
The FDA advisory panel voted 6-4 not to recommend approval of the drug based on this single trial. The FDA could always overrule the advisory panel's decision but this is not likely based on the assortment of concerns. Amylyx will probably have to hope for more definitive results in its phase 3 Phoenix trial. However, phase 3 clinical trials rarely if ever produce outcomes that are better than those from phase 2 clinical trials.
I don't like looking for explanations for why drug candidates did not work as well as expected, because in most cases it is just an effort to salvage a drug candidate or an approach that does not work well in the first place. Having said that, though, here is one comparison and a couple of possible explanations.
Taurine has been proposed as a treatment for a series of neurological conditions. Alzheon has a homotaurine drug candidate (ALZ-801/trampirosate) for Alzheimer's disease that slows down the progression of Alzheimer's disease in ApoE4 carriers but not for non-carriers (results). It will be interesting to see if Amylyx's drug produces similar results for Alzheimer's disease. If it does, it may draw into question the degree to which taurine can slow down neurodegenerative diseases.
Some studies indicate that taurine is an effective peroxynitrite scavenger and others not (study). Even if an effective peroxynitrite scavenger, there may also be problems with the transport of taurine in the brain in certain neurological conditions (taurine transport, possible disruption of transport). At this point at least, taurine and taurine-based drugs seem to make only a small dent in the progression of various "brain diseases."
Would other drugs or natural products that inhibit inducible nitric oxide synthase and scavenge peroxynitrite perform better than Amylyx? I have often cited the example of panax ginseng for Alzheimer's disease (trial), but there is also one very small study for panax ginseng delivered in conjunction with acupuncture for ALS:
After MGP (Mountain Ginseng Pharmocupuncture) treatment on three ALS patients, first case did not grow worse during MGP treated whereas she got worse rapidly during none treated periods. Second case did not grow worse during treated period and third case got worse in progress by slow degrees despite MGP treatment. Conclusions: Although MGP could not control the progress of ALS completely, MGP may help in improving of quality of life (QOL) in ALS patients and have the effect of delayed ALS progression (case study).
Using the same mechanism of action (i.e. inhibiting the production of inducible nitric oxide and the scavenging of peroxynitrite) Amylyx's AMX0035 may also inhibit the progression of ALS, but the extent to which it does so was obscured by a poor trial design. The company's stock may start to stabilize for a while until the FDA's decision. If that decision is negative, the stock will go down further until the results of its phase 3 clinical trial. Of course, I am more than somewhat biased when I say this, but Amylyx took exactly the right approach to treating ALS but not perhaps with the most effective compounds.
This article was written by
Retired history instructor. Alzheimer's disease researcher for the past decade.My goal is to give investors solid advice based on the mechanisms of action of Alzheimer's drugs.  This advice is informed by  a background in biology (conservation, ecology, evolution, environmental science, and biochemistry) and seventeen years of a very in depth review of the research on Alzheimer's disease.
Analyst's Disclosure: I/we have no stock, option or similar derivative position in any of the companies mentioned, and no plans to initiate any such positions within the next 72 hours. I wrote this article myself, and it expresses my own opinions. I am not receiving compensation for it (other than from Seeking Alpha). I have no business relationship with any company whose stock is mentioned in this article.
Seeking Alpha's Disclosure: Past performance is no guarantee of future results. No recommendation or advice is being given as to whether any investment is suitable for a particular investor. Any views or opinions expressed above may not reflect those of Seeking Alpha as a whole. Seeking Alpha is not a licensed securities dealer, broker or US investment adviser or investment bank. Our analysts are third party authors that include both professional investors and individual investors who may not be licensed or certified by any institute or regulatory body.