Week In Review: RemeGen Raises $410 Million In Shanghai IPO For mAb/Dual Therapies
Summary
RemeGen, a Yantai biotech with a deep portfolio of antibody and dual therapies, completed a $410 million IPO on the Shanghai Star Exchange.
Nanjing Biosion out-licensed global rights (ex-China) to Pyxis Oncology for an immunotherapy aimed at solid tumor cancers in a $226 million agreement.
A few more updates on major deals/financings and trials/approvals in China.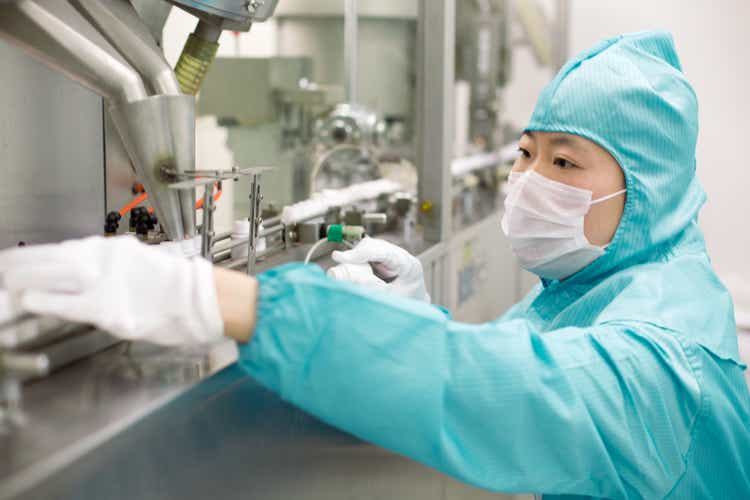 Deals and Financings
RemeGen (OTCPK:REGMF) (SHA: 688331; HK: 9995), a Yantai biotech with a deep portfolio of antibody and dual therapies, completed a $410 million IPO on the Shanghai Star Exchange (see story). Although the offering was heavily oversubscribed, the company's stock slipped 10% lower in the first two days of trading. Two years ago, RemeGen raised $515 million in a Hong Kong initial offering. Founded in 2008, the company is developing a portfolio of 20 novel mAbs, fusion proteins, antibody-drug conjugates and bifunctional antibodies. Two of its products are approved for use in China: telitacicept for lupus and disitamab vedotin for two HER2-related cancer indications.
Hasten Biopharmaceutic of Hefei City has closed a deal to acquire China distribution rights to five approved prescription diabetes and cardiovascular drugs from Japan's Takeda Pharma (see story). Hasten is funded by CBC Group, along with Hefei Industry Investment Group and Feidong County of Hefei City. The deal was originally announced last December with a value of $353 million. At the time, CBC was not listed as an investor. Now, CBC says Hasten is part of its global healthcare ecosystem, which aims to provide better care for patients with chronic diseases. Hasten is CBC's first drug distribution company.
Nanjing Biosion out-licensed global rights (ex-China) to Pyxis Oncology (PYXS) for an immunotherapy aimed at solid tumor cancers in a $226 million agreement. BSI-060T, now known as PYX-106, is Biosion's anti-Siglec-15 mAb (see story). The company will receive a $10 million up-front license fee, $216 million in milestones and royalties on commercial sales. Pyxis, which also has an opportunity to in-license other Biosion anti-Siglec-15 candidates, plans to submit an IND for PYX-106 in the US during Q2 of this year.
Shenzhen InnoRNA raised $120 million in a Series B funding to develop its mRNA candidates that include vaccines for preventing rare and infectious diseases along with therapeutic mRNA products (see story). Founded in 2019 by Linxian Li, InnoRNA uses its lipid nanoparticle formulation technology as a carrier vehicle to protect mRNA from degradation and provide intracellular delivery of the mRNA. Dr. Li is an expert in LNP. The round was led by CDH Investments and Huaxing Healthcare Fund and joined by existing investors CPE and Fangyuan Capital.
Suzhou Innovent Bio (HK: 01801) acquired China commercialization rights for two Lilly (LLY) oncology drugs and the right of first negotiation to a third candidate (see story). Innovent will make $45 million in payments once the first two drugs are approved for China use. In the agreement, Innovent acquired rights to Cyramza® (ramucirumab), a China-approved gastric cancer therapy, and Retsevmo® (selpercatinib), with a China NDA for NSCLC under review. The third drug is a BTK inhibitor aimed at leukemia and lymphoma. In 2015, Lilly and Innovent formed a $1 billion partnership for Innovent's novel drugs.
Beijing's Brii Bio (HK: 2137) partnered with Sinopharm Holding (OTCPK:SHTDF) to distribute Brii's COVID neutralizing mAb therapy in China (see story). The therapy was developed by combining non-competing SARS-CoV-2 monoclonal neutralizing antibodies derived from convalesced COVID-19 patients. In late 2021, it was approved in China for adults and pediatric patients with mild COVID-19 at high risk for progression to severe disease. Brii is a China-US company that develops therapies for infectious diseases such as hepatitis B virus (HBV), HIV, resistant gram-negative infections, and other conditions including CNS diseases.
Trials and Approvals
CANbridge Pharma's (HK: 1228) NDA for maralixibat oral solution was accepted by Taiwan's FDA as a therapy for cholestatic pruritus in patients with Alagille syndrome, an orphan disease (see story). One year ago, the company acquired Greater China rights to the drug from Mirum Pharma (MIRM) of California in a $120 million deal. CANbridge has rights to commercialize the drug for three orphan indications: Alagille syndrome, progressive familial intrahepatic cholestasis and biliary atresia. It filed an NDA for review in China previously, and Mirum is approved to launch the drug in the US.
Shanghai Zhongze Therapeutics successfully completed a China Phase I dose escalating study in healthy volunteers of its self-developed therapy for schizophrenia (see story). ZZ6398 is the first pan-antagonist of D2, D3, 5-HT1A and 5-HT2A receptors designed to treat cognitive impairment associated with schizophrenia by fine-tuning the D2/D3 selectivity and 5-HT1A antagonism. Zhongze reported the candidate was well tolerated with a better-than-expected PK profile. The company develops neurological and psychiatric products for unmet needs, with one in-licensed product and two clinical stage CNS candidates and three molecules in pre-clinical development.
Suzhou CStone Pharma (HK: 2616) enrolled the first patient in a US Phase I trial of CS5001, an antibody-drug conjugate that targets receptor tyrosine kinase-like orphan receptor 1 (ROR1) in advanced B cell lymphomas and solid tumors (see story). ROR1 is an oncofetal protein with low or no expression in adult tissues. However, it has high expression in leukemia and non-Hodgkin lymphoma, breast, lung, and ovarian cancers, making it an ideal ADC target. In 2020, CStone acquired global rights (ex-Korea) to CS5001 from LegoChem Biosciences (KOSDAQ; 141080) in a $363 million deal.
Beijing InnoCare Pharma (HK: 09969) was approved to start China clinical trials of its TYK2 JH2 allosteric inhibitor, the company's third candidate for autoimmune disease to enter the clinic (see story). ICP-488 binds the JH2 domain to block the signal transduction of IL-23, IL-12, type 1 IFN and other inflammatory cytokines, inhibiting the autoimmune/inflammatory process. InnoCare said the self-developed drug will be tested in patients with psoriasis and inflammatory bowel disease. In 2021, InnoCare out-licensed ex-China rights for its BTK inhibitor to Biogen (BIIB) in a $937 million deal, including $125 million upfront.
Editor's Note: The summary bullets for this article were chosen by Seeking Alpha editors.
This article was written by
China has become the #2 pharmaceutical market years ahead of projections and continues to be the fastest growing market in the world. China is $50 billion dollars a year into life science and healthcare development through over 160 government funding programs. VC investment, M&A transactions and cross-border partnering deals in China were all up significantly in 2012. ChinaBio® Today focuses exclusively on the rapidly evolving life science industry in China, including biotech, pharma, medical device, diagnostics, services and tools. From our offices in Shanghai and San Diego, our industry analysts provide daily news, commentary and analysis on public and private China life science companies, as well as events and global issues affecting the China market. Visit: ChinaBio Today (http://www.chinabiotoday.com) ChinaBio LLC (http://www.chinabiollc.com)