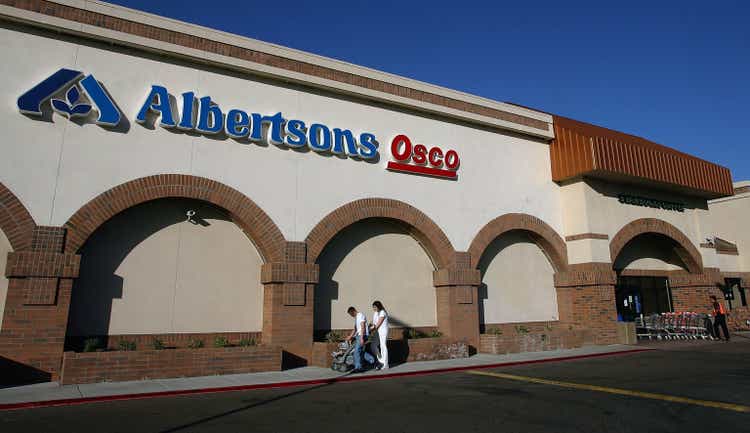 In April of last year I concluded that I was not ringing the register yet for Albertsons Companies (NYSE:ACI). The company enjoyed great operating momentum, as excess and unexpected earnings were earmarked for debt reduction and improvement of the business, all while expectations remained low.
While 2021 was set to be a strong year, the real question is what the real earnings rate of the business, and its quality, was in the long haul, with the pandemic hopefully being a transient factor.
Former Take
The story of Albertson started (again) with its IPO in the summer of 2020, as previous owners took the window of opportunity provided by the pandemic which started a few months earlier. Shares went public at $16, as I was cautious amidst a motivated seller, mediocre quality of the business and myself questioning the longevity of the pandemic. Of course, Albertson has had a turbulent past, including restructuring, acquisitions and divestments, with private equity firm Cerberus having been the owner in recent years, that is ahead of the 2020 initial offering.
Shares were actually under pressure in the months following the offering, but have recovered to $16 again by year-end. With 479 million shares outstanding, equity of the company was valued at $7.7 billion, yet that valuation actually came in below the net debt load of $8.2 billion at the time of the offering.
The combined $16 billion enterprise valuation was applied to a business which posted $62 billion in sales in 2019, yet adjusted operating margins only came in between half a billion and a billion ahead of the pandemic, resulting in lackluster margins by all means. If a billion in operating earnings would be sustainable, which works down to margins just below 2%, I believed that net earnings could come in at $400 million, or $0.80-$0.90 per share, assuming a 6% cost of debt and a normalized tax rate. Given this, I felt the valuation a bit steep.
This was of course ahead of the pandemic as the company has seen rapid growth in identical sales, while earnings have seen a huge boost as well. In April 2021, the company posted full year results for 2020 as the company posted annual adjusted earnings of $3.24 per share, at 4 times my estimated run rate in a normal year, while net debt has been cut to $6.6 billion and EBITDA has exploded to $4.5 billion.
The company guided for a pullback in its performance in 2021, as the pandemic was on its retreat with identical sales seen down 6-7% in 2022, while EBITDA was set to fall to $3.5 billion and earnings per share were seen around the $2 per share mark.
With shares trading at $18 in April 2021 I concluded that I was getting a lot more constructive on the company, with leverage under control and the company investing to improve the quality of the business. While being appreciative of the opportunity, I was concerned on the quality of the business as well, including a complicated corporate governance structure.
Market Appreciates The Results
Since April of last year, the market has increasingly grown more appreciative of the performance of the company. Shares have seen a huge rally and have essentially doubled over the past year, now trading at $34 per share, which is actually down from a high of $38 per share already.
This is despite the materialization of the tough operating conditions. First quarter identical sales fell 10% as quarterly earnings came in at $0.89 per share. The second quarter results were particularly strong with identical sales actually up 1.5%, albeit that adjusted earnings only came in at $0.64 per share. Nonetheless, investors were upbeat as the company hiked the annual dividend payout to $0.48 per share.
Early in January the company posted its third quarter results with identical sales up 5.2% as adjusted earnings per share came in at $0.79 per share. Given these solid underlying results, the company hiked the guidance with full year sales seen down just around a percent now.
Adjusted EBITDA is now seen at just over $4.25 billion as earnings are seen a few pennies short of the $3 per share mark. This is comforting with net debt down to $5.3 billion (excluding lease liabilities) marking great deleveraging since the start of the year.
It are these strong conditions which made investors grow more upbeat on the prospects for the business as the current earnings yield is great and alleviates any financial concerns.
What Now?
It is safe to say that 2021 has been a solid year and this has been reassuring to investors. The question is of course if this operating momentum can be maintained in 2022, as there are real concerns amidst wage inflationary pressures, but also the general impact of inflation on consumer spending here. This is already seen in the gross margins of the company in recent quarters, down significantly from the year before. This is not yet visible on the bottom line as this headwind is offset by great leverage of operating expenses, in part because of the pandemic related expenses being largely reversed.
These concerns are somewhat offset by continued rumors about the future of the business after it was announced in February that the company was contemplating strategic alternatives. Such an event, whatever it might become, is always a wildcard and hard to time, but it is likely a driver as well.
Given all these moving elements, I am a lot more reserved here than I was last year. Shares have doubled, basically on a reversal of a cheap valuation from the get go and a solid 2021, but it seems fair to conclude that 2022 is set to become a much more challenging year and with the pandemic certainly on its retreat, comparables might become tougher and current +/-4 % operating margins might not be sustainable. Any reversal in margins might push up multiples and cut earnings, and hence create some pressure, or continued stagnation in the current share price.
I am turning much more neutral here, not contemplating any position here given the current conditions.