Braze Vs. Twilio: 2 Winning Customer Engagement Platforms, One Winning Stock
Summary
Braze is a rapidly-growing, modern customer engagement platform that empowers brands by helping them deliver personalized customer experiences.
Braze is disrupting legacy customer engagement solutions by focusing on the entirety of a customer's journey, which is imperative in today's omnichannel digital world.
In this note, we will study Braze's platform, analyze its financial statements, and deduce its valuation.
Braze is built on top of Twilio, and Twilio has now launched Engage, a direct competitor for Braze. My bet is on Jeff and Twilio to dominate customer engagement market over the long term.
Also, Twilio is more attractively priced than Braze. I am bullish on Braze (long-term), but I am buying more Twilio at these levels.
I do much more than just articles at Beating the Market: Members get access to model portfolios, regular updates, a chat room, and more. Learn More »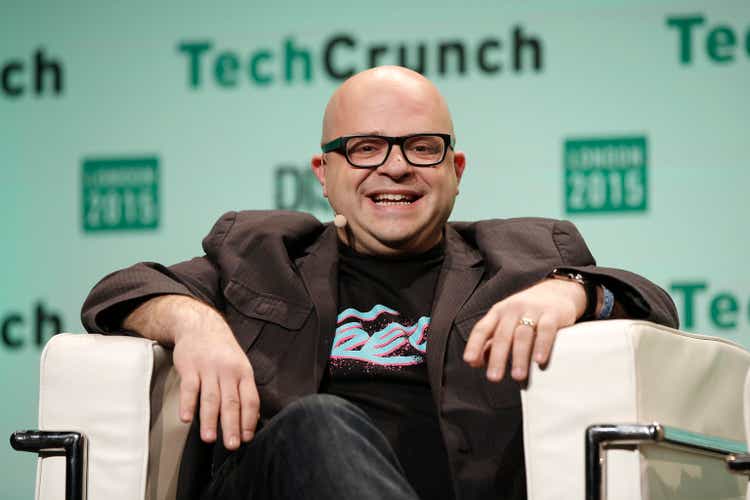 Investment Thesis
Braze (NASDAQ:BRZE) is a modern customer engagement platform that powers personalized, customer-centric interactions between consumers and brands.
Braze's platform empowers brands to listen to their customers better, understand them more deeply and act on that understanding in a way that is human and personal.

Source: Braze
Here's my investment thesis for Braze:
Braze is fundamentally altering the way brands communicate with their customers through its modern customer engagement platform. Using Braze's proprietary, enterprise-grade architecture, global brands can ingest and process customer data in real-time, optimize and orchestrate contextually relevant, cross-channel marketing campaigns, and continuously evolve their customer engagement strategies.

Today, Braze has ~1,250 customers; however, this is probably just the beginning. Braze is operating at the heart of two powerful trends - 1. An acceleration in global digitization trends is driving a rapid shift towards D2C models (customer engagement is more important than ever), and 2. Privacy changes are forcing a move away from third-party data to zero-party and first-party data. Hence, I think Braze's business momentum is set to continue in 2022 and beyond.

According to IDC, Braze's total addressable market in the US was estimated to be worth ~$15B in 2021, and this figure could rise to $19B by 2024. If we factor in additional opportunities in international markets, it is easy to see that Braze has a humongous TAM. Further, Braze's penetration is currently less than 1%; hence, I believe that Braze has a long growth runway in front of itself.

With opportunity comes competition, and customer engagement software has been around for years now. Braze differentiates itself from competitors on the basis of its proprietary, real-time data streaming process technology, partner ecosystem, and its comprehensive platform architecture. However, Twilio is about to enter the space, and I expect it to take up the leadership role in this market within the next two to three years. Additionally, the likes of Salesforce (CRM) and Adobe (ADBE) are formidable opponents, and although their offerings seem to be inferior for now, I think they can improve drastically in the future. Hence, Braze could hit growth maturity earlier than expected. Well, that's not happening for at least five more years, and the market is likely big enough for multiple players. Braze does happen to have a first-mover advantage, but I prefer Twilio, and I will explain why so when we discuss the TAM and competition dynamics.

In Q3 2021, Braze's revenue grew by ~63% to $64M, marking a further acceleration in business. Although Braze continues to lose money due to aggressive reinvestment in the business, healthy (non-GAAP) gross margins of ~70%+ give hope for future profitability. With a YTD cash burn of just $14M, Braze is quite close to FCF breakeven (expected to reach there in 2022). With accelerating revenue growth showing an inflection point for business momentum, Braze's prospects look bright, especially after considering its robust balance sheet ($600M cash, no debt).

According to my analysis, Braze's fair value is close to $54, i.e., the stock is slightly undervalued. However, the expected returns on Braze are just above our investment hurdle rate, and in this market, I see tons of better capital allocation alternatives. Hence, I would avoid buying Braze for now.

In summary, Braze is a quality business that I would like to own long-term. However, at ~8x P/S, Twilio 4.0 (NYSE:TWLO) is a far superior investment in my eyes (as I will outline in this note).
In this note, we will discuss Braze's platform and analyze its financial statements. Further, we will deduce Braze's fair value and expected returns.
Introducing Braze
In the digital era, consumers experience is the new battleground for business. With the proliferation in the data generated from digital experiences and the heightened number of consumer touchpoints, organizations have new opportunities to reach consumers and deliver personalized experiences. As a result of technology advancements, the modern consumer has come to expect real-time, personalized brand interactions across channels. With growing competition between brands for customer loyalty, brands are increasing their spending on customer experience with the objective of building long-lasting customer relationships.

However, most (traditional or legacy) marketing platforms available today approach customer engagement on a (communication) channel-by-channel basis. Unfortunately, channel-centric strategies often lead to disjointed customer experiences that destroy brand equity and diminish customer loyalty. Hence, legacy marketing clouds and point solutions simply do not cut it anymore.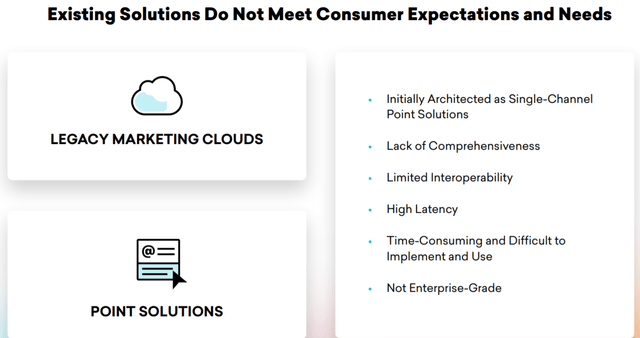 So, what's the solution?
Braze offers a fundamentally different way of thinking about customer engagement. The Braze platform is built on the premise that in order to create positive customer experiences and forge long-lasting customer relationships, brands must communicate with consumers in human-like ways. By avoiding channel silos, Braze ensures that interactions between brands and consumers have the same relevance and cross-channel continuity as human interactions. Another advantage of not having channel silos is that Braze's platform can react to customer activity in real-time and seamlessly across any channel.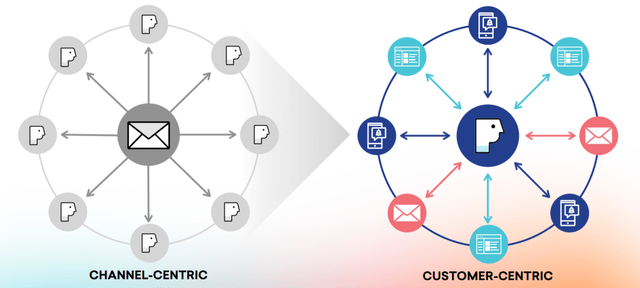 What's Braze's secret sauce?
Braze's proprietary, enterprise-grade stream processing architecture enables customer interactions to happen in real-time. This architecture instantaneously ingests, contextualizes, and responds to first-party customer data. The Braze platform is designed to mimic the human ability to listen, process new information in context and react in real-time.
Basically, Braze has built an AI for marketing. Period.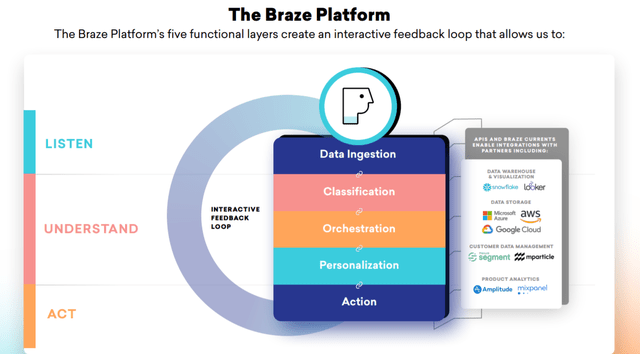 Braze's platform capabilities such as orchestration, classification, and personalization are vertically-integrated, and this architecture makes coordinating between them - simple and fast. Meanwhile, Braze's platform also decouples its data ingestion and message sending capabilities from the channels they support. Thereby, Braze enables its capabilities to be centralized and available across channels and easily extensible to new channels.
Today, Braze supports interactions across two categories of messaging channels: in-product and out-of-product. The in-product messaging channels consist of Content Cards (pieces of personalized content embedded into a brand's website or mobile application) and in-app and in-browser messages. On the other hand, out-of-product messaging channels consist of mobile and web push notifications, email, SMS, MMS, webhooks, Facebook (FB) and Google (GOOG) (GOOGL) advertisements, and multiple OTT, media services, and connected-TV channels.
The Braze platform generates valuable data that inform decisions and actions across the entire customer engagement spectrum. And so, Braze empowers interdisciplinary teams, including product, engineering, and business intelligence teams. With messaging capabilities that often transcend marketing use cases, Braze also comes in handy with some product or transactional use cases that facilitate or enhance the consumer's experience with the brand or product.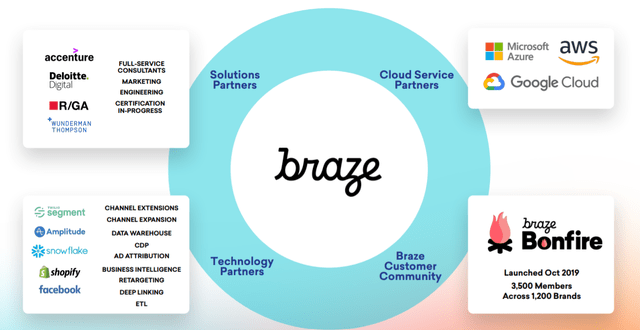 Braze's platform can be easily integrated with the existing in-house infrastructure of brands or with Braze's rapidly-growing partner ecosystem of best-in-class technologies. Braze's customers have the flexibility to import data from other systems into any layer of its technology stack via Braze's APIs (application programming interfaces). Furthermore, customers can also utilize "Braze Currents" to stream data in real-time to those systems, which increases customer ROI. Lastly, Braze has built a comprehensive partner ecosystem of best-of-breed solutions. The Braze platform supports direct integrations with cloud data service providers such as Snowflake (SNOW), customer data management platforms such as Segment (TWLO), digital product analytic solutions such as Amplitude (AMPL), and several other components of the modern marketing tech stack.
Over the last decade, Braze has amassed an impressive clientele that includes traditional enterprises (like IBM, Burger King, Dominos) and emerging disruptors (like Cloudflare (NET), DraftKings (DKNG), Chegg (CHGG)). Furthermore, Braze customers come from varied industry verticals and across different sizes (small, med, and large). With Braze adding more logos at a brisk pace every quarter, I think the business momentum is likely to remain strong for several more years to come.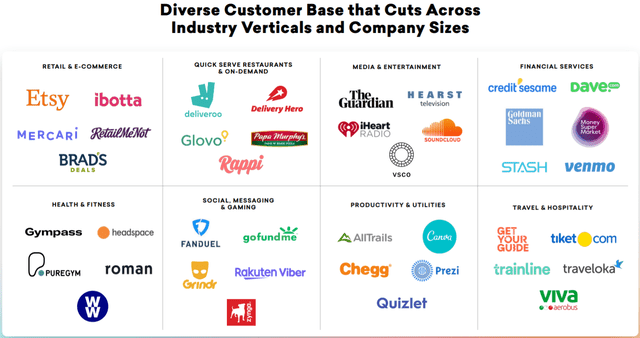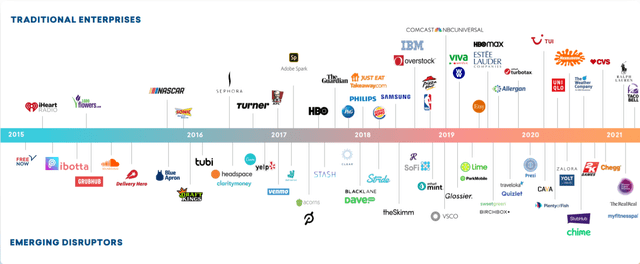 Before we analyze Braze's financial statements, let us go over the company's management and culture to see if it fits in with our investing philosophy.
Assessing Braze's Management And Culture
Bill Magnuson (Braze's CEO) is an MIT-educated technologist who started his career at Google. At just 24 years old, Bill co-founded Braze and served as the company's CTO for five years before being promoted to the CEO role. That's quite an impressive CV for a 34-year old, but Bill is a supremely talented individual, and I think there's more to come from him.
In addition to Bill, Braze has built quite the C-suite with multiple Salesforce veterans. Although Jon Hyman (Braze's CTO) has a history as a guitar player in a heavy metal band, he has the expertise to lead Braze's technology. Here's the full executive leadership: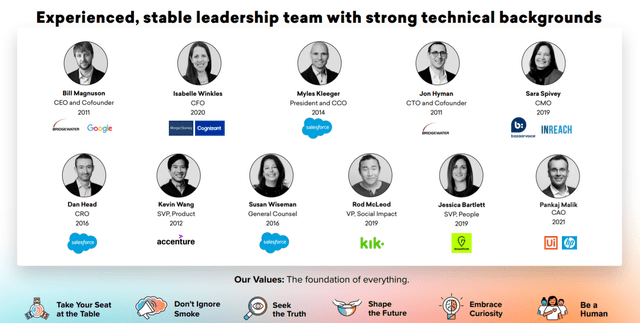 To get a sense of Braze's culture, we can look at Glassdoor reviews that point towards a high approval rating for the CEO and great employee morale (evidenced by a 90% likelihood of referral to a friend). Furthermore, Braze has been recognized as one of the best workplaces by several rankings. Hence, I think Bill and Co have instilled a fantastic culture at the company.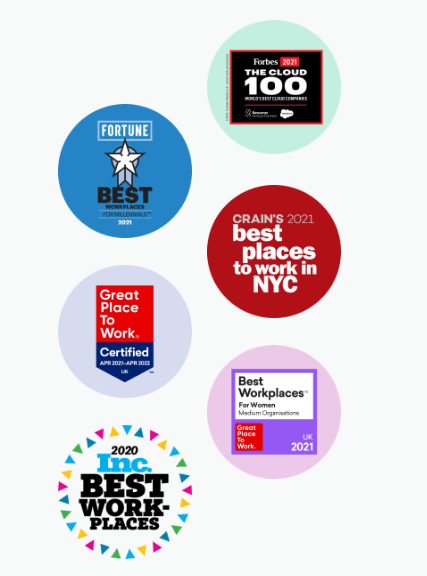 Now, let's analyze Braze's market opportunity and learn about some of its competitors.
Total Addressable Market And Competitive Dynamics At Play
According to its management, the total addressable market in the US for Braze's offerings was estimated to be worth $16B in 2021 (with current penetration of <1%). Hence, Braze seems to have a massive white space opportunity for future growth.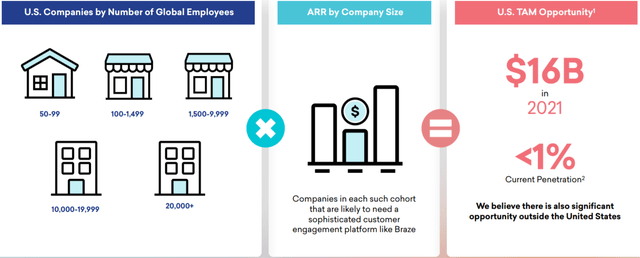 Now, Braze has consistently been recognized as an industry leader in Mobile Engagement Automation and Cross-Channel Campaign (marketing) management by well-regarded market research firms, as you can see below. In comparison to formidable competitors like Salesforce (CRM) and Adobe (ADBE), Braze's platform seems to be a winner.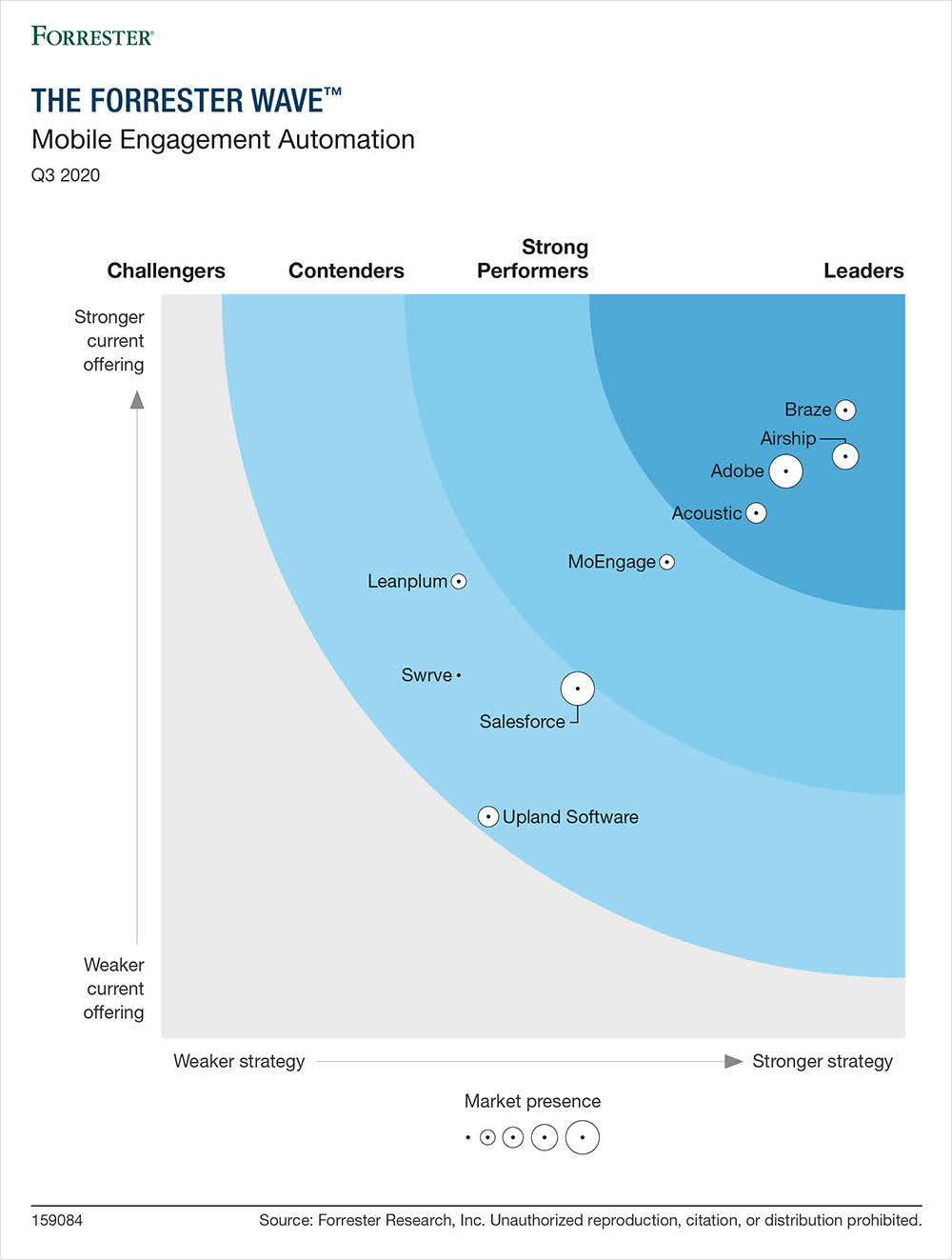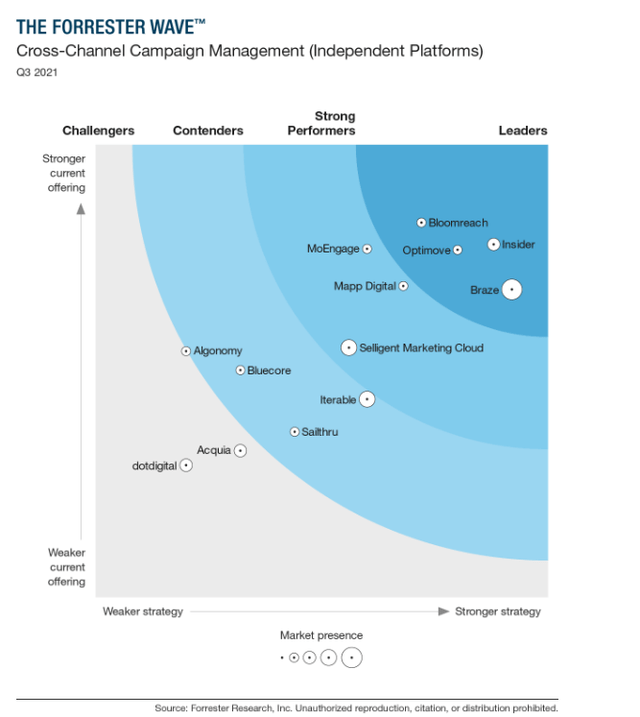 With that being said, Twilio is the real 800-pound gorilla in the room. Well, Twilio wasn't a part of the above images; however, that's because Twilio Engage was just launched in October 2021. While Braze is a marketing automation platform (pure-play software solution) [and a Twilio and Twilio Segment customer], Twilio owns the entire modern marketing tech stack - Twilio CPaaS platform [omnichannel communication infrastructure], Twilio Segment [the leading customer data platform], and Twilio Engage [marketing automation platform].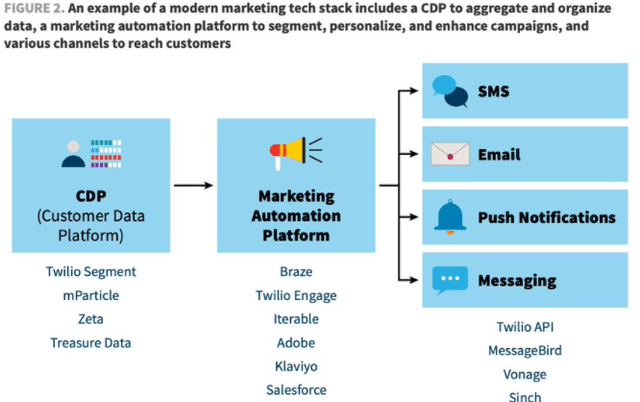 Even before Jeff Lawson laid out his vision for Twilio's customer engagement platform as outlined in this must-watch video interview, we shared our vision for Twilio's evolution in this exclusive marketplace research note (back in Dec 2020): The Twilio Vision.
As you may already know, we are big Twilio (and Jeff Lawson) fans here at Beating The Market's research desk. With the launch of Twilio Engage, the company is making great strides in evolving Twilio from a commodity CPaaS business to an exciting data company.
The big competitive advantage held by Twilio over Braze is that it owns the communications infrastructure, the customer data platform [Segment], and Twilio is already deeply embedded into hundreds of thousands of organizations (upselling Twilio Engage in a bundle would be relatively easier). Braze's margins could come under pressure if Twilio aggressively promotes Twilio Engage. Now, Braze may continue to maintain its product lead through innovation. However, Twilio is currently trading at roughly half of Braze's forward P/S multiple, and it is already FCF generative. Since both of these companies have a similar future growth trajectory, it just makes sense to buy Twilio over Braze. With that being said, let's take a look into Braze's financials before reaching any conclusions.
Braze By The Numbers
As of Q3 2021, Braze's quarterly revenue run rate stood at ~$256M, representing robust y/y sales growth of 63%. With subscription revenues making up ~93% of total revenues, it is fair to say that Braze boasts a highly-visible revenue stream. Although Braze is nowhere close to profitability, the company is operating close to FCF breakeven. Let's take a deeper look into these numbers to identify trends.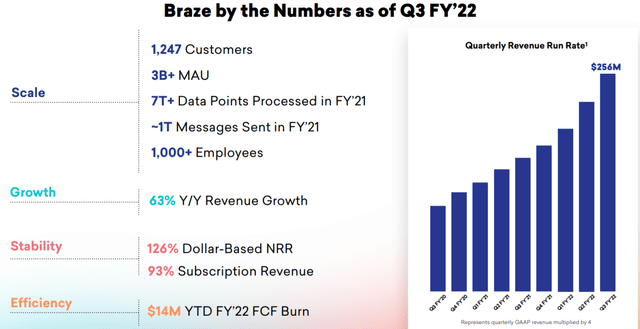 In 2021, Braze experienced a re-acceleration in revenues, with Q3 sales coming in ~63% higher than the year-ago period. Furthermore, Braze's non-GAAP gross margins have been creeping higher in recent quarters and jumped up significantly in Q3 2021 to ~70%+.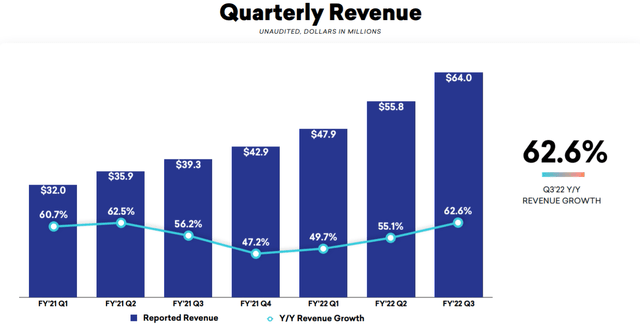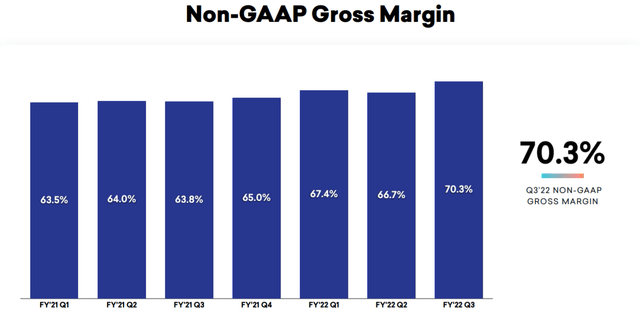 The primary sources of Braze's strong performance are -
Robust new customer acquisition, and
Ultra-high dollar-based net retention rates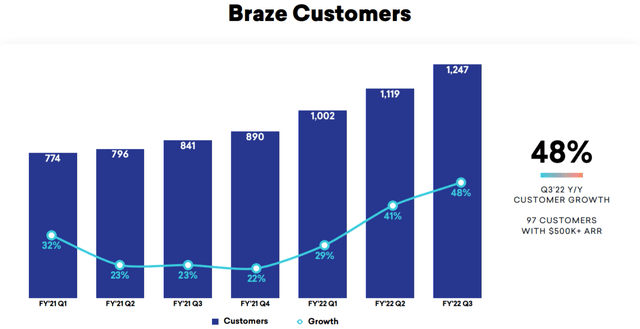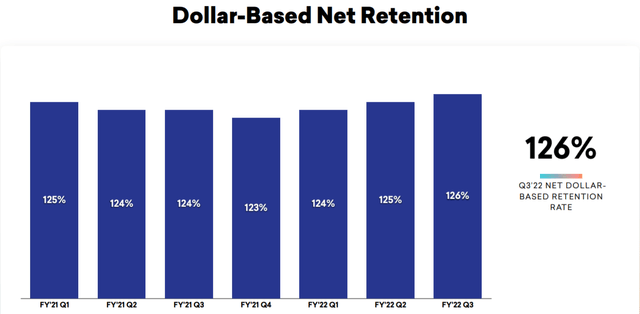 In Q3 2021, Braze's revenue came in at ~$64M (up +63% y/y), with subscriptions making up ~93% of total revenues. Although Braze's gross profits are growing faster than revenues, the company's operations are still not profitable due to heavy reinvestments into the business.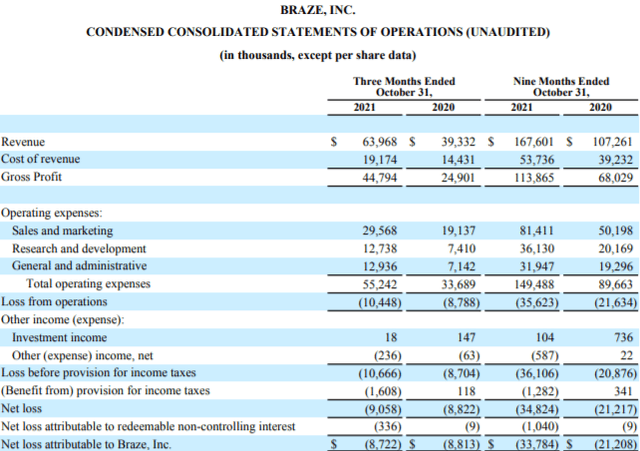 Now, Braze is not yet profitable; however, it is operating pretty close to FCF breakeven (-5% FCF margin), losing just about $14M year-to-date. With ~$600M of cash on its balance sheet (post IPO raise of $520M) and no debt, the company has no liquidity or shareholder dilution concerns.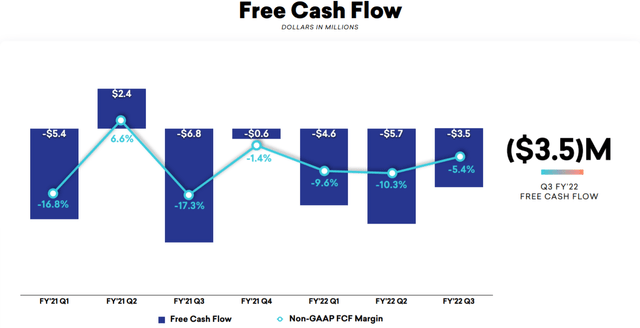 With that being said, I do expect Braze to flex its newfound financial muscles in the near to medium term to make strategic acquisitions to boost its platform. Let us now use this financial data to determine Braze's fair value and expected returns.
BRZE Stock - Fair Value and Expected Return
To determine Braze's fair value, we will employ our proprietary valuation model. Here's what it entails:
In step 1, we use a traditional DCF model with free cash flow discounted by our (shareholders) cost of capital.

In step 2, the model accounts for the effects of the change in shares outstanding (buybacks/dilutions).

In step 3, we normalize valuation for future growth prospects at the end of the ten years. Then, using today's share price and the projected share price at the end of ten years, we arrive at a CAGR. If this beats the market by enough of a margin, we invest. If not, we wait for a better entry point.
Braze is currently tracking a QRR (quarterly revenue run rate) of ~$256M. Over the next twelve months, Braze will likely deliver ~$350M in revenues. With healthy gross margins of ~70%, Braze could deliver somewhere between 30-35% FCF margins at maturity. In addition to a massive TAM opportunity, Braze is likely to experience secular tailwinds from the shift away from legacy customer engagement solutions. Hence, the projection of 10-yr CAGR sales growth of ~25% is pretty conservative (allowing us a margin of safety). Since Braze is operating very close to FCF breakeven, I do not foresee any significant dilutionary events. The rest of our model assumptions are pretty straightforward, but let me know in the comments section if you have any questions or concerns.
Assumptions:
| | |
| --- | --- |
| Forward 12-month revenue [A] | $350 million |
| Potential Free Cash Flow Margin [B] | 30% |
| Average diluted shares outstanding [C] | ~128 million |
| Free cash flow per share [ D = (A * B) / C ] | $0.82 |
| Free cash flow per share growth rate | 25% |
| Terminal growth rate | 3% |
| Years of elevated growth | 10 |
| Total years to stimulate | 100 |
| Discount Rate (Our "Next Best Alternative") | 9.8% |
Results: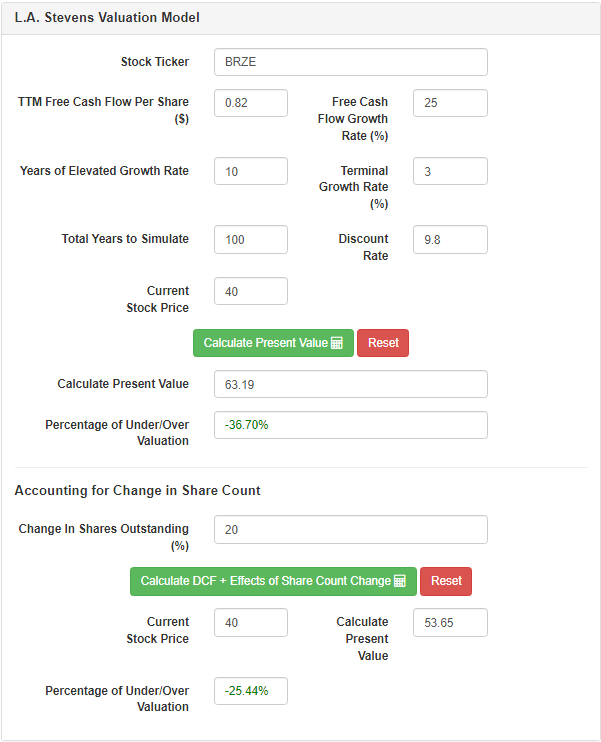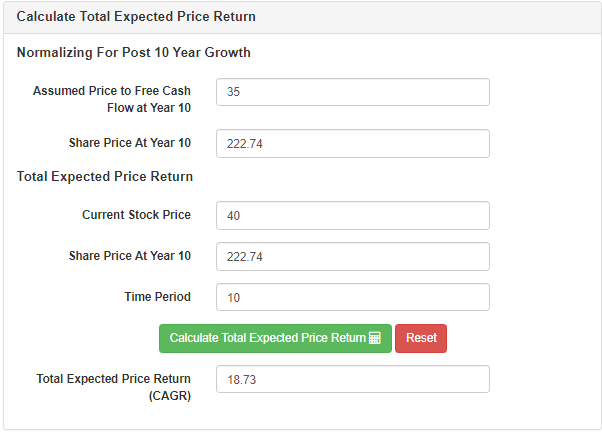 By 2031, Braze's stock could grow from $40 to $223, which would imply a ten-year expected CAGR return of just ~18.73%. Since these returns are greater than our investment hurdle rate of 15%, Braze's stock is a buy at this time.
Our fair value and expected CAGR return estimates for Twilio stand at $505 and 29.32% (current price: $169.50), respectively. Hence, we certainly prefer Twilio over Braze from a valuation standpoint.
BTM Crucial Characteristic Check
Crucial Characteristic

Notes

Zero to One Strategy

Braze's mobile-first engagement automation platform delivers human-like customer engagement across different channels (including mobile or web notifications, SMS, voice, etc.).

The Time Is Now

As we move away from third-party data [under the new privacy initiatives (such as the ones announced by Apple and Google in 2021)], the importance of first-party customer data (and insights generated from this data) has never been higher. Also, the global digitization trends saw massive acceleration due to the COVID pandemic, and now organizations (brands) are more oriented towards D2C businesses. Braze's offering fits in perfectly with the marketing needs of every digital-first organization; hence, this is an inflection point for Braze (as evidenced by accelerating revenue growth in 2021).

Long Term Vision

Braze's long-term vision is to become the 'go-to' customer engagement platform for brands across the globe. Despite current offerings being focused on customer retention and regaining lost customers, Braze data intelligence can be utilized for several use cases beyond marketing, e.g., digital advertising. The value of first-party data is likely to grow over the coming years, and Braze is trusted by more than 1,250 organizations with this asset. The company must surely be looking at maximizing the economic benefits of this data for its customers, their customers, and for itself.

Visionary Founder/CEO

Bill Magnuson co-founded Braze at the ripe age of 24 and currently serves as its CEO. Under his leadership, Braze has delivered spectacular growth in recent years. Before Braze, Bill has worked at Google and Bridgewater.

Jon Hyman, co-founder & CTO, has an interesting history, with him being a guitar player in a heavy metal band. However, Jon has also completed a degree in computer science from Harvard.

Quality Board of Directors

Braze has a high-quality BOD with a mix of venture capitalists and technologists. Find more details here: Braze BOD.

Proprietary Tech

At the heart of Braze's customer engagement platform lies its proprietary, enterprise-grade stream processing architecture, which ingests, contextualizes, and responds to first-party customer data in real-time. Braze's AI/ML capabilities help brands understand their customers in a superior manner as compared to other customer engagement solutions.

Product Roadmap And Evolution

Braze's management continues to spend aggressively on R&D to build new products to enhance its platform capabilities and address new use cases.

Network Effects

Braze has built a comprehensive partner ecosystem that could result in new customer referrals. Furthermore, Braze's AI will keep improving over time, and so, the incentive for new customers to join Braze will go up too. That's solid network effects at play.

Branding

Braze has accumulated ~1,250 customers based on its ability to help its customers deliver more human, more personalized experiences for their consumers. With industry recognition as a leading player in Mobile Engagement Automation and Cross-Channel Marketing, Braze is slowly building a robust brand image for itself in the marketing software space.

Scale

Considering its TAM and competitors, Braze is minuscule at best. As the platform onboards more customers, the entire ecosystem gets stronger, and Braze is likely to garner benefits of scale (i.e., better margins, higher customer retention, etc.).

Embedding

Braze loosely embeds itself into its customers marketing technology stack; however, I think a formidable rival like Twilio Engage could replace Braze by out-innovation or simply by undercutting on prices (if the product capabilities are similar). Hence, I do not think embedding is a defensible moat for Braze.

Net Promoter Score / Customer Satisfaction

Braze's robust NRR of 126%+ is indicative of the high customer satisfaction with its offerings. The success of Braze's land and expand model is further proof of high customer satisfaction.

Powerful Secular Growth Trend

In the digital era, more and more organizations are going direct to consumers, increasing the demand for customer engagement solutions. Furthermore, a shift away from third-party data is increasing the importance of first-party data (applications in marketing, digital advertising, product management, and more). Braze is enabling these transformative trends; hence it is likely to be a big winner in the future.

Total Addressable Market

According to Braze's management, the company has a TAM of ~$16B. Considering competitive forces, Braze's existing TAM is somewhat limited.

Market Share

Based on revenues of ~$250M, Braze's market share stands at a negligible 1.5%. However, Braze is replacing legacy customer engagement solutions, and so, the opportunity to increase share over the coming years is massive.

Competitive Differentiation

Braze's competitive advantage comes from its proprietary data streaming process technology, partner ecosystem, integrations, and first-mover advantage. With that being said, Twilio Engage could become a problem for Braze in the coming quarters, as discussed in this note.

Mergers & Acquisition Strategy

In its IPO S-1 filing, Braze's management team has expressed its desire to execute strategic M&A deals to enhance its platform and drive inorganic growth. With ~$600M of cash on its balance sheet, no debt, and little cash burn, Braze is likely to actively pursue M&A opportunities.

International Expansion

Braze is building a global presence with the ambition of empowering brands to enhance their customer engagement. With the majority of sales coming from the United States, Braze has room to grow in international markets.

Sounds Financials

Braze is a rapidly-growing SaaS business with healthy (70%+ Non-GAAP) gross margins. Although Braze is still losing money, the company is operating at ultra-low cash burn (-5% FCF margin). After its IPO, Braze is more than well-capitalized ($600M of cash, no debt). Hence, Braze's financials are sound.

Liquidity or Bankruptcy Risk

With no debt obligations and ultra-low cash burn, Braze has minimal liquidity or bankruptcy risk.

Shareholder Dilution Risk

On a fully-diluted basis, Braze has ~128M shares outstanding (including RSUs and ESOPs). With a robust balance sheet, I do not foresee any dilutionary events unless the company undertakes M&A activity.
Concluding Thoughts
After thoroughly reviewing Braze, we have come to like the company a lot; however, its current valuation is a bit too high (especially considering the carnage in the growth universe). We own Twilio - the global CPaaS behemoth - that recently launched Twilio Engage (a customer engagement platform similar to Braze). At BTM, we are true believers in Jeff Lawson's vision and execution and therefore see Twilio Engage as a leading platform in the customer engagement space (Braze's addressable market). With Twilio trading at ~8x Forward P/S, while having a similar growth trajectory as Braze, it is hard to justify Braze's ~$5B price tag (~15x Forward P/S). Once we get closer to lockup expiry, Braze's stock could undergo a deep correction, and we would likely reconsider it for a spot in our Goldilocks Zone portfolio if the price becomes right. For now, we will avoid buying into Braze, and if you are looking to deploy capital in the customer engagement space, I would recommend you to buy Twilio instead.
Key Takeaway: I rate Braze a buy at $40, but I am not deploying capital here as I like Twilio better. I rate Twilio a strong buy at $170.
Thanks for reading. Please share your thoughts, questions, and/or concerns in the comments section.
At Beating The Market, we focus on making lives meaningfully better through investing. To join a rapidly growing community of like-minded, long-term growth investors --> Click Here 
This article was written by
Ahan Vashi has 10+ years of investing experience with a professional background in equity research, private equity, and software engineering. He holds a Master of Quantitative Finance from Rutgers and a Bachelor of Technology in Electronics and Communication Engineering.
Ahan leads
The Quantamental Investor
, a community pursuing financial freedom through bold, active investing with proactive risk management. Features include highly-concentrated, risk-optimized model portfolios that meet investor needs across different stages of the investor lifecycle, access to proprietary software tools, and group chats.
Learn more
..
Analyst's Disclosure: I/we have a beneficial long position in the shares of TWLO either through stock ownership, options, or other derivatives. I wrote this article myself, and it expresses my own opinions. I am not receiving compensation for it (other than from Seeking Alpha). I have no business relationship with any company whose stock is mentioned in this article.
Seeking Alpha's Disclosure: Past performance is no guarantee of future results. No recommendation or advice is being given as to whether any investment is suitable for a particular investor. Any views or opinions expressed above may not reflect those of Seeking Alpha as a whole. Seeking Alpha is not a licensed securities dealer, broker or US investment adviser or investment bank. Our analysts are third party authors that include both professional investors and individual investors who may not be licensed or certified by any institute or regulatory body.