Talon Metals And The Defense Production Act
Summary
President Biden has invoked the Defense Production Act to stimulate investment in the mining and refining of strategic metals.
One of these metals is nickel, essential to the production of EV batteries, but wherein the US has no competitive position internationally.
Talon Metals is an early-stage company that, among two others, holds important nickel mining interests in Minnesota.
In addition to its locational advantage, other factors draw me to the company including, notably, its important stakeholder alliances.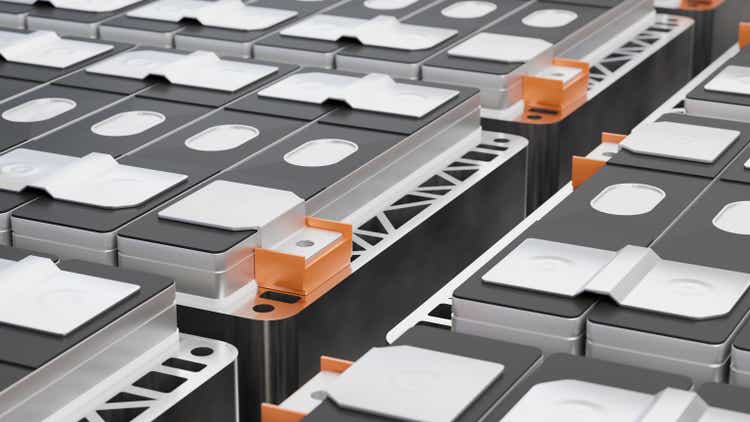 The Defense Production Act of 1950 was modeled after FDR's WWII "War Powers Act". Congress amends and reauthorizes the law continually with the current version set to expire in 2025. In a nutshell, it gives the president broad powers to:
Direct private companies to prioritize orders from the federal government. The president can 'allocate materials, services, and facilities' for national defense purposes, and take actions to restrict hoarding of needed supplies. To bolster domestic production, the president may also offer loans or loan guarantees to companies, subject to an appropriation by Congress; make purchases or purchase commitments; and install equipment in government or private factories.
On March 31st, under his Executive Order, President Biden invoked the Defense Production Act to reduce our reliance on China, Russia, and other countries for critical metals used in electric vehicles. In relieving supply-chain pressures, this move opens avenues for our transition away from fossil fuels and toward cleaner, less environmentally harmful, renewable energies. As I understand it, the order does not accelerate the licensing/permitting process, but I suspect this may change, through legislation, given the urgency of our needs.
US Nickel Mining
One of these metals is nickel that finds its major use in stainless steel, but it is also critical for the energy density/storage capacity of lithium-ion batteries essential to EV range and performance. Pathetically, the United States, at half of one percent of global output, does not rank in the top-10 of nickel producing countries even though significant deposits are known to exist here.
More specifically, Minnesota, my home state, is known to contain some of the largest nickel deposits in the United States, described as "world-class". Both veins are in environmentally sensitive locales including one that abuts the Boundary Waters Canoe Area Wilderness (BWCAW) covering over a million acres of which 190,000 acres are water flowing through 1,100 lakes and hundreds of miles of rivers and streams. In other words, in addition to being recreationally important, the area is a primary watershed.
After receiving our permit from the Tofte Ranger Station, my son and I used 'put in' at Hog Creek to canoe/portage down to Perent Lake in the BWCAW to camp and fish. There were no end to the walleyes, and we had the best of times before working our way back upstream to go home. The BWCAW is one of those primeval treasures wherein, within a half-a-mile or so, one forgets civilization to find peace in the clear water and old-growth woods. Before the days of GPS, without a map and compass, one could get quite lost in there.
Mines are well known to need water and to return it, often polluted, to nature. In the 1970's, federal judge Miles Lord fined, before shutting down, Reserve Mining for dumping 47 tons of waste rock into Lake Superior every minute; Minnesotans do not abide environmental abuse for the sake of corporate greed. The two proposed nickel mines now under the hot lights include:
Twin Metals, a subsidiary of Chilean conglomerate Antofagasta controlled by billionaire Andrónico Luksic. This operation is just south of Ely, Minnesota that had a long history in iron ore mining but where no active mines have existed for 50 years. It is in the Superior National Forest right on the edge of the BWCAW. Environmentalists are hell bent to shut down the project.
PolyMet (PLM), majority owned by Glencore (OTCPK:GLCNF) (OTCPK:GLNCY), of Marc Rich infamy. This copper-nickel mine is better known because its shares trade on the NYSE. The site is farther away from the BWCAW but abuts the Superior National Forest. It would repurpose facilities once associated with the Mesabi Range that for 150 years provided the bulk of the iron ore to the US steel industry. The Sierra Club is among others fighting PolyMet.
Talon Metals
Enter Talon Metals (OTCPK:TLOFF). Mind you, this mining company is not without its warts beginning with the spread of their offices between the British Virgin Islands (Tortola, yes, go figure), Canada (Ontario), and the US (Minnesota and Washington DC). Like its Minnesota brethren, it is an early-stage extractor with all the incumbent exploratory, regulatory, and financial risks (more on the latter in a minute).
However, Talon has two things going for it the first being its location away from the Superior National Forest, BWCAW, and Great Lakes. Draw two lines, one straight north from St. Paul and the other due west from Duluth, and where they intersect you will find Talon's Tamarack mine near their namesake town, population 91. Secondly, it has two important commercial partnerships in Rio Tinto (RIO) the world's #2 mining company behind BHP (BHP), and Tesla (TSLA) that has already entered into an agreement for its first US nickel supply with Talon. Among other things that also interest me in Talon:
Their board and management are rich with talent from major mining countries and companies.
Talon has recently discovered "numerous high-grade nickel copper" intercepts outside the main resource area at Tamarack.
They represent on their home page that there is cobalt, another strategic metal not mined in the US, in their Tamarack mine.
Out of their successful capital campaign, Talon has paid an early partner to reduce their rights to royalty payments going forward.
With funding and technical support from the Department of Energy, the company is exploring the possibility of using their mine for carbon sequestration.
In other words, Talon Metals has tangibly mobilized key stakeholders necessary for the success of their project that is continues to grow in its promise.
Meanwhile, however, investors need to get their heads around this startup's thin financials - no revenue, losing money, negative operating cash flow, but with a balance sheet including good liquidity, negligible debt, and well capitalized. And, if that doesn't curl your hair, get this - all four analysts that cover TLOFF, have it as a "buy" with a target price of whopping $1.05 representing a 60% premium over its heart-stopping price of 66 cents per share. Here are snapshot financials as carried by SA (under the circumstances, time series data are worthless):
| | |
| --- | --- |
| | 2021 |
| Revenues | $0.0 |
| Net Income | ($5.5M) |
| Op. Cash Flow | ($2.5M) |
| | |
| Cash & Eq. | $25.1M |
| Cur. Assets | $25.5M |
| Cur. Liabs. | $2.4M |
| Current Ratio | 10.6x |
| Total Liabs. | $3.6M |
| Equity | $122.0M |
| Liabs. to Eq. | 0.03x |
Most people are appropriately cautious and have neither the appetite - nor the place - to invest in companies like Talon. When I do, it is against the assumption that we could 'lose it all'. Still, we went forward on February 28th and March 1st based on my beliefs about the strategic imperative of such industries. These convictions did not arise spontaneously for me. Indeed, about a year ago, SA published an article of mine entitled, "Rethinking The Defense Industry"; it was about rare earth metal mining companies in which we are also invested and have done handsomely. I concluded that piece by saying:
All said, the traditional definition of "military defense" is timeworn. It no longer aligns with global realities. Our countries, and we investors, need to start thinking more broadly about what it takes to defend our competitive advantage meaning our industries, companies, and jobs.
My prediction about Talon has played out so far, we're up 22% in a month to the very day that President Biden weighed in on the topic by invoking the Defense Production Act covering nickel mining. For us, so far, knock on wood, TLOFF has delivered alpha against all indexes.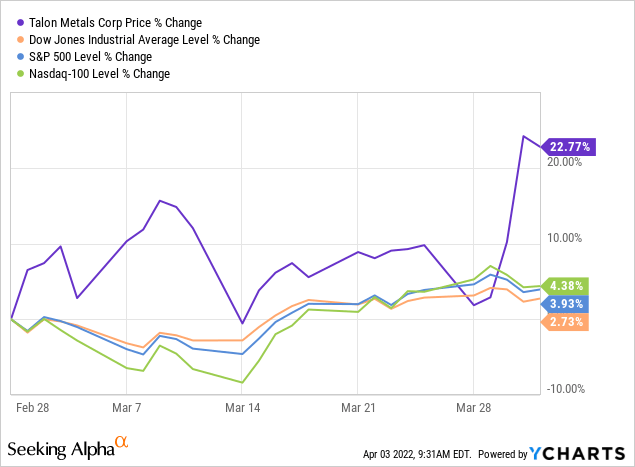 As with any miner, the juggernauts for Talon are the environmentalists (groups we have supported in the past financially). That said, we have come to a point wherein the costs on continuing to pollute our world at the levels we have with fossil fuels is unacceptable. We must address the situation including with the mining of metals we need to reduce our dependency on hydrocarbons. It is time to appropriately put aside idealism for realism that will protect areas sensitive environmentally while exploiting natural resources in other areas for the greater good.
Finally, in closing and on a personal note, provided together we can do it respectfully, nothing would please me more than to see mining return to Minnesota. My state's northern economy suffered greatly when the miners exhausted iron ore and taconite was no longer worth the effort. Fewer and fewer people remember how important the Mesabi was to the protracted industrial revolution and US manufacturing. To see Minnesota nickel become as important to the renewable revolution would be very satisfying, indeed.
Editor's Note: This article covers one or more microcap stocks. Please be aware of the risks associated with these stocks.
This article was written by
Now retired after forty years in financial services: a) analyzing corporate, bank, and sovereign risk, b) predicting bankruptcies and conducting commercial workouts, restructurings, and dissolutions, c) financing grain, soft commodities, oil, and the precious metal trade internationally, d) overseeing interbank finance and arbitrage, e) modeling and assessing the productivity of financial business units, f) directing aspects of M&A due diligence and post-acquisition integrations, g) serving as Chief Information Officer of a major full-service broker-dealer, h) consulting including as interim management to global banks, investment advisors, trust companies, and alternative investment / hedge funds, and i) serving as managing general partner of a family farm. An MBA, educated in economics, with a near minor in math, who held various securities industry licenses including Series 7, 63, 24, and 14 (all now expired). A donor and volunteer now focused on: a) public works landscape projects, b) helping motivated, first-in-family, degree and certificate-bound kids achieve their education, and c) developing STEM skills in primary and secondary school students. Formerly, an advisory board member of The Trust for Public Land involved with park and conservation projects including creating the first piece of a 10,000 acre metro wildlife area, and a produce farm in a distressed inner-city neighborhood. (All my proceeds from writing on Seeking Alpha go to charity.) Like I do when investing, always do your own due diligence in consultation with a licensed and competent financial/investment advisor(s) who puts your interests ahead of their own; if you don't have one, find one.
Analyst's Disclosure: I/we have a beneficial long position in the shares of TLOFF either through stock ownership, options, or other derivatives. I wrote this article myself, and it expresses my own opinions. I am not receiving compensation for it (other than from Seeking Alpha). I have no business relationship with any company whose stock is mentioned in this article.

Like I do when investing, always do your own due diligence in consultation with a licensed and competent financial/investment advisor(s) who understands your unique needs and puts your interests ahead of their own. Remember, the added considerations in owning foreign securities including those associated with ADR sponsorship, buying and selling the pinks, foreign withholding taxes on dividends, and higher fees. (All my proceeds from contributing to SA go to charity.)
Seeking Alpha's Disclosure: Past performance is no guarantee of future results. No recommendation or advice is being given as to whether any investment is suitable for a particular investor. Any views or opinions expressed above may not reflect those of Seeking Alpha as a whole. Seeking Alpha is not a licensed securities dealer, broker or US investment adviser or investment bank. Our analysts are third party authors that include both professional investors and individual investors who may not be licensed or certified by any institute or regulatory body.