Skyworks Solutions: RF Advancements Spur 5G Sales
Summary
We expect continued growth for Skyworks driven by a forecasted increase in 5G phone shipments of 28.2% in 2022 and supported by its leading 5G smartphone maker customers.
Skyworks is a top RF supplier with a 16% market share and a comprehensive portfolio of SAW and BAW filters, and we forecast its Mobile segment growth at 8.8% in 2022.
However, we view the expected advancement in mmWave 5G to account for 20% of 5G share by 2025, which could pose a long-term risk with limited product development at Skyworks compared to competitors.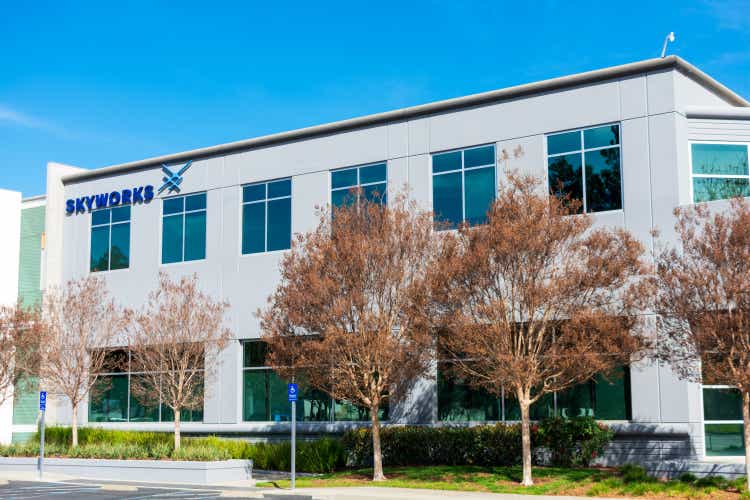 In our previous analysis of Skyworks Solutions, Inc. (NASDAQ:SWKS), we compared the company with Qorvo and determined it to be a beneficiary of the expected rise of 5G. This is because Skyworks derives the majority (73%) of revenue from its Mobile segment and relies on major smartphone customers including Apple, which accounts for 51% of its revenue.
When we looked into the development of its BAW filters, we determined that it is lagging behind Qorvo and Qualcomm in terms of filter frequencies. Given the increase in speed and lower latency, mmWave is expected to be increasingly important for RF suppliers in the future. As Skyworks provides SAW and BAW filter offerings but has limited development of mmWave solutions, we believe Skyworks will not be able to capture the market opportunities surrounding mmWave. Additionally, its heavy reliance on Apple (56% of its 2020 revenue) is a risk, as Apple is believed to be shifting towards the in-house design of chips for its iPhones.
In this analysis, we examine the company's customer base in the continued advancement in 5G and its RF portfolio to capitalize on the growth of 5G. We believe Skyworks continues to be a key beneficiary in the 5G trend due to its strong customer relationships with leading 5G smartphone makers in the world including Apple (AAPL), Samsung (OTCPK:SSNLF) (OTCPK:SSNNF), Xiaomi (OTCPK:XIACF), Oppo and Vivo accounting for 82% of the market. Additionally, we analyze its RF portfolio which features SAW and BAW technologies and compares it to competitors in terms of frequencies.
With a comprehensive portfolio, Skyworks only trails behind Qorvo and Qualcomm. However, we also highlight the advancements in mmWave 5G technology which is faster than Sub-6Ghz 5G but requires more complex product development, which Skyworks lacks relative to competitors like Qualcomm.
Robust Customer Base of Leading 5G Smartphone Makers
Skyworks Solutions is a supplier to some of the world's leading smartphone makers, including Apple, Huawei, Oppo, Samsung, Vivo, Xiaomi, and ZTE. Based on data by Counterpoint Research, these companies represented around 82% of the 5G smartphone market in Q1 2021. According to the company's annual report, its largest customer, Apple, had increased revenue contribution as the company introduced its 5G enabled iPhones.
| | | | | |
| --- | --- | --- | --- | --- |
| Skyworks's Apple Revenue Contribution | 2018 | 2019 | 2020 | 2021 |
| % of Total Revenue | 47% | 51% | 56% | 59% |
Source: Skyworks
We view Skyworks' relationships with the top five 5G smartphone makers as providing a significant opportunity for the company in the evolution of cellular connectivity. According to the chart below from RantCell, the average transition period between each generation of wireless standard is around 8 years. Thus, based on this timeline, we believe the rollout of 5G should be approaching the middle of the transitory period.
According to the IDC, the share of 5G smartphones is expected to reach 69% by 2025. The continued rise in 5G is expected to be driven by the continued growth of 5G enablement in new phone models, especially for the mid-range as seen with the introduction of 5G for Samsung, Xiaomi and Oppo phones.
| | | | | | | | |
| --- | --- | --- | --- | --- | --- | --- | --- |
| Mobile 5G Forecasts ('mln') | 2019 | 2020 | 2021F | 2022F | 2023F | 2024F | 2025F |
| Smartphone Unit Sales | 1,479 | 1,333 | 1,387 | 1,439 | 1,491 | 1,545 | 1,601 |
| Smartphone Unit Sales Growth % | | -9.9% | 4.1% | 3.8% | 3.6% | 3.6% | 3.6% |
| Share of 5G Shipments | 2% | 20% | 40% | 50% | 58% | 65% | 69% |
| 5G Smartphone Shipments | 30 | 269 | 561.3 | 719.7 | 861.7 | 1,007 | 1,104 |
| 5G Smartphone Shipment Growth % | | 809.4% | 108.7% | 28.2% | 19.7% | 16.9% | 9.6% |
Source: IDC, Counterpoint Research, Khaveen Investments
While Apple currently dominates the 5G smartphone market and is the company's largest customer, this is due to Apple enabling 5G capability for all of its new iPhone models as a premium smartphone maker. That said, we expect other smartphone makers to enable 5G support for more models as 5G penetrates the mid to lower tier of smartphones. This would benefit Skyworks due to its relationships with the top 5 of the major 5G smartphone makers. However, despite that, its top competitors also have similar relationships with the top smartphone makers.
| | |
| --- | --- |
| Company | Customers |
| Skyworks | Apple, Huawei, OPPO, Samsung, VIVO, Xiaomi, and ZTE |
| Qorvo (QRVO) | |
| Murata (OTCPK:MRAAY) | |
| Qualcomm (QCOM) | |
| Broadcom (AVGO) | |
Source: Qorvo, The Motley Fool, WSJ, eeNews Europe, The Malaysian Reserve, Murata, Qualcomm, Reuters, Broadcom
While we believe the company is well-positioned to benefit from the continued rollout of 5G, its client relationships with the top leading smartphone makers, which account for 82% of the 5G smartphone market share, provide Skyworks with significant market opportunities. That said, we do not view this as a significant advantage to the company as its fiercest competitors also have similar customer relationships with the leading smartphone makers. Still, we believe the overall trend of cellular connectivity advancement with 5G to be the key driver of the company, as more than 70% of its revenues is derived from its Mobile Segment.
Sub-6GHz Frequency 5G RF Portfolio to Capitalize on 5G Content Growth
Skyworks supplies RF filters, including SAW, TC-SAW, and BAW filters, which play a crucial role in smartphone wireless connectivity. According to Market Prospects, these filters, together with other components such as amplifiers and switches, form the radio frequency front end (RFFE) module.
In the transition from 3G to 4G, new RF filter architectures were introduced, namely FBAR and BAW, to support higher frequencies of around 2Ghz and higher bandwidth, according to Mike Eddy, Vice President of Corporate Development of Resonant Inc. SAW filters typically have enabled a frequency range between 600 MHz to 2 GHz. Additionally, BAW filters operate at higher frequencies between 1.5 and 6 GHz. This allows SAW and BAW filters to support the low to mid-band 5G frequencies.
Frequency is the "rate of radio signal to send and receive communication signals." Stopband Frequency means "the frequency range where the signals are attenuated." Therefore, to evaluate the competency of a filter, generally, we look at its stopband frequency, as higher stopband frequency allows it to pass through the filter. This is important as higher frequency means larger bandwidths which then translate to a higher speed of sending and receiving signals.
The table below shows a comparison of the stopband frequency of Skyworks and its competitors' RF filters portfolio. As seen in the table, Qorvo and Qualcomm provide a higher frequency of BAW filters than Skyworks, which are primarily used in mid-band 5G.
| | | |
| --- | --- | --- |
| Company | SAW Filter Frequencies | BAW Filter Frequencies |
| Skyworks | | |
| Qorvo | | |
| Murata | | - |
| Qualcomm | | |
| Broadcom | - | |
Source: Skyworks, Qorvo, Murata, Qualcomm, Broadcom
In terms of the competitive landscape, Murata is the market leader with an estimated market share of 25% derived based on its RF related revenues in 2020. With the advancement in 5G technologies requiring greater frequency support from RF filters, we expect the rest of the market players to gain a stronger foothold in the market, especially Qorvo and Qualcomm with BAW filters for higher frequencies than Skyworks.
With the proliferation of 5G, the number of RF filters needed in smartphones is greater than that of 4G due to the increasing number of frequency bands in 5G, thus demanding more filtering requirements. The number of filters for 4G is between 60 to 80 and is estimated to reach 120 to 150 for 5G based on estimates from Market Prospects. This represents an RF growth factor of around 1.93x for 5G. We forecasted the RF content growth from the estimated rollout of 5G mobile devices based on the forecasted change in share of 5G annually by the IDC.
| | | | | | | | |
| --- | --- | --- | --- | --- | --- | --- | --- |
| RF Growth Forecasts | 2019 | 2020 | 2021F | 2022F | 2023F | 2024F | 2025F |
| Share of 5G Shipments | 2% | 20% | 40% | 50% | 58% | 65% | 69% |
| Share of non-5G | 98% | 80% | 60% | 50% | 42% | 35% | 31% |
| 5G RF Content Increase ('a') | 1.93 | 1.93 | 1.93 | 1.93 | 1.93 | 1.93 | 1.93 |
| 5G Share Increase ('b') | | 18% | 20% | 10% | 8% | 7% | 4% |
| 5G RF Growth Rate ('c') | | 16.9% | 18.8% | 8.8% | 7.2% | 6.9% | 3.5% |
* c = [(b x a) + (1-b) x 1)]-1
Source: IDC, Khaveen Investments
Overall, we highlighted the filter technology requirements to enable 5G, namely SAW and BAW which are geared towards low and mid-band 5G. As a supplier of these filter technologies and with a market share of 16%, we believe that Skyworks is well-positioned to benefit from the greater demand of RF filters for 5G in smartphones with a portfolio of SAW and BAW filters supporting up to 6Ghz. We also believe that this places it at an advantage over market leader Murata which does not have a BAW portfolio and is limited to lower frequency SAW filters. That said, we see Qorvo and Qualcomm as the main beneficiaries to capitalize on their advantage and gain market share with BAW filters supporting up to 9Ghz and 7.2 GHz, respectively, which is higher than Skyworks's RF portfolio.
Snubbing mmWave Development for High Frequency 5G
In the longer term, Skyworks may be at a disadvantage with a lagging RF portfolio to cater to the greater requirements to enable mmWave 5G. This spectrum operates at a much higher frequency than low and mid-band 5G at above 24 GHz and is considered to be the next major advancement in 5G connectivity. The spectrum of 5G covers a wide range of bands below 6Ghz, which is also referred to as Sub-6 GHz, and 5G mmWave between 24Ghz to 100Ghz. The advantage of mmWave is the tremendous increase in speeds of between 200 Mbps to over 1Gbps, compared to Sub 6Ghz 5G at speeds of only between 50 Mbps to 200Mbps, as well as lower latency.
However, the implementation of mmWave 5G faces various challenges due to the limitations in deployment as higher frequencies result in lower coverage, as signals are easily blocked, thus requiring more infrastructure and smaller cells to ensure greater coverage.
IDTechEx forecasts the share of mmWave installations to increase to over 20% by 2025 from below 10% in 2020 and over 50% by 2030. Research firm GSA claims more than 180 mobile operators in the world are planning on deploying mmWave.
We forecast the mmWave related RF revenues assuming a share of 5% based on data from IDTechEx on the RF market size of $23.4 bln in 2020, with a forecast mmWave share of 20% by 2025 at a derived CAGR of 32%.
| | | | | | | |
| --- | --- | --- | --- | --- | --- | --- |
| Forecasted mmWave Market Penetration ($ bln) | 2020 | 2021F | 2022F | 2023F | 2024F | 2025F |
| Total RF Market | 23,400 | 26,676 | 30,411 | 34,668 | 39,522 | 45,055 |
| RF Market growth % | | 14% | 14% | 14% | 14% | 14% |
| Estimated mmWave RF Share % | 5% | 6.6% | 8.7% | 11.5% | 15.2% | 20% |
| Growth % | | 32% | 32% | 32% | 32% | 32% |
| Estimated mmWave RF Market | 1,170 | 1,760 | 2,647 | 3,982 | 5,990 | 9,011 |
| Growth % | | 50.4% | 50.4% | 50.4% | 50.4% | 50.4% |
Source: IDTechEx, GrandViewResearch, Khaveen Investments
The implication of the rollout of mmWave networks may affect RF suppliers including Skyworks due to the limitations of SAW and BAW filtering technologies, which do not allow current solutions to handle mmWave frequencies. According to Microwave Journal, these RF architectures show significant
degradation in selectivity at frequencies higher than 6GHz due to the nature of their architecture.
Skyworks' CEO Liam Griffin has previously snubbed mmWave. The company "is not focusing on mmWave product development," he said, citing challenges of mmWave including the limited range and cost factors. But he also claimed that it is "making small incremental bets on the technology." In contrast, competitors such as Qualcomm are focusing on mmWave technologies as highlighted by its X65 5G Modem-RF System featuring a mmWave module and RF transceivers offering dual support for both Sub-6Ghz and mmWave. In addition, smaller competitors have introduced several filters such as band Pass filters for mmWave including Knowles Precision Devices, Wainwright Instruments, TDK Corporation and Microwave Filter Company.
All in all, we believe that Skyworks could stand to lose out with its RF portfolio due to the inherent architectural limitations of SAW and BAW filters which do not support higher frequencies for mmWave as discussed above. In addition to the management citing challenges of mmWave and that it does not focus on development for those technologies while competitors especially Qualcomm expand aggressively with a comprehensive mmWave supported 5G RF modem, we expect Skyworks to potentially lose out in the longer-term as we forecast the share of mmWave to reach 20% by 2025 based on IDTechEx forecasts.
Apple Customer Concentration Risks
While the company has customer relationships with the leading smartphone makers worldwide, the company's revenues are highly concentrated from Apple. In 2020, Apple represented 59% of its revenues and has grown from 47% in the past 4 years as Apple introduced its 5G enabled iPhone lineup. We believe this presents a concentration risk to the company as its major customer. In relation, Apple is also believed to be shifting towards the in-house design of chips for its iPhones. For example, it has been reported to be developing an in-house 5G-enabled modem in 2023. We believe this could affect the company negatively if Apple decides to move more of its chips for in-house development instead of purchasing from companies such as Skyworks. Among its close competitors, Skyworks has the highest dependency on Apple.
| | |
| --- | --- |
| Company | Contribution of Apple Revenue as % of Total Revenue |
| Skyworks | 59% |
| Qorvo | |
| Broadcom | |
| Qualcomm | |
Source: Skyworks, Qorvo, Broadcom, Qualcomm, Murata
Valuation
The company's revenue has been growing with a 5-year average rate of 11.2%. Its gross margin has a 5-year average of 49.12% while its net margins have a 5-year average of 26.1%. The strength of its margins is that it has risen as its revenue grew until 2018 when its margins were impacted as revenues declined beyond that period.
The company recorded a 5-year average of 11.26% for its FCF margin from 2016 to 2020. In 2021, Skyworks completed an acquisition of the Infrastructure & Automotive business of Silicon Laboratories Inc. for $2.75 bln. As explained by the following quote from its latest earnings briefing, the company highlighted its commitment to invest to support the 5G growth.
We will definitely continue to invest. This is still early stages in a multiyear 5G upgrade cycle. - Liam Griffin, President and Chief Executive Officer
We valued the company based on DCF valuation as it has been generating positive cash flows. We based our terminal value on the industry average EV/EBITDA of chipmaker companies of 22.47x.
We projected its revenues based on the company's Mobile segment with our derived projections of the RF market growth as discussed above. In addition, we projected the Broad Markets segment on a CAGR based on the analog semicon market forecast through 2027.
| | | | | | |
| --- | --- | --- | --- | --- | --- |
| Skyworks Revenue Projections ($ mln) | 2021 | 2022F | 2023F | 2024F | 2025F |
| Mobile | 3,700 | 4,027 | 4,318 | 4,616 | 4,779 |
| Mobile Growth % | | 8.8% | 7.2% | 6.9% | 3.5% |
| Broad Markets | 1,400 | 1,467 | 1,538 | 1,611 | 1,689 |
| Broad Markets Growth % | | 4.80% | 4.80% | 4.80% | 4.80% |
| Total Revenue | 5,100 | 5,494 | 5,856 | 6,228 | 6,467 |
| Total Growth | | 7.7% | 6.6% | 6.4% | 3.8% |
Source: Skyworks, Market Research, Khaveen Investments
Based on a discount rate of 9.3% (company's WACC), our model shows its shares are undervalued by 79%.
Verdict
All in all, as Skyworks is one of the top RF suppliers with customer relationships with the top 5 leading 5G smartphone makers accounting for over 80% of the market, we believe this positions the company well to capitalize on the growing 5G mobile market at a 28.2% forecasted growth rate in 2022.
In terms of its RF portfolio, we highlighted its comprehensive SAW and BAW filter offerings to support low and mid-band 5G ahead of market leader Murata, but it is at a disadvantage compared to Qorvo and Skyworks supporting higher frequencies. Based on the forecasted increase of 5G phones as a % of total shipment at 50% in 2022, we expect the company's Mobile Products segment revenue to grow by 8.8% for the year.
In the longer term, we believe mmWave 5G to be increasingly important for RF suppliers reaching 20% of 5G installations by 2025. However, we highlight the company's lack of commitment toward product development for these technologies relative to competitors, especially Qualcomm which could pose a risk to its future growth outlook. Overall, we rate the company as a Strong Buy with a target price of $238.54.
This article was written by
Khaveen Investments is a Global Macro Quantamental Hedge Fund managing a portfolio of globally diversified investments. With a vested interest in hundreds of investments spanning diverse asset classes, countries, sectors, and industries, we wield a multifaceted investment approach that combines top-down and bottom-up methodologies, integrating global macro, fundamental, and quantitative investment strategies. We serve accredited investors throughout the globe, which include HNW Individuals, Corporates, Associations, and Institutions. At the heart of our investment prowess lies specialized expertise in cutting-edge technologies that are reshaping the fabric of numerous industries. Our strategic orientation centers around a spectrum of booming domains, encompassing the transformative realms of Artificial Intelligence, Cloud Computing, 5G, Autonomous & Electric Vehicles, FinTech, Augmented & Virtual Reality, and the Internet of Things.www.khaveen.com
Analyst's Disclosure: I/we have a beneficial long position in the shares of SWKS either through stock ownership, options, or other derivatives. I wrote this article myself, and it expresses my own opinions. I am not receiving compensation for it (other than from Seeking Alpha). I have no business relationship with any company whose stock is mentioned in this article.

No information in this publication is intended as investment, tax, accounting, or legal advice, or as an offer/solicitation to sell or buy. Material provided in this publication is for educational purposes only, and was prepared from sources and data believed to be reliable, but we do not guarantee its accuracy or completeness.
Seeking Alpha's Disclosure: Past performance is no guarantee of future results. No recommendation or advice is being given as to whether any investment is suitable for a particular investor. Any views or opinions expressed above may not reflect those of Seeking Alpha as a whole. Seeking Alpha is not a licensed securities dealer, broker or US investment adviser or investment bank. Our analysts are third party authors that include both professional investors and individual investors who may not be licensed or certified by any institute or regulatory body.