EOG Resources: Dividends Are Their Only Choice, 10%+ Yield Possible
Summary
Unlike many United States shale oil and gas companies, EOG Resources has a good reputation for consistently producing solid performance for their shareholders.
This was evident throughout the downturn of 2020 and subsequently during 2021 with their guidance for 2022 pointing towards massive free cash flow that should set a new record.
Since they sport zero leverage and strong liquidity, they have no handbrakes upon returning all of their free cash flow to their shareholders.
Since management prefers special dividends instead of share buybacks, it effectively means that dividends are their only choice for deploying their free cash flow.
Thanks to these very strong oil prices, they could provide a very high 10%+ dividend yield on current cost during 2022, and thus, I believe that a buy rating is appropriate.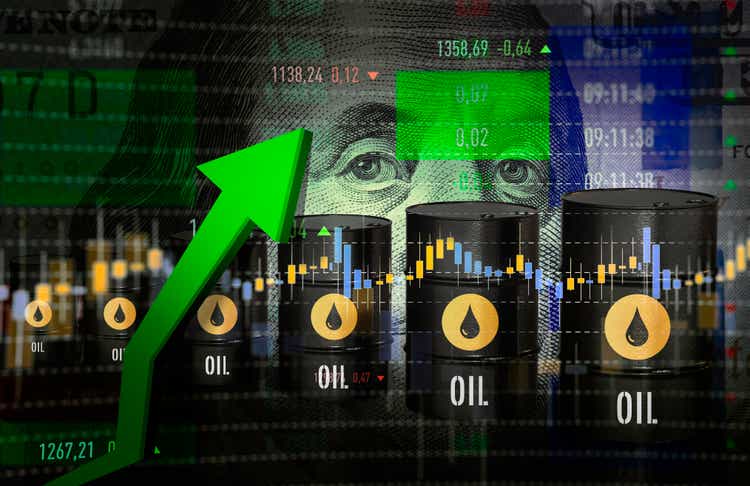 Introduction
The United States shale oil and gas industry does not necessarily have the best reputation, not only from an environmental perspective but also from an investor perspective who have often been left disappointed over the years, although EOG Resources (NYSE:EOG) stands out as a top-tier company whose consistent solid performance sees their share price near all-time highs. When looking ahead, despite their otherwise low dividend yield of only 2.48%, the future sees a 10%+ yield possible as more special dividends are their only choice as they stand to generate massive free cash flow from these very strong operating conditions.
Executive Summary & Ratings
Since many readers are likely short on time, the table below provides a very brief executive summary and ratings for the primary criteria that were assessed. This Google Document provides a list of all my equivalent ratings as well as more information regarding my rating system. The following section provides a detailed analysis for those readers who are wishing to dig deeper into their situation.

*Instead of simply assessing dividend coverage through earnings per share cash flow, I prefer to utilize free cash flow since it provides the toughest criteria and also best captures the true impact upon their financial position.
Detailed Analysis
Even though 2020 saw a severe downturn, their operating cash flow held up surprisingly well to end the year with a result of $5.008b, which was subsequently lifted to $8.791b during 2021 thanks to the strong prevailing oil prices. After subtracting their capital expenditure of $3.85b, their free cash flow for 2021 was a record $4.941b that essentially equaled the aggregate of their results during 2018-2020. This was capable of providing very strong coverage of 184.09% to their record dividend payments of $2.684b, which were significantly higher year-on-year versus their previous payments of $821m during 2020 thanks to large special payments that ultimately comprised near two-thirds of their total payments. When looking ahead into 2022, this stands to continue and very excitingly, most likely further strengthen given their guidance, as the slide included below displays.
It can be seen that management forecasts they will generate sufficient operating cash flow to fund their capital expenditure of $4.5b with Western Texas Intermediate oil prices as low as only $32 per barrel, whilst covering their fixed dividend with prices at only $44 per barrel. Although there is plenty of upside past this point with a further $4.7b of forecast free cash flow left with Western Texas Intermediate oil prices of $80 per barrel, thereby making for a total of $6.4b that would not only set a new record but also see a free cash flow yield slightly above 9% on their current market capitalization of approximately $70b, which provides scope for further large special dividends later in 2022.
Whilst already desirable, this situation arguably represents a bearish outlook following the Russia-Ukraine war that has often seen oil trading for north of $100 per barrel due to the prospects of lost Russian supply tightening an already tight market, thereby leaving even more free cash flow on the table for 2022. If Western Texas Intermediate oil price at $32 per barrel produces $4.5b of operating cash flow and $80 per barrel produces $10.9b, it indicates that each additional $1 per barrel adds a further circa $133m of operating cash flow, which flows directly to their free cash flow given the lack of accompanying capital expenditure. This means that if oil prices continue averaging at least $100 per barrel, which currently seems quite realistic, their free cash flow should see a further circa $2.66b boost, thereby lifting their estimated free cash flow for 2022 to a massive circa $9.06b, which sees a very high free cash flow yield of around 13% on their current market capitalization.
To make this situation even more desirable, it does not simply stem from their capital expenditure being reduced to the barebones with their guidance of $4.5b for 2022 actually higher than its level of $3.85b during 2021 and thus they are not jeopardizing their medium to long-term future to benefit the short-term. When it comes to deploying this massive estimated free cash flow, there are two primary considerations with the first being the state of their financial position, as subsequently discussed and the second being, their shareholder returns policy, which thankfully favors special dividends instead of share buybacks, as per the commentary from management included below.
"So in times one way to think is that in times of rising share or oil price, you can expect us to prefer to do special dividends. And really, the way that we think about the share repurchase is, we measure it as an investment the same as we measure any investments across our business. So we want to make sure that it competes on a returns basis. And that's why we still prefer in an environment like this to stick with the special dividend as the priority for additional cash return."
- EOG Resources Q4 2021 Conference Call.
Despite providing record dividends throughout 2021, they still managed to also completely eliminate their net debt by ending the year with a net cash position of $100m. This obviously means that they have zero leverage and thus by extension, there is no point assessing their leverage in detail because they have no handbrakes upon returning all of their free cash flow to their shareholders. Given their dividend-focused shareholder returns policy, it effectively means that more special dividends are their only choice when it comes to deploying their free cash flow. Very excitingly, this sees prospects for their massive free cash flow to provide a very high yield of 10%+ on current cost during 2022 with further high single-digit yields likely to follow in future years even if oil prices soften back towards circa $80 per barrel.
When turning to their liquidity, rather unsurprisingly, their very large cash balance of $5.209b firmly places it within the strong territory with current and cash ratios of 2.12 and 1.29 respectively. This should easily be maintained in the future as they are capable of generating free cash flow at a variety of different oil prices, even as low as circa $44 per barrel that can adequately cover their fixed dividend payments. Since they sport a net cash position, they have no issues meeting debt maturities and as a large player in the United States shale oil and gas industry, they should see easy access to debt markets if required, even if central banks tighten monetary policy.
Conclusion
When looking ahead, their very healthy financial position that sports zero leverage effectively means that more special dividends are their only choice to deploy their free cash flow. Considering their prospects to generate massive free cash flow thanks to these very strong oil prices during 2022, their resulting near 13% free cash flow yield could easily see shareholders enjoying a very high dividend yield of 10%+ on current cost and thus I believe that a buy rating is still appropriate despite their share price trading around its all-time highs.
Notes: Unless specified otherwise, all figures in this article were taken from EOG Resources' SEC Filings, all calculated figures were performed by the author.
This article was written by
I am no longer active, as I am taking a hiatus from finance to pursue business ventures in other sectors.  I hope that my analysis was helpful to investors across the years, thank you.
Analyst's Disclosure: I/we have no stock, option or similar derivative position in any of the companies mentioned, and no plans to initiate any such positions within the next 72 hours. I wrote this article myself, and it expresses my own opinions. I am not receiving compensation for it (other than from Seeking Alpha). I have no business relationship with any company whose stock is mentioned in this article.
Seeking Alpha's Disclosure: Past performance is no guarantee of future results. No recommendation or advice is being given as to whether any investment is suitable for a particular investor. Any views or opinions expressed above may not reflect those of Seeking Alpha as a whole. Seeking Alpha is not a licensed securities dealer, broker or US investment adviser or investment bank. Our analysts are third party authors that include both professional investors and individual investors who may not be licensed or certified by any institute or regulatory body.