Is Another Qualcomm Stock Split Likely? Why Investors Needn't Worry About It
Summary
QUALCOMM has performed well operationally, and that has made its shares rise in recent years.
Shares are at a price where a stock split could make sense, e.g., due to making option usage easier. A potential stock split shouldn't be a reason to buy, however.
Instead, QCOM is a buy due to its strong outlook and inexpensive valuation. A potential stock split should be seen as a bonus on top of the strong underlying story.
Looking for a helping hand in the market? Members of Cash Flow Kingdom get exclusive ideas and guidance to navigate any climate. Learn More »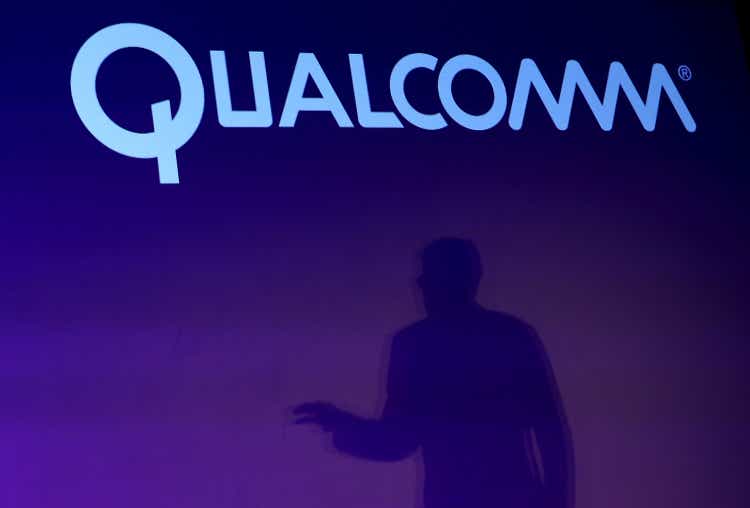 Article Thesis
Due to readers' interest in this question, we'll explore whether a stock split is a possibility for QUALCOMM Incorporated (NASDAQ:QCOM). Although stock splits do not change the value of the underlying company in theory, they have some effects that can be important for investors. Generally, QUALCOMM looks like a very solid tech investment at current valuations, with or without a stock split.
How Many Times Has QCOM Stock Split Before?
According to the company's investor relations website, QUALCOMM Incorporated has split its stock four times in the past:
With three 2-for-1 stock splits and one 4-for-1 stock split, each original share has turned into 32 shares over the years, making for a steep increase in the share count for those that have been investors for a long period of time. Since QCOM has paid out attractive dividends for quite some time, dividend reinvestment allowed for an even larger increase in the shareholdings for investors that decided to reinvest their dividends here.
That being said, the most recent stock split was in July 2004, i.e. more than 17 years ago. In the recent past, QUALCOMM has not done any stock splits.
Is QUALCOMM Likely To Split Its Stock Again?
The most recent stock split was executed when QCOM was trading at around $70 pre-split. Adjusted for inflation, that's around $105 in today's dollars. The previous stock split in 1999 occurred at a stock price of around $300 pre-split, which is equal to around $500 in today's dollars. The first stock split in 1994 was done at a pre-split price of $20, which is equal to around $40 in today's dollars. There is thus no clear "ceiling" price that leads to a stock split. Instead, management has done stock splits at a wide range of prices in the past. In 1999, the pre-split price was way higher than today's stock price of $150, while QUALCOMM has also split its shares at significantly lower prices in the past. There is thus no clear indication whether QCOM is likely to split its shares in the $100 to $200 range, or whether management wants to wait for even higher prices.
Stock splits do not change investors' ownership of a company, and they do not change the value of the company in theory. Nevertheless, stock splits can have some impact. Option usage becomes easier with lower share prices, which means that stock splits can help investors with small or medium-sized portfolios use strategies such as covered calls. Since one options contract covers 100 shares, selling a covered call. If an investor holds 20 equal-sized positions, this means that a $300,000+ portfolio would be required. If QCOM were to split its stock, using options contracts would be more accessible for those with smaller portfolios.
Stock splits can also lead to index inclusion in price-weighted indexes such as the Dow Jones Industrial Average. We have seen this play out with Apple (AAPL), for example, which got included once it split its shares and brought down the price per share. I do not believe that this is very meaningful for QCOM, however. I doubt that QUALCOMM would be selected for DJIA inclusion, as the company likely isn't large enough for that anyway.
In the last two years, we have also seen that stock splits can lead to frenzied buying by investors - even if it may not make sense in theory. Tesla's (TSLA) stock split in 2020 is a good example of that, while the company's recent announcement that it may introduce a stock dividend has led to a jump in its share price as well. Amazon's (AMZN) recent announcement that it would split its shares at a 20-1 rate has also led to a big jump in its share price. I assume that QUALCOMM's management would not pursue a stock split solely on the basis of hoping for frenzied buying. But still, it seems to be clear that stock splits can have a range of positive impacts, which might make QCOM split its shares as well. The company has shown in the past that it is willing to pursue stock splits. I do not believe that buying solely on the basis of a potential stock split in the future is a good idea, however. Instead, QCOM should be viewed from a fundamental basis, and if one likes the company independently of a stock split, a potential stock split could be seen as an added bonus should it occur.
QCOM Stock Key Metrics
QUALCOMM does look quite appealing on a fundamental basis. The company has a very clean balance sheet, as $16 billion of short- and long-term debt is mostly offset by $11 billion of cash. The net debt position thus stands at just $5 billion - which is not much at all for a company that will generate ~$13 billion of net profit this year. Cash returns via dividends and buybacks are thus easily financed, and QCOM also has flexibility when it comes to M&A, in case the company wants to pursue inorganic growth.
The company's most recent quarterly results were quite strong, and the company managed to beat expectations on both lines. Revenues were up by 30% year over year, hitting $10.7 billion. This was made possible by several factors.
First, QUALCOMM's Snapdragon processors for mobile phones have performed well and generated revenue growth of 60% compared to the previous year's quarter. The Snapdragon series is used in a range of Android smartphones. This includes high-end phones such as Samsung's (OTC:SSNLF) Galaxy 21 series and other top Samsung products such as the Galaxy Z Fold. QUALCOMM's Snapdragon SoCs are generally somewhat weaker compared to the A-series chips from Apple. But since those are not available for Android phones, QUALCOMM's position in the non-Apple market is pretty strong. According to nanoreview.net, QUALCOMM's Snapdragon 8 Gen 1 has the (shared) second-best rating among all Smartphone processors, trailing only the A15 Bionic from Apple. The compelling market position should allow QCOM to generate solid results from its smartphone SoC business in the future, too. It should be noted that growth will not remain at 60%+ rates forever, of course. Due to the law of large numbers, that is an impossibility in the long run.
QUALCOMM also has other growth assets in its portfolio. Its RF chip revenue grew by more than 25% during the most recent quarter, for example. With connectivity becoming ever more important, and thanks to new trends and technologies such as 5G, QCOM should be able to generate solid growth in this space in the future, too.
Automotive and IoT are growth areas as well. In the automotive space, macro trends such as electric vehicles and autonomous driving allow for huge market growth in the coming years. Electric vehicles do use more chips, on average, compared to ICE vehicles. Vehicles with autonomous driving tech need even more chips, sensors, etc. to take in and process vast amounts of data. Connectivity features, both on a car-to-car basis, as well as car-to-home or car-to-phone use cases, also require additional chips in modern vehicles compared to how vehicles were designed and built in the past.
All of these trends make for a compelling near-term and longer-term growth outlook. Investors shouldn't expect a 30% growth rate forever, of course. But even if QCOM were to grow its revenue by just 5% in the long run, returns could be compelling. Add some operating leverage and buybacks, and a 5% revenue growth rate might easily turn into a 10% earnings per share growth rate. Current analyst expectations are higher, thus this estimate might end up being (way) too conservative. For reference, YCharts reports that the current long-term consensus EPS growth rate is 17%.
What Is The Future For QUALCOMM Stock?
If QCOM grows its earnings per share by 10% in the long run, it will be a strong investment. If the company manages to grow its earnings per share by 17% in the long run, it will be an excellent investment. Based on current forecasts for fiscal 2022, which will end in September, QUALCOMM should earn around $12 this year. If that number were to grow by 10% a year going forward, EPS in 2027 would total around $19. If QUALCOMM were to trade at just 12x net profits five years from now, that would make for a share price of ~$230, representing a ~50% gain from today. Add in the dividend yield of 2%, and QUALCOMM would deliver annual returns of 11%. If QCOM were to trade at 15x net profits in 2027, the share price could climb to $285 five years from now.
If the 10% growth estimate is too low, returns would be even more appealing. If analysts are right and QCOM grows its earnings per share by 17% a year going forward, its EPS will hit $26 in 2027. Put a 12x earnings multiple on that, and shares would more than double from the current price. Put a 15x earnings multiple on that number, and shares would climb to almost $400 five years from now.
Whether the analyst community is too optimistic or not, it seems to be pretty clear that QCOM's return outlook over the coming years is quite compelling. Even if growth is materially lower compared to what Wall Street is forecasting today (10% versus 17%), and even if QCOM's already undemanding valuation compresses further (from 13x net profits to 12x net profits), returns could breach 10%. To me, this shows that QUALCOMM is a compelling investment at current prices.
Is QCOM Stock A Buy, Sell, Or Hold?
Shares traded for as low as $60 in 2020, and even the 52-week low of $120 is significantly lower than the current share price. That being said, the total return outlook is compelling. QCOM has a clean balance sheet and a strong market position in growth areas such as automotive, IoT, etc. Shares have been pulling back in recent weeks, and investors might get a chance to buy into QCOM at even lower prices in the coming months. For someone buying today, the longer-term return outlook is very healthy, nevertheless.
A stock split seems possible, but that shouldn't be the main thesis for investors when deciding whether to buy or not. Instead, it should be seen as an incremental positive if it happens.
Is This an Income Stream Which Induces Fear?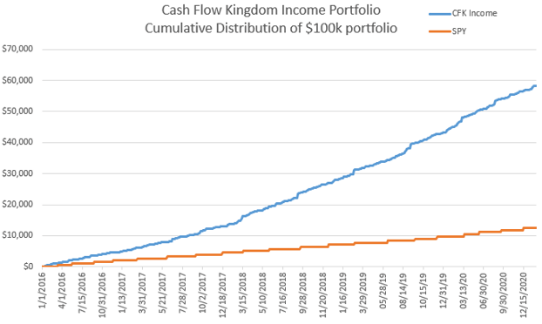 The primary goal of the Cash Flow Kingdom Income Portfolio is to produce an overall yield in the 7% - 10% range. We accomplish this by combining several different income streams to form an attractive, steady portfolio payout. The portfolio's price can fluctuate, but the income stream remains consistent. Start your free two-week trial today!
This article was written by
Jonathan Weber holds an engineering degree and has been active in the stock market and as a freelance analyst for many years. He is an active author on Seeking Alpha since 2014.    
According to Tipranks, Jonathan is among the top 1% of bloggers (as of August 1, 2023). 
Jonathan is interested in income stocks and value stocks primarily but does also follow some growth stocks. 
If you want to reach out to Jonathan, you can send a direct message here on Seeking Alpha.
Disclosure:
I work together with Darren McCammon on his Marketplace Service Cash Flow Club.

Analyst's Disclosure: I/we have a beneficial long position in the shares of QCOM, AMZN either through stock ownership, options, or other derivatives. I wrote this article myself, and it expresses my own opinions. I am not receiving compensation for it (other than from Seeking Alpha). I have no business relationship with any company whose stock is mentioned in this article.
Seeking Alpha's Disclosure: Past performance is no guarantee of future results. No recommendation or advice is being given as to whether any investment is suitable for a particular investor. Any views or opinions expressed above may not reflect those of Seeking Alpha as a whole. Seeking Alpha is not a licensed securities dealer, broker or US investment adviser or investment bank. Our analysts are third party authors that include both professional investors and individual investors who may not be licensed or certified by any institute or regulatory body.