Clovis Oncology: Rubraca Win In Ovarian Cancer May Have Come Too Late
Summary
Clovis Oncology finally realized some share price upside last week after positive results from a Phase 3 study of its only commercial drug Rubraca.
The data suggests Rubraca can enter the 1st line therapy space in Ovarian candidate - the PARP inhibitor extended Progression Free Survival by >15 months.
The issue is the two other PARPs Rubraca will compete against - Lynparza and Zejula, marketed by AZN / MRK, GSK respectively. The incumbents will be tough to shift.
Clovis made a net loss of >$260m in 2021 and >$360m in 2020. Current cash position is <$150m, so investor dilution is a near certainty.
There's an intriguing programme in targeted radionuclide therapy but this could be a little overstated. Rubraca in non-HRD could be Clovis Oncology's salvation, or a buyout.
Looking for more investing ideas like this one? Get them exclusively at Haggerston BioHealth. Learn More »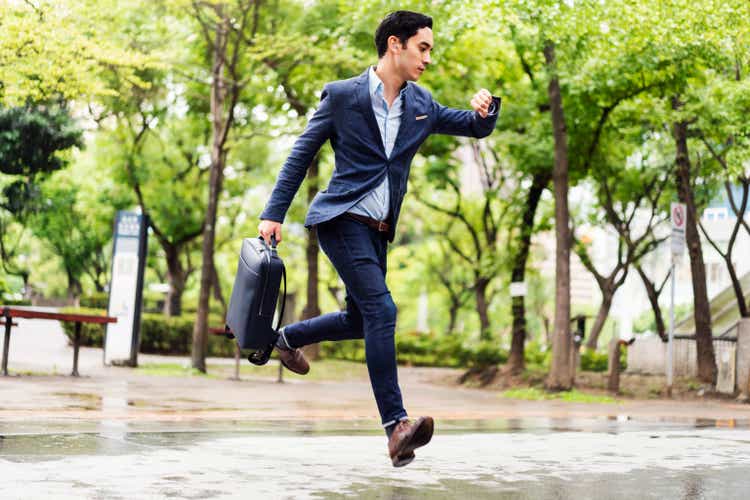 Investment Thesis
Clovis Oncology (CLVS) stock has performed poorly for investors over the past five-year period, down >95%, and across the past year, down >60%, but the company and its investors at least had some news to cheer last week.
Rubraca - Clovis' only approved drug - an orally administered poly-ADP ribose polymerase ("PARP") inhibitor - is approved for certain types of later line Ovarian and Prostate cancer treatment, earning $148.8m of sales in FY21 - down 10% year-on-year - whilst overall, Clovis recorded a net loss of $264.5m in 2021, following a loss of $369m in FY20.
Clovis / Rubraca's problem has been that the drug competes against two other PARP inhibitors - AstraZeneca (AZN) and Merck's (MRK) Lynparza, and GlaxoSmithKline's Zejula, both of which have been approved in earlier lines of therapy in both Ovarian and Prostate cancer, and other indications besides, earning respectively $2.35bn and $520m last year.
Last week, however, Clovis management was able to report positive results from its ATHENA-MONO Phase 3 trial of Rubraca in a first-line maintenance treatment indication for women with advanced ovarian cancer regardless of biomarker status who have responded to first-line platinum-based chemotherapy.
Rubraca met its primary endpoint of Progression Free Survival ("PFS"), achieving statistical and clinical significance, achieving median PFS of 28.7 months vs 11.3 months in the placebo arm of the 538-patient study, with its safety profile consistent with its current label - only 12% of patients discontinued treatment due to adverse safety events, versus 5% in the placebo arm.
Interestingly, Rubraca showed a positive effect in all patients, including those patients whose tumors didn't have homologous recombination deficiencies ("HRD") - 12.1 months PFS versus 9.1 months on placebo - handing the drug a potential competitive advantage against Lynarza and Zejula.
The good news sent Clovis stock "soaring," from a price of $1.7, to $2.74 at the time of writing - a gain of 61% - and Clovis has promised to submit an supplementary New Drug Application ("SNDA") to the FDA in Q222 for label expansion into first line ovarian cancer treatment, which seems likely to be approved, based on the data.
Is this the news that can finally reverse Clovis fortunes and drive long-term sustainability and shareholder value, however? That may be a much tougher proposition for Clovis, since analysts have doubts over whether first line market share is genuinely up for grabs.
The ATHENA-MONO data was good, but broadly comparable to, as opposed to demonstrably better than, Lynparza and Zejula's, perhaps suggesting that these two incumbents will be hard to budge, given AZN / MRK and GSK's vastly superior R&D and marketing resources.
Clovis does have other initiatives to turn to - Rubraca is the subject of two further Phase 3 trials - TRITON3, in 2nd-line Prostate cancer, and ATHENA-COMBO, in 1st line Ovarian, in combo with Bristol Myers Squibb's (BMY) checkpoint inhibitor Opdivo.
The biotech is also developing a new class of cancer fighting drug - known as Targeted Radionuclide Therapy ("TRT") which involves "linking radioactive isotopes to targeting molecules that bind specifically to tumor cells or other cells in tumor environment," and has two potential uses, either as an imaging tool for chemotherapy, or in its ability to deliver therapeutic doses of radiation specifically to the tumor as a monotherapy.
Two TRT assets have made it into Phase 1 trials, but the lack of an established partner - a larger biotech or a big pharma with a focus on oncology, such as Amgen (AMGN), BMY, or Merck, for example, that could inject funds and raise the profile of TRT's as a drug class is potentially problematic, given Clovis' financial problems.
In the rest of this article I will look at the above-mentioned aspects of Clovis' business in a little more detail. At its current market cap of ~$375m - not much more than 2x sales, and almost equal to sales plus cash, you could argue that Clovis shares look undervalued, with an sNDA likely to be approved in early 2023 and the additional revenues that ought to bring - even if it's not much more than $100m - and longer term, a potential approval alongside Opdivo.
Balanced against that, however, you have to look at the company's losses. Management has forecast for similar R&D and SG&A expenses in FY22 as in FY21, which means the company is looking at another year of heavy (>$150m) net losses, while its at-the-market agreement is close to exhausted, with only $15.3m remaining (according to the 2021 10-K submission).
Making the bull case for Clovis involves a substantial amount of optimism and speculation about what could be, while the bear case is rooted in financial certainties and the intensely competitive and fluid markets in which Clovis operates, which are dominated by better resourced rivals.
At its current low share price, volatility is probably Clovis' friend, and there are data readouts to look forward to, certainly, and perhaps some buyout rumors - could a large pharma take Rubraca into markets Clovis cannot afford to? This can only be considered an extremely high risk investment however. Personally, I'll be sitting on the sidelines, as I find the financials too worrying, but optimists may believe Rubraca and the next gen TRT assets can help management complete an unlikely turnaround.
Is There Genuine Hope For Rubraca?
According to a recent deep dive note in Nature:
PARP inhibitors were developed to fight cancers with BRCA mutations, which greatly increase a person's risk of developing breast and ovarian cancer, but mounting evidence points to benefits in people without these mutations, too. Researchers are looking to build on these successes by developing better PARP inhibitors, searching for synergies with other drugs, and improving predictions of who will benefit.
The article goes on to describe how PARP inhibitors target PARP enzymes, which are part of a cells mechanism of action ("MoA") for repairing breaks in single strands of DNA, and how this inhibition is most effective in BRCA gene mutated cells, because these types of cell are unable to repair these breaks - a condition known as homologous recombination deficiency ("HRD"). In 2018, Lynparza was shown to improve progression-free survival by around three years relative to placebo as a maintenance therapy, and was swiftly approved as a first line therapy.
Apparently, HRD is a feature of ~50% of Ovarian cancers, and ~20% of these are BRCA mutated, which seems to imply a much larger market if PARP inhibition could be shown to be effective regardless of BRCA mutation, which has subsequently been proven, although Lynparza is only used in patients with HRD, and where there is no BRCA mutation, it's used alongside Roche's (OTCQX:RHHBY) Avastin - which targets vascular endothelial growth factor (VEGF).
Given that Rubraca showed efficacy in patients without HRD, extending PFS by three months, and that population accounts for ~50% of all Ovarian cancer patients, perhaps there's a substantial opportunity here.
It's possible, although Zejula already has an "all-comers" approval in Ovarian in the 1st line setting. Rubraca showed that it can reduce risk of disease progression or death in non-HRD patients by 35%, vs. Zejula's 32% in its own pivotal trial, however, which strikes me as encouraging, although Clovis' funds are so limited, would the company be able to fund the necessary marketing campaign to persuade physicians to drop Zeluja and prescribe Rubraca instead?
An additional problem for Clovis is that Zeluja and Lynparza both have numerous combination trials ongoing with the likes of Keytruda - Opdivo's chief rival - and other therapies, due to read out data this year, which may yet produce superior data to Rubraca's monotherapy data, and even trump its combo efforts alongside Opdivo.
And another issue is that Lynparza and Zeluja aren't the only competition Rubraca faces. Pfizer's Talzenna is another PARP inhibitor approved for breast cancer, which could be on target for approval in other indications, including prostate, while both AbbVie (ABBV) and Beigene (BGNE) have PARP inhibitors under development. Avastin is another competitor, as well as off-label chemotherapies from Johnson & Johnson (JNJ) and Novartis (NVS), Clovis notes in its 10-K.
Soon, data will be forthcoming from Clovis' TRITON3 Phase 3 trial of Rubraca in Prostate cancer, as a combo therapy, but it should be noted this is in 2nd line, and Lynparza has already made it into 1st line treatment, so once again the question is where Rubraca stands in relation to its rivals, and the opportunity here does not look as bright as the Ovarian non HRD opportunity, at first glance, and analysts early expectations of no more than ~$130m in peal sales in Prostate may prove accurate.
In summary, the chances of Rubraca making a major comeback and delivering blockbuster sales for Clovis still look remote, although I must admit I find the non-HRD space in Ovarian intriguing. Still, coming to the 1st line field so late, Rubraca has its work cut out, and Clovis simply does not have the funds to compete for physicians attention.
With new therapies likely coming to market that can challenge for supremacy outside of BRCA, HRD, Clovis would need a massive win in its Opdivo combo trials that guarantees standard of care status to really pull itself clear of trouble, in my view.
Is The TRT Pipeline the Long-Term Solution Clovis Management Needs?
Developing new drugs is not an easy - or a cheap - process, and the prospects of success are remote - especially in cancer, where the hit rate is less than 1 in 10, and the chances of making it from Phase 1 to commercialisation between ~3 - 8%, my online research suggests.
That is why I have my doubts about Clovis' TRT programme, led by FAP-2286, which has entered a Phase 1 trial in solid tumors, as a therapy, and a Phase 1 as an imaging agent.
FAP stands for Fibroblast Activation Protein, which is highly expressed in cancer-associated fibroblasts ("CAFs"), but has limited expression in healthy cells, potentially making the drug capable of selectively targeting solid tumors with superior accuracy. FAP-2286 is a peptide that can bind to FAP, or attach radioactive isotopes to it, for imaging purposes.
It's an interesting approach that could help to identify metastatic tumors, or treat them, and one that engages with a different part of the tumor mirco-environment than most others. In preclinical models, the therapy has demonstrated some efficacy, and there will be data from the Phase 1 trial of FAP-2286 available this year, management has promised, as well as the initiation of a combo study.
If successful, FAP-2286 could be rapidly joined in the clinic by three more assets, although what concerns me is that to date, Clovis has not found a development partner for its TRT project. Surely it would make very good business sense to partner with a willing big pharma concern on such a project, when Clovis' own finances are in disarray?
An upfront payment of one to a few hundred million would likely make Clovis profitable in 2022, which would be invaluable for the company, and probably allow it to raise money by issuing new shares, and at a good price also, since a partnership with a big Pharma would likely lift the share price.
It seems inconceivable that Clovis has not attempted to go down that route - the company has been exploring a sale for some time, apparently, with CEO Patrick Mahaffy telling investors as far back as the JPM Conference in 2020 that:
Everybody knows where to find me and every company in this industry is for sale.
If you're not shy about putting the business up for sale, then approaching prospective partners in relation to sponsoring a key program would be comparatively easier, in my view.
Perhaps prospective acquirers of Clovis know that if they simply wait it out, they will be able to acquire the business, TRT plus Rubraca for a knockdown price, since Clovis management will have no bargaining chips, but equally, a company may not to make a deal now before the company's debt spirals out of control.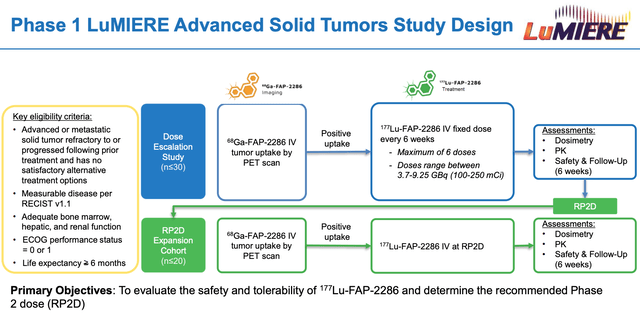 Source: Investor presentation
As we can see above, a 50 patient trial of FAP-2286 is planned, with a move into a Phase 2 planned as fast as possible, to maintain Clovis' first mover advantage into an undoubtedly interesting space. When it comes to placing a value on the technology and the opportunity, however, it should be noted that Clovis acquired these assets and the technology from a small German biotech, 3B Pharmaceuticals, for just $12m upfront in late 2019.
Conclusion - Unfortunate Clovis Earned A Deserved Share Price Boost Last Week, More and Better Data Readouts May Be Required
As mentioned in my intro, I would not necessarily say that Clovis is drastically overvalued at its current price of $2.74, and market cap of $389m, and I do think the upside realised last week was justified by the ATHENA-MONO data.
This was no small trial - 538 patients were involved, and floats the exciting prospect not only of Rubraca joining Zejula and Lynparza in the 1st line therapy setting, but also of a PARP inhibitor proving its worth in the non-HRD setting.
I have some doubts over whether the data was quite persuasive enough to challenge for standard of care in that setting however, or whether Rubraca can distinguish itself sufficiently either alongside Opdivo, or in prostate, but the space is certainly worth watching.
Unfortunately, I find Clovis' financial position quite worrying, with losses of >$260m and >$360m in the past two years, and a likely similar sum to 2021 in 2022, based on management guidance. That puts the entire future of the company in some doubt, I believe, and more or less guarantees dilutive fundraisings.
I think Clovis has done exceptionally well to develop a PARP inhibitor that's challenging the likes of GSK, AZN and MRK, and was launched ahead of a candidate from ABBV, but I wonder if Clovis has the necessary resources to continue to compete.
I also have some doubts about the value for the TRT program, but on the positive side, there ought to be plenty of data arriving this year.
If I were a holder of Clovis stock I would likely continue to hold the stock, and I can even anticipate the share price climbing further so long as the chances of Rubraca proving its worth in BRCA, HRD and non-HRD.
Ultimately, I doubt if the non-HRD data was quite impressive enough to change the treatment landscape, however, so although I'm remaining neutral on Clovis for now, I think the additional data we'll see in 2022 will ultimately make or break the company, and if there is to be an acquisition, it may also happen this year, or not at all.
I'm not quite optimistic enough Clovis will get the data it needs, and therefore I wouldn't invest myself - there are too many other, less risky opportunities in a biotech market that may just be on the turn after 18 months of strong bearish sentiment to justify the outlay.
If you like what you have just read and want to receive at least 4 exclusive stock tips every week focused on Pharma, Biotech and Healthcare, then join me at my marketplace channel, Haggerston BioHealth. Invest alongside the model portfolio or simply access the investment bank-grade financial models and research. I hope to see you there.
This article was written by
Receive regular, detailed analysis focused on biotech and healthcare stocks
I write about Biotech, Pharma and Healthcare stocks and share investment tips. Find me at my marketplace channel, Haggerston BioHealth - model portfolio + 4 exclusive stock tips every week. I'm on twitter @edmundingham
Analyst's Disclosure: I/we have a beneficial long position in the shares of ABBV, BMY either through stock ownership, options, or other derivatives. I wrote this article myself, and it expresses my own opinions. I am not receiving compensation for it (other than from Seeking Alpha). I have no business relationship with any company whose stock is mentioned in this article.
Seeking Alpha's Disclosure: Past performance is no guarantee of future results. No recommendation or advice is being given as to whether any investment is suitable for a particular investor. Any views or opinions expressed above may not reflect those of Seeking Alpha as a whole. Seeking Alpha is not a licensed securities dealer, broker or US investment adviser or investment bank. Our analysts are third party authors that include both professional investors and individual investors who may not be licensed or certified by any institute or regulatory body.