FLEETCOR Technologies: Near Record Low Valuation For This Compounder That Benefits From Higher Inflation
Summary
FLEETCOR is a high quality business expense automation company, with 42% of revenue from gas cards and 20% from their accounts payable business.
Both directly benefit from higher inflation and gasoline prices. Even a transition to electric vehicles likely is a net benefit to the company.
FLEETCOR appears likely to beat EPS guidance again this year, and remarkably trades at a near record low valuation at only 16x 2022 earnings.
Given their 15-20% EPS growth forecasts, we peg a fair value of FLT at 17-19x 2023 earnings, which puts the stock up 30-70% in a year or three.
Downside appears ~10-15% given the huge margin of safety on the stock currently.  There is recession risk, but that appears partly priced in as well.
Looking for a portfolio of ideas like this one? Members of Cash Flow Compounders get exclusive access to our model portfolio. Learn More »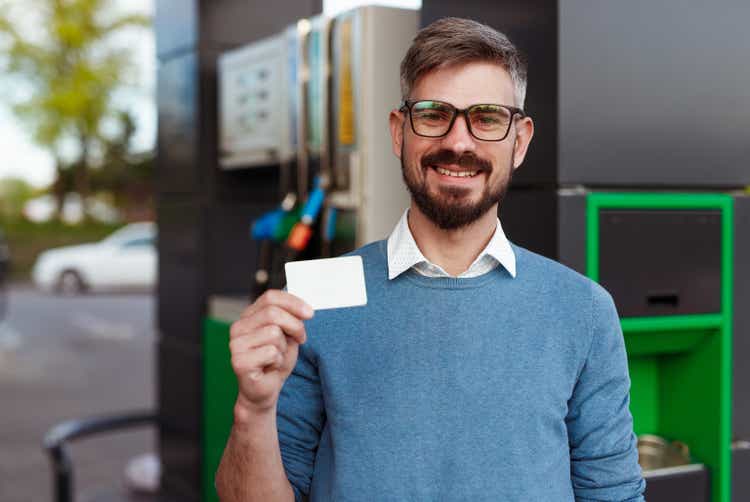 Summary
We like to buy profitable growth stocks with fortress balance sheets trading at below market multiples. We have two model portfolios of mostly compounders, both up materially year to date (beating the S&P 500 by 8.5% and 6.2% respectively). We wanted to highlight one of our favorite stocks, FleetCor Technologies (NYSE:FLT), which we recommended last month.
Since FLEETCOR Technologies (FLT) IPO'd in 2010, EPS has grown from $1.66 to $13.21 last year. The stock has generated 23.6% annual returns for shareholders since January 2011, with FLT up from $30 to $250 per share. EPS has compounded 20% annually. Ron Clarke, the founder and still CEO at 64 years of age, remains a tough and smart manager that we respect quite a bit.
He owns roughly $1BB worth of FLEETCOR equity. Companies run by founder/CEO's with high inside ownership tend to be ones that outperform the market.
FLEETCOR's business was hit by the pandemic, as they operate fuel cards that were obviously used less frequently, especially for white collar business travelers. Their lodging cards also suffered, and organic revenue declined by 8% in 2020. Revenue bounced back nicely to 12% organic growth in 2021 however, and is expected to grow another 10% organically in 2022.
Investors seem to no longer respect this stock however. At $250, it is trading at a 16x forward P/E multiple, not too far from the pandemic lows set in March 2020. That is 20% below its 8-year average 20.4x multiple. Historically FLT traded at a 20% premium to the market, but now trades at a 20% discount.
While EPS growth appears to be slowing a bit from 20% pre-pandemic to 15-20%, we are left scratching our heads wondering why this stock trades at such a discount to the market.
We continue to believe FLT deserves at least a market multiple, especially given its high ROE's (well above 20%), low capital intensity (only $130mm of capex on $2BB of EBITDA), high and growing margins (almost 60% EBITDA margins, up from 53% a few years ago), as well as continued prospects for growth.
A big concern with FLEETCOR is that electric vehicles (EV's) may displace the need for fuel cards. The reality is that there is little economic difference to FLT in how a corporate car, van or truck is propelled. All need some form of energy that they charge for. Plus, this business is only 42% of the total revenue at FLEETCOR. It was over 90% at the time of the 2010 IPO. (More on this later).
Below is FLT stock on a forward P/E basis dating back to 2014. We are hard pressed to find companies growing revenue by 9-11% organically, EPS by 2x the S&P, and trading at 16x earnings.
Especially ones that can grow inline with inflation/higher oil prices.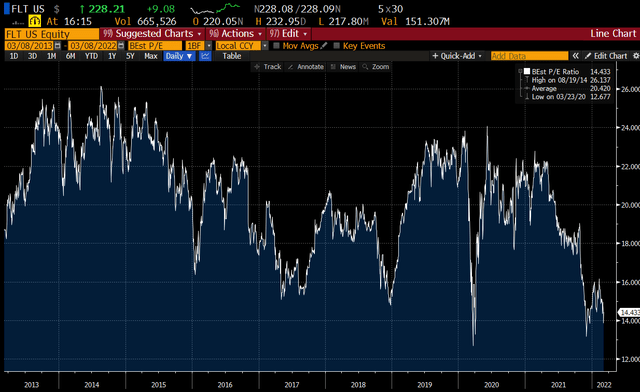 Generally speaking, we think 17-19x earnings at least is a fair multiple for FLT, depending on where the market ends up bottoming (we think the S&P ends up at 17x barring a war lasting more than 6-9 months).
That puts FLEETCOR stock at $269 to almost $400 perhaps in a couple of years.
We peg $220 as a downside level, as at a paltry 14x earnings even hardcore value players likely would be buyers. It was also roughly the pandemic low valuation for FLEETCOR.
Business
Below is a more detailed look at the company's mix of products. 42% of their revenue was derived from their core Fuel Card business last year, 21% from corporate payments, 11% in tolls and lodging each, and finally 6% in gifts.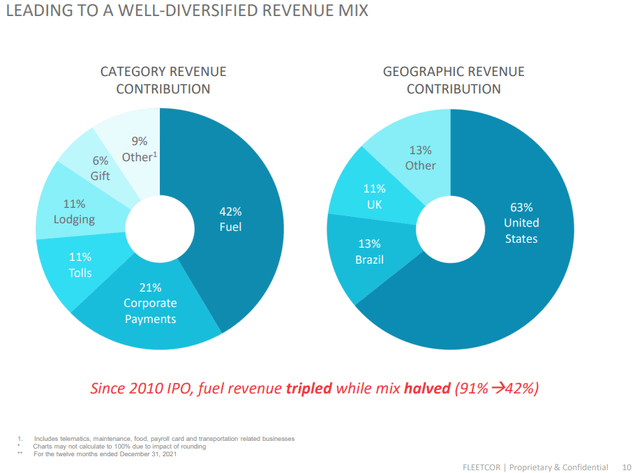 In a nutshell, FLEETCOR is a cost manager for corporations. They manage B2B payments and help companies spend less by controlling what they and their employees buy.
For more information on their segments and background, our original write up here offers a lot of detail.
FLEETCOR overall manages $250BB in spend annually, 37% of which is outside the US. They have 100,000 business clients doing $2.8BB in revenue. As mentioned, FLT expects 10% organic growth in 2022 and long term.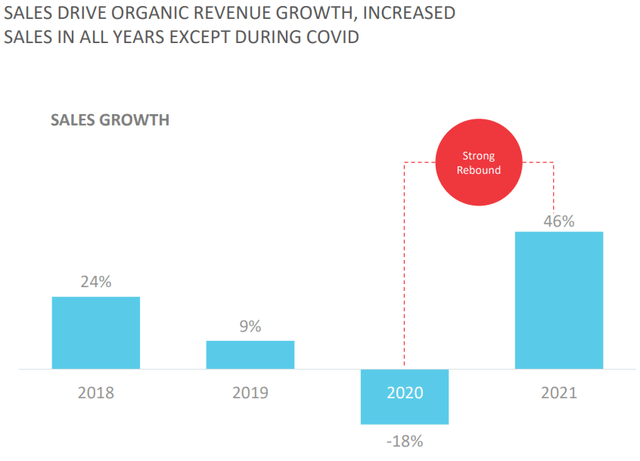 Updated Capitalization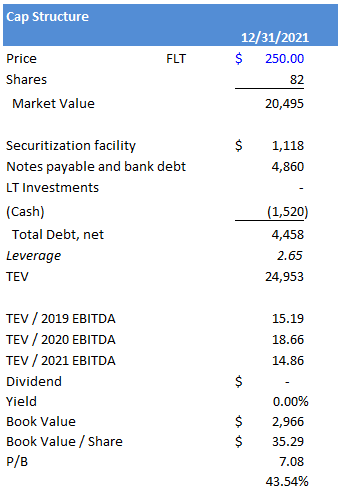 The company's balance sheet is solid at only 2.7x levered on an EV/EBITDA basis.
Electric Vehicle Impact
The electric vehicle push could have an impact on their gas cards. But the company already in continental Europe has connected their cards to 85% of Europe's charging stations. It is lower in the UK at 22%, but should improve rapidly. 5000 clients have EV cards too.
The company maintains that the economics are roughly the same for EV fleets as for internal combustion engine fleets. From the December call:
So can you provide some insight on what the economics might look like for the EV offering? It's impressive that the transition to EV is revenue neutral. So I'm just curious what what's driving that? Thank you.

Charles Freund

Hey Ken this is Charles. Good question. And I actually had our analysts pull data from the Netherlands, a country that's a little bit further ahead in terms of EV migration in the UK, which is further ahead than the U.S. And there we have about 18,000 clients. And we said, okay, let's split those clients into two categories, a group that only buys fuel, it has no EV. So ICE, internal combustion engine only, and then mixed fleets. And what I tell you is about 14% of the clients about 2500 clients are mixed fleets. So they've got both types of vehicles. And they tend to be larger. So the enterprise level clients are moving even faster. So the mixed fleets averaged about 20 cards per account or vehicles per account. Whereas on the fuel only fleets ICE only fleet, there are about five cards per account.

When I look at those mixed fleets, the actual revenue per vehicle that we receive on EVs versus fuel, it's actually slightly higher. And part of the reason is that these enterprise level clients get rebates when they go out in the fuel networks, which we provide to them, which we don't give on the EV reporting side. And so the economics turn out to be neutral and actually slightly favorable on the EV side. And so without getting into too specifics client level type of revenue per, I would tell you that EV is about 20% higher for these mixed fleets.

Out there cards, they've got about 15% to 20% over EV already. So we're seeing some real data points here. But that just gives you a sense of who's moving kind of the size of accounts that are moving, how far they've moved and the economic kind of relationship there and why it's comparable.

So let me just jump on to what Chuck said. So to me there was maybe a massive misconception that, hey, when a business moves to EV the plug in and everything's free. So goodbye, Fleet, tough, tough days. So the two things that I can't but not admit it some years ago, I was worried when I was dumber. But the two things that are clear are one, it costs way more to recharge an EV vehicle than people thought certainly when you do it publicly."
So, unless goods stop being transported, FLT should remain quite relevant. There is also the problem that diesel trucks will be difficult to electrify economically. Refilling every 2,000 miles in ten minutes is far more efficient with diesel gasoline than a slow refilling required every 200 miles for an electrified truck.
On this topic too, management at a Raymond James conference recently called their plan today the "connected car" strategy. There is lots of data that FLT collects from its customers - routes/fuel usage/type of vehicle/time/etc.
They capture and can charge for this information. FLEETCOR can compare energy efficiency across vehicles for example and help manage corporate fleets. It may be easy to trade out an executive car for an EV, but vans and large trucks are not as efficient haulers and may still require gasoline/diesel fuel to operate the most efficiently. Finally, this conversion will be slow, with revenue not solely dependent on transactions. With an increasing number of data/fees in place (subscriptions, etc.), there is a hedge to the variable gas card fees paid to FLT.
We aren't saying that gas cards continue to grow at 10% annually, but it appears the company has many levers to pull to offset any growth slippage in gas cards.
Recent Results
Last quarter (calendar Q4 2021), FLEETCOR organic revenue growth totaled 17%. That was 7% higher than Q4 2019. Every line of business grew double digits, even gift cards which has been weaker than other lines.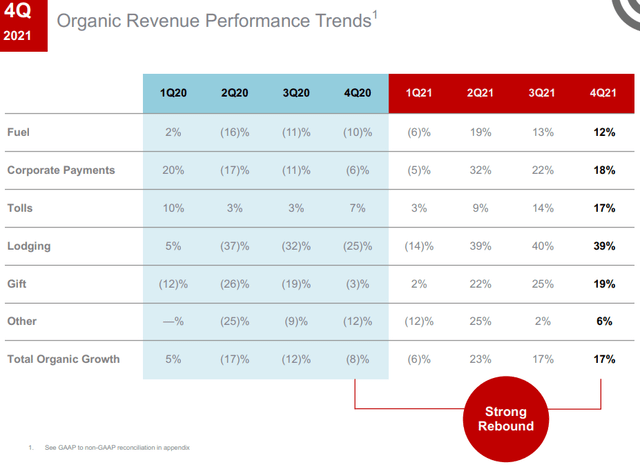 Long term we are particularly optimistic about corporate payments and tolls. Lodging is also still depressed and has room to improve.
One concern has been revenue retention, as VERY old claims of overbilling seem to continue to dog FLEETCOR. Sidebar: a settlement with the FTC seems overdue. See the appendix for more information.
In any case, retention came at 92.9% of their customers in the fourth quarter, up 70 bps year over year.
Overall EPS in Q4 was $3.72, compared to $3.01 in Q4 2020, and up 17% on a two-year stacked basis (that is, vs Q4 2019).
For 2022, management guided to $15.00 to $15.50 in EPS. That is 15% growth vs the $13.21 they did in 2021. Revenue guidance suggests 14% growth in 2022 (10% organic), and EBITDA margins suggest 59% for both 2021 and 2022.
So far, inflation has not really impacted results. In fact, guidance at the company assumes no inflation. Their business grows inline with inflation generally speaking, as the company collects roughly 1.5% of customer gasoline spending. Of course, internal payroll costs will increase for the company, but gasoline inflation has exceeded wage inflation to date. Consolidated, 62% of their revenue (their core fuel card and corporate payments businesses) benefit directly from higher spend.
On the fuel side, guidance assumed $3.40 in retail gasoline prices per gallon. According to the company, for every 10c in higher gasoline prices, the company earns $6mm more in revenue. At current prices of $4.17 per gallon, that implies $77mm of incremental revenue or $0.46 in additional EPS.
However, the company has business in Eastern Europe, including its own separate network for gas cards in Russia, Poland, Lithuania and Ukraine. That totals 3% of revenue, and we assume will disappear entirely. That works out to $0.50 in lost EPS, which pretty much is then a wash compared to the gains from higher gasoline prices.
But given that guidance assumed ZERO inflation, we think there is an excellent shot at FLT beating estimates. They beat and raised several times last year, with almost no positive implications for the stock ironically.
Here is their reporting history. Note that they have beaten estimates every single quarter back to 2018 (%Surp column) by an average of roughly 3%.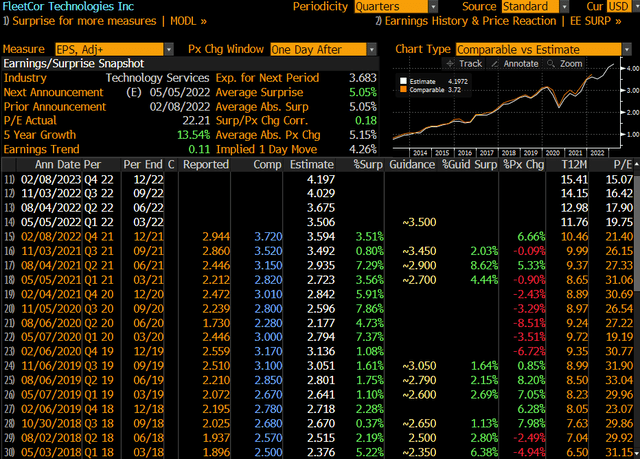 Longer Term Growth
FLEETCOR generally has guided to 10% plus organic revenue growth long term, with EPS growing 15% to 20%. With lots of small tuck-in acquisitions, it likely ends up higher.
Here are notes from a conversation with a former WEX and FLEETCOR employee offering an inside glimpse into the industry.
WEX focuses more on larger names, like Shell and Chevron. But those are less profitable, and FLT generally should be able to grow faster as it focuses more on small to mid-sized companies.
Fuel probably can grow 9% annually, as its easier to grow a smaller account by 10-15% annually.
As fuel prices go up the company benefits because a majority of their revenue is driven off of the interchange. That is about 1.2% to 1.5% overall on that interchange piece, plus fees. They're collecting on average 150 basis points per transaction.
Fuel card growth will certainly slow but the corporate payment space, virtual cards, and the fully automated accounts payable areas will offer new growth avenues for FLT.
Clearly FLEETCOR and Wex are diversifying away from gas cards. And AP automation (accounts payable) could be "really really big."
Regarding Ron Clarke as CEO, he knows the fleet business and the payment business really well. When they make an acquisition, he knows where it fits and how they are going to derive revenue synergies from it.
The impression is the Ron Clarke is a very smart CEO. We agree from what we have seen and heard from several calls and conference presentations. On the growth side, 8-10% sounds like the right ballpark (organic topline growth).
Model / Projections
Here is our model.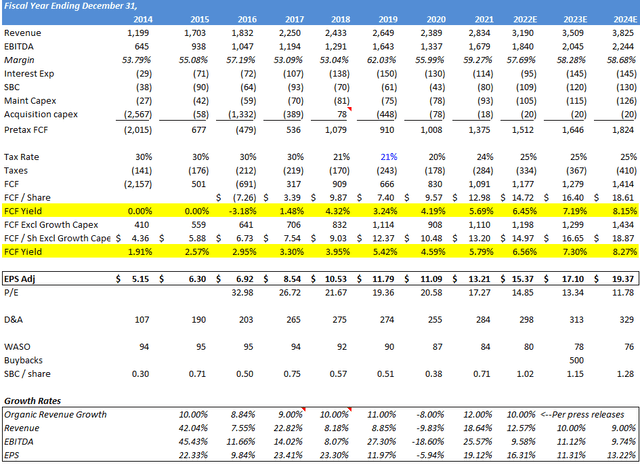 Assumptions:
Revenue. We assumed the low end of guidance ($3.19-3.25BB), as economic weakness seems likely to weigh, especially in Europe.
Margins. We backed into what EBITDA margins would look like based on net income and revenue guidance. We model 57.7% this year vs 59.3% in 2021. Given the handful of small acquisitions in the past year, some may be margin dilutive. We simply do not know. But we do suspect that the company is sandbagging margins a bit here. Scale economies are strong in this business.
EPS. With guidance between $15.00 and $15.50, we ended up at $15.37. They probably do $15.75 if history is any guide, assuming the economy in the UK, US and Brazil continue to slog along.
Interest. We assumed $50mm more in interest in 2023, as an FTC settlement could cost them $1-$2BB say (yes, we are making this number up, but have nothing to go on really). We assumed $1.5BB in fines financed at 3.3%.
In 2024, the Street expects $20.28 in EPS. We are about a dollar lower, with higher interest costs and lower revenue growth. We tend to err on the side of caution.
Finally, the company expects to buy back 2mm shares of stock in 2022, and repurchased 4mm in 2021.
A back of the envelope fair value in our view is 18x $20 in EPS in a couple of years. That is 44% upside, over 20% annualized IRR's, with a long runway for continued growth beyond that.
Valuation
At 16x 2022 EPS, FLT is just plain too cheap. We are ~15% above record valuation lows, and generally suspect that the stock could fall to $220 technically speaking. Wex Inc (WEX) is the best and really only peer, and trades also at a record low valuation of ~15x forward earnings. Its historical average has been 19.3x earnings and 15-19x EBITDA.
To value FLEETCOR, we conservatively assumed a market multiple 17-19x. It is near impossible to suggest that this is a lower than average quality company in the S&P 500. Ultimately, unless the company is flat wrong on the transition to EV cards from gas cards, the market should re-rate FLT to a more appropriate multiple as investors get comfortable here.
On an EV/EBITDA basis, FLT usually trades at 15.8x. Today at 13x it is at near pandemic lows:
FLEETCOR does operate in a cyclical industry, so less corporate travel (which is already still depressed on the white collar / sales side), can impact the company. A recession, should war linger, would impact demand and employment levels. But the transition to more goods being shipped is a secular one we like here. We know we have mentioned multiple times that inflation is also a positive for FLT's customer spending.
At FLT, 50% of their costs are fixed, which shows up in their continually expanding EBITDA margins (about 1% point annually, with management suggesting that 1.5% percentage points is reasonable).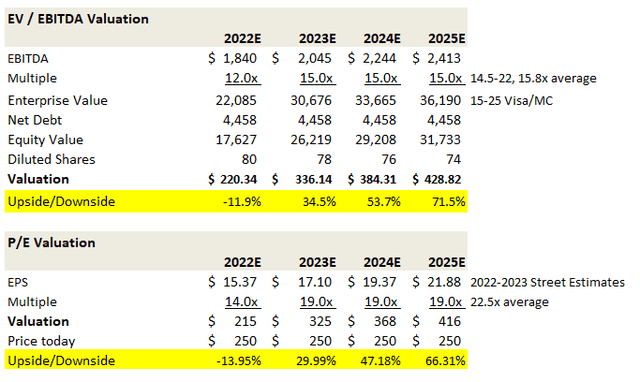 Using conservative multiples suggests 30% to 70% upside longer term.
Conclusion
At the RJF conference last month, the CFO said that, regarding the low stock price, that they are "patient to a point." Ron Clark is a major shareholder, and he said that "if the market doesn't respect what they do, they will go a different route to generate a return." That could be a go-private transaction or a more aggressive buyback plan. Perhaps even a sale.
FLEETCOR generates $1.2BB in free cash flow per year, and could use some leverage to tender for shares too. We don't know, but recognize that extreme valuations can often be a catalyst in and of themselves.
We like this chart too.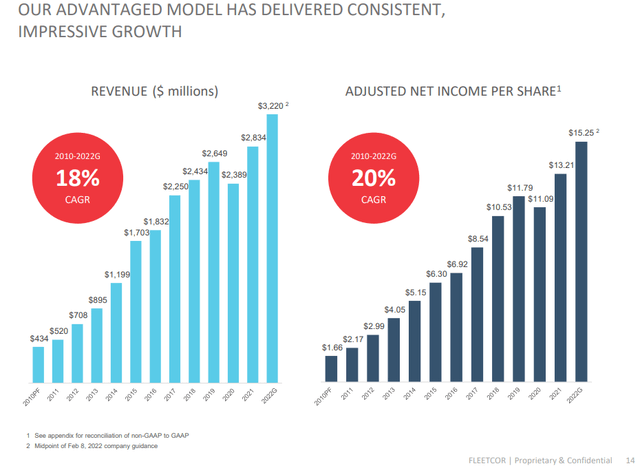 Appendix with comments on unresolved FTC suit from a former FLEETCOR insider
In 2017, the FTC filed a suit against FLEETCOR. Our original background has more on it. Here is the 10-K disclosure:

This relates to the US Card business only, or about a quarter of revenue. It likely was around $370mm of EBITDA. A settlement seems inevitable, but has taken a very long time. We estimate a $1-2BB cash payment worst case, and included that in forward interest expense in our model. It is old news.
One insider had this to say regarding the suit.
"My opinion on a lot of that is if you go back, when we came onboard, it was right after the Citron report had been released. That had gone into a lot of those things that were happening. I think what FLEETCOR was trying to do at the time was roll out technology that wasn't ready, that hadn't been, for lack of a better word, really stress-tested. What they ended up finding were some of the development problems in that causing multiple billing issues and then not having I think a cohesive response to it.

I do know that from our time there with that happening, I think Ron Clarke was on a call talking about good calories/bad calories in terms of spending and really was focused on ramping up the customer service and call center that's based down in Nashville. That was fully built for purpose customer service center. They've done a phenomenal job of trying to be more proactive in dealing with customers and making sure that the billing issues, payment issues, things like that are much more easily resolved.

On the fleet manager side, I think in the past, I think there were allegations that you could call into basically, they call it "tree from hell" where you just constantly were trying to get a hold of someone and then it just never happened. Now I believe FLEETCOR has not only resolved that but turned it around and are now being a little bit more aggressive in terms of trying to reach out to potential Fleet customers that what they determine may have a payment issue and reaching out to them and trying to resolve that proactively as opposed to waiting down the road.

For why it hasn't been settled yet, I don't know. It seems to be going on for quite a while. My personal opinion was I thought it was going to be taken care of in the first quarter as you talk and listen to everyone, first quarter of this year and that hasn't happened and still has yet to really hear anything about what's going on with that.

Was there simply the change of certain business practices? I would think that the remediation they're doing, it sounds like it has been almost two years I think, or over two years since the Citron stuff really hit.

Yeah. Like I said, I think they made an effort to rectify a lot of those things internally. I think to try to prove that, that is going on. I would assume still that, again this is my personal opinion, I still think that the FTC is going to want to extract some pound of flesh FLEETCOR."
Thanks for reading!  In 2019 we launched a Marketplace service entitled Cash Flow Compounders: The Best Stocks in the World. These are high return on equity, high free cash flow stocks with a proven track record in compounding earnings at higher than market rates. There we provide our BEST 2-4 ideas per month. Our picks going back to 2011 have produced just under 30% annual returns, putting me well within the top 1% of bloggers (TipRanks).  Sign up for a free 2 week trial to get my latest ideas!

This article was written by
Thomas Lott started as a portfolio manager at a hedge fund in 2003 and has worked as a financial professional for over 30 years. Thomas espouses Graham and Dodd/Buffett style investing, always on the lookout for high-quality equities at attractive valuations. He is a graduate of Vanderbilt University with an MBA from Northwestern's Kellogg School of Management.
Thomas leads the investing group
Cash Flow Compounders
where, along with NJ Value Investor, he aim to find the best companies in the world that are trading at attractive valuations. Features of Learn more include: their exclusive portfolio of compounders, 2-4 in-depth new ideas a month, live chat, and direct access for questions.
Learn more
.
Analyst's Disclosure: I/we have a beneficial long position in the shares of FLT either through stock ownership, options, or other derivatives. I wrote this article myself, and it expresses my own opinions. I am not receiving compensation for it (other than from Seeking Alpha). I have no business relationship with any company whose stock is mentioned in this article.
Seeking Alpha's Disclosure: Past performance is no guarantee of future results. No recommendation or advice is being given as to whether any investment is suitable for a particular investor. Any views or opinions expressed above may not reflect those of Seeking Alpha as a whole. Seeking Alpha is not a licensed securities dealer, broker or US investment adviser or investment bank. Our analysts are third party authors that include both professional investors and individual investors who may not be licensed or certified by any institute or regulatory body.