Canadian Pacific - My Biggest Supply Chain Bet
Summary
Canadian Pacific is my largest supply-chain bet as it benefits from a combination of all North American countries.
In addition to that, Mexico is one of the biggest beneficiaries of an accelerating supply chain reconfiguration after the pandemic.
The company is not cheap and suffers from economy-related de-risking, which is good as it comes with new buying opportunities.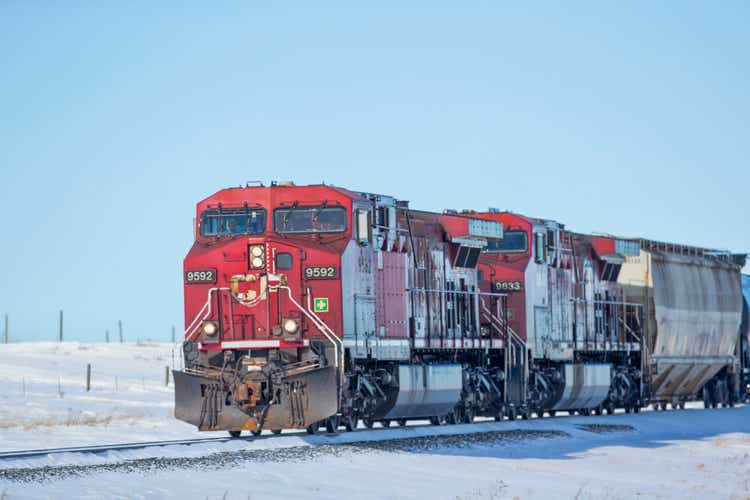 Introduction
On February 24, 2022, I wrote my most recent article covering railroad giant Canadian Pacific Railway Limited (NYSE:CP), which is one of my largest long-term holdings. The stock has a 5.6% weighting in my long-term dividend growth portfolio, which holds 95% of my entire net worth. Needless to say, I only buy companies that I consider the best protectors and multipliers of wealth. Canadian Pacific is one of my favorites.
In my last article, I discussed its earnings, growth potential, and valuation based on forward-looking indicators. In this article, I will do things a bit differently. One of the reasons why I bought Canadian Pacific - probably the single biggest reason - is the acquisition of Kansas City Southern. I have frequently covered this on my Twitter as well as we currently witness a few geopolitical and economic trends that support this thesis. As I got a number of questions on social media, Seeking Alpha, and via mail, I'm using this article to update my thesis as CP is set to be a big winner in the decades ahead if I'm right.
The Merger
Last year, Canadian Pacific bought Kansas City Southern after fighting a heavy battle with its Canadian peer Canadian National (CNI). Both companies have currently established a voting trust, which got approval from the STB. However, the final deal has not been approved. This is expected to happen in the second half of this year.
I'm almost certain that the deal will be approved. If any major issues could be a cause for problems, the companies would have never been allowed to establish a voting trust. However, and I cannot stress this enough, even if the deal fails, I will not sell CP as I like the standalone company as well.
Anyway, Kansas City Southern, which used to trade under the "KSU" ticker, has one major advantage: it connects the US to Mexico.
From a supply chain point-of-view, it's a match made in heaven as Canadian Pacific gets to connect its network to Kansas City Southern's network, creating a network combining Canada, North America, and Mexico. While it does not compete with the big guys in the West and East of the United States, it has access to the US Midwest and all major Mexican industrial, energy, and metropolitan hotspots.
As the overview below shows, the company can ship bulk from Canada straight to Mexico and connect the Mexican automotive industry to customers in North America. In this case without the need for additional companies, which was the case prior to the (pending) merger. This is a cheaper alternative for customers.
The bigger picture can be seen below. The future CPKC company will have 36% bulk exposure, 46% merchandise, and just 18% intermodal. In other words, it will be an industrial heavyweight combining production and export supply chains instead of a more consumer-focused railroad like Buffett-owned BNSF or Norfolk Southern (NSC). Note that I own Norfolk as well.
I made the decision to buy CP (even prior to the merger) because I wanted a railroad with a lot of bulk exposure. Right now, grain is CP's largest segment. The company services producers and customers in Canada's grain production hubs and the American corn belt. It is a major shipper of fertilizer, which is currently more important than "ever" given the production crisis and it is a major player in grain exports. The KSU merger will allow the company to service more export facilities and boost its existing capabilities.
Once the merger is finalized, CPKC will have 53% Canada exposure, 33% exposure in the US, and 14% Mexico exposure.
For now, CP is recognizing 100% of KSU's net income in its own financial statements. In this case, it's mentioned one line below operating income to reflect that CP does not have control over KSU yet.
So, what's new?
Mexico's Importance Is Growing
Before I show you what's happening in Mexico, we're currently in one of the most important times for North American railroads. Because of the war in Ukraine and other factors, the world is dealing with high inflation, the beginnings of food shortages, related fertilizer shortages, and a higher need for coal.
Including Friday's nasty decline, we're still seeing an 8.7% year-to-date performance excluding dividends. That's well above the minus 4.6% return of the S&P 500.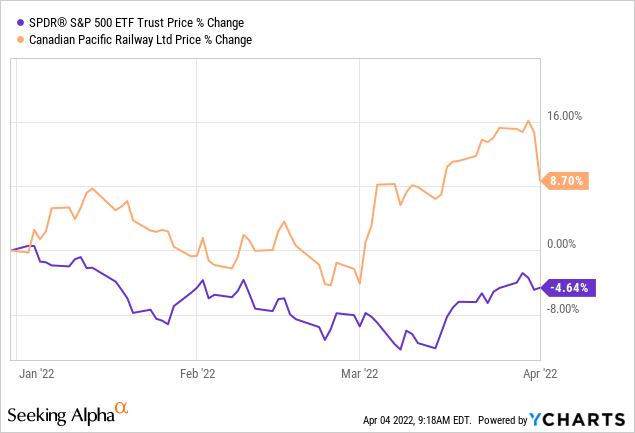 While I will elaborate on this divergence, we're seeing that "everything" that's currently happening is benefiting the US. One of these issues is connected to China.
In 2019, China accounted for 29.7% of global manufacturing output. The US came in second with 16.8%.
Mexico is not on that list as it cannot compete with these (further) developed industrial nations. However, it's already a go-to place for manufacturing. Former President Trump built his 2016 election campaign on bringing back manufacturing as automotive and related companies had moved production to Mexico.
While I am not making the argument to ship US jobs to Mexico, I'm making the case that Mexico is a winner when companies diversify away from China. The Wall Street Journal seems to agree as it published a piece that couldn't be more bullish for CPKC on a long-term basis.
Mexico is increasingly benefiting from companies who de-risk their supply chain:
Last year, large American manufacturers solicited chemicals, produce and construction materials and other goods from six times as many suppliers based in Mexico as they did in 2020, according to procurement software firm Jaggaer. At the same time, the number of suppliers in China that received procurement bids declined by 9% in 2021, Jaggaer said, using data from its 30 biggest U.S. manufacturing customers with an average of over $30 billion in annual revenues.

The push for suppliers in Mexico comes as more companies say they are resetting their supply chains by adding suppliers and bringing some production closer to end users. The effort is aimed at bolstering resilience and reliability following a series of shocks to supply networks brought on by Covid-19 outbreaks, port bottlenecks, extreme weather and geopolitical conflicts.
Moreover,
The added suppliers tend to be closer to the buyer and its customers, he said. The company tracked a 514% increase from 2020 to 2021 in Mexican suppliers receiving bids from its big U.S. buyers and a 155% increase in Latin American suppliers receiving bids over the same period.

At the same time, the company found those manufacturers sought goods from 26% fewer suppliers in the Asia-Pacific region.
These numbers are not lying and are a good start to a much bigger trend. Last week, for example, I covered a Handelsblatt article in my daily macro newsletter:
Already during the corona pandemic, deliveries of primary products from the Far East were interrupted and some assembly lines were temporarily at a standstill. But if gas, coal and oil from Russia were to fail at a stroke, the entire industry would be threatened with a veritable recession. The Green Minister of Economics, Robert Habeck, summed up the dilemma: "We can only decide on measures – and I can only be responsible for them – that I know we will be able to sustain and that they will not lead to serious economic damage in Germany."

China has recognised the danger of such dependencies. Under head of state Xi Jinping, the country is obviously striving to transform itself into a largely self-sufficient economy that will be less and less dependent on imports and foreign corporations.
China is increasingly protecting its own companies. It wants to become independent from countries like Germany which helped China turn into one of the world's biggest economies in a massive expansion since the 1980s. In addition to that, COVID has changed supply chains. Risks have risen. Add to this human rights abuses in China and countries like Germany have enough reasons to quickly focus on partners in North America. This, too, benefits Mexico.
With this said, there's one issue.
Economic Headwinds
This is the part where I do the valuation. In this case, it's impossible to put a number on the developments in Mexico. It's a long-term development that is not included in any model nor can anyone predict how supply chains will develop. One thing is sure, and that's the exceptional position of CPKC in this story.
Unfortunately, right now, railroads are not doing so well - after a good start to the year. CP shares have sold off last week to $78, after hitting $84.

The problem is that investors are de-risking their portfolios due to economic developments. I highlighted this in a recent Seeking Alpha article:
The graph below shows the ISM manufacturing index (orange) and the logarithmic chart of the IYT ETF. The ISM index is a monthly conducted survey that tells us where economic growth is headed. Right now, it's down. While I am writing this, we just got the number for March: 57.1. While that is 7.1 points above the neutral 50.0 number, it's another low in the current cycle. Hence, if history is any indication, investors will de-risk their portfolios. Right now, that's causing IYT to roll over.
With regard to the valuation, CP has a market cap of C$90.8 billion. In this case, I'm using its Canadian dollar valuation as the next few numbers are also in C$. In this case, the company has roughly C$720 million in pension-related liabilities and C$20.3 billion in current net debt. This gives us an implied enterprise value of C$111.8 billion.
This valuation is 13.3x 2024E EBITDA.
It's not cheap, but it also isn't that expensive as I expect the company to significantly boost revenue in the years after 2022. If we're lucky we could see rebounding auto production due to easing supply chain problems, high energy demand (coal and related), improving consumer sentiment (intermodal), and supply chain reconfigurations (Mexico).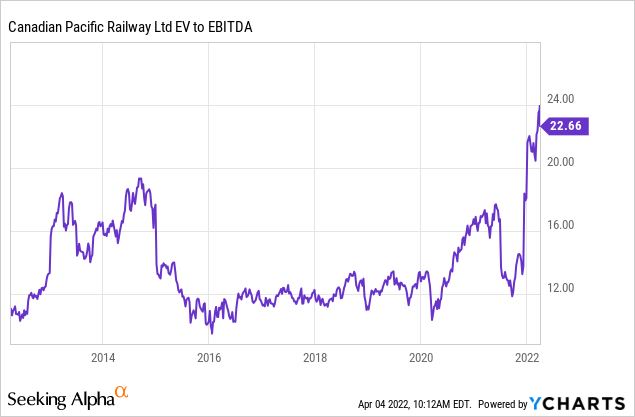 With that said, and with regard to current economic developments, I'm looking to buy more CP between $65 and $70 if I get the chance. I'm actually rooting for this decline to happen as I happily have more than 6% portfolio exposure in this industrial giant.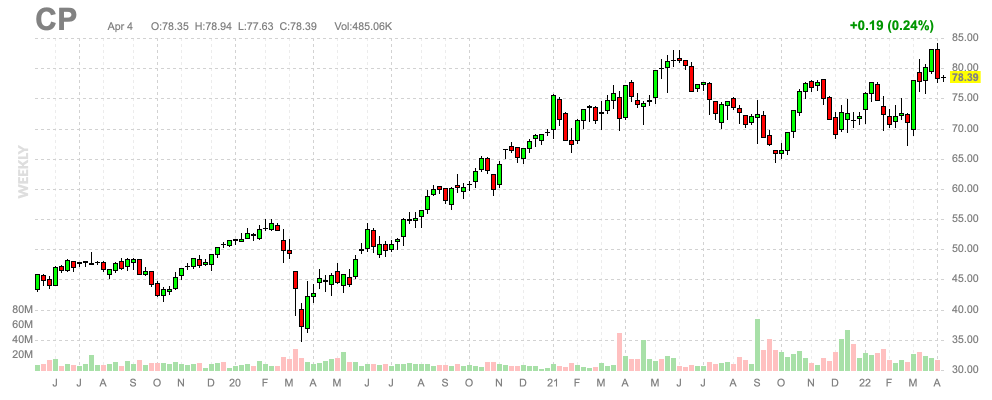 If you're not long already but looking to get in, I advise starting small. Buy a fraction of a full position now. Keep adding on a regular basis to spread entry risk, or buy on weakness only if it happens. Short-term, I'm neutral on the stock due to ongoing economic developments, so I don't expect a sudden spike in the stock price to make it impossible for people to get in.
Takeaway
Canadian Pacific continues to be one of my favorite long-term investments. The company is looking at a very beneficial merger this year, which will give it access to Mexico. Mexico is set to benefit from an accelerating supply chain reconfiguration on a global scale that is set to put a solid foundation under CP's very ambitious merger plans.
Right now, the stock isn't very cheap, but it's also far from being overvalued. I'm looking to buy more on weakness and advise (new) long-term investors to do the same.
(Dis)agree? Let me know in the comments!
This article was written by
Welcome to my Seeking Alpha profile!I'm a buy-side financial markets analyst specializing in dividend opportunities, with a keen focus on major economic developments related to supply chains, infrastructure, and commodities. My articles provide insightful analysis and actionable investment ideas, with a particular emphasis on dividend growth opportunities. I aim to keep you informed of the latest macroeconomic trends and significant market developments through engaging content. Feel free to reach out to me via DMs or find me on Twitter (@Growth_Value_) for more insights.Thank you for visiting my profile!
Analyst's Disclosure: I/we have a beneficial long position in the shares of CP, NSC either through stock ownership, options, or other derivatives. I wrote this article myself, and it expresses my own opinions. I am not receiving compensation for it (other than from Seeking Alpha). I have no business relationship with any company whose stock is mentioned in this article.

This article serves the sole purpose of adding value to the research process. Always take care of your own risk management and asset allocation.
Seeking Alpha's Disclosure: Past performance is no guarantee of future results. No recommendation or advice is being given as to whether any investment is suitable for a particular investor. Any views or opinions expressed above may not reflect those of Seeking Alpha as a whole. Seeking Alpha is not a licensed securities dealer, broker or US investment adviser or investment bank. Our analysts are third party authors that include both professional investors and individual investors who may not be licensed or certified by any institute or regulatory body.