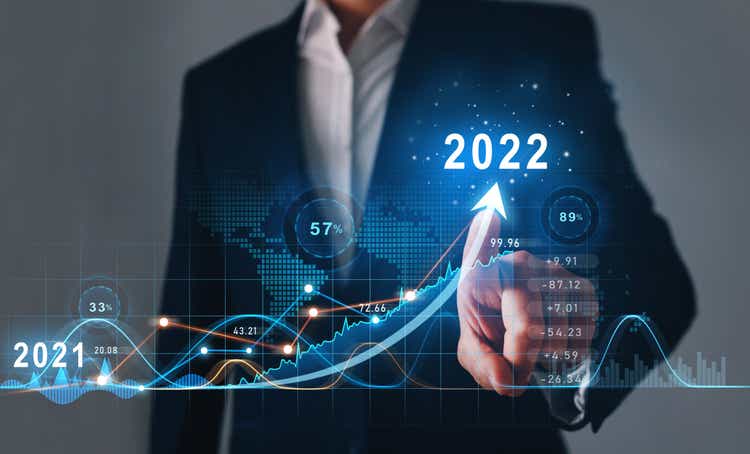 Even during the pandemic, Zumiez (NASDAQ:ZUMZ) continued to open new stores thanks to its long-term consumer centric growth strategy. In my view, if management also invests more in its ecommerce business model, the fair value of the stock would be significantly higher than the current stock price. The company is also acquiring its own stock, which will likely increase the demand for the stock. Yes, I envision some risks, however the upside opportunity in Zumiez's stock price appears larger than the potential downside risks.
Zumiez: Long-term Consumer Centric Growth Strategy
Founded in 1978, Zumiez is a specialty retailer of apparel, footwear, accessories, and hard goods. The company offers its products both online and in a large network of shops in the United States, Europe, Canada, and Australia: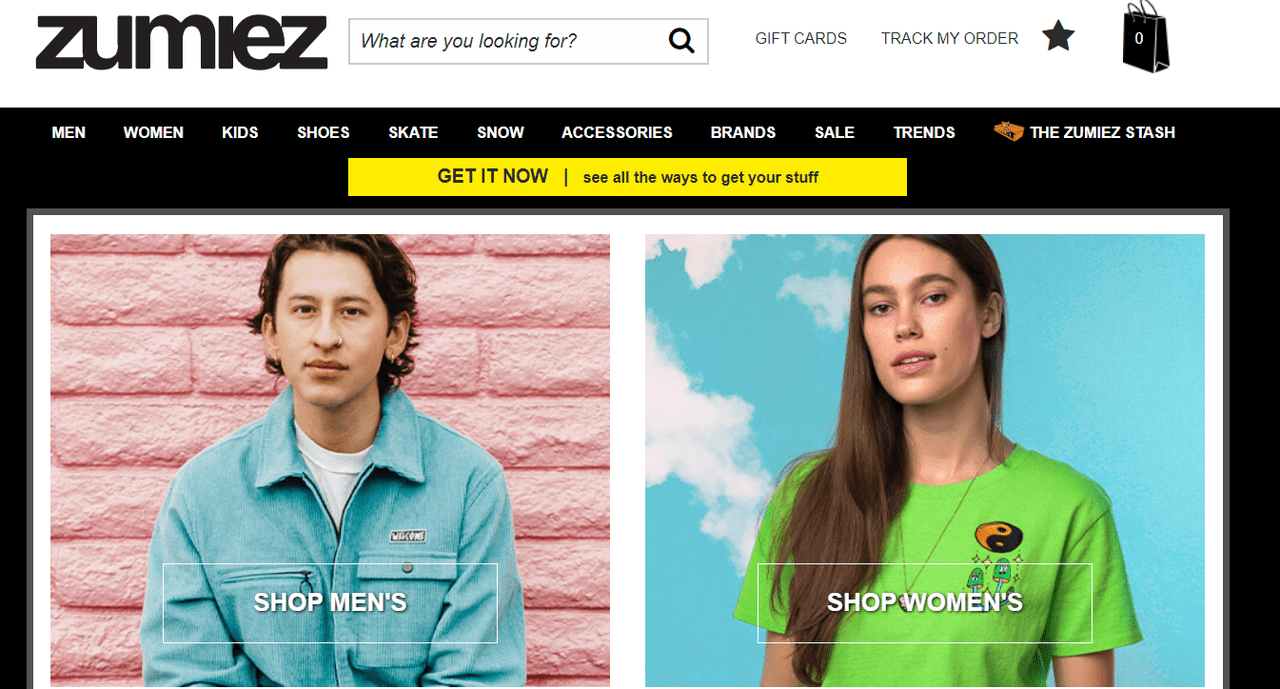 In my view, it is the right time to have a look at the company's business model. Keep in mind that even during the pandemic, management opened new stores, and closed a small number of stores:

The company's long-term consumer centric growth strategy appears to be one of the business secrets of Zumiez. According to the most recent quarterly report, this strategy offers rapid changes between trend cycles, and has produced significant compound annual growth in the past:
Our multi-year success is directly attributable to the execution of the long-term consumer centric growth strategy the Company has been building and evolving since its inception. This strategy, which requires significant agility in navigating the trend cycles and speed desired by our customer, has produced a 36.1% five-year compound annual growth rate in diluted earnings per share and generated $422 million in free cash flow over the same period. Source: Zumiez Inc. Announces Fiscal 2021 Fourth Quarter Results | Zumiez Inc.
Repurchase Of Stock And Optimism From Market Analysts
Most analysts are expecting revenue growth to stand at around 4.39% from 2022 to 2025. They also believe that the company's EBITDA margin will likely stay at around 13%, and the D&A/Sales ratio should not exceed 1.77%. In the light of these figures, I believe that most analysts are optimistic about the company's future developments. In my view, the company does seem a bit undervalued at 5.5x 2022 EBITDA. The sector median EV/EBITDA is close to 5x: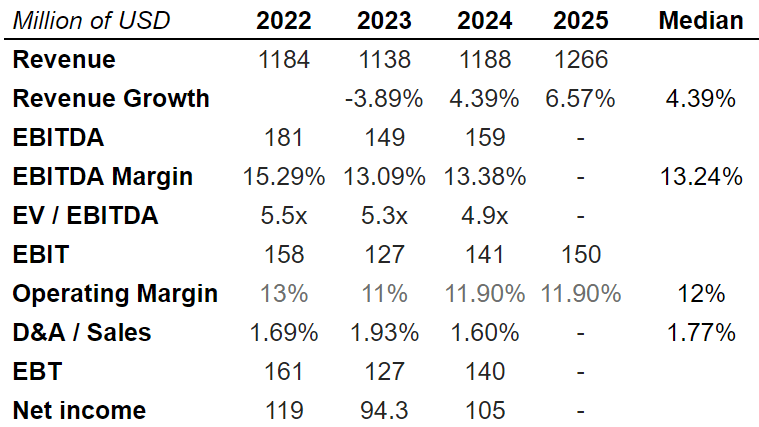 I don't seem to be the only analyst who believes that the stock is undervalued. The Board of Directors approved the acquisition of 18% of the total share count. I wouldn't expect directors to approve such a massive stock repurchase program if they believed that the stock is expensive. In my view, if we see more stock repurchase programs, the demand for the stock will trend north:
And in 2021, we further enhanced our shareholder value creation through the repurchase of 4.6 million shares or 18% of our common stock. We are pleased with our many recent accomplishments and we are excited about the opportunities to profitably expand our global reach in the years to come. Source: Zumiez Inc. Announces Fiscal 2021 Fourth Quarter Results | Zumiez Inc.
Let's note that analysts are expecting a significant decrease in the share count from now until 2025. With positive and growing free cash flow and a decrease in the shares outstanding, it seems likely that the stock price will trend north:

Base Case Scenario
Under normal conditions, I expect that management will continue to select great strategic locations for its shops. In addition, the company has accumulated a lot of know-how thanks to its operations for many years. The company appears to receive information from its online business model, which is later used to obtain the optimum store count:
We believe in driving to the optimum store count in each physical geography that we operate in and optimizing comparable sales within these markets between physical and digital to drive total trade area sales growth. Source: 10-k
Under this case, I also expect that Zumiez's STASH loyalty program and related marketing efforts will likely increase the company's brand awareness. As a result, both the customer base and the revenue will increase:
We believe that a key component of our success is the brand exposure that we receive from our marketing events, promotions, and activities that embody the unique lifestyles of our customers. These are designed to assist us in increasing brand awareness in our existing markets and expanding into new markets by strengthening our connection with our target customer base. Source: 10-k
Finally, I am optimistic because the messages from management are quite beneficial. Management expects store expansion opportunities outside the United States. Let's note that the company has already proved that it can successfully sell internationally, and promised to invest more overseas:
We believe our brand has appeal that provides select store expansion opportunities, particularly within our international markets. We have successfully opened stores in diverse markets throughout the U.S. and internationally, which we believe demonstrates the portability and growth potential of our concepts. Source: 10-k
Zumiez's target market is expected to grow at a CAGR of 2.15% from 2022 to 2026. With that, management reports larger sales than expected thanks to its long-term consumer centric growth strategy. Estimates from other analysts gave a median sales growth of 4.39% y/y, so I used a figure close to this figure.
Revenue in the Apparel market amounts to US$335,106m in 2022. The market is expected to grow annually by 2.15% (CAGR 2022-2026). Source: Apparel - United States | Statista Market Forecast
I also assumed an EBITDA margin of 13%, operating margin of 11%-12%, conservative changes in working capital, and capex/Sales of 1.54%. If the enterprise value stays close to its current level, the implied EV/EBITDA would decrease from 5.3x EBITDA in 2023 to 4.3x EBITDA in 2027. My results also included FCF growth from $75 million in 2022 to $95 million in 2027: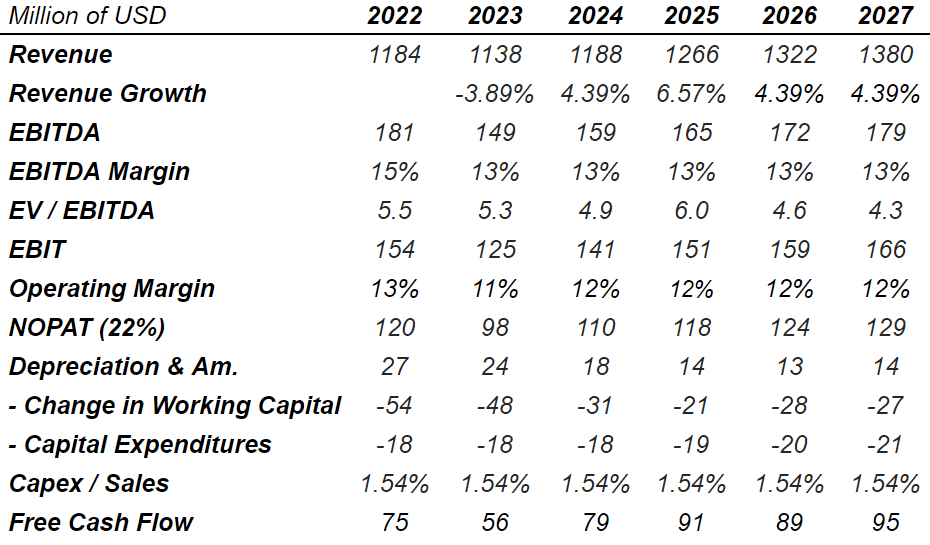 With an exit multiple of 7.1x and a WACC of 9.4%, the sum of the terminal value and the FCF until 2027 equals $1.1 billion. Adding the current cash in hand and subtracting the operating leases, I obtained an implied stock price of $46:

Other analysts may use a different CAPM. With that, I wouldn't expect their WACC to be far from that of mine. Keep in mind that competitors report a median WACC of 9.43%, which is close to my figure: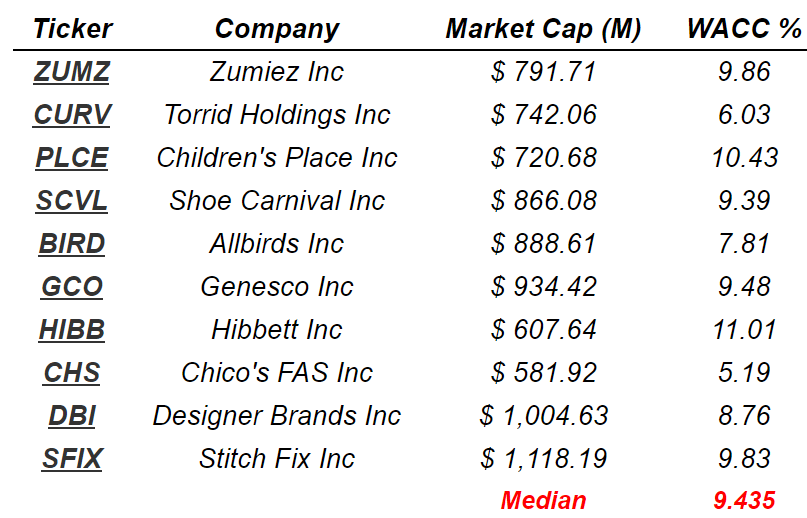 If Zumiez Invests Sufficiently In Its Ecommerce Business, The Fair Price Would Be Close To $90
The online apparel footwear and accessories market size is expected to grow at a CAGR of 11.91% from 2021 to 2026. With this in mind, I believe that sufficient investments in the company's ecommerce business model will likely bring significant revenue growth and better EBITDA margin. Keep in mind that Zumiez does not need to pay operating leases if the apparel is sold online:
The online apparel footwear and accessories market size in the US is expected to increase by USD 91.54 billion at a CAGR of 11.91% from 2021 to 2026. The online apparel footwear and accessories market share growth in the US by the apparel segment will be significant for revenue generation. Source: Online Apparel Footwear and Accessories Market size in the US to grow by USD 91.54 billion from 2021 to 2026
Let's note that this case scenario is not that unlikely. In the last annual report, Zumiez reported investments to make the company's digital channel a bit more relevant in the business model:
We have made investments over several years to integrate the digital and physical channels creating a seamless shopping experience for our customer and one channel expense structure. We believe this has been a critical asset during the pandemic in 2020 and recovery in 2021 marked by significant shifts in demand between physical and digital channels. Source: 10-k
I assumed that revenue growth should increase from 7.5% in 2024 to 10% in 2027. I also included an EBITDA margin of 15%, D&A close to $20-$25 million, and a capex/Sales ratio of 1.5%-1%. The results include 2025 FCF of approximately $125 million: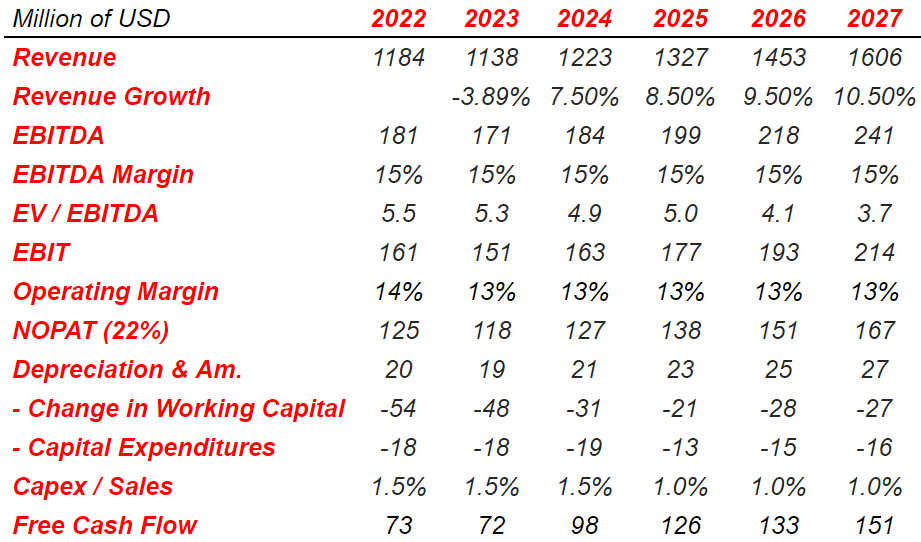 Under this case scenario, I also assumed an exit multiple of 10x and a WACC of 7.25%, which implied a fair price of $90. Yes, if the company transforms itself into an online shop, the upside potential in the stock price should be significant:

Supply Chain Issues And Issues With Manufacturing Firms Could Imply A Valuation Of $21.2
Zumiez could suffer significantly from supply chain issues. Keep in mind that the company counts with only one distribution center for the United States. The number of distribution centers in other countries is also not very significant. In my view, any issue with transportation companies or providers could damage the company's revenue line:
In the U.S., we rely on a single distribution center located in Corona, California to receive, store and distribute the vast majority of our merchandise to our domestic stores. Internationally, we operate a combined distribution and ecommerce fulfillment center located in Graz, Austria that supports our Blue Tomato ecommerce and store operations in Europe. Source: 10-k
Management is exposed to potential claims related to employment law both in the United States and overseas. Employees could claim higher wages, less working hours, or any other claims. The company may also have to increase salaries, which may lead to less EBITDA margin and a drastic reduction in the free cash flow:
We employ a substantial number of full-time and part-time employees, a majority of whom are employed at our store locations. As a result, we are subject to a large number of federal, state and foreign laws and regulations relating to employment. This creates a risk of potential claims that we have violated laws related to discrimination and harassment, health and safety, wage and hour laws, criminal activity, personal injury and other claims. We are also subject to other types of claims in the ordinary course of our business. Source: 10-k
The company operates with manufacturers all over the world. The company may suffer a loss of reputation from labor laws in Asia, Mexico, and Central America. In addition, the reputation of the company may also suffer from conflict minerals in Congo. The reputation of the firm could lead to less revenue growth and declines in FCF:
This includes costs to comply with regulatory developments regarding the use of "conflict minerals," certain minerals originating from the Democratic Republic of Congo and adjoining countries. Source: 10-k

In that regard, most of the products we sell are manufactured internationally, primarily in Asia, Mexico and Central America, which may increase the risk that the labor and environmental practices followed by the manufacturers of these products may differ from those considered acceptable in the U.S. Source: 10-k
In the worst case scenario, I assumed sales growth of -5% in 2025 and 2026, and -2.5% revenue growth in 2027. The EBITDA margin should also decline from 15% in 2022 to 10% in 2027. With an effective tax of 22%, I obtained 2027 NOPAT of $66 million. Finally, the free cash flow should decline from $73 million in 2022 to close to $35 million in 2027: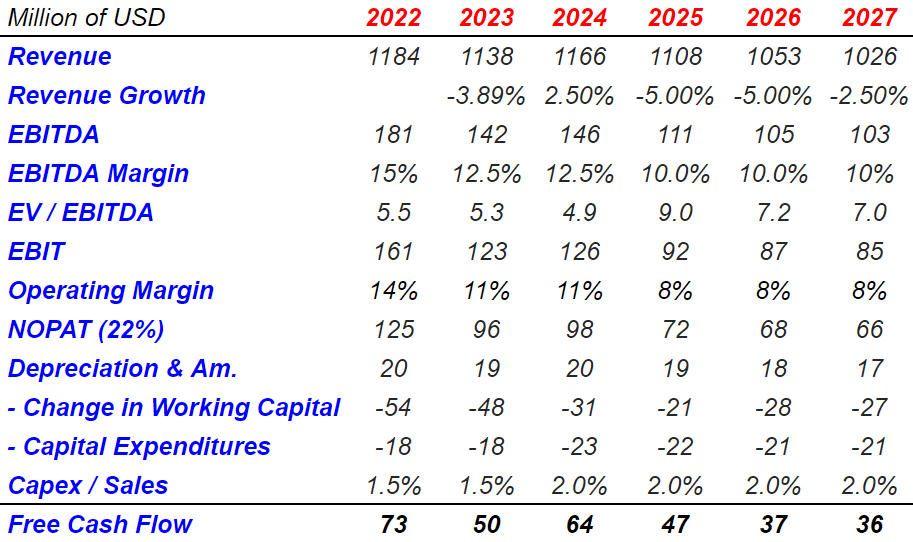 Under the previous assumptions, I assumed an exit multiple of 5x and a WACC of 12.3%, which implied a stock price of $21.2:

Tons Of Cash And Marketable Securities Ready To Finance The Ecommerce Business
As of January 29, 2022, management reports $117 million in cash and marketable securities worth $177 million. In my view, Zumiez has sufficient cash to make relevant investments in the ecommerce business segment. Zumiez's asset/liability ratio is also larger than 2x, so I wouldn't expect to be afraid of the total amount of liabilities: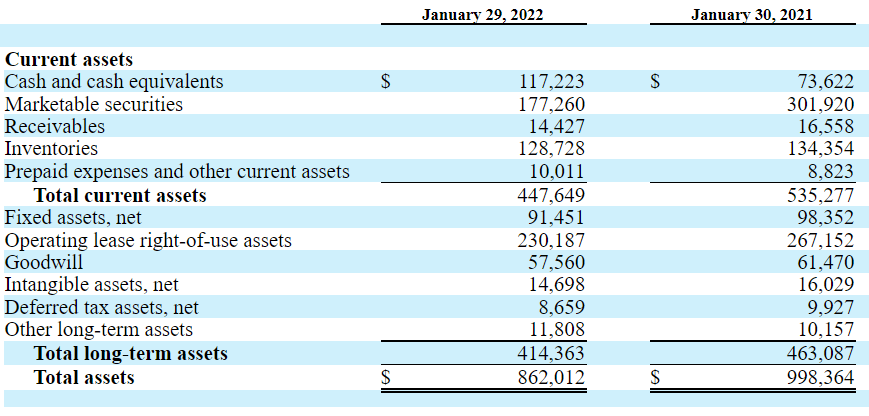 Like other apparel retailers, the largest contractual obligations of Zumiez are its long-term operating lease liabilities, which are worth $204 million. Also taking into account the short-term operating liabilities, the net debt appears close to zero. Hence, I wouldn't be afraid of the company's financial debt:

Conclusion
Zumiez is not only opening more stores even during the pandemic, it is also growing faster than the apparel market in the United States thanks to its long-term consumer centric growth strategy. In my view, shareholders will likely enjoy significant stock appreciation with more investments in the ecommerce business model. Besides, if the company keeps acquiring its own stock, the demand for the stock will likely increase. In any case, under the results of my DCF models, Zumiez's stock price appears more significant than the downside risk.