As The Colfax Chapter Ends, Both ESAB And Enovis Have Something To Prove
Summary
Colfax is splitting the company, spinning off the welding business (ESAB) to shareholders as a stock dividend, while retaining the medical device operations and renaming itself Enovis.
ESAB has made more progress in recent years than it often gets credit for, including regaining share from Lincoln Electric and Illinois Tool Works, but short-cycle industrial may be cooling.
Enovis is an odd mix of well-established low-growth businesses (bracing, et al) and higher-growth major joint and extremities; management's growth targets may be too demanding at high single-digits.
Both ESAB and Enovis are worth watching as they trade post-split, with ESAB facing more near-term sentiment risk and Enovis facing a higher bar for performance.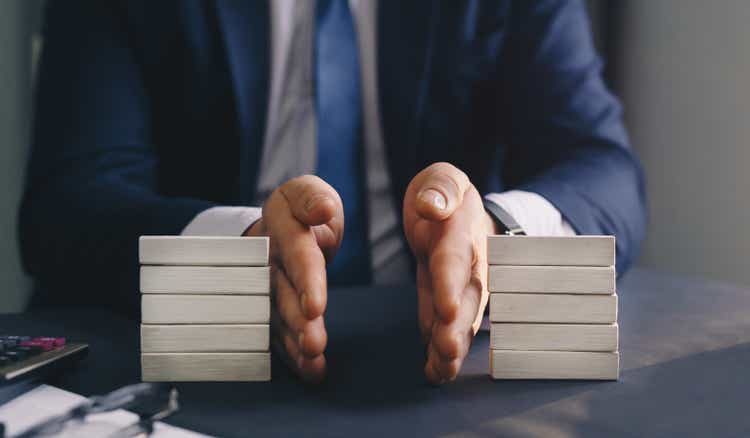 By the time this is published, Colfax (CFX) will no longer exist as it did before, with the company changing its name to Enovis (NYSE:ENOV) and keeping the medical business, while spinning out 90% of the welding business ESAB (ESAB.WI) to shareholders. In executing on this transaction, I believe management is hoping to unlock more value on the med-tech side, with the idea being that a nearly debt-free mid-cap med-tech company with growth potential should obtain a better valuation on its own than it could blended in with ESAB.
I was mixed on Colfax's prospects a year ago, as I thought turbulence related to the split and operational challenges in the med-tech business could still weigh on the shares, but that there was likely more value here than was being reflected in the share price. The stock underperformed since then, and while I do see opportunities here, there are challenges ahead for both businesses.
ESAB Will Need To Invest
Leveraged to strong recoveries in many short-cycle industrial end-markets, ESAB has been enjoying strong volume and pricing power recently, with fourth quarter organic growth up 22% (or 20% on a same-day basis) on 7% volume growth and 15% pricing growth.
What's more, ESAB has continued to execute well against rivals like Lincoln Electric (LECO) and Illinois Tool Works (ITW), and that should be putting some of the long-standing concerns about the company's execution and competitiveness behind it. On top of that, ESAB has a strong global footprint, with leading share in every one of its markets except for North America.
And yet, there are still issues here that investors should consider.
First, relative to Lincoln, ESAB hasn't invested nearly the same resources into automation and robotics, and these are important growth drivers in the welding sector as trained welders become harder to find and as more manufacturers adopt automation. In ESAB's pre-split presentation, management talked about a target of combined medical/specialty gas control, digital solutions and robotics revenue of $300M, while Lincoln is already beyond a $400M/year run-rate with its automation business.
Lincoln's automation operations were built in no small part through M&A, but with Colfax/Enovis splitting ESAB off with around $1.2 billion in net debt (or 2.75x EBITDA), the company won't be in a position to do a lot of M&A to fill in this gap.
Cycle risk is also a factor to consider. Short-cycle industrial demand is likely to decelerate as the year goes on, and given management's guidance for organic growth and further pricing leverage, it looks like the business is likely to exit the year with low single-digit volume growth. That's not terrible, though, and I would also note that two significant markets for ESAB – autos and oil/gas – are both still far from normal levels.
Operationally, I like where ESAB is at, or at least on balance. The debt load is not so desirable and the reality is that sentiment has turned against short-cycle industrials for the time being, but I do think there could be more growth left in the cycle than the Street currently expects (again, helped by recoveries in autos and oil/gas, among other markets), not to mention leverage to infrastructure and construction as non-residential construction starts to reaccelerate and infrastructure projects start moving forward in 2023.
Enovis Has A Lot To Live Up To
Management has not been shy singing the praises of this business, and my biggest concern is that they're setting a bar for expectations that the company will struggle to reach. Performance through the pandemic downturn was mixed – while the company did comparatively well on revenue, margins have proven to be more of a challenge.
Looking ahead, I think high single-digit revenue growth is a challenging target. Not impossible, but challenging. The Prevention & Rehab segment (bracing, electrotherapy, and the like) is likely a low single-digit grower and is the type of business that rarely gets a good premium from the Street.
The Recon business has a great deal more growth potential, but I think the company is going to find it harder to outgrow the hip/knee market like they have, as robotics continues to grow in significance in that market, as companies like Stryker (SYK) go after the ambulatory surgical center market in earnest, and as companies like Globus (GMED) look to enter the market.
Extremities do offer growth, but I think there is, and will be, more competition in the reverse shoulder market than management is acknowledging, particularly with Stryker's acquisition of Wright. Likewise in the ankle market, Enovis has a good portfolio, but it's an intensely competitive market.
For Enovis to hit management's "high single-digit" growth target, the recon business is going to have to grow at something like 16% or more. That's a very demanding growth rate for the ortho space, particularly with the increasing competition in knees (driven by robotics) and extremities. Likewise, 20%-plus EBITDA margins is no easy task in the ortho space, particularly when there is the ongoing need to invest in sales & marketing and R&D to drive those aggressive sales growth targets.
The Outlook
Given ESAB's post-split profitability, I believe a forward multiple of 11.5x EBITDA is a reasonable expectation for the shares, that's lower than where Lincoln presently trades, but then ESAB isn't as profitable as Lincoln and I believe the company is playing catch-up in areas like automation.
I'm less confident on the multiple that Enovis will receive after the split. If the market really buys into the idea of multiple years of high single-digit growth, with the company continuing to gain share in major joints and extremities, a 4x revenue multiple (or an EV of over $6 billion) isn't out of the question.
Stryker paid over 5x revenue for Wright, though that company was expected to grow at a low double-digit rate at that time, and Integra LifeSciences (IART) got 2.7x for a much smaller (sub-scale), less consistent extremities business. If the market doesn't buy the growth story, though, and valuation is dominated more by margins – a reasonable risk to consider given the size of the slow-growing Prevention & Rehab business – then the multiple could be more on the order of 2.5x to 3x revenue.
The Bottom Line
Although there have been execution issues in the Enovis business and management's targets may well prove too demanding, I'm not writing it off and this is a business that I'll be watching closely post-spin as growing mid-cap med-techs don't stay cheap for long with larger companies always looking for opportunities to boost scale in their businesses.
With ESAB, I definitely see near-term sentiment/cycle risk, but sentiment may already be too negative on short-cycle industrials, and I would argue that ESAB hasn't gotten enough credit for the improvements the business has made. Depending upon how these shares trade post-split, this would definitely be a name for more contrarian investors to consider.
This article was written by
Stephen Simpson is a freelance financial writer and investor. Spent close to 15 years on the Street (sell-side, buy-side, equities, bonds); now a semi-retired raccoon rancher. That last part isn't entirely true. Probably.
Analyst's Disclosure: I/we have no stock, option or similar derivative position in any of the companies mentioned, and no plans to initiate any such positions within the next 72 hours. I wrote this article myself, and it expresses my own opinions. I am not receiving compensation for it (other than from Seeking Alpha). I have no business relationship with any company whose stock is mentioned in this article.
Seeking Alpha's Disclosure: Past performance is no guarantee of future results. No recommendation or advice is being given as to whether any investment is suitable for a particular investor. Any views or opinions expressed above may not reflect those of Seeking Alpha as a whole. Seeking Alpha is not a licensed securities dealer, broker or US investment adviser or investment bank. Our analysts are third party authors that include both professional investors and individual investors who may not be licensed or certified by any institute or regulatory body.