Datto: Long Undervalued, It's Time For This Stock To Step Into The Spotlight
Summary
Business continuity software company Datto has flailed since its IPO at $27 per share.
It is one of the few software stocks to be in positive YTD territory, a function of its constant undervaluation.
Recent results have continued to show Datto growing in all key metrics while producing strong adjusted EBITDA and free cash flow.
Potential acquisition chatter is unsurprising given Datto's merits, and could yield substantial gains.
Looking for a helping hand in the market? Members of Daily Tech Download get exclusive ideas and guidance to navigate any climate. Learn More »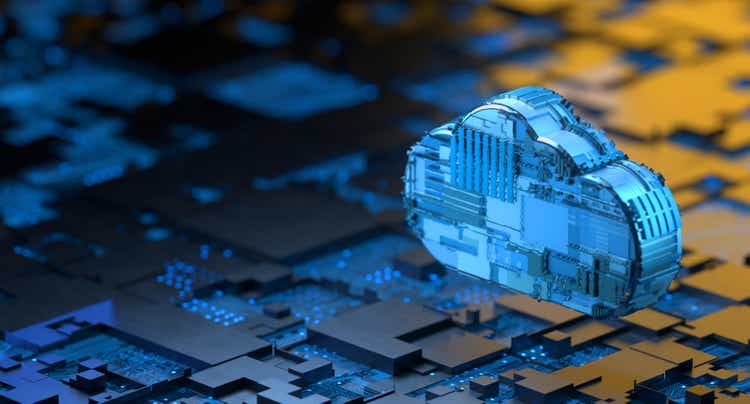 Market shakeups like we've seen over the past few months have a way of illuminating some diamonds in the rough, and that's exactly how I feel about Datto (NYSE:MSP). Long overshadowed by its faster-growing peers and undervalued as a bona fide enterprise software stock, Datto has spent the majority of its relatively short lifetime as a public company out of the limelight. But even though the stock has not yet had its "breakout" moment, Datto was also able to avoid the major crashes that many of its higher-flying peers did this year. Additionally, the company has continued to build up its very impressive fundamental base, growing revenue in the high-teens and looking ahead to margin expansion.
Year to date, Datto is one of the few enterprise software stocks that are in positive territory, up ~4% since the start of January. This relative outperformance is even more of an indication that investors are shifting more onto the value side of the tech space.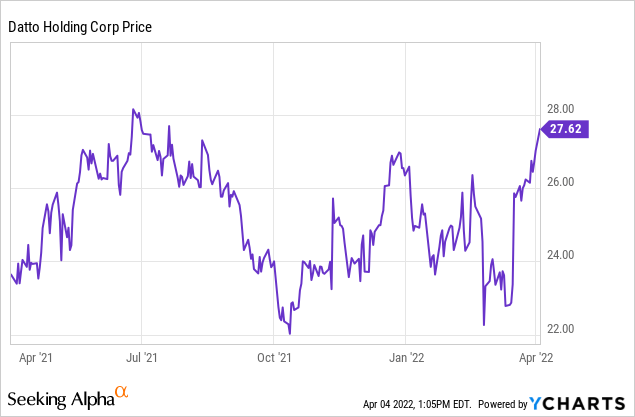 The recent big news on Datto, of course, is that it may be an acquisition target. Though the equity markets have more or less been shut to new tech IPOs this year, consolidation continues - especially as private equity firms seeking to deploy cash in a time when valuations are, at the very least, lower than last year continue to buy up relatively slower-growing software companies that have demonstrated profitability potential. Anaplan's (PLAN) takeout by Thoma Bravo is one recent example, as is Medallia (MDLA) at the tail end of last year. Though the rumor mill for Datto has been relatively limited, I could see this company going the same way.
Of course, I never like to invest in companies solely because they are acquisition targets. But on a standalone basis, from both fundamentals and valuation lens, I continue to view Datto as quite attractive even if I had to continue holding it. I remain bullish on this name. For investors newer to this stock, here's a rundown of what I consider to be the key bullish drivers for Datto:
Datto sits at the intersection of many hot computing trends. The company is an enabler of the cloud (specifically, it helps many small and mid-sized businesses access the benefits of the public cloud without having to set up the expensive infrastructures they may not be able to support at their scale). Datto's data warehousing and backup technology also help smaller businesses harness big data.
Substantial market opportunity. Datto estimates its TAM at $36 billion (up from a prior view of $28 billion), which indicates that its current ~$700 million annualized revenue scale is only about ~2% penetrated, leaving the door open to substantial sustained growth.
Datto is a subscription business, and it's also starting to roll out public cloud-compatible products. Datto may be designed for on-prem, but it's a subscription-based business like most of Wall Street's favorite software companies. We note as well that despite Datto's association with on-prem, it has begun rolling out public cloud-enabled backup products, starting with Microsoft Azure.
Focus on MSPs dramatically increases Datto's sales leverage. By selling to MSPs and not the end-users themselves, Datto doesn't need to broadly market its products or maintain a massive sales force - it needs to only sell to its MSPs, who in turn represent and cover hundreds of other businesses. Combined, Datto has ~18K MSPs in its customer base, which delivers the Datto product to hundreds of thousands of customers. Datto notes that there are more than 125K MSPs globally, indicating tremendous expansion opportunities left to go.
Profitability. Datto has a ~20% pro forma operating margin as well as adjusted EBITDA margins in the mid-teens, alongside a healthy free cash flow profile. Again, while we shouldn't lean on an acquisition scenario to make the bull case for this stock alone, this is the key appeal for Datto to PE buyers.
Datto's valuation, meanwhile, remains undemanding. At current share prices near $27 (which already saw a ~10% lift since the start of March when acquisition chatter started to brew), Datto has a market cap of $4.53 billion. After we net off the $221.4 million of cash on Datto's most recent balance sheet, the company's resulting enterprise value is $4.31 billion.
Meanwhile, for the current fiscal year, Datto has guided to $720-$726 million in revenue (representing 18-19% y/y constant currency growth, on par with this year's growth rate and implying no deceleration whatsoever), as well as a 23% adjusted EBITDA margin.
This puts Datto's valuation at:
5.9x EV/FY22 revenue
26.0x EV/FY22 adjusted EBITDA
Stay long here - I think there is plenty of opportunity for upside. The fact that an acquisition is being explored is a long-overdue acknowledgment of Datto's value, especially as a very mission-critical recurring-revenue software company. Before more M&A-related price spikes happen, make sure to lock in your bullish position.
Q4 download
Let's now go through Datto's most recent quarterly results in greater detail. The Q4 earnings summary is shown below:
Datto's revenue in Q4 grew at a 18% y/y pace to $164.3 million, beating Wall Street's expectations of $162.5 million (+17% y/y). The company drove growth both through adding new MSP partners, while also continuing to drive increased spend per MSP.
The chart below showcases the key customer metrics that Datto manages to. Key to note is that Datto's ARR has been growing faster than its revenue. As of the end of Q4, ARR stood at $658.4 million, growing 21% y/y. We note as well that this amount already covers 91% of Datto's total revenue guidance for next year. With such a large amount of revenue already contractually locked in, MSP additions and continued spend expansion represent nearly pure upside to this forecast, indicating that Datto may be well set up for a year of "beat and raise" quarters in FY22.
Similarly, we note Datto has also been aggressive at adding new MSP partners this year. As of the end of Q4, Datto has 18.5k MSPs that it does business with, adding 300 net-new MSPs within the quarter and 1.5k for the year (far more than the 400 MSPs that it added during the pandemic year FY20).
Also important, however, is the fact that spend per MSP is also rising, now up 11% y/y to $35.6k. The chart below is a powerful indicator of how the economics in these long-standing customer relationships work for Datto. As can be seen below, MSPs signed on over the past two years tend to have annual spend of $8-$14k. But over time, MSPs in Datto's oldest cohort are spending 5-6x that. The key message for investors here: even within Datto's existing customer base, there is a wealth of revenue expansion opportunity. Remember here that MSPs themselves serve hundreds (if not thousands) of small businesses, so Datto can scale alongside its MSPs as they expand their customer networks.
Here are some helpful anecdotal commentary from Datto CEO Tim Weller on the fiscal year's successes and how the company is thinking about growth going forward, taken from his prepared remarks on the Q4 earnings call:
2021 was a year of reacceleration following the headwinds of the pandemic in 2020. Subscription revenue growth, in constant currency terms, bottomed out a year ago in Q1 2021 at 14%, then accelerated to 17% in Q2, 18% in Q3 and 19% in Q4. I am pleased that we exceeded our targets in 2021, our first full year as a public company. And our sights remain on building to 20% sustainable growth. In 2021, MSPs found themselves thrust into the security business seemingly overnight with high-profile breaches in the news throughout the year and SMB clients becoming vulnerable targets. Security has always been at the core of everything we do at Datto, and we made significant progress in 2021, broadening our security capabilities to help MSPs and Datto address the large security opportunity.

In October, we launched Datto SaaS Defense, an application and e-mail security add-on to our SaaS protection product, and we have seen strong early adoption with revenue per seat roughly doubling for those who adopt SaaS Defense. We also saw rapid growth in our Ransomware Detection for RMM product, which is now active on nearly 1.7 million endpoints, just over a year from launch. These two products, SaaS Defense and Ransomware Detection on endpoints, are frontline defense products that give MSPs coverage across the vast majority of clients' attack surfaces."
Datto also did admirably on profitability this year. Specifically, the company grew its adjusted EBITDA by 17% y/y to $175.4 million this year. We note that while the 28.4% adjusted EBITDA margin did fall 60bps y/y, Datto's ability to generate a near-30s margin outclasses many other growth-focused SaaS companies of the company's scale. In other words, Datto has successfully traded "hyper growth" for a slower, but more sustainable and more profitable business. At the same time, the company continues to aim for $1 billion in revenue by FY24 - which means, if it hits its FY22 guidance of $720-$726 million on the nose, it will need to continue growing at an 18% y/y pace thereafter for the next two years.
For this reason - prioritizing the long-term growth objective - the company is guiding to "just" a 23% adjusted EBITDA margin in FY21. That being said, however, Datto has a tendency to outperform its profitability targets, especially if existing MSPs continue to grow their spend (which is a virtually "free" source of growth for Datto).
Key takeaways
Datto is well-positioned to capitalize on strong fundamentals and a cheap valuation. It has demonstrated strong execution for a potentially unexciting, but mission-critical set of business continuity software products. Don't wait until the acquisition rumors heat up before buying in here.
For a live pulse of how tech stock valuations are moving, as well as exclusive in-depth ideas and direct access to Gary Alexander, subscribe to the Daily Tech Download. Highly curated focus list has consistently netted winning trades of 40%+.
This article was written by
With combined experience of covering technology companies on Wall Street and working in Silicon Valley, and serving as an outside adviser to several seed-round startups, Gary Alexander has exposure to many of the themes shaping the industry today. He has been a regular contributor on Seeking Alpha since 2017. He has been quoted in many web publications and his articles are syndicated to company pages in popular trading apps like Robinhood.
Analyst's Disclosure: I/we have a beneficial long position in the shares of MSP either through stock ownership, options, or other derivatives. I wrote this article myself, and it expresses my own opinions. I am not receiving compensation for it (other than from Seeking Alpha). I have no business relationship with any company whose stock is mentioned in this article.
Seeking Alpha's Disclosure: Past performance is no guarantee of future results. No recommendation or advice is being given as to whether any investment is suitable for a particular investor. Any views or opinions expressed above may not reflect those of Seeking Alpha as a whole. Seeking Alpha is not a licensed securities dealer, broker or US investment adviser or investment bank. Our analysts are third party authors that include both professional investors and individual investors who may not be licensed or certified by any institute or regulatory body.