Pros And Cons Of Investing In General Electric Stock
Summary
The pros of being vested in GE include value unlocking relating to its split plans, reduced financial leverage, a $3 billion share buyback authorization, and its aviation business' good performance.
The cons of an investment in General Electric are the risk of an earnings miss for full-year 2022, and a delay in the spin-off of the renewable energy business.
My Hold rating for GE is further supported by the fact that the stock is fairly valued based on my analysis.
Looking for more investing ideas like this one? Get them exclusively at Asia Value & Moat Stocks. Learn More »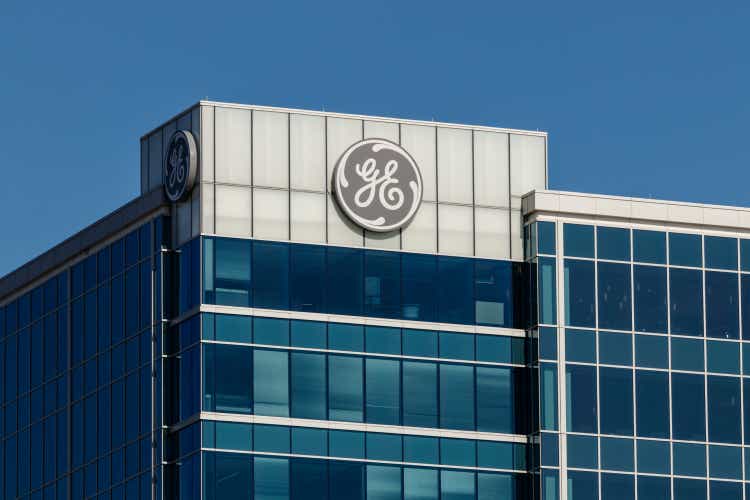 Elevator Pitch
I have a Hold rating for General Electric Company's (NYSE:GE) shares. In my earlier article written on January 7, 2022, I shared my thoughts on the outlook for GE in the next decade. This article provides an update of my views about General Electric considering the company's most recent financial results announcement released in late-January and its Investor Day held in March.
A summary of the pros and cons of investing in General Electric stock is presented below:
Pros
The company's split plans should narrow the holding company discount assigned to its shares.
GE is expected to reduce its financial leverage and increase its capital returned to shareholders going forward.
The aviation business was the star for GE in 2021, and this segment should continue to shine for the company in the short-to-medium term.
Cons
GE is

at risk of either below-expectations full-year 2022 results or having to cut its forward-looking financial forecasts for FY 2022 in the later part of this year.

The renewable energy business was the only loss-making segment for GE last year, and the spin-off of the renewable energy and power businesses could be potentially delayed if such losses persist for a longer-than-expected period of time.
Supply chain disruptions had a negative impact on the aviation business in 2021, and this segment's 2022 revenue growth is expected to be weak as well.
There are both positives and negatives associated with an investment in General Electric's shares, and GE's current valuation doesn't imply significant upside. Considering these factors, I leave my Hold rating for General Electric unchanged.
GE Stock Key Metrics
GE's share price fell by -13% from $103.16 as of January 14, 2022 to $89.32 as of January 26, 2022, before declining further by an additional -4% to close at $85.38 as of March 7, 2022. But General Electric's stock price eventually rebounded by +8% in the next one month to $92.49 as of April 1, 2022. General Electric's shares are still down -2% year-to-date in 2022.
General Electric's share price performance in the first three months or so of 2022 is closely linked to the key metrics that the company disclosed during this period.
The company issued its Q4 2021 earnings press release on January 25, 2022; its historical financial performance and forward-looking guidance disappointed the market. General Electric's revenue decreased by -3% YoY to $20.3 billion in Q4 2021, and this was -5% below the market consensus' top line forecast. Furthermore, the mid-point of GE's fiscal 2022 non-GAAP adjusted earnings per share guidance of $3.20 came in -18% lower as compared to the Wall Street analysts' consensus bottom line estimate of $3.90 per share. This explains GE's stock price drop in late-January 2022.
GE published an investor update on February 18, 2022, which highlighted that the company's "overall growth, profit and FCF" are expected to be under "pressure" for "the first quarter and the first half (of 2022), beyond typically expected seasonality." This led to GE's share price weakness continuing into February and early-March 2022.
General Electric's stock price saw a recovery in the past one month, as the company's guidance at its 2022 Investor Day "appears to meet or exceed Wall Street expectations" according to a March 10, 2022 Seeking Alpha News article. Specifically, GE expects its free cash flow to grow from $5.8 billion (adjusted for the effects of factoring which has been discontinued) in fiscal 2021 to in excess of $7 billion in FY 2023 as per its 2022 Investor Day presentation slides. General Electric also sees the company's non-GAAP operating income more than doubling from $4.6 billion in FY 2021 to approximately $10 billion in FY 2023.
I discuss whether General Electric is attractive as a potential investment candidate in the next few sections of this article.
Pros Of Buying General Electric Stock
Split Plans Will Help To Unlock Value
In my prior January 7, 2022 update for GE, I noted that "General Electric aims to transform itself into 'an aviation-focused company' by spinning off its Healthcare business and Renewable Energy & Power business in 2023 and 2024."
There should be upside to General Electric's current valuations, assuming that its holding company discount is reduced following the completion of its split plans. In the past, General Electric's valuations were negatively impacted by the fact that it was a conglomerate owning diverse and unrelated businesses which naturally warranted a hefty valuation discount. Looking forward, as GE derives the majority of its revenue and earnings from a single business (aviation) in time to come, it should eventually see a positive re-rating of its valuations.
Deleveraging And Improved Capital Return Are Key Positives
Besides the split plans discussed above, further deleveraging and improved shareholder capital return are the key value drivers for GE.
As indicated in its 2022 Investor Day presentation, General Electric has set a target of decreasing the company's net debt from $25 billion as of December 31, 2021 to $10 billion by the end of 2023. This implies that GE's net debt-to-EBITDA ratio could potentially improve from 3.3 times as of end-2021 to below 1 as of end-FY 2023.
On March 8, 2022, General Electric disclosed that a new $3 billion share repurchase authorization was approved by the company's board of directors, which is roughly equivalent to 3% of GE's market capitalization. At the 2022 Investor Day Call, General Electric emphasized that "shareholder returns are part of" its plans to "optimize for all those 3 companies (GE and the two companies that are planned to be spun off) long term from a shareholder perspective."
Given expectations of significantly lower financial leverage, GE has the flexibility and capacity to return more excess capital to its shareholders. There could be possibly other positive surprises with respect to shareholder capital return in the future, such as higher dividends.
Aviation Business's Recovery Is In Sight
GE's aviation business segment performed very well in 2021. The aviation segment saw its revenue and orders grow by +4% and +22% to $6,080 million and $7,705 million, respectively, in fiscal 2021 as disclosed in the company's Q4 2021 results release. Notably, the profit margin for General Electric's aviation business expanded from 9.6% in FY 2020 to 20.0% in FY 2021, driven by an increased proportion of higher-margin engine sales and services revenue.
At the company's recent 2022 Investor Day, General Electric guided for the aviation business' good financial performance to be sustained in the intermediate to long term. GE thinks that its aviation segment can grow even faster with a revenue CAGR in the mid-single-digit percentage range, while it is of the view that the aviation business' profit margins can be maintained in the high-teens to 20s percentage range. In the short term, narrow-body departure traffic and wide-body departure traffic for the company's aviation business are seen to recover to pre-pandemic levels by Q1 2023 and Q1 2024, respectively, based on GE's internal estimates disclosed at the 2022 Investor Day Call.
Cons Of Buying General Electric Stock
Weaker-Than-Expected 2022 Results Are A Key Downside Risk
Earlier in this article, I referred to General Electric's February 18, 2022 investor update which cautioned that the company's financial performance for Q1 2022 and 1H 2022 due to headwinds like "supply chain pressure", "material and labor availability and inflation." GE also warned that "rising raw material and logistics costs will exceed its ability to increase prices to customers during H1 (2022)" in a late-February 2022 Citigroup (C) investor meeting as per a February 23, 2022 Seeking Alpha News article.
Despite the negative outlook for the first half of this year, General Electric has kept its fiscal 2022 management guidance unchanged. This is based on assumptions that supply chain issues and cost pressures will ease in 2H 2022, and the company's price increases will also be reflected in the second half of this year. As such, there is a significant risk of GE possibly lowering its full-year guidance in the later part of 2022 if the market environment does not improve as expected.
Continued Losses For Renewable Energy Business Might Delay Planned Spin-Off
Among GE's four business segments (aviation, healthcare, power, and renewable energy), the company's renewable energy business was the only one that didn't make a profit last year.
Losses for General Electric's renewable energy segment widened from -$87 million last year to -$312 million this year. It was not just higher costs that hurt this business' bottom line. The renewable energy business' top line and orders contracted by -6% and -23% to $4,192 million and $4,851 million, respectively in FY 2021.
At its Q4 2021 earnings call, GE noted that "the PTC (Production Tax Credit) expired at year's end and the uncertainty is impacting onshore wind demand." General Electric's management guidance as per its 2022 Investor Day Call points to narrower losses for this segment in FY 2022 and it expects the renewable energy business to be "approaching breakeven" in FY 2023. But this also suggests that GE's renewable energy business is likely to continue being in losses in the next two years.
More importantly, General Electric had planned to spin off its renewable energy and power businesses in early-2024 as part of the company's split plans. A longer-than-expected turnaround for GE's renewable energy segment might potentially result in a delay of such plans.
Healthcare Business Was Negatively Affected By Supply Chain Disruptions
General Electric's healthcare business had a lackluster performance last year. The healthcare segment witnessed a -4% decrease in top line to $5,303 million in 2021, as the company didn't have sufficient supply to meet demand. GE's healthcare business also suffered from a -3.2 percentage points contraction in profit margin from 19.7% in FY 2020 to 16.5% in FY 2021 due to negative operating leverage and higher costs.
The near-term outlook for GE's healthcare division is still weak, as evidenced by the company's 2022 guidance. While General Electric sees the healthcare business delivering a mid-single digit revenue CAGR in the long-term as indicated at its 2022 Investor Day, the company is guiding for a more conservative and modest low-to-mid single digit top line expansion for its healthcare segment this year. This sends a signal that supply chain issues are still a drag on the performance of GE's healthcare business, at least in 1H 2022.
Is GE Stock Worth Investing In?
GE stock is worth investing in if its share price is substantially below its intrinsic value. I don't think that is the case based on my valuation analysis.
I have a $96 price target for General Electric, which implies a +4% upside to its last traded share price of $92.49 as of April 1, 2022. I have assumed that the renewable energy business is at breakeven profitability in fiscal 2023. I forecast that the company's aviation, healthcare and power segments achieve EBITDA of $5.7 billion, $3.4 billion and $1.9 billion in FY 2023, respectively. I value GE's aviation, healthcare and power businesses at forward EV/EBITDA valuation multiples of 16 times, 12 times and 8 times, respectively. I didn't assign any holding company discount to GE's shares assuming that its split plans will be successful.
Bottom Line
General Electric's shares warrant a Hold investment rating, as there are both pros and cons investing in its shares. In addition, my target price implies that there is not a lot of upside for GE at current price levels to support a Buy rating.
Asia Value & Moat Stocks is a research service for value investors seeking Asia-listed stocks with a huge gap between price and intrinsic value, leaning towards deep value balance sheet bargains (i.e. buying assets at a discount e.g. net cash stocks, net-nets, low P/B stocks, sum-of-the-parts discounts) and wide moat stocks (i.e. buying earnings power at a discount in great companies like "Magic Formula" stocks, high-quality businesses, hidden champions and wide moat compounders). Sign up here to get started today!

This article was written by
Uncover cheap stocks, great businesses listed in Asia focusing on HongKong
Asia Value & Moat Stocks is a research service for value investors searching for attractive Asia-listed investment opportunities  with a huge gap between price and intrinsic value, leaning towards both deep value balance sheet bargains (i.e. buying assets at a discount e.g. net cash stocks, net-nets, low P/B stocks, sum-of-the-parts discounts) and wide moat stocks (i.e. buying earnings power at a discount in great companies like "Magic Formula" stocks, high quality businesses, hidden champions and wide moat compounders).

Those who believe that the pendulum will move in one direction forever or reside at an extreme forever eventually will lose huge sums. Those who understand the pendulum's behavior can benefit enormously. ~ Howard Marks
Analyst's Disclosure: I/we have no stock, option or similar derivative position in any of the companies mentioned, and no plans to initiate any such positions within the next 72 hours. I wrote this article myself, and it expresses my own opinions. I am not receiving compensation for it (other than from Seeking Alpha). I have no business relationship with any company whose stock is mentioned in this article.
Seeking Alpha's Disclosure: Past performance is no guarantee of future results. No recommendation or advice is being given as to whether any investment is suitable for a particular investor. Any views or opinions expressed above may not reflect those of Seeking Alpha as a whole. Seeking Alpha is not a licensed securities dealer, broker or US investment adviser or investment bank. Our analysts are third party authors that include both professional investors and individual investors who may not be licensed or certified by any institute or regulatory body.