AMC Investing In Hycroft Mining: A Horror Movie
Summary
The movie theater chain and meme stock AMC is investing in Hycroft Mining, formerly known as Allied Nevada Gold.
The Hycroft mine carries a massive gold resource - albeit at very low grades.
And AMC is investing a relatively tiny amount of money compared to its market cap and past equity raises.
I give my honest opinion on this surprising development.
Looking for a helping hand in the market? Members of The Gold Bull Portfolio get exclusive ideas and guidance to navigate any climate. Learn More »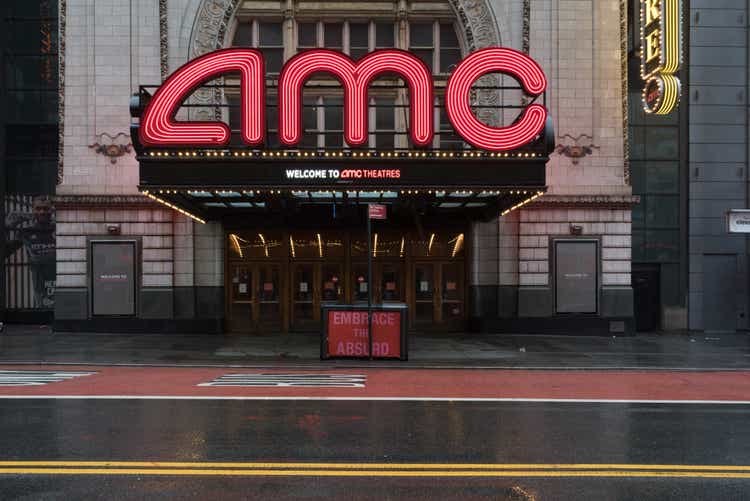 AMC Entertainment Holdings (AMC) recently agreed to buy a large stake in Hycroft Mining Holding (NASDAQ:HYMC) for $27.9 million, as part of a much larger $138.6 million equity raise, which likely saves the cash-strapped gold miner from bankruptcy.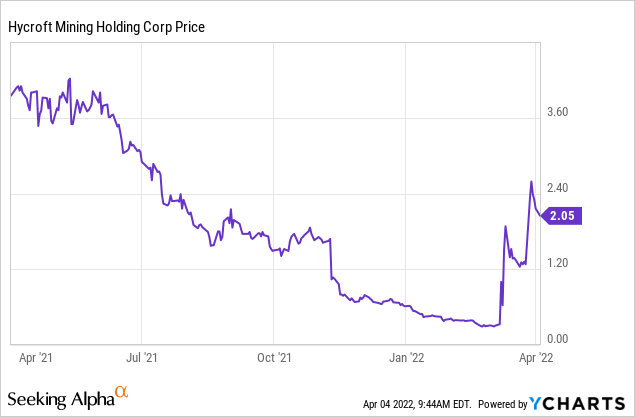 AMC will invest alongside Eric Sprott, who will also contribute $27.9 million, and both investors will receive shares as well as 1 warrant per share, entitling them to buy another share at a price of $1.07.
However, investors should steer clear of investing in Hycroft, a risky gold miner with a troubled past.
This is clearly a puzzling, if not shocking, development: Why on earth is a movie theater chain investing in a gold miner?
"To state the obvious, one would not normally think that a movie theatre company's core competency includes gold or silver mining," said AMC CEO Adam Aron in a recent interview.
Is it because Hycroft is deeply undervalued? The mine does contain about 15 million ounces of gold and 600 million ounces of silver in resources - a tremendous precious metals deposit - especially when compared to Hycroft's minuscule market cap of $110 million.
Yet, Hycroft Mining shares are down 86% over the past year, during a time which the gold miners index (GDX) returned over 81%, so investors have largely steered clear of Hycroft.
Does AMC know something gold mining investors don't? Did AMC catch a smoking-hot deal in Hycroft and should investors follow the movie theater chain into Hycroft Mining?
I don't believe so.
1. The Hycroft mine has a long, troubled history
This is not a new asset. Allied Nevada tried to produce profits from Hycroft for years, unsuccessfully, and went bankrupt in 2015. (Here's an article I published back in 2015).
This was a low point for gold prices, to be fair, trading around $1,200/oz gold.
However, the company was re-listed a few years ago as "Hycroft Mining" but has still performed very poorly, as its shares are down 86.50% since then.
Again, this underperformance comes during a bull market in gold and gold miners, with the VanEck gold miners index returning 81% in that timeframe!
In February, Hycroft reported annual gold production of 55,668 ounces, and in Nov. 2021, it reported Q3 2021 financial results - but in both cases, it appears that the miner didn't include its cash costs in either news release and doesn't exactly make it easy to find this information.
Looking at its 10-K, Hycroft reported cash costs of $1,833/oz gold, up from $1,675/oz a year ago. This led to a net loss of $88 million for 2021.
2. Hycroft has lot of gold and silver, but it is very low grade
Hycroft touts a massive gold resource base 15 million ounces of gold and 600 million ounces of silver.
However, they are not actual gold reserves - most of the resource is in the measured and indicated category, and a large part in inferred resources, which are consider too speculative to be counted as economical.
Also, Hycroft's resource grades are a maximum of .012 opt or .31 g/t, which is very low.
According to the World Gold Council, large and high-quality underground gold mines contain average grades of around 8 to 10 g/t gold, while marginal underground mines average around 4 to 6 g/t gold. Open-pit mines usually range from 1 to 4 g/t gold.
I believe the mine needs much higher metals prices to produce a profit. It is not a profitable asset by any means (if it was, it would already be producing profits with gold at $1,900/oz).
3. AMC is investing a relatively tiny amount of money
The investment of $28 million compares to $1.8 billion it has raised from investors over the past year or so.
The $28 million sum is also tiny compared to AMC's $11 billion market cap. This is pretty low risk for AMC since $28 million is a drop in the bucket.
It's hardly a newsworthy amount, in my opinion, yet the news was met with great media attention and was covered by outlets like CNBC, Reuters, MarketWatch, and others.
4. Extreme share dilution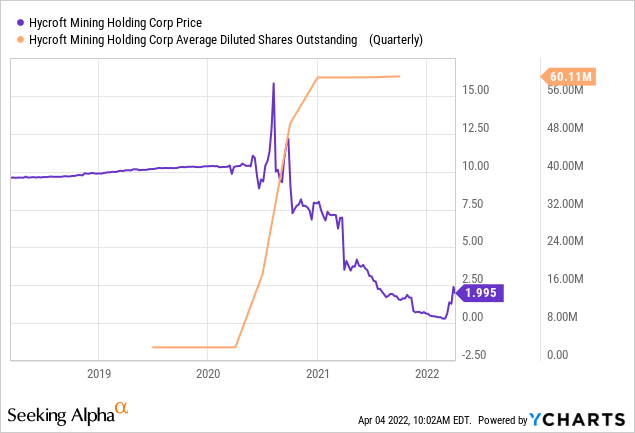 The size of the investment pie has decreased substantially for existing Hycroft Mining shareholders.
Hycroft just diluted existing shareholders when it issued 89.5 million new shares at a price of $1.19, generating proceeds of $138.6 million.
This is not the best time for the company to be diluting shareholders given its stock price performance since re-listing in 2020.
The company now has 196,803,459 shares issued and outstanding - up from 60 million last year and less than 10 million shares when it re-listed.
Hycroft also issued 23.4 million warrants to Sprott and AMC, giving them the right to purchase an additional share at $1.068 with a 5-year term. Assuming the exercise of the warrants, it would bump up Hycroft's share count to over 220 million shares.
Bottom line: Avoid Hycroft
If Hycroft was such a great asset worthy of investment, I believe a gold miner would have participated in the recent private placement. But we didn't see any mining company step up to the plate.
There are literally dozens of other producers who would be thrilled to add a large Nevada gold mine to their portfolio. But Hycroft is just not a good asset in my opinion.
The bulls may argue that Hycroft could end up turning a huge profit if gold prices soar to $3,000/oz or higher from current spot prices - but that's the case for literally any producing gold miner, and you can earn better returns elsewhere (with much less risk).
I recommend investors avoid speculating in this stock, as there are far better opportunities in the gold mining sector.
If you want legitimate gold & silver mining stock picks, subscribe NOW The Gold Bull Portfolio! My marketplace service is dedicated to helping my subscribers find the best money-making opportunities in the gold and silver sector. 
Access all of my top gold and silver stock picks and my real-life gold portfolio, a miner rating spreadsheet with buy/hold/sell ratings on 140+ miners.
A 2-week free trial is available for a limited time only! Sign up today and you can also save 37% per year, or $271 annually, and shield yourself from any further price increases. 
This article was written by
Access to my personal gold portfolio and build your own winning portfolio.
With over a decade of experience in the investment industry, I am a highly skilled private investor with a proven track record of success in the commodities and hard assets sector. My areas of expertise include investing in gold and silver miners, royalty and streaming companies, pure exploration companies, as well as oil and gas producers and MLPs. My comprehensive understanding of these markets and my ability to identify and capitalize on profitable opportunities have enabled me to consistently deliver strong returns for my subscribers.
Analyst's Disclosure: I/we have no stock, option or similar derivative position in any of the companies mentioned, and no plans to initiate any such positions within the next 72 hours. I wrote this article myself, and it expresses my own opinions. I am not receiving compensation for it (other than from Seeking Alpha). I have no business relationship with any company whose stock is mentioned in this article.
Seeking Alpha's Disclosure: Past performance is no guarantee of future results. No recommendation or advice is being given as to whether any investment is suitable for a particular investor. Any views or opinions expressed above may not reflect those of Seeking Alpha as a whole. Seeking Alpha is not a licensed securities dealer, broker or US investment adviser or investment bank. Our analysts are third party authors that include both professional investors and individual investors who may not be licensed or certified by any institute or regulatory body.