SCHH: With Steady Return And High Volatility, This ETF Is Asking For Your Attention
Summary
SCHH has been providing a steady dividend yield of around 5 percent.
SCHH's price multiples suggest investors have faith in the management.
SCHH's investors can expect an average price growth between 8 to 10 percent over medium and long term, but the return may be highly volatile.
Looking for more investing ideas like this one? Get them exclusively at The Total Pharma Tracker. Learn More »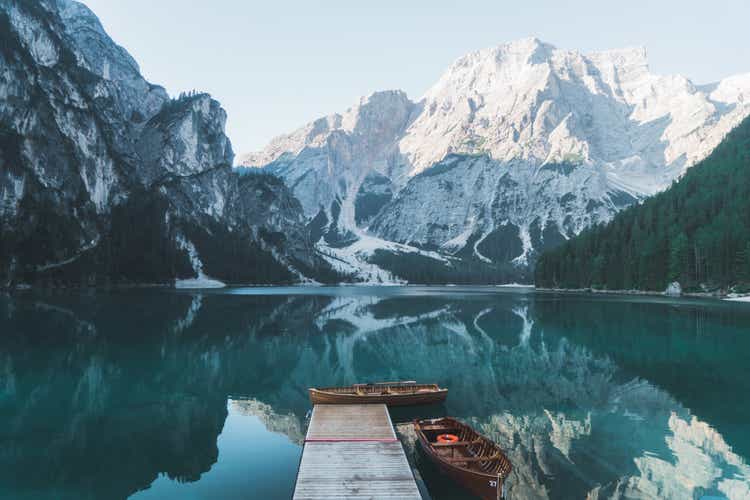 Schwab U.S. REIT ETF (NYSEARCA:SCHH) is an exchange traded fund (ETF) which invests in real estate investment trusts (REITs) from various sectors, such as Residential REITs, Retail REITs, Healthcare REITs, Hotel REITs, Industrial/Office REITs, Specialized REITs, and Diversified REITs. REIT is an entity that owns, operates, and/or finances income-generating real estate assets. SCHH has been paying steady quarterly dividends since 2011, with an average yield of around 5 percent over the past ten years.
This REIT ETF was launched and managed by Charles Schwab Investment Management, Inc. It was formed on January 13, 2011, almost 11 years back. With $268.5 billion of net assets, Charles Schwab is a reputed name in the US ETF market. The company manages a total of 27 ETFs, and has a reputation of retaining its fund managers. The management has put certain constraints in investments in SCHH in order to be a properly diversified REIT ETF. No REIT may exceed 10% of SCHH's portfolio, and the total weight of all holdings with allocations greater than 4.5% cannot sum to more than 22.5% of the portfolio. "The fund inevitably encounters some firm-specific risk because the U.S. real estate securities market is somewhat narrow, but it diversifies more successfully than most of its peers".
However, Schwab U.S. REIT ETF is not adequately diversified, and has a high exposure of 40 percent to specialized REITs. "Specialized" is a broad umbrella term, which may include various property types like casinos, farmland, self-storage, movie theaters, outdoor advertising sites, etc. Remaining 60 percent investments are well spread over Industrial/Office REITs (20 percent), Residential REITs (16 percent), Retail REITs (11 percent), Healthcare REITs (8 percent), Diversified REITs (3 percent), and Hotel REITs (2 percent).
Schwab U.S. REIT ETF is a passive fund and there is hardly any difference in the composition with its benchmark index - Dow Jones Equity All REIT Capped Index. Being a passive ETF, SCHH's expense ratio is extremely low at 0.07%. As of April 1, 2022, SCHH has an asset under management (AUM) of $7.17 billion, and a weighted average market capitalization (WAMC) of $46.8 billion. As this ETF owns a small percentage of equity holdings in various REITs, it has a proportionate ownership in those companies. Accordingly, a proportion of market capitalization belongs to this ETF. WAMC is the total of all market capitalization of all such proportionate holdings.
In the short run, Schwab U.S. REIT ETF had a very strong price performance. This ETF recorded a growth of around 41 percent, and 14 percent over the past one and three years, respectively. Considering the pandemic-related stock market crash in March 2020, these returns are quite healthy. Since its inception, SCHH has recorded a double-digit average price growth. However, the average price growth was a bit lower at 8 percent during the past five years.
A closer inspection of its top 60 percent holdings (invested in 20 REITs) reveals that most of its top 20 investments have been able to outdo the return of SCHH. Simon Property Group, Inc. (SPG), a retail REIT, is the only stock which had a disappointing performance throughout. Besides SPG, two residential REITs- Equity Residential (EQR) and Invitation Homes Inc. (INVH) –failed to double their prices over these 11 years. Over the past 5 years, in addition to SPG, another retail REIT, Realty Income Corporation (O) and the world's largest private owner of timberlands, Weyerhaeuser Company (WY) failed to generate at least 35 percent price growth, i.e. 6.2 percent CAGR. So, most of its major holdings have consistently performed well. Barring the retail REITs, SCHH's investments in other segments have generated average to strong returns.
As many as 12 out of 20 stocks - Extra Space Storage Inc. (EXR), Equinix, Inc. (EQIX), SBA Communications Corporation (SBAC), Sun Communities, Inc. (SUI), American Tower Corporation (AMT), Prologis, Inc. (PLD), Crown Castle International Corp. (CCI), Duke Realty Corporation (DRE), Weyerhaeuser Company, Public Storage (PSA), Mid-America Apartment Communities, Inc. (MAA), Essex Property Trust, Inc. (ESS) - grew by more than 200 percent over the past 11 years. Six REITs recorded a 390 percent plus growth, i.e. a CAGR of more than 30 percent - EXR (990 percent), EQIX (763 percent), SBAC (760 percent), SUI (447 percent), AMT (405 percent), PLD (394 percent).
To be more specific, historically, Schwab U.S. REIT ETF has a very strong and steady performance on an average. But this return has been highly volatile. In only four out of the past ten years, this ETF generated a return in excess of 6.5 percent. But growth in those four years had been remarkable. At the same time, the average growth rate during the four years between 2015 and 2018 was only 2.3 percent. This extreme volatility is not a very good indicator for this fund. Had this REIT ETF been well diversified, it could have a lower volatility risk.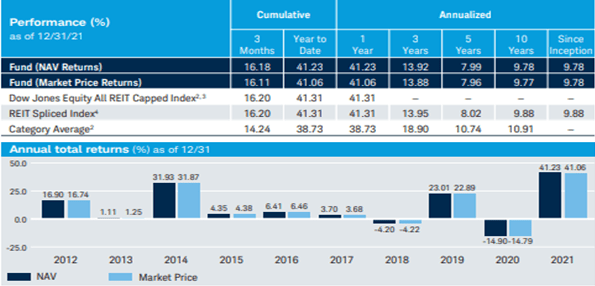 The two major investment areas of SCHH, specialized REIT and Industrial/Office REIT, constitute 60 percent of its portfolio. However, unlike the residential REITs and retail REITs, specialized REITs and industrial REITs will be highly cyclical. As these REITs create and manage some specific types of facilities, these assets will always have lower supply and higher demand, but the demand will vary from time to time, and will be more dependent on the growth of those specific industries for which such facilities are constructed. We have already witnessed its impact on the annual average return of SCHH.
SCHH is currently trading at a 9 percent discount to its 52-week high. Price to book value of 3.35 and P/E of 44.42 suggest that the firm's valuation is on the higher side. However, we can ignore this P/E, because this ratio doesn't hold much significance for real estate-based companies. Price to Cash flow of 25 is much closer to peer's average Price/cash flow of around 21. Looking at the historical trends and the effectiveness of stocks selected, there is every possibility of SCHH's price moving upwards and crossing this 52-week high of 26.54. As all the short-term moving averages are placed above the long-term moving averages, the technical indicators are in favor of an upward movement of SCHH's market price.
These ratios are an indicator of higher investors' confidence on the management of Charles Schwab, that in future they will be able to utilize SCHH's assets to generate sufficient cash flow and earnings. As the US economy is slowly overcoming the Pandemic-related economic stagnation, and moving towards steady growth, the real estate sector is going to be one of its bigger beneficiaries. Economic growth will help not only the specialized REITs and industrial/office REITs, but also push upwards the revenue and earnings of residential REITs, retail REITs, and hotel REITs.
Despite being highly volatile, investors can expect an average price growth between 8 to 10 percent in the medium and long run. Moreover, all the technical indicators point towards an upward movement of SCHH's price in the short run. Besides the price growth, SCHH has also been providing a steady dividend yield around 5 percent. As a long-term investor having high hopes in the real estate sector, I'll obviously keep Schwab U.S. REIT ETF in my portfolio of investments.
About the TPT service
Thanks for reading. At the Total Pharma Tracker, we offer the following:-


Our Android app and website features a set of tools for DIY investors, including a work-in-progress software where you can enter any ticker and get extensive curated research material. 
For investors requiring hands-on support, our in-house experts go through our tools and find the best investible stocks, complete with buy/sell strategies and alerts.
Sign up now for our free trial, request access to our tools, and find out, at no cost to you, what we can do for you. 
This article was written by
Avisol Capital Partners is made up of a team of medical experts, finance professionals and techies, all of whom invest their own money in the picks they share. They aim to help readers find the middle ground between value and growth investing, as they demystify the biopharma industry.
They lead the investing group
Learn more
.
Analyst's Disclosure: I/we have no stock, option or similar derivative position in any of the companies mentioned, and no plans to initiate any such positions within the next 72 hours. I wrote this article myself, and it expresses my own opinions. I am not receiving compensation for it (other than from Seeking Alpha). I have no business relationship with any company whose stock is mentioned in this article.
Seeking Alpha's Disclosure: Past performance is no guarantee of future results. No recommendation or advice is being given as to whether any investment is suitable for a particular investor. Any views or opinions expressed above may not reflect those of Seeking Alpha as a whole. Seeking Alpha is not a licensed securities dealer, broker or US investment adviser or investment bank. Our analysts are third party authors that include both professional investors and individual investors who may not be licensed or certified by any institute or regulatory body.