INmune Bio: Speculative Biotech With 2 Solid Potential Approaches To Treating AD And Solid Tumors
Summary
INKmune therapy, NK cell therapy, was shown to activate NK cells that killed off >70% of NK resistant tumor cells in an in vitro assay in an MDS patient.
INKmune approach will be used to activate dormant NK cells and allow them to kill off cancer cells; additional indications include ovarian cancer, renal cell carcinoma and nasopharyngeal carcinoma.
XPro is in a phase 2 study for the treatment of mild Alzheimer's Disease patients; Results from this study expected by 2nd half of 2023.
The global Alzheimer's Disease market could reach $25 billion by 2027.
I do much more than just articles at Biotech Analysis Central: Members get access to model portfolios, regular updates, a chat room, and more. Learn More »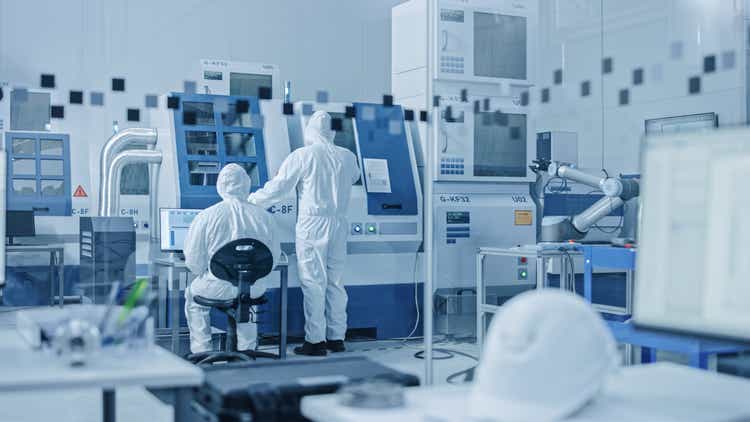 INmune Bio, Inc. (NASDAQ:INMB) is a great speculative biotech play to look into. The reason why I make this claim is because it has two potentially good approaches for targeting multi-billion dollar market opportunities. The first is the use of INKmune technology to activate dormant natural killer (NK) cells in the body to attack cancer cells. The thing is to achieve this concept to overcome resistance that is observed with other such innate treatment approaches. Then, on the other side, it believes that it wants to take a different route towards targeting Alzheimer's Disease (AD). It wants to do so by going after the protein of soluble tumor necrosis factor (sTNF). In other words, to decrease neuroinflammation that is associated with AD. The hope is that by reducing the inflammation for these patients, it might be able to halt or reduce the progression of this disease. It is using a protein biologic known as XPro1595 that targets sTNF. With these two different approaches to targeting these two multi-billion dollar market opportunities, this is why I believe INmune Bio is a great speculative biotech to look into.
Innate Immunity Approach To Treating Patients With Cancer Using INKmune Technology Platform
INmune Bio holds huge potential because of its different approach for cancer treatment. It wants to use its INKmune platform to activate dormant NK cells. Why would it do this? Precancer cells are kept in check because of NK cells which circulate throughout the body and destroy them as part of the innate immune response. However, the problem is that cancer cells can remain invisible to NK cells, outgrow them to have them be destroyed by the body and become resistant. INmune believes that it needs to have a strong signal to activate dormant NK cells to effectively fight cancer. As such, this is what the INKmune technology platform is all about. Having said that, some proof of concept was established when this NK treatment approach was applied to myelodysplastic syndrome (MDS) patients in a phase 1 clinical study. It was noted that after 100 days of treatment for one patient, 60% of the NK cells in their body was activated. In essence, a 4x increase in NK cells being activated. INKmune therapy was shown to activate NK cells that killed off >70% of NK resistant tumor cells in an in vitro assay. This is some pretty good proof of concept, especially when you consider that treatment was well tolerated. Not only that, but there was no need to add in cytokine therapy or other pre-medication before receiving INKmune therapy. I am not going to say that the technology has been completely proven just on this one patient alone. As such, two other patients under a compassionate use program were also given INKmune therapy. One of the two patients was discharged home and the other at the time was still hospitalized. Why is this some decent data? Well, for starters, these are high-risk MDS/AML patients who have already tried and failed on at least one allogeneic bone marrow transplant. I feel confident that if INKmune can be proven in many other patients such as these, then it might be great in proving that NK cell treatment might become a more comprehensive approach to treating cancer.
This is all great, but how exactly does NK cell therapy alone accomplish its task of targeting cancer? It does so through two methods. The first method is by secreting a perforin molecule which creates a hole in the target cancer cell. Such a hole creates an opening for the NK cell to secrete an enzyme (known as granzymes) into the cancer cell. The goal is to eradicate the cell from the inside. The second approach is the tight binding to the surface of cancer cells (known as death receptors on surface of cancer cells) to destroy itself (apoptosis or cell death). NK cells in the body don't work well alone because cancer finds a way to avoid them and remain invisible. Well, INmune's approach is to prime NK cells from "rest" phase to "primed". This is an alternate approach instead of using the other priming factors like cytokines such as:
IL-2
IL-15
IL-12
Rituximab
Herceptin
These other factors may work if NK lysis is achieved using these other priming methods. Not only that, but several of these I noted above have off-target effects. Meaning, they target both cancerous cells and healthy cells as well. The ability for INKmune to establish cancer killing memory like NK cells and memory like NK cells that killed NK-resistant cancer cells in an in vitro assay establishes initial proof of concept. Both of these methods were shown to persist for 4 months after INKmune treatment.
An expansion opportunity exists having established some initial proof of concept. As such, it wants to initiate an additional open-label phase 1 study to use INKmune in high-risk MDS patients. In addition, it wants to initiate a phase 1 study to use this NK treatment approach to treat ovarian cancer patients in the 2nd half of 2022. Lastly, it hopes if possible this year in 2022 to report the use of INKmune from preclinical studies targeting patients with other solid tumors such as renal cell carcinoma and nasopharyngeal carcinoma. With a great NK technology platform (INKmune) and the ability to go after several solid tumor targets, it has huge potential in the cancer space.
Additional Large Multi-Billion Dollar Market Opportunity
The ability to use the INKmune technology alone to target several types of solid tumors is huge. However, INmune Bio has a biologic it is developing to treat patients with Alzheimer's disease. AD is a progressive disease whereby memory and other mental functions start to disintegrate. That is, neurodegenerative effects of altering connectivity strength between nodes. These patients suffer memory loss and other neurological problems. No exact treatment is curative at the moment, but there are drugs which may slightly improve symptoms for them. This is a huge market opportunity for sure. It is expected that the global Alzheimer's Disease market could reach $25 billion by 2027. What exactly is the approach here? INmune Bio hopes to halt/stop neuroinflammation that occurs in these patients. Thus far, it has been able to establish two specific biomarkers with initial proof of concept of using its biologic XPro or pegipanermi (company's selective DN-TNF inhibitor). What's the goal of reducing or controlling inflammation? To reduce a biomarker that may be implicated in AD, which is Phospho Tau (pTau). The two pTau biomarkers, where proof of concept was established for were:
Alzheimer's disease patients in a phase 1 study treated with 1.0 mg/kg of XPro had a 46% reduction in CSF (cerebral spinal fluid) pT217), which gave p-value of p<0.0001. There was a lesser reduction in pT181 which gave a p-value of p<0.01. PT181 is the standard method biomarker for AD; however, pT217 deals more with amyloidosis correlation and maybe even cognitive decline. Either way, not bad for establishing initial proof of concept for two pTau biomarkers in this phase 1 study. There is an ongoing phase 2 study using XPro for the treatment of mild Alzheimer's patients. Results from this mid-stage study are expected to be released in the 2nd half of 2023.
There is an expansion opportunity with a few shots on goal with XPro as well believe it or not. INmune Bio has an ongoing phase 2 study using the drug to also treat patients with a mild cognitive impairment (MCI). Results from this study are expected in the 1st half of 2023. Lastly, the biotech has been able to obtain $2.9 million in funding from an NIH (National Institute of Health) grant to initiate a phase 2 study using XPro for treatment resistant depression (TRD). This mid-stage study is expected to start by the 2nd half of 2022.
Financials
According to the 10-K SEC filing, INmune Bio had cash and cash equivalents of $74.8 million as of December 31, 2021. In order to obtain the cash on hand that it has, it needed to perform several financing activities. For instance, in July of 2021, it completed a registered direct offering whereby it sold 1,818,182 shares of its common stock and raised about $36.9 million. Another tool it utilized for the last few years was an ATM agreement with BTIG. In March of 2021, the company entered into a 2021 ATM agreement with BTIG, whereby it established an ATM offering up to about $45 million of common stock, although the company only raised about $14.9 million under this 2021 ATM agreement, ending the year on December 31, 2021.
Risks To Business
There are several risks that investors should be aware of when investing in INmune Bio. The first risk involves the use of INKmune NK cell therapy technology platform. That's because while initial proof of concept has been established in using this NK cell therapy for patients with MDS, it has only been shown in very few patients. It is already in the process of starting an additional phase 1 open-label study using INKmune to treat high-risk MDS patients to establish more proof of concept. Therefore, it will be important to see if INKmune can help all these other patients as well. The good news is that it is gearing up to start a phase 1 study soon using INKmune to treat ovarian cancer patients in the 1st half of 2022. This is another potential indication for which the biotech can go after, just in case the MDS indication doesn't end up working out well. The second risk lies with the use of XPro in an ongoing phase 2 study for the treatment of patients with mild AD. This is a very risky indication, because it is said about up to about 99% trial failures occur with respect to this. The hope is that it may finally be the 1% that ultimately succeeds, but this remains to be seen. The final phase 2 AD data, which is expected in the 2nd half of 2023, will determine the future of this program. At least XPro is being studies in MCI and Treatment resistant depression, which provide additional shots on goal.
Conclusion
The final conclusion is that INmune Bio is a great speculative biotech to look into. I think it is great that it is taking alternate approaches in a way for the two large market indications of solid tumors and AD. With respect to NK cell therapy, I feel more confident in this program. That's because a lot of biotechs are starting to dabble with the innate immune system (NK cells, dendritic cells, macrophages) to kill cancer cells. Of course, there are several that take both approaches, but NK cells are starting to become more of a somewhat proven concept. Hopefully INmune Bio can succeed in using NK cells to treat patients with solid tumors. XPro looks to be a good program, but as I stated above, there is a 99% trial failure rate for AD treatments. Even those that have succeeded in studies and been approved like Biogen (BIIB) with Aduhelm, have seen limited success in the market. It hopes to slash the price in 2022 which could probably bring additional patients into the fold, but that remains to be seen. It is going to be a tough road for INmune Bio for AD, but it all depends upon the data that will ultimately be released towards the end of 2023. I think the good thing is that it is not just focusing only on a few indications, it has already branched out into targeting other indications. This adds additional shots on goal for the biotech to possibly reduce investor risk. Based on all these reasons above, this is why I believe it is a good speculative biotech to look into.
This article is published by Terry Chrisomalis, who runs the Biotech Analysis Central pharmaceutical service on Seeking Alpha Marketplace. If you like what you read here and would like to subscribe to, I'm currently offering a two-week free trial period for subscribers to take advantage of. My service offers a deep-dive analysis of many pharmaceutical companies. The Biotech Analysis Central SA marketplace is $49 per month, but for those who sign up for the yearly plan will be able to take advantage of a 33.50% discount price of $399 per year.
This article was written by
Terry Chrisomalis is a private investor in the Biotech sector with years of experience utilizing his Applied Science background to generate long term value from Healthcare.
He is the author of the investing group Biotech Analysis Central which contains a library of 600+ Biotech investing articles, a model portfolio of 10+ small and mid-cap stocks with deep analysis for each, live chat, and a range of analysis and news reports to help Healthcare investors make informed decisions.
Analyst's Disclosure: I/we have no stock, option or similar derivative position in any of the companies mentioned, and no plans to initiate any such positions within the next 72 hours. I wrote this article myself, and it expresses my own opinions. I am not receiving compensation for it (other than from Seeking Alpha). I have no business relationship with any company whose stock is mentioned in this article.
Seeking Alpha's Disclosure: Past performance is no guarantee of future results. No recommendation or advice is being given as to whether any investment is suitable for a particular investor. Any views or opinions expressed above may not reflect those of Seeking Alpha as a whole. Seeking Alpha is not a licensed securities dealer, broker or US investment adviser or investment bank. Our analysts are third party authors that include both professional investors and individual investors who may not be licensed or certified by any institute or regulatory body.