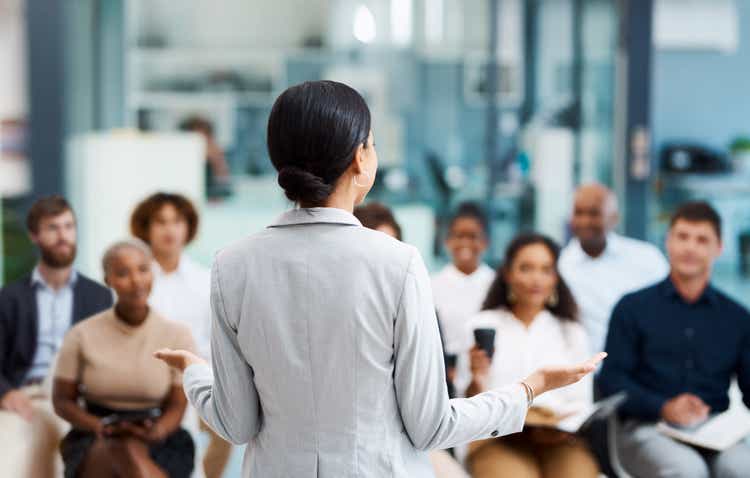 Education is incredibly important, especially in the modern knowledge economy. Because of this, there are many players in the space, many private but also some public. One publicly traded firm dedicated to promoting digital learning in a way that should help corporations and government entities is Skillsoft (NYSE:SKIL). Because the company has only recently gone public, financial performance has no real established track record. However, management is due to report financial results covering the final quarter of the company's 2022 fiscal year rather soon. The information the business is supposed to report will have a significant impact on shareholder outlook for the business. Because of this, investors in the company or those who are watching it closely would be wise to keep an eye on what information comes out.
Skillsoft - An education play
As I mentioned already, Skillsoft is dedicated to promoting digital learning in a way that helps both corporations and governments. According to management, its specific offerings help to provide enterprise learning solutions that aim to prepare organizations for the future of work, to overcome critical skills gaps, to drive behavior change at organizations, and to unlock the potential in workers. Its portfolio includes a suite of premium, original, and authorized partner content, including a library that focuses on topics such as leadership, business skills, technology, development, and compliance. These offerings come in multiple forms, such as video, audio, books, boot camps, live events, and even practice labs.
At present, Skillsoft's content is delivered through a platform that management calls Percipio. At first glance, the concept of educational content may seem rather vague. So to illustrate the kind of offerings the company provides, we need only look at one of their services. One educational course includes providing insight into the basics of cloud computing. Through this course, the company explores the core concepts involving how the cloud works, including why it is important and the different use cases for it. Similar approaches have been made for other educational paths such as security, diversity and inclusion, and product management. In order to create this large amount of content, the business has developed, over the years, over 100 active license agreements with various content providers. This has had global appeal, allowing the company to grow to serve approximately 75% of Fortune 1000 customers spread across more than 160 countries.
What to watch for in Skillsoft's Q4 earnings
After the market closes on Wednesday, April 6th, the management team at Skillsoft is due to report financial results covering the final quarter of the company's 2022 fiscal year. Leading up to this time, analysts have provided some thoughts as to what the company should report. For instance, one source estimates that revenue for the company will be about $176.85 million. The business should also generate a loss per share of $0.11. Although we have no way of knowing what the earnings or loss per share will be, it is likely that the revenue figure will differ to some degree. That is because management, leading up to the press release, has said that adjusted revenue for the fiscal year should be between $693 million and $698 million. At the midpoint, this implies revenue for the final quarter of the year of around $293.79 million. As for the net loss, I will only say that some sort of loss is highly probable. In the first nine months of its 2022 fiscal year, for instance, the company did generate a loss of $103.97 million. A sizable portion of that, about $42.86 million in all, came in the most recent quarter.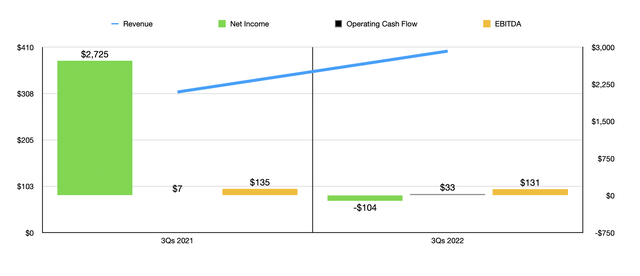 Truth be told, Skillsoft has had a rather mixed operating history recently. Although profits have been negative, the company's cash flow has generally been positive. In the first nine months of its 2022 fiscal year, for instance, the firm generated positive operating cash flow of $33.27 million. Meanwhile, EBITDA for the company was $130.48 million. If this EBITDA number seems outlandish given the company's other fundamental figures, it's worth noting that management expects the metric, for the full fiscal year, to be around $167 million. Management also expects bookings of between $716 million and $721 million. That implies continued growth heading forward.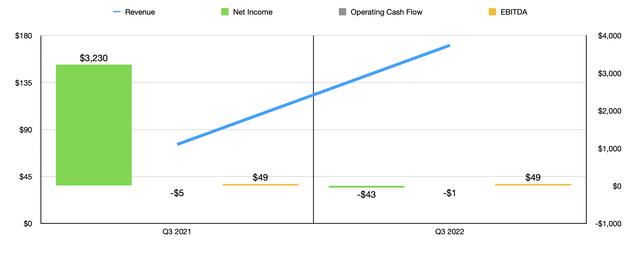 It is important for investors to keep an eye on the short-term figures such as the ones I mentioned. But investors should also keep a watchful eye on management's guidance for the 2023 fiscal year. The firm did say that it plans to provide guidance when it reports financial results. And given recent developments, the figures provided by the company could be rather impressive. This is because of a number of positive changes for the company. One smaller change, for instance, involved the announcement by the firm earlier this year that its Percipio's FedRAMP has been authorized for use by federal agencies in the US. This opens up the company's platform to help bridge skills gaps at the federal agency level.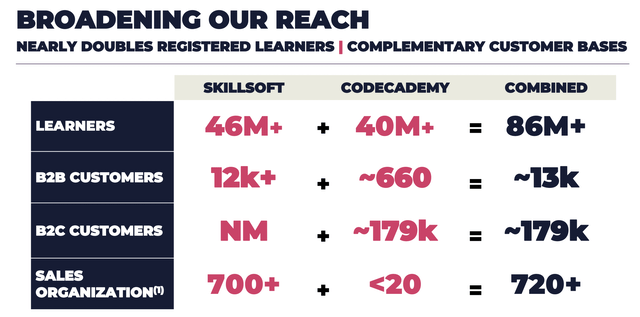 An even bigger development involves the company's decision to acquire Codecademy in a deal initially valued at $525 million. This purchase brings with it 40 million learners to add to the 46 million that Skillsoft already has. The deal includes annualized revenue of $42 million, which was an increase of 31% compared to one year earlier. It also involves bringing on $47 million worth of bookings and the entity being acquired is responsible for generating EBITDA of around $20 million. Depending on the growth rate associated with Codecademy, we could see a significant increase in revenue and profitability for Skillsoft for its 2023 fiscal year. In addition, there is also the benefit that Skillsoft likely will get Codecademy for a discount compared to what the initial purchase price was reported as. This is because, following a decline in share price for Skillsoft, the effective acquisition of the company should cost shareholders about $410.9 million. Although $205 million worth of the purchase involved cash, the rest involved shares. At current pricing, Skillsoft has to pay out a maximum of 34.2 million shares. But that works out value of just $205.9 million today compared to the $320 million that the previous share prices and count implied. The downside of this, unfortunately, is that there's greater share dilution associated with the deal today than when the deal was initially announced.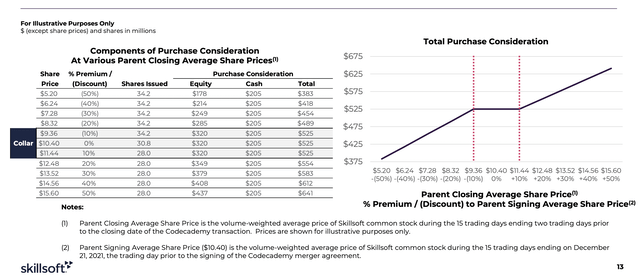 Takeaway
As we near the date for Skillsoft's financial report, investors should keep a watchful eye on the basic fundamentals management is supposed to announce. But more important than this is a slew of other data that will involve the future of the enterprise. What kind of guidance management offers will have a significant role to play in what kind of value the company will ultimately be able to deliver for investors in the long run. Because of this, investors should pay careful attention to what information does come to light.