Tesla's Battery Keeps On Running
Summary
TSLA investors have been mostly focused on its EV and batteries segment while overlooking its solar ambitions.
TSLA is already certified as an official electricity retailer in Texas, with multiple residential & energy storage projects in the state.
TSLA is also planning multiple virtual power plant projects in Texas and California, with ongoing energy projects in Australia, the UK, and Germany.
Nonetheless, TSLA Energy is still in the early innings of its growth story, thus will not be reporting profitability just yet.
Moving forward, we may see a massive upside to TSLA Energy's growth, given that Elon Musk expected it to match the EV segment.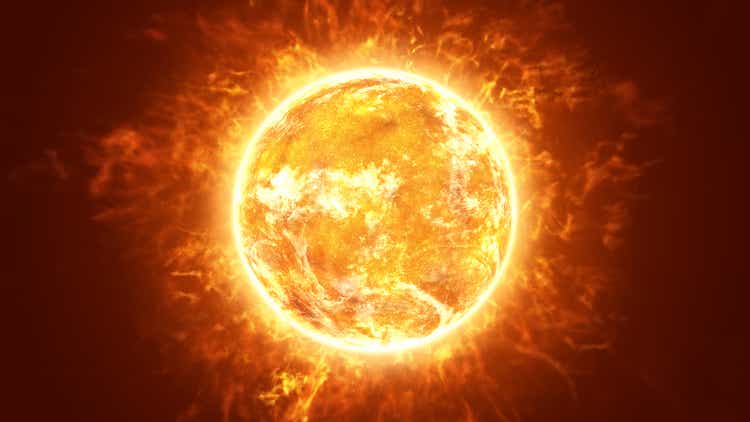 Investment Thesis
Given Tesla (NASDAQ:TSLA) Energy's focus on market penetration opportunities, it has yet to report sustained profitability, despite being the second-largest solar installation company in the US. Sunrun Inc (RUN), the leading solar company in the US, is also not reporting profitability yet. RUN reported revenues of $1.61B in FY2021, operating margins of -41.7%, and net losses of -$79.42M. It is evident that solar is still a nascent market in the US, given that it accounts for only 2.8% of market share in the energy industry in 2021.
Nonetheless, based on Brandessence Market Research, the global solar market size is expected to grow from $182B in 2021 to $902.5B by 2028 at a CAGR of 25.7%. It is evident that the solar industry is expected to grow even faster than the global EV industry, which Allied Market Research expected to grow from $163.01B in 2020 to $621B by 2028, at a CAGR of 18.2%. As a result, we believe that the segment is only in the early innings of its growth story, given that TSLA has an even bigger ambition to be a distributed global utility company in the future.
TSLA Energy May Be The Unexpected Long-Term Winner
TSLA's Texas gigafactory will be partly powered by the massive solar panels installed on its rooftop, clearly showing the company's commitment to renewable energy. In addition, the company is potentially expanding its energy storage solutions through a Megapack project in the state, with a proposed building area of 53 acres. These are mainly attributed to the state's unregulated power grid, which has caused the infamous Texas Freeze in February 2021. The catastrophic event had led to a surge of solar panels and TSLA's Powerwall adoptions in the state in 2021.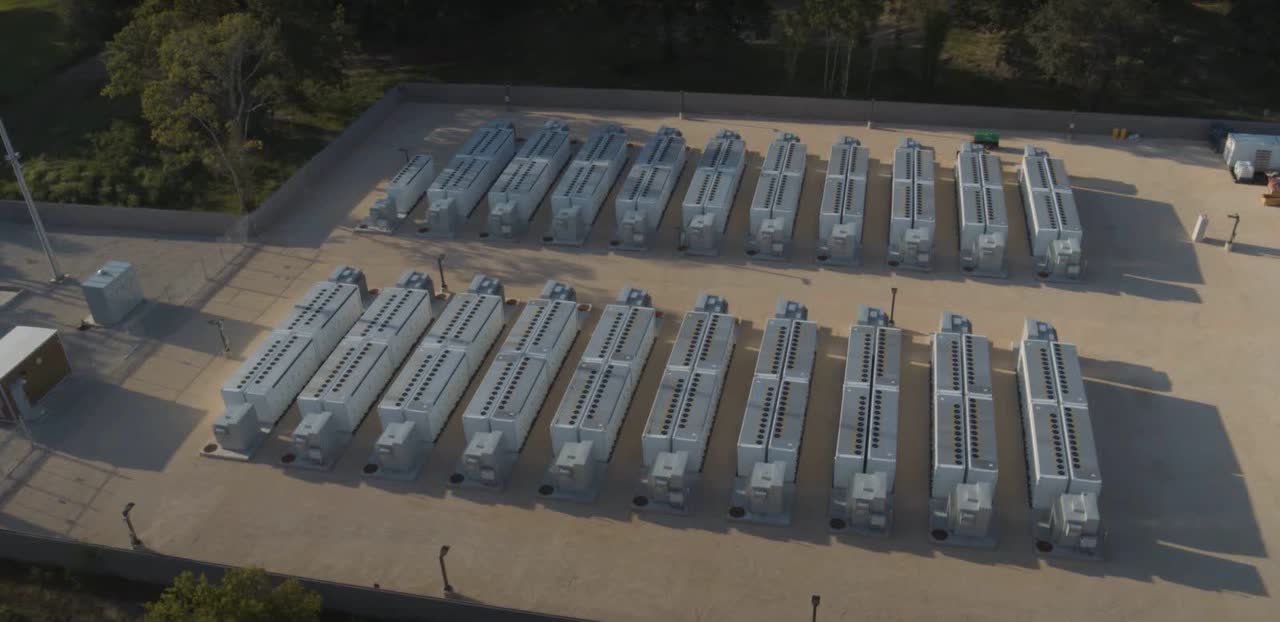 As a result of its energy ambitions, TSLA also entered Texas' energy market as an official electricity retailer in late 2021, via a new subsidiary of the company, Tesla Energy Ventures. Since then, the company has invested heavily in the project, with:
a 100 MW energy storage project in Angleton, Texas.
a 250 MW energy storage project near its Texas Gigafactory.
a Tesla Solar neighborhood in Porter, Texas, with Tesla PV Solar Panels, Powerwalls, and EV Chargers in collaboration with Alset EHome.
a Tesla Solar neighborhood in Austin, Texas, with Tesla solar roofs and Powerwalls in all new homes developed with Brookfield Asset Management Inc (BAM).
The energy storage project in Texas was designed to create a Virtual Power Plant (VPP) using TSLA's Powerwalls and solar energy systems installed at its customers' homes. It is a similar move to its previous VPP in California. The strategy will allow TSLA to stabilize the grid and provide backup energy when necessary. As a result, TSLA could quickly become a major player in Texas' energy market through its aggressive expansions, aided by the massive residential solar adoption in the state.
The US Energy Information Administration (EIA) projected that over 21.5GW of new utility-scale solar generating capacity to be added to the power grid in 2022. It will represent a nearly 18.6% increase YoY, with Texas accounting for the majority at 6.1 GW and California second-largest at 4 GW. In addition, the US EIA also projected that the utility-scale battery storage capacity to increase by 5.1GW in 2022, with TSLA contributing 350MW at 6.8%.
Though speculative, we expect TSLA to expand its VPP strategy nationwide, assuming that the company is successful in Texas and California, given that the company has hit sufficient economy of scale through its battery system. Other energy providers have also embarked on similar paths, with sonnen launching VPP in New York and California, while Swell also launched in California, Hawaii, and New York. TSLA has also shown its interest in the global energy market through VPP in Australia in 2018, while applying to be an electricity provider license in the UK in 2020, and partnering with British electricity provider, Octopus Energy, in Germany in 2021.
Will TSLA Energy Be Profitable By 2023?
As of 2020, TSLA Energy holds a market share of 7.6% in the US. However, the clear winner is RUN, with approximately 14% market share in the same year. However, it is important to note that RUN has yet to achieve sustained profitability since its inception in 2007. In fact, its EBITDA has been declining from $34.13M in FY2018 to -$282.74 in FY2021, partly attributed to the COVID-19 pandemic and supply chain issues.
Let's examine RUN's financials a little bit. RUN reported revenues of $1.61B in FY2021, with customer agreements contributing $826.6M and solar systems/ product sales contributing $783.4M. It represented a 75% YoY growth. However, the cost of revenues and operating expenses were also high at $1.36B and $2.27B, respectively. Given that the company has already installed over 32K solar and battery systems nationwide with partnerships with over 80 top home builders, it is apparent that the solar industry's margin is on the slimmer side.
Nonetheless, it is also important to note that the solar industry operates with a slightly different strategy, through solar loans or power purchase agreements/ solar leases. RUN had opted to go with the latter to reduce upfront costs for potential customers, though they also have the choice of full cash payments. In FY2021, RUN reported annual recurring revenue of $851M over the next 17.4 years for its customer agreement. Despite the appearance of unprofitability, the $14.8B revenues are simply unrealized and unreported as of FY2021 for RUN's front-loaded investment. Due to the aggressive strategy, RUN achieved 660K customers adopting a mix of its solar system solutions with a total solar network of 4.7 GW as of FY2021. In FY2021 alone, RUN installed 0.792 GW of solar network nationwide, representing an increase of 20% YoY.
Now, how does it compare to TSLA Energy's performance? TSLA Energy reported revenues of $2.78B in FY2021, representing a 40% YoY growth. The revenue included $2.27B from the sale and $519M from loans and power purchase agreements for solar energy systems to residential, small commercial, large commercial, and utility grade customers. Similar to RUN, in FY2021, TSLA also reported deferred revenues of $399M and $198M for remote monitoring service/ operations/ maintenance service and operating lease agreements for energy generation and storage products, respectively.
TSLA Energy is also not profitable yet, with gross loss and margin of -$129M and -4.6% for the last fiscal year, respectively. This is partly attributed to the "temporary manufacturing underutilization during product ramp, despite an improvement in gross margin compared to the prior year." In addition, TSLA had highlighted that the long-term success of its Energy business is "dependent upon increasing margins through greater volumes." It is evident that the company's solar segment has yet to achieve economy of scale, similar to RUN.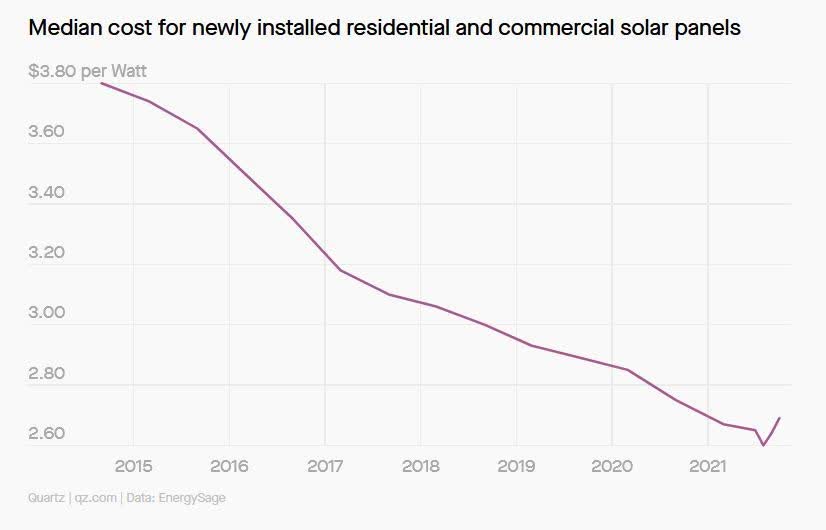 However, given TSLA's deployment of 345 MW of solar energy systems in FY2021 with a 68% YoY growth, it is evident that there is increasing demand for its solar segment. TSLA also deployed 3.99 GWh of energy storage products in 2021, with a 32.1% YoY growth. TSLA also accounts for nearly 70% of the EV market share in the US in 2021. This is important as 80% of current EV owners in the US charge their vehicles at home, thereby consuming approximately twice as much electricity per household. It is only logical that as more adopt EVs, more will also adopt solar and energy storage systems moving forward, due to the ongoing geopolitical instability leading to rising electrical bills.
Despite only 4% of the 77M US households having installed solar panels, we expect more to adopt these systems for utility independence as well. It is evident that the upfront installation costs continue to fall to new lows as the solar industry gains momentum and scale in the past decade. Though speculative, this could have been Elon Musk's strategy in growing its EV segment first, then the solar segment afterward.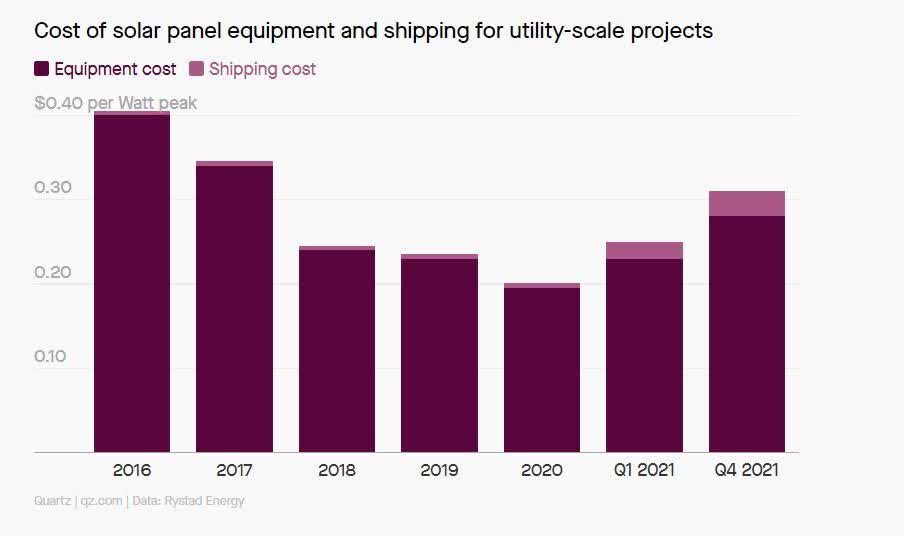 However, given that the global supply chain remains an issue in 2022, there may be temporary headwinds for adoption. Increases in raw material/labor costs have been reported along with delays in shipments, leading to RUN experiencing "backlog growth of 57% for FY2021." According to the PV market tracker EnergyTrend, the price of Polysilicon, a key ingredient of crystalline-silicon PV cells, has also risen by 338% since June 2020. Though supply is expected to improve from Q2'22, experts from Bernreuter Research anticipate prices to remain elevated until the situation stabilizes in 2023.
As a result, we do not expect TSLA Energy to report sustained profitability just yet by 2023, given how the segment has not achieved economy of scale. It is important to note that TSLA only reported sustained EBITDA of $301M in FY2016 and net income profitability of $721M in FY2020, since its first release of the fully electric TSLA Roadster in 2008. Patience is key, my friends.
TSLA's Investors Are Confident Of Its Forward Execution
TSLA reported its plans for a stock split recently, boosting its stock price by 8%, from $1010.64 on 25 March 2022 to $1091.84 on 28 March 2022. In addition, the mid-March recovery could be partly attributed to investors being confident in TSLA's margins, given how the company has raised its prices to keep up with the inflation and increased raw material costs. Due to the ongoing Ukraine war causing record-high prices for oil and gases, experts have also weighed the possibility of more consumers switching to EV vehicles earlier than previously expected. With the market optimism surrounding TSLA, it is evident that the stock is trading at a slight premium now, compared to the Q1'22 lows.
With the enhanced production capacity from its two newest plants, TSLA is also expected to produce over 2M vehicles annually from 2023 onwards:
Fremont, California - up to 600K vehicles/ year.
Existing Gigafactory in Shanghai, China - over 450K vehicles/ year.
Grünheide, Germany - up to 500K vehicles/ year.
Austin, Texas - up to 500K vehicles/ year.
In its latest earnings call, TSLA also previously guided over 50% growth in its vehicle production based on the Gigafactories in Fremont and Shanghai. In addition, based on Reuters, there is a rumored expansion for a neighboring Gigafactory to its existing plant in Shanghai, China for an additional 600K vehicles/ year. The aggressive expansions will push TSLA's total production capacity to 2.65M annually, assuming full capacity and availability of raw materials. It would be an increase of 288% from the company's deliveries of 936K vehicles in FY2021, which is also nearly double its FY2020 numbers.
Nonetheless, with China's zero-COVID strategy, TSLA's EV production capacity in Shanghai could be hit since it had on and off halted production since 16 March 2022. Its Shanghai factory has also been evaluated to perform at a higher gross margin of 40% compared to the 20% at Fremont. In addition, given how the Shanghai Gigafactory produced half of TSLA's deliveries in FY2021, prolonged work suspensions would ultimately harm its delivery guidance for FY2022. However, given that the local government has allowed a closed-loop system with employees living on campuses, we expect the headwinds to be temporary, if the company adopts the strategy.
So, Is TSLA Stock A Buy, Sell, or Hold?
TSLA is expected to report revenue growth at a CAGR of 29.75%, over the next four years, mostly attributed to the robust demand for its EV segment. For FY2022, consensus estimates revenue of $82.44B, representing an impressive increase of 53.1% YoY. In addition, TSLA's EBIT Margin is expected to grow from 12.1% in FY2021 to 21.4% in FY2026.
Given its market-leading position in the EV and battery industry, it is no wonder that TSLA is currently trading at an EV/NTM Revenue of 13.6x post stock split news, higher than its 3Y mean of 8.54x, compared to the Q1'22 lows of 9.56x. In the past 19 months, TSLA's stock valuation has also increased by over 240%. Though impressive, it is a given since the company reported excellent revenue growth at a CAGR of 47.98% in the past two years. Moving forward, we expect a steady increase in its stock price both pre- and post-split, given the positive sentiment and historical cadence.
TSLA is indeed a solid stock with massive revenue growth moving forward. However, those who missed out on the dip in February and early March 2022 may have to wait while the late March hype is digested. Nonetheless, aggressive investors may still choose to add now, given how TSLA's valuation has been rising over the years, and may continue to do so once its solar and energy storage segment gains momentum.
Therefore, we rate TSLA stock as a Buy only for aggressive long-term investors.
This article was written by
I am a full-time analyst interested in a wide range of stocks. With my unique insights and knowledge, I hope to provide other investors with a contrasting view of my portfolio, given my particular background.Prior to Seeking Alpha, I worked as a professionally trained architect in a private architecture practice, with a focus on public and healthcare projects. My qualifications include:- Qualified Person with the Board of Architects, Singapore.- Master's in Architecture from the National University of Singapore.- Bachelor in Arts from the National University of Singapore.If you have any questions, feel free to reach out to me via a direct message on Seeking Alpha or leave a comment on one of my articles.
Analyst's Disclosure: I/we have a beneficial long position in the shares of TSLA either through stock ownership, options, or other derivatives. I wrote this article myself, and it expresses my own opinions. I am not receiving compensation for it (other than from Seeking Alpha). I have no business relationship with any company whose stock is mentioned in this article.
Seeking Alpha's Disclosure: Past performance is no guarantee of future results. No recommendation or advice is being given as to whether any investment is suitable for a particular investor. Any views or opinions expressed above may not reflect those of Seeking Alpha as a whole. Seeking Alpha is not a licensed securities dealer, broker or US investment adviser or investment bank. Our analysts are third party authors that include both professional investors and individual investors who may not be licensed or certified by any institute or regulatory body.