Q1 2022 Planted Report - A Strange Turn And More Of The Same
Summary
The per bushel price for soy is around $16 but could pop, yet both corn and soy are up 22% so far.
Current commodity prices for corn and soy are $7.44 and $16.05 respectively.
Wheat is also trending higher due to expectation of Ukraine's loss of production.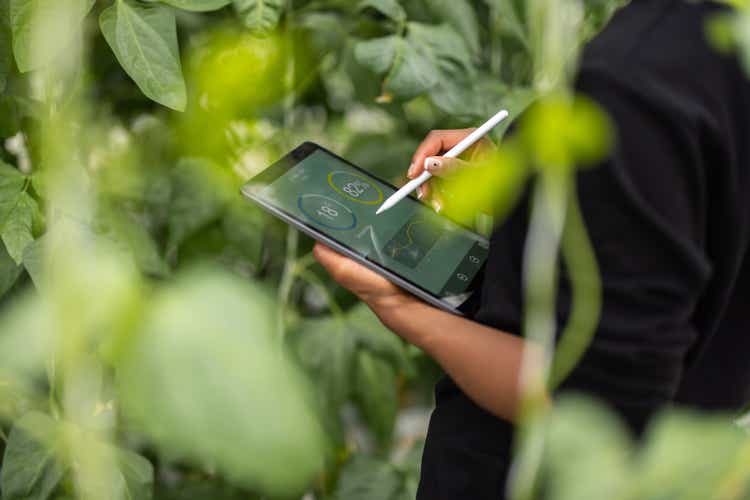 By Michael Smith
As we rounded out the month of March, the USDA has been busy assessing the planted acres around the United States, reported the 31st of March. Much to my prior post, there are not really any surprises as the data has indicated that the planting is mirroring last year... with a few caveats, most namely the switch of 4% moving to soy from corn.
Let's take a look at the estimates from the FBN group and their phone survey they conducted a week or so ago to get a pulse on the planted acres so far and extrapolate on what we can see going into harvest.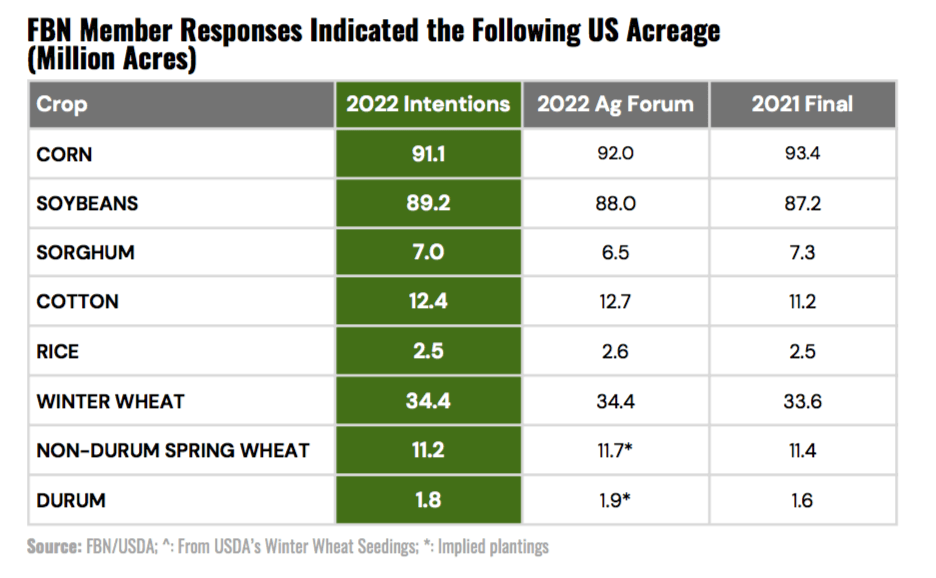 This is about what I was expecting from a surveyed population of farmers. One thing that does strike my interest is the uptick in soybeans. Given the $900 to $1,200 per ton of urea, and other nitrogen sources, which is still a 3x to 5x cost higher than last year. The switch from corn to soy is an interesting one. I don't think that this is anyway indicative of Joe Machin announcing his indication to restart talks on the Build Back Better legislation. Seeds and inputs were purchased months ago. This could just be a natural swing in specific ag communities going one direction over another based on price trends. The per bushel price for soy is around $16 but could pop, yet both corn and soy are up 22% so far.
All the rest from the estimates are about on par. Wheat, cotton, and the others are more or less same as it ever was and holding true to the survey from the Ag Forum.
Now let's review the USDA data just released: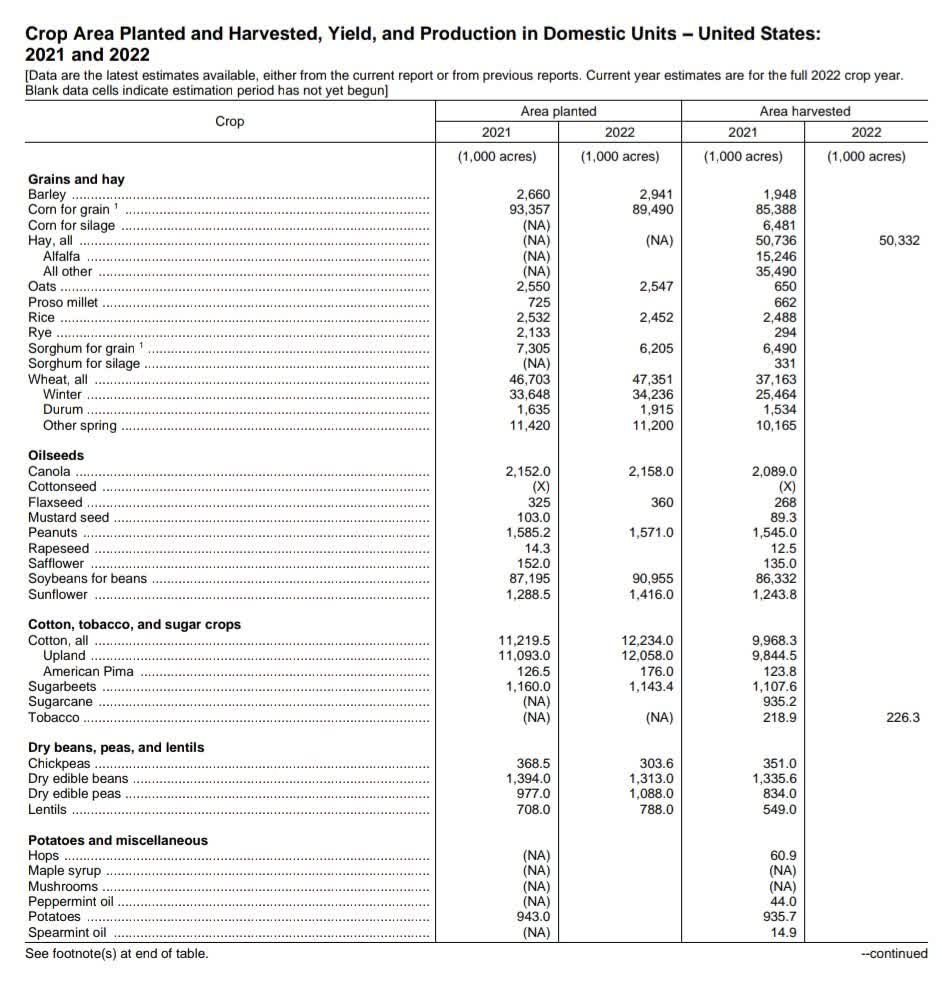 Year over year we are flat from an intentions perspective. The past year 2021 was a record amount of planted acres, and we look to do it again due to high commodity prices. This is actually good news, we need the stability in the markets to tamp down further inflation worries. Current price trends are speculative given the Ukrainian conflict is still ongoing. I currently am of the thought that this will settle as yields come off, and we also have fewer cattle to feed out. More on that from the cattle report.
At 317 million acres planted, we have substantial real estate committed to production again this year. Or as one farmer I talked to recently said, "with prices this high, I'll plant the ditch". For context, about 425 million acres is total farmland in the US, with three quarters going to direct croppage and the last quarter to livestock and dairy. Wheat is also trending higher due to expectation of Ukraine's loss of production. This may or may not be a factor given the resilience of the Ukrainian people. Current logistical issues surrounding Black Sea exports are spooking the wheat market in Chicago.
Now about that corn inversion.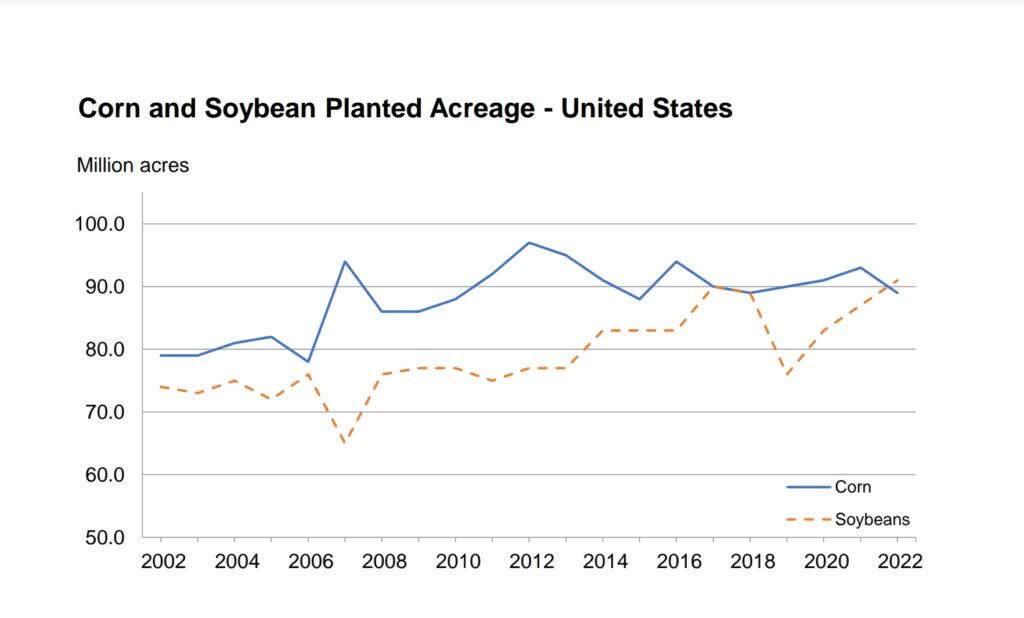 Total expected corn plant is down year over year but trending in the averages for the past five years, not that crazy. Total soy expectations, well that's a little more interesting. There are drought tolerant strains of soy, but without rain, photosynthesis is inefficient and leads to a terrible yield. So that's out. Specific areas not planting due to weather? Not really, soy is up in multiple states. Fertilizer prices are out of control, so that's, well, there might be the issue.
For the Western Corn Belt, if anhydrous ammonia was applied in the fall, there is a certain level of commitment to corn. While the added fertilizer nitrogen is not necessarily bad for soybeans, it would be a waste of resources and likely negate any economic advantage of growing soybeans. So, consider any investments made in nitrogen before opting for a direction. The good news is that phosphorus and potassium considerations are generally similar for both corn and soybeans.
This makes sense given that China and Russia were slated to cut off exports, Europe with a gas shortage going into the winter, and the US has no appetite to build additional fertilizer plants due to the $5 billion price tag and the ever changing political winds on fossil fuels. We all say this coming.
This also is a great case for business management. Current commodity prices for corn and soy are $7.44 and $16.05 respectively. I do expect those prices to calm down a bit in the coming months, but we can expect with prices that high at current expected yields, corn will garner $1,004 per acre and soy will come in at $963. However, I do think corn is currently overbought and it should be trading in the mid $6 range, for a per acre price of $877. In other words, they are planting right for the market and planting a lot of it.
Editor's Note: The summary bullets for this article were chosen by Seeking Alpha editors.
This article was written by
In 2010 24/7 Wall St. named Angry Bear among the top twenty independent financial blogs on the net. Quote: "The Angry Bear www.angrybearblog.com. Half a dozen professionals, including a tax law expert, a historian, PhDs in economics, business consultants and financial professionals provide perspectives on the financial world. Despite their expansive coverage of economic issues, their articles are as deep as their coverage is extensive. Topics include world trade, industrial production, U.S. Government programs, and major regulatory issues." 2010 FINS from The Wall Street Journal named Linda Beale's Ataxingmatter in The Top Five Tax Accounting blogs to read for 2009-2010. Our current economists are Mike Kimel, Spencer England, Robert Waldmann, and Rebecca Wilder. Linda Beale is an expert in tax law and matters related to taxes. Ken Houghton has expertise in finance. Bruce Webb has added his expertise in particular on Social Security. Daniel Becker brings a small business perspective to his writing. Daniel Crawford: aka Rdan and Angry Bear blog Bios in alphabetical order: Linda Beale: I am a law professor at Wayne State University Law School who teaches various courses in the area of federal income tax, such as introduction to federal income tax, corporate taxation, partnership taxation, international taxation and perhaps in the future a course in statutory interpretation focussed on tax. Daniel Becker: I have two businesses: a practice in the health care field and a retail business of flowers and plants. I have served as an officer of 2 non-profits and my state society. I have testified before my state legislature. I have personally won in my state supreme court. Ken Houghton: A principle in his own company and former economist for several major financial companies. Spencer England: Before I started my own consulting business I was an economist for the CIA for 10 years and worked for a couple of Boston investment management firms as their in house economist, investment strategist for some 12 years. My original field of study was international economics and international finance. I celebrated the 20th anniversary of publishing SEER -- my equity strategy product. I model the S&P industries and advise portfolio managers on how to structure their portfolios by recommending industry weights. Mike Kimel: Formerly an economist for a Fortune 500 company and now an economist for a private corporation and author of Presimetrics blog and the book Presimetrics: How Democratic and Republican Administrations Measure Up on the Issues We Care About to be published August 2010. The book can be pre-ordered. RobertWaldmann: I have a PhD in economics (Harvard 1989) and teach economics at the University of Rome "Tor Vergata". Oddly, I don't blog much at my own site rjwaldmann about economics or Italy. As an economist (roughly) I am interested in behavioral economics, growth, and the economics of inequality. Actually much of my current research, such as it is, is really in econometric methodology and statistics. I was very unorthodox in the 80s, but the orthodoxy is much less rigid now. Bruce Webb: is a current member of the National Academy of Social Insurance (NASI). I am by training a historian who then has spent my working career in information retrieval and land use regulation. My interest in Social Security arose when I noticed in passing that the dates related to 'crisis' were moving but that nobody seemed to be noticing that and still less asking the key questions 'why?' and 'can this go on?' Rebecca Wilder: After receiving my Doctorate in Economics, I was an assistant professor for two years. However, I realized that teaching just wasn't for me and took a job in private sector. Now, I am an Economist in the financial industry. As an economist in finance, I analyze data, write commentary, and offer economic insight to traders, chiefs of staff...