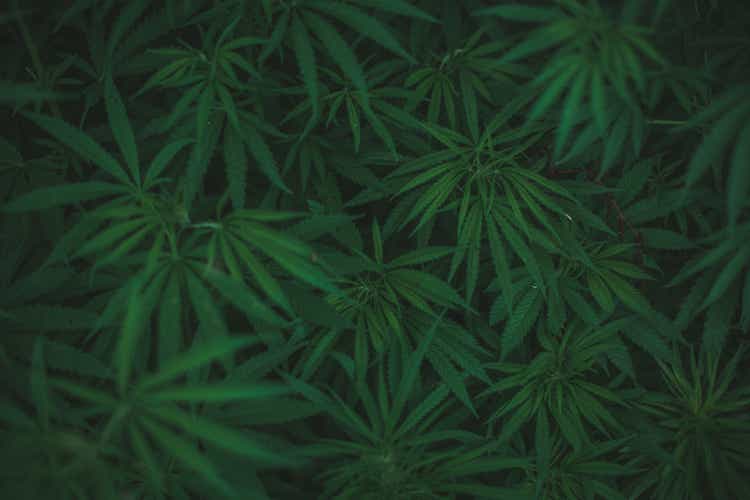 March was a mixed month for cannabis stocks. We have a handful of bets in the portfolio: no ancillary stocks, no Canadian LPs, and overweight MSOs with exposure to expanding East-Coast markets. Last month, all three worked against us and we ended down on an absolute basis and posted mediocre results when compared to benchmarks.
The MSOS ETF is the closest proxy, as it is all US exposure and focused, though not exclusively, on MSOs. We managed to barely beat it this month and remain more than 5% ahead year-to-date. For the year, and since inception, we continue to lead the cannabis pack, while lagging the broader small-cap market.

What Happened?
The first half of March was dominated by war concerns. During this period, we held up well, likely due to our emphasis on larger, more-established cannabis stocks. Quality often outperforms during downturns. Mid-month, stocks bounced as Ukraine tensions eased and smaller, higher-beta names took off. As investors flocked to lower-quality, we began to underperform.
On March 24th, the Senate passed a bill to expand research on the medical uses of cannabis. On the same day, the House scheduled a vote for federal cannabis legalization (which passed the house and will likely get stuck in the Senate, again). This flurry of news set the space on fire, but in a perverse twist, it was the NASDAQ-listed Canadian LPs and ancillary stocks that benefitted the most.
From March 24-25, the Canadian cannabis company Tilray (TLRY) went up 49.65%. During this same stretch, Green Giants' portfolio of dominant US MSOs climbed just 1.45%. This is evidence of how badly investors misunderstand this space. Why would Canadian stocks - which do not sell cannabis in the US - rally the most on news about US legislation? The answer is that Tilray is listed on the NASDAQ, while MSOs are OTC-traded. For more on this, see The Stupid State of Cannabis Stock Listings. Investors have incorrectly learned to buy NASDAQ-listed cannabis stocks when there is any favorable news.
Also on March 24th, we hoped New Jersey would finally begin allowing adult-use sales. Instead, they were not ready and our names exposed to this new market sold off. This is a temporary phenomenon, as regulators quickly announced an April 11th meeting where we are once again optimistic they will approve adult-use sales. We expect the New Jersey opening will not just be a big event for the Green Giants portfolio but also for the industry at large.
Cresco Acquires Columbia Care
Cresco (OTCQX:CRLBF) announced on March 23rd that they are acquiring Columbia Care (CCHWF) in an all-stock deal valued at approximately $2 billion. Columbia Care shareholders will receive 0.5579 shares of Cresco, representing a 16% premium. The market has reacted in a Luke-warm manner to the announcement, likely due to the complex nature of the transaction.
On the positive side, the deal provides an increasingly important scale and is expected to create the largest MSO based on pro-forma revenue. The combined entity will have a massive footprint spanning 17 states (plus DC) and over 130 retail doors. Cresco also gets entry into New Jersey, just as they are flipping from medical-only to adult use.
I'm most excited about the synergies between the companies' respective strengths. Earlier this month, I wrote An Introduction To Cresco Labs: The Leading Cannabis Wholesaler and highlighted their distribution capabilities, strong branding, and elite CPG-centric leadership team. Columbia Care is arguably lacking in these areas but offers one of the best footprints and 99 dispensaries. If the deal goes through and if they execute on their synergies, the combined entity could be a powerhouse.
Getting there is not simple. One of the biggest challenges is license overlap. Some states cap the number of licenses that can be held by one company, so when stocks merge with overlapping assets, licenses need to be sold. It is anticipated that Cresco will have to divest assets in Florida, Illinois, Massachusetts, New York, and Ohio. There are also potential complications with cultivation facilities in Maryland and Pennsylvania. These sales will require regulatory consent, shareholder approval, and federal antitrust scrutiny.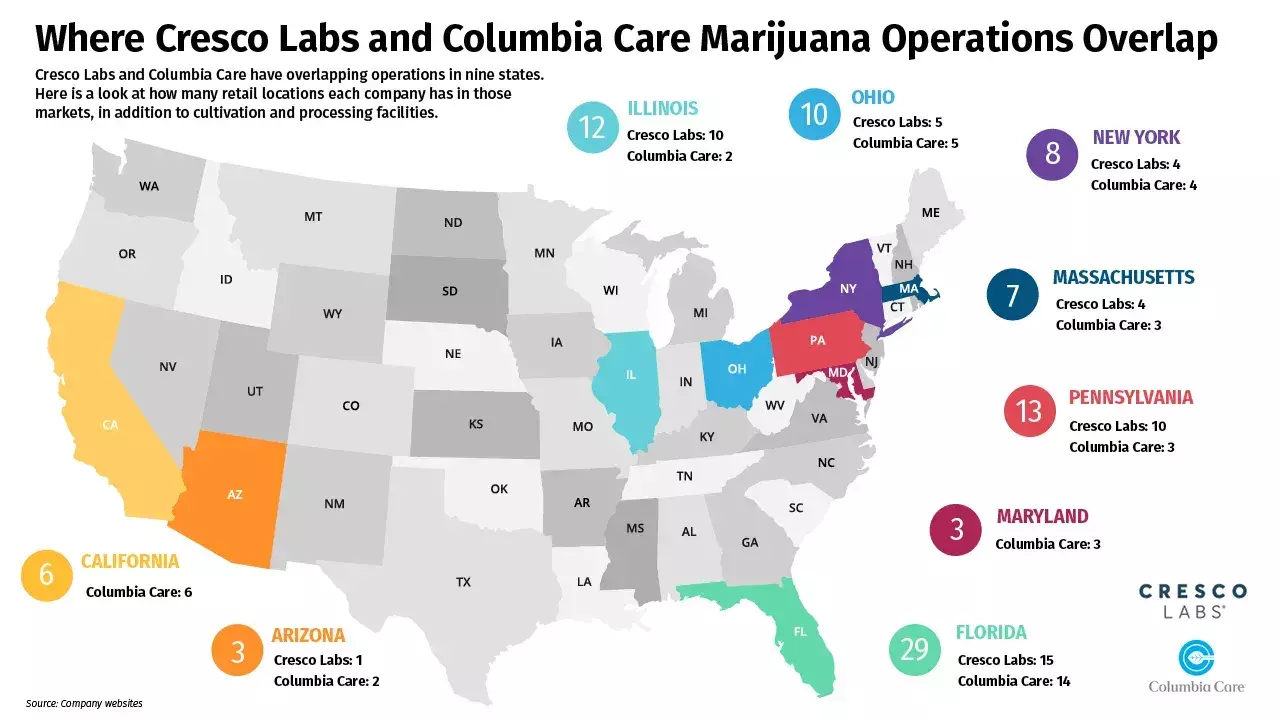 We can expect a longer-than-normal closing period and an above-average risk if the deal does not close. As I'm writing, Columbia Care is trading at an 11% discount to the proposed merger price. If one is confident that it will close, the intelligent trade would be to take the 11% and hold Columbia Care until closing. I am interested in the combined entity and long-term feel it could be a fantastic opportunity. However, I will need more time to evaluate the assets and assign probabilities to outcomes. Currently, neither name is in the Green Giants model portfolio.
Looking Forward
It's been a wildly frustrating few months. Absent new states opening and slow progress on SAFE Banking, descheduling, and eventual decriminalization or legalization, the space has been selling off at a painful pace. I went through a stretch of days this month where I felt a strong urge to "do something."
This is rooted in myopic loss aversion: the combination of a greater sensitivity to losses than to gains and a tendency to evaluate outcomes frequently. Humans feel the pain of losses 2.5x more than the pleasure of gains and it forces us to continually seek pleasure and avoid pain. While this aids in our survival, it is not well suited for stock markets. Selling things that have gone down to chase stocks moving up is a novice move and one I will not make - no matter how strong the temptation.
I remain optimistic that New Jersey will approve adult-use sales at their April 11th meeting. Doors would open 30 days later and this will boost MSOs with New Jersey exposure. Given its proximity to the financial capital of New York, it is also possible we get a bigger pop across the industry when Wall Street sees stores opening, lines out the door, and a rush of the press. The investing community might logically ask, "how do I invest in these cannabis businesses?"
Senator Schumer is also expected to drop his Cannabis Administration & Opportunity Act ("CAOA") on 4/20. His ambitious proposal would federally deschedule cannabis, expunge prior convictions and maintain the authority of states to set their own cannabis policies. I'm skeptical there is enough bipartisan support to ultimately get this passed, but the introduction should be positive and perhaps at worst another step in the right direction.
Finally, sentiment is at an all-time low. The market is pricing in zero political progress, endless state setbacks, and ignoring the normalization of cannabis. What we have largely experienced are delays, rather than cracks in the fundamental story. I remain positive and believe the Green Giants' strategy of focusing on the most-dominant operators is the least-risky means of capitalizing on the eventual opportunity.
Remain patient, be kind, and thank you for your continued support.
Editor's Note: The summary bullets for this article were chosen by Seeking Alpha editors.