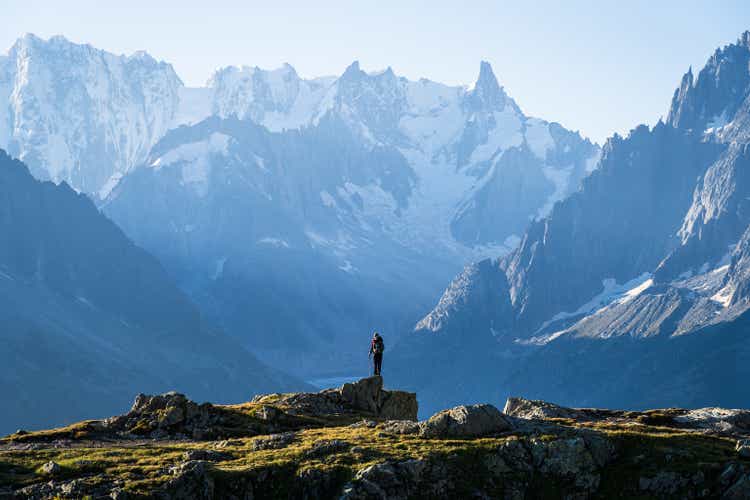 Ultragenyx (NASDAQ:RARE) is a developer of therapies for rare diseases. They have four approved products in 5 indications, which together produced $350mn in revenue last year. These products are:
| | | | | |
| --- | --- | --- | --- | --- |
| Drug | Disease | Epidemiology | Approval | Revenue '21 |
| Crysvita | X-Linked Hypophosphatemia (XLH) | 50000 | 2018 | $192.6mn |
| Crysvita | Tumor-Induced Osteomalacia (TIO) | ~ | 2020 | ~ |
| Mepsevii | Mucopolysaccharidosis 7 (MPS 7) | 200 | 2017 | $16mn |
| Evkeeza (ex-US rights) | Homozygous Familial Hypercholesterolemia (HoFH) | 3000-5000 | 2021 | $276mn by 2030 consensus |
| Dojolvi | Long-Chain Fatty Acid Oxidation Disorders (LC-FAOD) | 8000-14000 | 2020 | $39.6mn |
Now, Ultragenyx also has a deep and diverse pipeline with multiple drug candidates. These are:
| | | | |
| --- | --- | --- | --- |
| Drug | Disease | Phase | Epidemiology |
| UX143 (setrusumab) | Osteogenesis Imperfecta (OI) | 2 | 60,000 |
| DTX401 | Glycogen Storage Disease Type Ia (GSDIa) | 3 | 6000 |
| DTX301 | Ornithine Transcarbamylase (OTC) Deficiency | 3 | 10000 |
| DTX201 | Hemophilia A | 2 | 144,000 |
| UX701 | Wilson Disease (WD) | 2 | 50,000 |
| GTX-102 | Angelman Syndrome (AS) | 1 | 60,000 |
| UX053 | Glycogen Storage Disease Type III (GSDIII) | 1 | 10,000 |
This sort of analysis is indicative only, because there are various other factors involved, like competition, pricing and so on, but it is interesting that the total market size of the approved products is around 70,000 patients, while there are over 340,000 patients - 5 times more - for the pipeline candidates.
The company says there are 6 clinical programs, with 4 running pivotal trials, 2 of the programs will produce data in 2022. These are from GTX-102 in Angelman syndrome with data from 12 ex-US patients from a phase 1/2 trial, and from UX053 in GSDIII: Debrancher Deficiency from a phase 1/2 study.
Angelman syndrome is a debilitating neurogenetic disease with no approved treatments. The company recently published data from the phase 1/2 trial. About the data, not a lot can be said now, so let's just see what GeneTx says:
"We are encouraged by the safety, the initial impressions from the investigators and the improvements observed in the clinical global impression scale from early assessments. The changes in multiple functional domains are encouraging and similar to the reported early changes in the original patients from the initial part of the study at these doses," said Scott Stromatt, M.D., Chief Medical Officer of GeneTx. "It is still early in the study and we look forward to the full assessments at the completion of the Day 128 study visit."
GeneTx is the original developer of the molecule, and Ultragenyx has an option to acquire GeneTx if this trial is successful. Topline data will be out by mid-2022. Angelman is a potential multibillion dollar market for the company with no approved drugs and not a lot of late stage competition. OV101 from Ovid Therapeutics (OVID) used to be a leader but in 2020 the drug failed a pivotal trial. Roche (OTCQX:RHHBY) too has an early stage candidate in its pipeline. GeneTx/Ultragenyx is the leader, however in October 2020 their phase 1/2 trial was halted after all five treated patients experienced lower extremity weakness, with two of them progressing to where they were unable to walk or bear weight. However, the trial, obviously, resumed, as Ultragenyx was able to show that of the four tested doses, these occurred only in the two higher doses, and the lower doses also showed signs of clinical improvements. Latest data has shown no sign of lower extremity weakness.
Below is a look at the pipeline in AS from last year: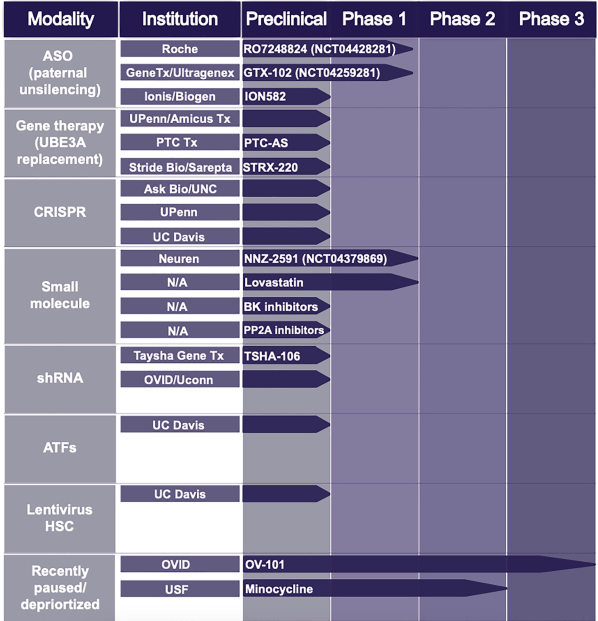 Citation: Copping, N.A., McTighe, S.M., Fink, K.D. et al. Emerging Gene and Small Molecule Therapies for the Neurodevelopmental Disorder Angelman Syndrome. Neurotherapeutics 18, 1535–1547 (2021). Emerging Gene and Small Molecule Therapies for the Neurodevelopmental Disorder Angelman Syndrome - Neurotherapeutics
Another candidate is UX143 for Osteogenesis Imperfecta (OI). In OI, abnormal collagen leads to bone breakdown and decreased bone mass and strength. UX143 increases bone density and aids in bone formation. There are no approved treatments for OI; there are 60,000 patients worldwide for types I/III and IV. A phase 2b trial has been completed in adult OI. A pivotal phase 2/3 study in pediatric and young adult patients was expected to start in Q1.
The phase 2b trial showed a dose-dependent increase in bone formation, density and strength in adults with OI. The molecule is licensed from Mereo BioPharma (MREO), who have rights in the EU. Ultragenyx is funding the entire trial, apart from a $50mn upfront payment, and has rights in the US and elsewhere in the world.
The Ultragenyx pipeline is too diverse to critically cover in a single article, so I will leave things here now. My overall impression is that Ultragenyx is doing a very good job of moving its pipeline through the clinical and regulatory process, and there are no major failures anywhere.
Financials
RARE has a market cap of $5.37bn and a cash reserve of $1bn. The company spent around $733mn last year, which includes the $50mn upfront payment to Mereo, and also includes research and development expenses of $497.2 million, SG&A expenses of $220 million and cost of sales of $16 million. Now, if the Angelman trial is successful, they will probably acquire GeneTx, see page 15 here. No particular figure is known, but given they spent $55mn so far in upfront and milestone fees, I am guessing the acquisition price tag will be somewhere in the sub ~$500mn range, probably a lot less, even with the significant market of AS, especially because Ultragenyx will still have to pay milestone and royalty payments.
Given all of that, I think the company has cash for about a year. However, let's not forget the revenue guidance for 2022, which is between $250M and $260M for Crysvita and between $55M and $65M for Dojolvi. I think Ultragenyx is in pretty good financial shape, and their cash is being used strategically and is creating value.
The company is very heavily institution owned, with major owners being T. Rowe Price, Vanguard and so on. Insider buying is nonexistent; there is considerable insider sales, which is not a major worry for me because RARE is a commercial stage company.
Bottomline
In a market where many biopharma, biotechnology, pharma stocks have remained depressed, RARE is a rare exception. Although the stock recently reached its 52-week low, it has taken off with a strong upward movement. It has a great set of products, a strong pipeline, decent cash and strong management. RARE is a long-term hold.