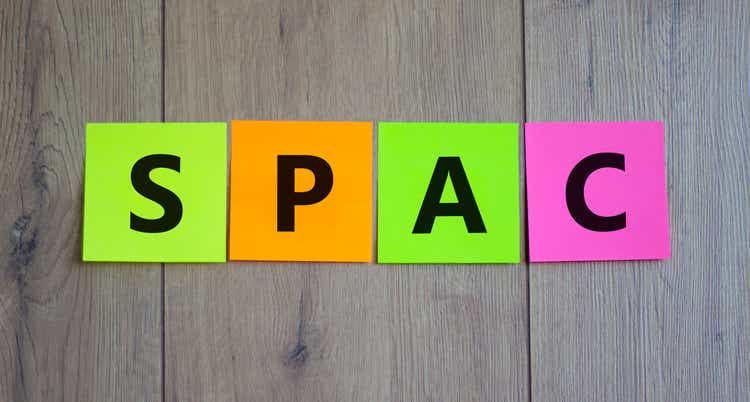 A Quick Take On Aurora
Aurora Technology Acquisition Corp. (NASDAQ:ATAK) has raised $202 million from an IPO at a price of $10.00 per unit, according to the terms of its most recent S-1/A regulatory filing.
The SPAC (Special Purpose Acquisition Company) intends to pursue a merger with a company in the sectors of 'high-growth technology companies based in Asia and North America that were founded by Asian or Asian-American entrepreneurs who are building a global enterprise supported by forward-thinking vision and innovative technology in predictable growth businesses with substantial revenue potential in frontier technologies including but not limited to artificial intelligence, blockchain, quantum computing, and electric vehicles.'
My outlook on the ATAK SPAC is currently Neutral due to management's lack of SPAC track record and direct industry experience at a senior level.
Aurora Sponsor Background
Aurora has 3 executives leading its sponsor, ATAC Sponsor LLC.
The sponsor is headed by:
- Chairman and CEO Zachary Wang, who was previously Director of Investments, US Fund at Alpha Square Group, a family office. Mr. Wang has held senior positions at a number of financial institutions and financial services firms.
- Chief Operating Officer Cathryn Chen, who is currently Managing Director at MarketX Ventures, a venture capital firm and has significant experience in investment banking.
- Chief Financial Officer Yida Gao, who currently leads investments at Shima Capital, a venture capital fund backed by Digital Currency Group.
The SPAC is the first vehicle by this executive group.
Aurora's Potential Market
According to a 2021 market research report by Grand View Research, the global market for artificial intelligence applications was an estimated $62.4 billion in 2020 and is forecast to reach $931 billion by 2028.
This represents a forecast CAGR of 40.2% from 2021 to 2028.
The main drivers for this expected growth are a growing use of A.I. technologies across all industry verticals as companies seek to improve efficiencies and develop new products and services.
Also, below is a chart showing the historical and projected future growth trajectory of A.I. in the Asia Pacific market: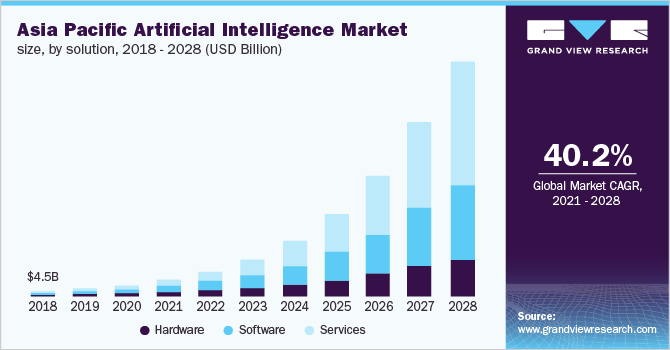 Aurora's SPAC IPO Terms
San Francisco, California-based Aurora sold 20.2 million units of Class A common stock at a price of $10.00 per unit for gross proceeds of approximately $202 million, not including the sale of customary underwriter options.
The IPO also provided for 1/2 of one warrant per share, exercisable at $11.50 per share on the later of [i] the completion of an initial business combination and [ii] 12 months from the date the registration statement for this offering was declared effective by the Securities and Exchange Commission from the closing of an initial business combination, and expiring five years after completion of the initial business combination or earlier upon redemption or liquidation.
The SPAC has 18 months to complete a merger (initial business combination). If it fails to do so, shareholders will be able to redeem their shares/units for the remaining proceeds from the IPO held in trust.
Stock trading symbols include:
Founder shares are 20% of the total shares and consist of Class B shares.
The SPAC sponsor also purchased 6.47 million warrants at $1.00 per warrant in a private placement. Each private warrant is identical to the public warrants except that the private warrants are non-redeemable by the SPAC entity and may be exercised on a cashless basis as long as they continue to be held by the sponsor or permitted transferees.
Conditions to the SPAC completing an initial business combination include a requirement to purchase one or more businesses equal to 80% of the net assets of the SPAC and a majority of voting interests voting for the proposed combination.
The SPAC may issue additional stock/units to effect a contemplated merger. If it does, then the Class B shares would be increased to retain the sponsor's 20% equity ownership position.
Commentary About Aurora
The SPAC is unusual in that it is targeting merger candidates that are led by Asians or Asian-American entrepreneurs in certain high tech industries.
The SPAC's leadership team has financial industry expertise but no obvious technology company operating experience, at least in a senior role.
Also, the team does not have prior SPAC experience and thus has no track record of delivering attractive returns using the SPAC vehicle.
The various technology spaces that the team is looking to focus on are certainly high-growth areas, with the A.I. industry being a stand-out example.
Companies are expected to continue to make A.I./machine learning investments at a rapid rate of growth over the coming years, so the industry makes for an interesting target.
Investing in a SPAC before a proposed business combination is announced is essentially investing in the senior executives of the SPAC, their ability to create value and their previous SPAC track record of returns to shareholders.
The cost of that investment is 20% of the upside to the SPAC sponsor, but the time frame for realizing a significant gain can be quick, a 1- to 3-year time period for a SPAC versus 10 or more years for a typical venture capital fund by comparison.
Unlike a venture capital fund, a SPAC is liquid, providing public investors with an added liquidity benefit should they need to sell.
Given the large and growing number of SPAC investment opportunities, I believe it pays to be extra picky and make investments in leadership teams that have a verifiable track record in providing positive SPAC vehicle returns.
Accordingly, my outlook on the ATAK SPAC is a Hold due to lack of SPAC track record and management direct industry experience at a senior level.