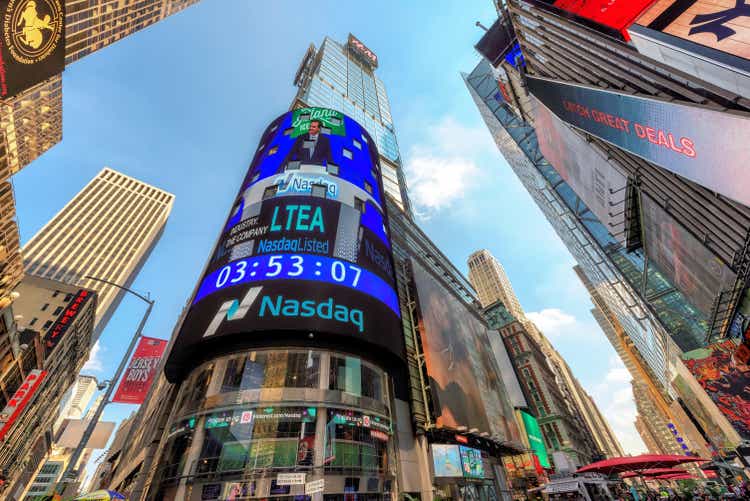 Investment Thesis
We saw a swift recovery from the recent February/March lows in the Invesco QQQ ETF (QQQ). Notably, the QQQ was up 14% (as of April 5) from its recent bottom. Dip buyers have been frantically trying to catch the bottom as momentum surged.
Consequently, we noticed that the short-term breadth indicators mostly went into overbought zones last week. Nonetheless, this week's retracement has absorbed some near-term bullishness from these buyers. In addition, we also noticed that the price action on the QQQ also seems to be consolidating at its current levels. Therefore, we believe that it suggested that the rapid upward momentum should be over for now, and investors need to refocus on quality buys. Still, the robust recovery from the recent bottom should bode well for a medium-term recovery based on historical backtests.
Therefore, we remain bullish on the prognosis of tech and growth stocks moving forward. However, given the current macro and geopolitical environment, investors should abstain from adding heavy exposure to unprofitable growth stocks. We believe the risk-on mentality should return selectively to profitable growth stocks first. Moving forward, when the macro environment improves, we can add more exposure to the more speculative, high-growth stocks.
It's Essential To Focus On The Price Action
As growth investors, we believe it's critical to design a diversified portfolio that can leverage profitable and speculative high-growth stocks. These profitable growth stocks have predictable business models with robust free cash flows. In contrast, speculative, high-growth stocks might not be calibrated for near-term profitability. However, they could be colossal winners moving forward if successful.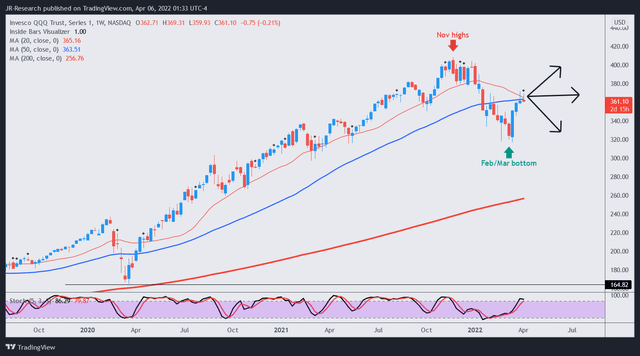 The QQQ seems to be at a cross-road now, given its remarkable recovery. Also, retaking the critical 50-week moving average (blue line) is fundamental to recovering its long-term uptrend. Therefore, it's reasonable to expect the battle between the bulls and the bears to intensify at the current levels.
However, despite the macroeconomic uncertainties, we expect the current levels to hold. The speech on Tuesday by Federal Reserve Governor Lael Brainard seemed to spook the bulls as it appeared to telegraph a "more hawkish" tone. She articulated (edited):
It is of paramount importance to get inflation down. The central bank will start to reduce the size of its balance sheet at a rapid pace as soon as its May meeting. We expect the balance sheet to shrink considerably more rapidly than in the previous recovery. - Barron's
Bearish investors suggest that the verbiage indicates continued headwinds for stocks. These investors have also been concerned whether the Fed's rate hikes could tip the US economy into a recession. But, investors are encouraged to focus on the price action instead. We believe that markets have an uncanny ability to price in events.
For now, we believe that the index will continue to consolidate sideways in the near term. The breadth and momentum indicators are suggestive of consolidation. Therefore, investors who have been patiently waiting for such consolidation can start to engage with their watchlist.
Focus on Stocks With Robust Free Cash Flows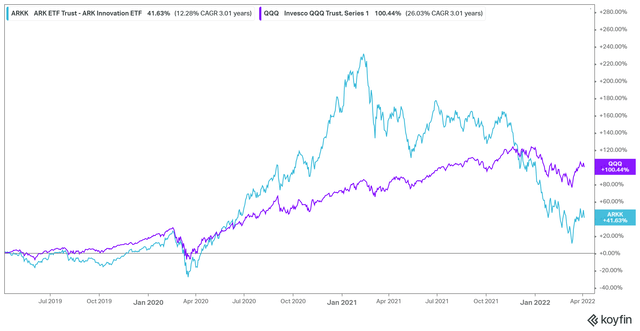 It's an imperfect comparison. However, we think a comparison between the QQQ and ARK's flagship ARK Innovation ETF (ARKK) highlights the criticality of diversification between predictable and speculative/high-growth stocks.
The more speculative ARKK outperformed the QQQ when the monetary policy was more accommodative. However, the solid businesses in the QQQ helped the ETF catch up and overtook ARKK subsequently (3Y performance).
We think ARKK has bottomed together with the QQQ recently. However, we don't expect ARKK to resume its outperformance in the near term. Therefore investors in ARKK need to maintain a minimum of a five-year perspective, as the full risk-on mode has not returned. ARKK could outperform moving forward if the environment is more permissive and less uncertain. So, investors need to be patient with speculative growth.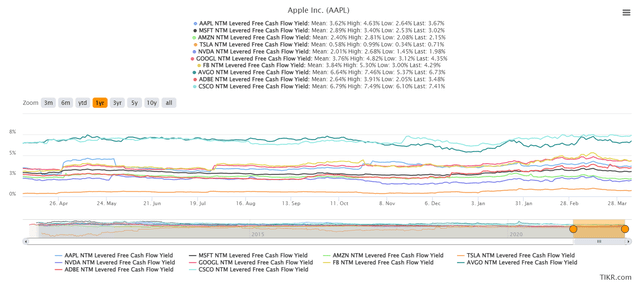 Consequently, we believe that investors should allocate most of their portfolio exposure to stocks that can generate positive free cash flow (FCF). Using FCF as a benchmark helps us to evaluate the resilience of their business models. It also helps us think about the competitive moat of these businesses. For example, the top 10 tech holdings in the QQQ ETF have positive FCF yields. Even a high-growth stock like Tesla (TSLA) is FCF profitable, albeit with a relatively low NTM yield of 0.71%.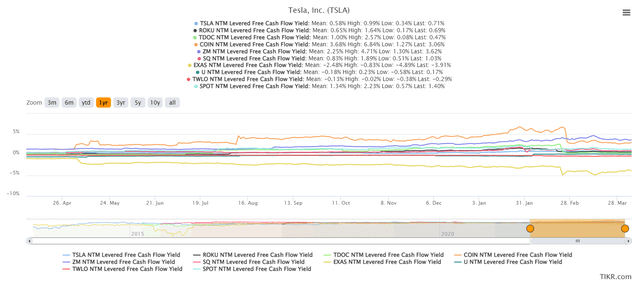 However, a glance over at ARKK ETF's top holdings unveils a different story. Suddenly TSLA stock's low FCF yield among its QQQ peers didn't look so disparate anymore.
Because in ARKK, there are stocks like Exact Sciences (EXAS) with a negative FCF yield of -3.9%. As explained previously, the environment toward these high-growth stocks is not conducive yet, even though ARKK could have bottomed. Therefore, if investors decide to add exposure, they should be more circumspect in allocating higher exposure to stocks in the ARKK than stocks in QQQ.
Of course, there's no way to tell when the environment will be all clear for growth and tech stocks. Berkshire Hathaway (BRK.A) (BRK.B) CEO Warren Buffett articulated in 2008 (edited): "If you wait for the robins, spring will be over." Hence, if you are more conservative, you can always add in phases. First, focus on higher-quality growth stocks and then on the more speculative ones. It helps you to participate in both categories of stocks.
Key Takeaways
We hope our guide has been constructive in helping tech and growth investors with their portfolio construction in the challenging macro environment. Investors are encouraged to continue paying close attention to price action.
Please share your preferred growth stocks to navigate the challenging macro environment!