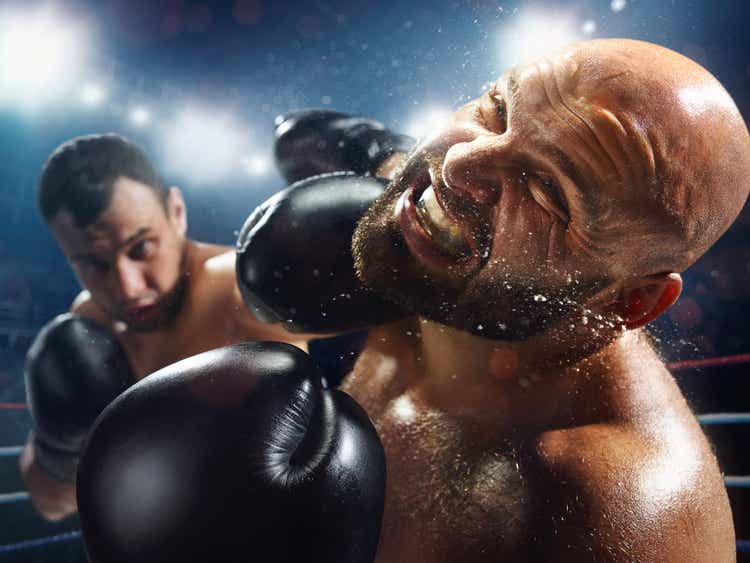 Investment Thesis
In what seemed unlikely in 2020, Apple (NASDAQ:AAPL) and Alphabet (NASDAQ:GOOG) finally lost the battle for the payment "duopoly" in their previously closed platforms, the App Store and the Google Play Store, respectively. In 2020, both companies faced major lawsuits from Epic Games for its "unfair" payment fees and rules imposed on app/ game developers. In addition, they also faced legal actions from state attorneys general who filed antitrust lawsuits in 2021, alleging abuse of power through their App Store and Google Play Store, amongst other issues. As a result, both companies had to slash their commission fees in 2021, while also allowing alternative payment systems in 2022.
We will discuss if the changes will impact AAPL's and GOOG's earnings moving forward. In the meantime, we encourage you to read our previous articles on AAPL, which would help you better understand its position and market opportunities in the advertising and product segments.
Apple: What You Should Know About Its Rumored Subscription Plans
Apple (And Alphabet) Are Butchering Meta's Future Growth
Why Does In-App Spending Matters To AAPL and GOOG?
AAPL & GOOG Revenue
In the past five years, AAPL and GOOG grew their revenues at an impressive CAGR of 11.15 and 23.34%, respectively. In FY2021, AAPL and GOOG reported revenues of $365.82B and $257.64B, representing excellent YoY growths of 33.2% and 41.1%, respectively. It also meant tremendous increases of 40.6% and 59.1% from FY2019's revenues.
AAPL & GOOG Revenue By Segment
Now, let's study their revenues based on their application stores' segments. For AAPL, its App Store payment services are tucked under its Services net sales together with other items such as "advertising, AppleCare, cloud, digital content, payment, and other services." As for GOOG, its Google Play store revenues are under Google Other, including Devices/ Services and YouTube non-advertising. Under its own definition, "Google Play includes sales of apps and in-app purchases and digital content sold in the Google Play store." It is evident that both companies do not break down their numbers and that we would have to rely on third-party intelligence for more data.
Global Consumer Spending In Games and Apps in 2020 and 2021
Based on Sensor Tower Store Intelligence data, global consumers spent $133B in 2021 for in-app purchases, premium apps, and subscriptions within the App Store and Google Play Store. It is important to note that despite the COVID-19 re-opening cadence, the spending increased 19.7% YoY in 2021, similar to the 21% growth in 2020 from global lockdowns then. Although Android phone users accounted for over 70.97% of all smartphones used globally as of March 2022, it is evident that AAPL consumers spent more, accounting for over 60% of mobile spending in 2021. Nonetheless, Google Play Store recorded better YoY growth of 23.5% than the App Store at 17.7% in 2021.
Global consumer spending matter, given that both platforms charged a 30% commission to app developers for in-store spending and subscription then. The commission reportedly amounted to $21.69B for the App Store and $11.58B for the Google Play Store in FY2020. These easily accounted for 7.9% of AAPL's total revenues in FY2020, almost equivalent to its annual sales of iPad for the year at $23.7B. As for GOOG, it represented 6.3% of its revenues in FY2020, similar to its Google Cloud segment at $13.05B.
Given that Fortnite generated nearly $1.2B in sales over its 30 months stint on the App Store, experts estimated that AAPL had earned approximately $360M in total. So, it is no wonder that both AAPL and GOOG took such a firm stance on Epic Games and deleted the app, after the latter violated their store guidelines by offering an alternative payment method. The move would have cut off AAPL's and GOOG's 30% commissions on all future in-app spending by Epic Games' users. In addition, in-app purchases in all mobile games represented the majority of the platforms' revenue stream, at a whopping 65.8% for AAPL and 82.4% for GOOG in FY2020.
Global Consumer Spending In Mobile Games In 2020 and 2021
An Excerpt From Judge Yvonne Gonzalez Rogers' Ruling Detailing App Store Revenue Breakdown

As a result, there was no way that Epic could have gotten away with its alternative payment system in 2020, as it would have caused a massive exodus of revenue streams for AAPL and GOOG for most (if not all) free-to-download gaming apps that relies exclusively on in-app purchases. In addition, it is essential to note that these massive gaming revenues, accounting for 98% of in-app purchases spending, came from just 10% of all App Store users (and potentially Google Play Store users).
On the other hand, it is interesting how certain apps such as Amazon, Netflix, and Spotify have historically circumvented said 30% commission by asking users to sign up and pay for their subscriptions via mobile browsers.
So, How Will It Impact AAPL And GOOG From Now On?
AAPL's Reduction In Commission Rates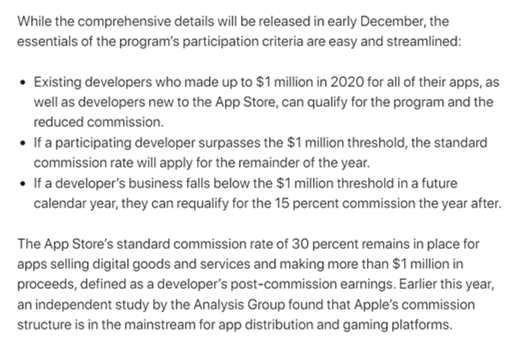 Given the regulatory pressure, AAPL finally reduced its commission from 30% to 15% from January 2021 onwards, with a few caveats. The reduced commission of 15% only applies to app developers earning less than $1M annually (accounting for 98% of its apps) while those earning over $1M will be subjected to the standard rate of 30% commission rate. As for GOOG, though the company had launched a similar payment structure as AAPL in July 2021, it decided to reduce the commission rate to a flat 15%, regardless of the app developers' revenue from January 2022 onwards.
The killing blow was administered, when AAPL was instructed by a US Federal Judge in September 2021 to open up alternative payment options to its App Store for all US-based transactions. Given that its US-based transactions accounted for nearly a third of its revenue at $6.3B in FY2020, the impact could be great, if high-earning app developers with revenues above $1M (especially from the gaming segment) decided to migrate their payment systems from the stores. Since the high-earning apps came from the top 2% of all app developers, the risks of "whale migrations" are real. Certain apps, such as the Hey email app, have already announced their plan to implement direct payment methods as soon as possible.
The Potential Impact On AAPL's and GOOG's Revenue From Mobile Spending From FY2022 Onwards
As of March 2022, AAPL finally updated its platform to allow "in-app links to their website for account creation and management purposes." Also, in March 2022, GOOG made a similar pilot move for "a small number of participating developers," such as Spotify, in South Korea, and a few select countries. Assuming an aggressive haircut of 30% from the reduced commission and alternative payment methods for AAPL and 60% for GOOG, we could be looking at a massive reduction in mobile earnings of $33.02B and $38.76B for FY2022 for these two companies, respectively. Of course, this is assuming that most app developers exercise their right for out-of-platform payments in the year.
However, given that AAPL only allowed reader apps to add this feature, we do not expect a massive impact on its FY2022 revenues just yet. Nonetheless, GOOG will definitely see a 50% reduction in Google Play Store-related earnings, given that it has halved its commission to 15% for the year. Moving forward, it is only a matter of time before the big app developers start knocking on their doors. If that happens, AAPL's and GOOG's store revenues could plummet even further from our estimates.
AAPL & GOOG Projected Revenue
Nonetheless, given that AAPL and GOOG's earnings are in the range of the hundreds of billions annually, the dent would probably be minimal. Based on our estimates above, the reduction in their store earnings would have been a small fraction of their revenues at 8.3% for AAPL and 12.7% for GOOG in FY2022. Given that their stocks have remained relatively stable in the past year, we reckon that their investors are not concerned about this issue. In contrast, Meta (FB) previously fell by 25% on 3 February 2022, when the company reported less-than-satisfactory results for its FQ4'21 earnings while guiding a reduced outlook moving forward.
On the other hand, cloud gaming has been on the rise with many operators, such as Amazon (AMZN), Xbox, Sony, and NVDA, offering it. Given that the global cloud gaming market is expected to grow from $244M in 2020 to $21.95B in 2030, at a CAGR of 57.2%, we expect in-app revenues from mobile gaming apps for both platforms to continue their decline over time. Given that AAPL and GOOG have multiple revenue sources, including product sales and advertising, they would have no problems in reporting revenue growth moving forward.
On the other hand, Epic Games were told to pay approximately $3.6M in damages to AAPL, given that the judge ruled in favor of the latter for the lawsuit. However, we believe that both companies have "lost," seeing that Epic themselves earned over $1.2B during its 30 months' stay in App Store, earning AAPL a neat sum of $360M. Through its own actions, Epic had lost access to both App Store and Google Play Store's massive base of over 6B smartphone users as of February 2022.
Nonetheless, all hope is not lost yet, seeing that Nvidia (NVDA) has been working with Epic Games since November 2020, to load its games into the former's GeForce NOW. It is a cloud-based gaming service, where PC games can run on mobile devices from web browsers, instead through conventional downloaded apps. As of February 2022, a closed beta version of Fortnite is already available for testing, prior to an official launch in the future.
So, Is AAPL & GOOG Stock A Buy, Sell, Or Hold?
AAPL is currently trading at an EV/NTM Revenue of 6.87x, higher than its 3Y mean of 5.32x. In the meantime, GOOG is at an EV/NTM Revenue of 5.77x, slightly higher than its 3Y mean of 5.22x. Given their brilliant execution, it is evident that both stocks are trading at a premium with growth baked in. Both companies are definitely solid stocks, however, we advise interested investors to wait for a slight retracement before adding some exposure at these valuations.
AAPL & GOOG Rise In Enterprise Value In The Past Ten Years
Nonetheless, for those who believe in high growth stocks, AAPL and GOOG have been on a stable upward trend in the past ten years, with no signs of abating. AAPL had grown its Enterprise Value by over six-fold since 2012, while GOOG grew by an impressive eleven-fold. With minimal impact on their revenues and growth, we do not expect the changes to their payment platforms to affect both companies negatively. AAPL and GOOG stocks are also rated as solid buys by consensus estimates, given their market-leading positions in their respective industries.
Therefore, we still rate AAPL and GOOG stocks as Buy for aggressive long-term investors.