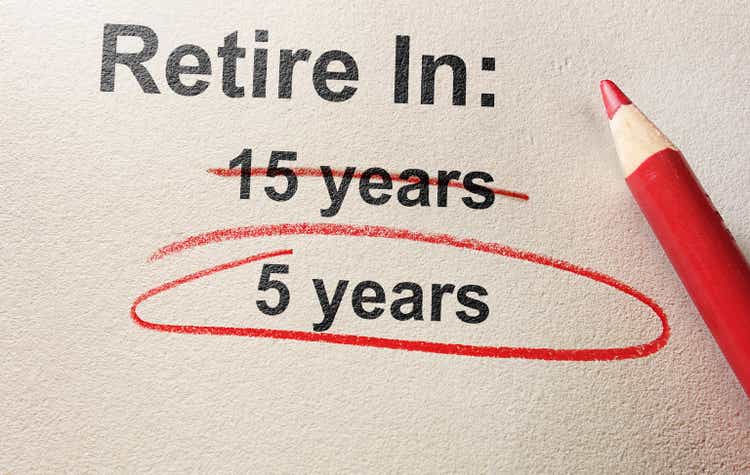 If you don't find a way to make money while you sleep, you will work until you die.
This quote from Warren Buffett clearly lays out why investing is so important: passive income is the key to an early retirement and living life on your terms. The more passive income you generate, the more freedom you have.
Real estate is a popular path to financial independence and early retirement as it offers the advantages of always being in demand, being relatively disruption-proof, being inflation-resistant, and easily leveraged (thereby juicing the cash flow yields).
For investors wanting to pursue financial independence and early retirement through real estate, there are three main options:
Option 1: Invest in Rental Properties
This is a popular strategy and certainly has its perks. After all, investing in something tangible that you can see and touch and call fully your own has a certain allure to it. Furthermore, for highly entrepreneurial investors who have a passion for real estate and want to put time and energy into it, investing in individual properties like this could lead to the most upside.
However, it also has its drawbacks. First and foremost, mortgage rates are soaring and residential real estate prices are sky high. As a result, buying rental properties in the current environment offers a less-than-ideal risk-reward proposition. Second, it's very difficult to get sufficient diversification investing in this manner unless you already have millions of dollars because real estate is expensive.
Third, real estate ownership is more akin to operating a business than a truly passive investment as landlords have to deal with the infamous triple Ts:
Tenants
Toilets
Trash
If you want to make it more passive, you will need to hire a property manager, which will typically cost you ~8% of monthly rents. This can seriously eat into profit margins - especially if the property is heavily leveraged - while also not fully mitigating the time and hassle of rental property investing as it still will require a degree of active management on your part.
Option 2: Invest in REIT Funds
Another popular option is to simply invest savings into real estate investment trust (i.e., "REIT") funds like ETFs and CEFS. The most popular REIT fund is the Vanguard Real Estate ETF (NYSEARCA:VNQ).
VNQ has a lot going for it:
Offers diversified and completely passive exposure to U.S. REITs, eliminating any need for investing knowledge or skill or time investment in picking outperforming investments.
The double layer of diversification provided by VNQ (individual REITs hold broadly diversified baskets of real estate and VNQ holds a broadly diversified portfolio of over 160 REITs) makes it significantly safer than investing in individual real estate properties. In fact, VNQ's index (it tracks the MSCI US Investable Market Real Estate 20/50 Index) is arguably the most broadly diversified of any real estate fund in the market today as it captures the large-, mid-, and small-cap segments of the U.S. REIT equity market. The only thing it could do to offer greater diversification would be to invest in foreign REITs as well.
Its concentration in U.S. REITs is a positive in the sense that it mitigates foreign exchange risk for U.S. investors. This is particularly attractive for retirees living in the U.S. as it makes their passive income more reliable since it eliminates the foreign exchange risk factor. On top of that, U.S. REITs are generally deemed to be less geopolitically risky than international REITs.
VNQ also has the advantage of liquidity going for it. As the most popular REIT fund with nearly $100 billion in total assets under management, VNQ shares trade with very tight spreads and high daily trading volumes. As a result, it's easy to jump in and out of the fund with minimal frictional loss.
This substantial liquidity also renders investors another perk: Access to buying and selling options contracts on VNQ. This is nice for income investors as it allows them to extract a greater yield from the fund by selling calls and puts against it for premiums. Furthermore, the liquidity of the fund means that the bid-ask spreads on VNQ options are reasonably narrow, making it a worthwhile endeavor for savvy, more active investors.
Last, but not least, VNQ offers all of these advantages to investors at a very reasonable cost. At 0.12%, its expense ratio is remarkably low. At the current share price of $109.33, VNQ only charges investors $0.13 per year. It's able to offer such a cheap service because it enjoys immense economies of scale. In contrast, popular real estate CEF Cohen & Steers Quality Income Realty Fund (RQI) charges investors a hefty 1.91% expense ratio. As Warren Buffett says:
Performance comes and goes, but fees are forever.
By investing in a broadly diversified fund with minimal fees like VNQ, passive investors who can invest consistently and hold for the long-term set themselves up to achieve very solid long-term total returns and see their passive income compound at a solid clip with minimal risk of suffering long-term underperformance.
Option 3: Invest in Individual REITs
While investing in REIT funds like VNQ is also a proven technique for compounding wealth over the long term and is truly passive, it also faces two key challenges in today's environment:
1. The VNQ - similar to rental real estate - is trading near all-time highs today. As a result, the risk-reward at current levels is less than ideal and could lead to disappointing total returns over the next five to 10 years, especially with interest rates (and mortgage rates in particular) rising.
2. Its trailing twelve month dividend yield is a meager 2.76%. While that income stream is likely much safer than that offered by a small rental property portfolio given its immense diversification benefits and is also entirely passive, generating enough passive income to live off of from such a low yield is likely going to be a bit challenging.
As a result, a third option - which we ourselves pursue - is to invest in individual REITs. While this does require a bit more work and involves a little bit more risk than merely investing in a broadly diversified passive index, it's still far easier and lower risk than buying individual rental properties.
Additionally, it provides us with the following advantages that - to us - make it the most attractive risk-adjusted option for investing in real estate for passive income:
Avoiding "diworsification." "Diworsification" is a play on the word diversification. It's the process of pursuing diversification for diversification's sake thereby causing you to add investments to one's portfolio in such a way that the risk/return trade-off is worsened. Passive ETFs like VNQ do not attempt to pick specific securities based on their current price, quality, prospects, or management. Instead, they seek to own every stock in a certain sector, universe, or benchmark, including the good and the bad. This means that you're also investing in poorly-managed and/or overvalued companies, overleveraged time bombs, and unsustainable operations. While "know-nothing investors" may find this broad diversification useful, we believe that using an intelligent analysis of the qualitative and quantitative aspects of each security in order to pick and choose the most opportunistic investments will provide the best total returns over the long term.
Mitigating downside risk. While eliminating some of the likely duds from your portfolio and intelligently diversifying your remaining holdings, investors can mitigate much of the downside risk from their portfolio and actually enjoy similar diversification benefits as broadly diversified funds like VNQ do with far fewer stocks. In fact, renowned value investor Benjamin Graham estimated that a portfolio of 10-30 stocks could be sufficiently diversified while Frank Reilly and Keith Brown did a study that showed the portfolios of 12-18 stocks enjoy ~90% of the maximum risk-mitigation benefits that come from diversification. If your goal is to generate outsized passive income without taking on too much risk, this seems like a very viable - if not superior - alternative to investing in VNQ.
The benefits of individual stock selection are further magnified when you realize that VNQ - like many REIT funds - is market cap-weighted. What this means is that it creates an inordinate amount of "blind" demand for large-cap REITs. VNQ buys enormous positions in large-cap stocks regardless of how well the current price correlates to underlying performance. This has the obvious effect of creating a price premium in large-cap stocks relative to small-cap stocks and leads to long-term underperformance. As active investors, we are able to arbitrage this inefficiency by investing in overlook small and mid-cap picks that offer higher yields and higher total return potential.
Investor Takeaway
While real estate in general is a proven and popular method for achieving financial independence and retiring early, the most commonly beaten paths - buying rental properties and investing in passive index funds like VNQ - are not nearly as opportunistic today due to elevated valuations and lower yields.
However, opportunity still exists for those willing to venture into the world of picking individual REITs. By building a portfolio of ~20-30 high-yield stocks - including REITs - investors position themselves to not only achieve their passive income goals faster, but even outperform the market in terms of total returns: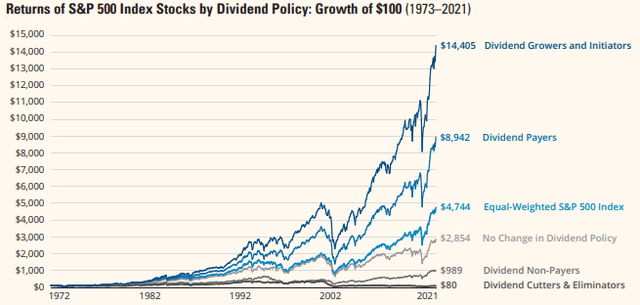 Some REITs that we are currently filling out portfolio with today include W.P. Carey (WPC) and STORE Capital (STOR). Both of these REITs have beaten VNQ over the long term: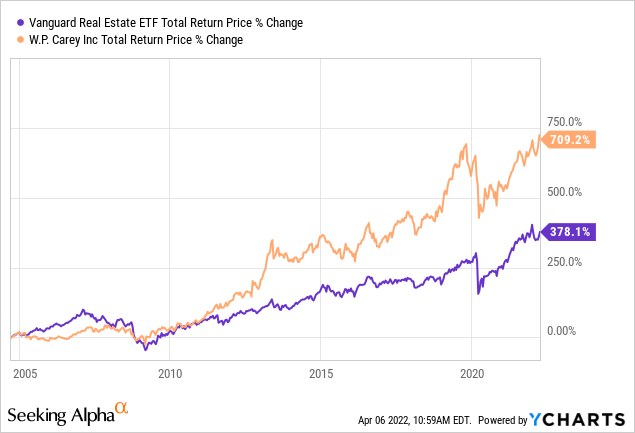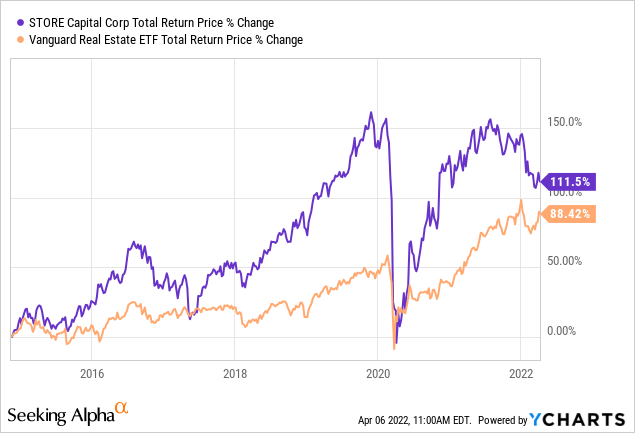 ... and currently offer dividend yields that are nearly twice what's offered by VNQ. Meanwhile, they have broadly diversified portfolios of quality real estate, are led by world-class management teams, have investment grade balance sheets, and enjoy very conservative recession-resistant long-term lease structures on their properties. By building an intelligently diversified portfolio of individuals high yield stocks that include the likes of these two REITs, we're able to generate a weighted average dividend yield north of 5% while more than doubling the total return performance of VNQ since inception.
This means that we will get to our passive income target twice as fast as we would if we were investing in VNQ and also enjoy greater total returns along the way without taking on meaningfully greater downside risk.