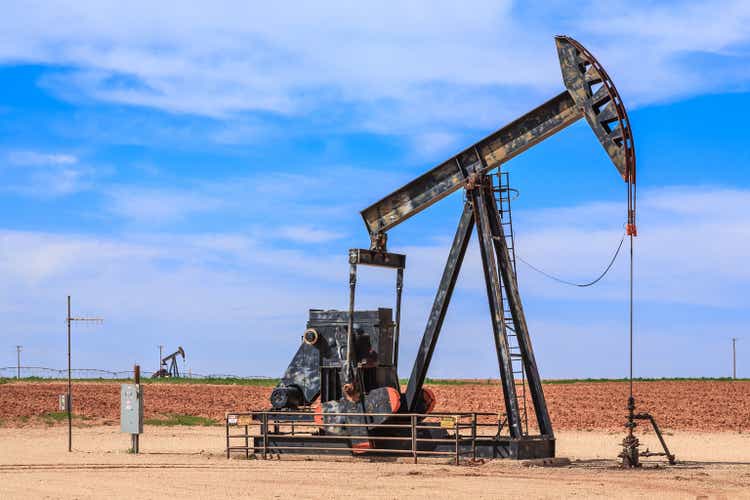 Back in August of 2020, I wrote a Seeking Alpha article reporting that Permian pure-play Pioneer Natural Resources Company (NYSE:PXD) intended to implement a variable-rate dividend policy (based on free-cash-flow) to augment its regular, or "base," dividend (see PXD's Variable Rate Dividend Plan May Attract Investors Back To The Energy Patch). That policy has been a boon to PXD's shareholders and put them in the cat-bird seat given the recent rise in the price of oil due to Putin's decision to invade Ukraine, the sanctions placed on Russian oil production by the US and its democratic NATO allies, and the inability (or unwillingness ...) of domestic shale producers to significantly increase production over their plans prior to the invasion. The result is that, at current strip prices, Pioneer management forecasts it could lead to $20/share (or higher) in total dividend payouts this year.
Investment Thesis
As most of you know, Pioneer is the largest pure-play Permian producer with ~800,000 net acres in the Midland Basin. PXD's production has historically been weighted toward liquids (oil & NGLs typically are ~80% of production) and that has boosted returns on a boe (barrel of oil equivalent) basis versus some of its gassier peers.
When PXD announced its variable dividend rate, I concluded in the article referenced above:
Pioneer's intention to adopt a variable dividend policy is a breath of fresh air as compared to the historical and disastrous share buyback plans implemented by so many large O&G producers.
I said that because, as most of you know, domestic oil producers have a long-term track record of over-emphasizing share buybacks during up-cycles and suspending those buybacks during the down cycles. Examples are Exxon (XOM) and ConocoPhillips (COP), both of whom suspended buybacks during the recent covid-19 related down-cycle (and low stock prices), but are now over-emphasizing buybacks with their stock prices 2x+ where they were during the lows. Those types of buybacks have historically wasted $10's of billions of shareholder capital. As a result, I am a much bigger fan of dividend payouts directly to investors, or at least a more sane return-of-capital like Chevron (CVX) has - Chevron has always emphasized its dividend over share buybacks.
Regardless, PXD's latest March Presentation had a slide that estimated the potential total dividend payout this year could be greater than $20/share.
The fine print on that slide, which you likely cannot read, says that the payout estimate is based on 80% of FCF, 243 million shares, and its internal financial model based on strip prices as of 2/8/2022. Note that WTI crude was $89/bbl on that date, and currently WTI is trading at $99/bbl ($10/bbl higher).
FY2021 Results & Returns
Pioneer released its Q4 and FY 2021 earnings report on February 16th, and, not surprisingly, it was a very bullish report.
As can be seen by the graphic above, Pioneer returned $1.9 billion to shareholders in FY21, increased the base dividend by 25%, had an ROCE of 17%, announced a $4 billion share buyback authorization, and ended the year with a rock-solid balance sheet with a net-debt to EBITDAX ratio of only 0.2x.
The company generated $1.1 billion of FCF in Q4 and $3.2 billion in FCF for all of FY2021. PXD exited the year with Q4 average production of 687,000 boe/d.
In Q4, the company bought back $250 million in stock at an average price of $181/share (the stock is currently trading at $243).
PXD's outlook at the time of the Q4 presentation was that it could generate $7 billion in FCF this year (more than double last year). That's based on 22-24 rigs, increasing its 15,000 foot lateral well program to ~50, and a total production increase of ~5% YOY.
Risks
Pioneer's production is currently completely un-hedged. That gives it full leverage to upside prices, but, of course, that works the same on the downside as well. Obviously, lower oil prices are always a risk to any oil producers.
Current high inflation and massive geopolitical risks revolving around Putin's invasion of Ukraine and the resulting economic sanctions placed on Russia pose a threat to the global economy. This could result in significant oil demand destruction should these factors push the world into a deep economic recession (think 2008-2009).
Longer-term, the high price of oil is likely causing many consumers to consider electric vehicles ((EVs)) for the first time. I say that because, anecdotally and where I live, it currently cost ~$10 to recharge a 300-mile range EV whereas to fill-up an ICE-based vehicle that gets 20 mpg would cost about $60 - or 6x the cost of the EV for a similar range.
Summary & Conclusion
Pioneer appears to offer excellent income potential this year. A $20/share total dividend payout equates to a 8.2% yield based on the current share price.
That said, traders have to consider the potential for lower prices in the second half of this year, when shale oil production is expected to be ~800,000 bpd higher than at the start of the year and as OPEC continues to (slowly...) ramp-up its production, along with the 1 million bpd release from the US Strategic Petroleum Reserve (for 180 days).
The other side of the supply equation is that the sanctions on Russian production could bite hard and remove up to 3 million bpd off the global market. Much of that depends on whether or not China and India, for example, continue to buy Russian crude. On that issue, your guess is as good as mine, although note that today Reuters reported that China's state refiners plan to honor existing contracts with Russia, but will refrain from new purchases. We'll see, but if true, that development would be generally bullish for a company like PXD.
For investors that already have a significant allocation to oil stocks, I would HOLD PXD. For those that are looking for new exposure to the energy sector, and desire excellent income, PXD is very attractive.
I'll end with a 10-year price chart of PXD stock and note that - not surprisingly - the stock is trading near an all-time high.