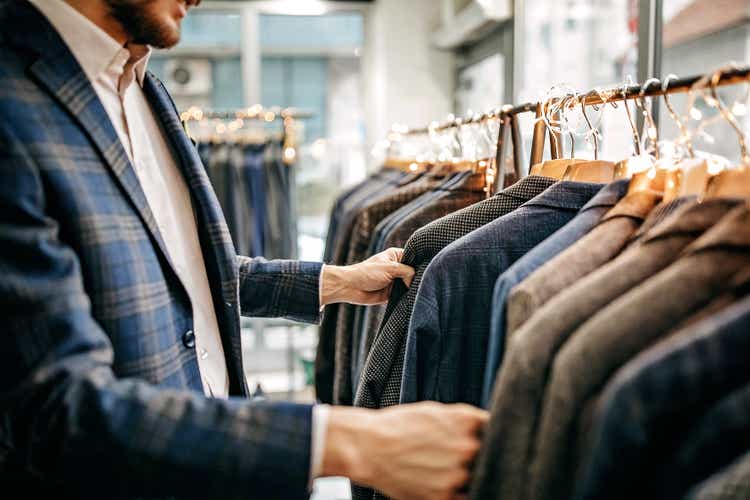 Investment Thesis: In spite of rising manufacturing costs and inflation, Duluth Holdings (NASDAQ:DLTH) could see a significant rebound in price if net sales growth continues.
In a previous article back in January, I made the argument that Duluth Holdings could see significant upside if Q4 holiday sales show impressive growth once again.
However, we have seen the stock decline since then:
The purpose of this article is to investigate whether the recent drop is justified, and whether we could see a significant rebound from here.
Performance
When looking at the company's recent balance sheet, we can see that the company saw a strong jump in cash and cash equivalents relative to the previous year.
| | | |
| --- | --- | --- |
| Period | January 2021 | January 2022 |
| Cash and cash equivalents | 46584 | 77051 |
| Total current liabilities | 95714 | 115996 |
| Cash to total current liabilities ratio | 48.6% | 66.4% |
Source: Figures sourced from Duluth Holdings Fourth Quarter and Fiscal 2021 Results. Cash to total current liabilities ratio calculated by author.
In addition, the cash to total current liabilities ratio is up significantly on last year - indicating that Duluth Holdings is in a better position to service its short-term debt obligations.
Free cash flow was also up strongly to $81.6 million from $38.5 million in the prior year.
When looking at inventory to net sales, we can see that the ratio has decreased from that of last year. Specifically, net sales have risen while inventory has dropped slightly.
| | | |
| --- | --- | --- |
| Year | January 2021 | January 2022 |
| Net sales | 638,783 | 698,584 |
| Net inventory | 149,052 | 122,672 |
| Inventory to sales ratio | 0.23 | 0.175 |
Source: Duluth Holdings Fourth Quarter and Fiscal 2021 Financial Results
While this is an encouraging sign as it indicates that the company is spending less on inventory while concurrently bolstering sales - too low a ratio might indicate that the company is not keeping enough inventory to meet demand. This would particularly become a concern if we see a situation where net sales are also falling - which could indicate that the company cannot keep sufficient inventory to meet demand.
Looking Forward
While the ongoing situation in Ukraine has led to a rise in food and energy prices primarily, we could also expect to see some rises in apparel prices due to higher shipping costs.
Specifically, spikes in the price of oil increase the cost of shipping. With Duluth Holdings having sourced 53% of their purchases from an agent partner in Hong Kong in 2021 as opposed to independently manufacturing their own merchandise, transport costs will invariably be impacted by higher transport prices going forward.
In addition, rises in the cost of oil could also impact the cost of petroleum-derived fabrics such as polyester and nylon. Spikes in the cost of these materials will in turn mean higher prices must be passed on to the customer, which may negatively impact sales.
Moreover, rising inflation could have a broader impact in that consumers may decide to defer clothing purchases due to broader cost of living pressures.
While these are significant risks for the company - inflation and higher energy prices were still a significant concern in 2021 before the situation in Ukraine materialised. Duluth Holdings still managed to significantly bolster net sales in spite of inflation. While a significant portion of this growth is likely accounting for the rebound in sales post-2020, there have not been any particular indications to date that inflation has been harming sales growth for Duluth Holdings.
Conclusion
To conclude, Duluth Holdings has shown strong performance over the past year from a sales and cash flow standpoint.
Rising manufacturing prices and inflation have been a concern for investors as evidenced the decline in the stock price so far this year. However, I take the view that if Duluth Holdings is able to continue bolstering net sales while controlling its cost base, then we could see a significant rebound in the stock over the longer-term.