Investment Thesis
IronNet (NYSE:IRNT) is a next-generation cybersecurity company. IronNet's Collective Defense platform has a compelling offering, in that the more users on its platform, the more powerful and faster its ability to detect potential attacks.
Since the breakout of the war in Ukraine, many investors rushed towards cybersecurity names, as there was the expectation that the sector would see strong demand. That was the thinking.
But this is a case of ugly facts getting in the way of a beautiful story.
In fact, Q4 2022 results reported yesterday, exemplifies that even after many cybersecurity stocks are down more than 50% to 70% in the past six months, that doesn't necessarily mean they offer investors value.
Particularly in the case of IronNet, I make the argument that IronNet is going to have to raise funds imminently and dilute shareholders. This business is a cash incinerator that carries less than $50 million of cash on its balance sheet.
Four months ago I wrote the article, IronNet: Avoid this name, where I said ''I investors should not look to buy the dip here.''

Since that time, including yesterday's sell-off, the stock is down more than 30%. And it will continue to fall further. Here's why you should still avoid this cybersecurity company.
Revenue Growth Rates, Before and After Reality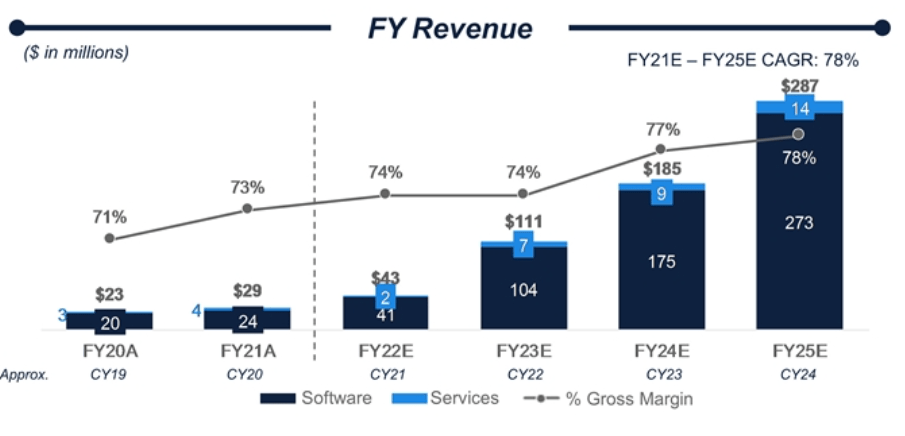 This is IronNet's investor presentation from August 2021. You can observe that for fiscal 2022, management had previously guided to reach $43 million for the year. What did the year ultimately end up at?
IronNet's fiscal 2022 ended up at $28 million, down 6% y/y. This is supposed to be a high-growth business! How does it end up down?
Next, looking further ahead, the guide pointed to fiscal 2023 growing by 58% y/y. And now, as we get closer to reality, what's the actual guide? To grow by 25% y/y.
Even if we allow for some lowballing, surely you agree, this business is far from growing as it expected last summer?
Why IronNet?
IronNet is a cybersecurity leader that through its Collective Defense platform allows customers to secure their networks at scale.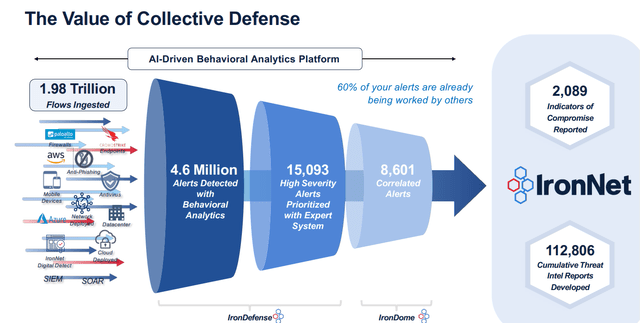 Its Collective Defense platform that you can see above goes beyond threat detection. IronNet deploys Network Detection and Response solutions through behavioral analytics to leverage anonymized automated correlated alerts across different companies on its platform.
Think of it this way, rather than having independent threat detections, once alerts get reported on the network, by external users, IronNet's Collective Defense platform is able to be on alert from that trigger.
In other words, the more customers on IronNet's platform, the stronger IronNet's value proposition becomes. Clearly, this offers users tremendous value, as customers protect the capabilities and effectiveness of their own network security, as they operate anonymously to provide other users on the network with incident response detection.
IRNT Valuation - Still Overvalued, Even Now
The thesis for IronNet's bull case in the past several weeks had turned its focus toward the theme of ''cyber becoming an element of national power''. The idea here is simple, with the war in Europe, companies should ready themselves for more cyber warfare.
However, think about this, if we add back $157 million of stock-based compensation, which is now practically worthless, IronNet burnt through $87 million of free cash flow in fiscal 2022.
Given that the business carries less than $48 million of cash, they are going to have to raise capital quickly. And it will be on onerous terms. There's no getting around this.
With all this in mind, there's simply no way this business is worth 9x forward sales. This is still overvalued, even now.
The Bottom Line
For bullish investors in the name, I know the thesis well, ''I'll just wait until I break even''. And do you know why I know that?
Because I've been that investor in the past. Not with IronNet, but with other stocks. And it's taken me a seriously long time to up my game.
But now I believe that I'm better able to recognize what's an opportunity and what's a colorful story. Having called this correctly 4 months ago, I'm inclined to believe that I'm going to call this right again over the next 6 months. Whatever you decide, good luck and happy investing.