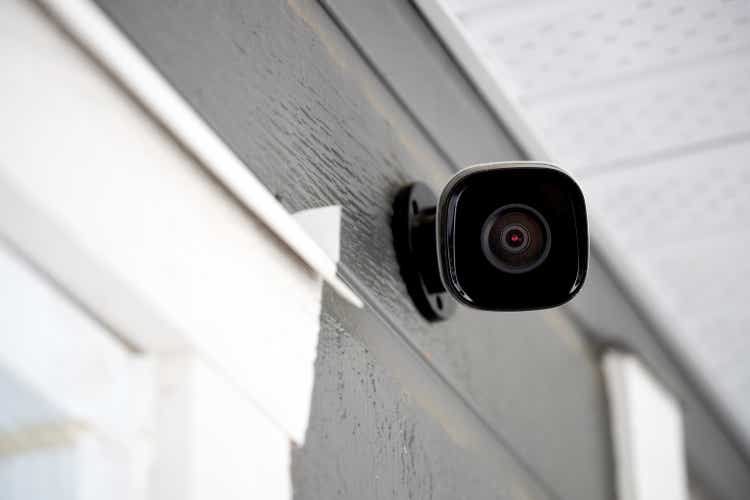 Now is the time, in my view, to begin loading up on high-quality value stocks while the market is still volatile but poised to rebound through the end of the year. There are many stocks that have experienced some "stop and start" action and made rally attempts this year, only to be dialed back by the same macro concerns as the rest of the market is facing.
Arlo (NYSE:ARLO) is one of these names. I have long favored Arlo for being a strong hardware-software tech play that is diversifying its business and leaning more into services. Arlo stock went through the roof in early March when the company first reported its fiscal Q4 results - yet in the weeks since then, interest rate/inflation/Ukraine malaise has sent the stock into a nosedive and reclaimed all of those gains.
Yet it's not difficult to see why investors were so cautiously optimistic on the name in the first place. With Arlo also down -17% year to date, I think it's a great time to revisit the bullish thesis for this name.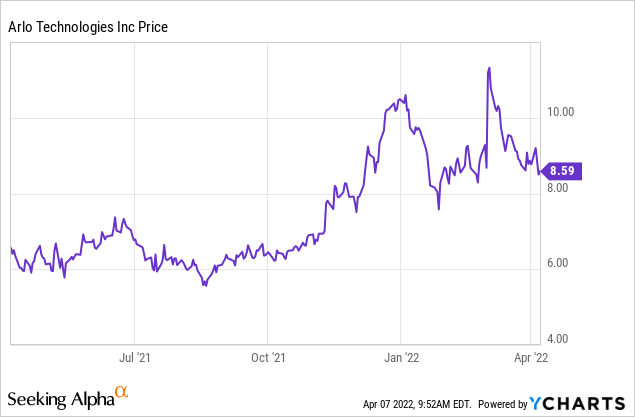 2021 was a banner year for Arlo, and it's just getting started
There's a reason Arlo shares rallied in 2021, as seen in the stock price graph above: its ability to continuously outperform its original targets has boosted investor confidence in this small-cap stock.
See the chart below: the top row of this chart showcases the original targets that Arlo set for 2021 before entering the year, and the bottom row shares where the company actually landed.
In particular, I really lean in on the fact that Arlo achieved 9% greater revenue than it had anticipated (worth 10 points of y/y growth outperformance) while also boosting the pro forma gross margins in its services business by ten points greater than expected.
Arlo is building on this strength to guide optimistically for the current year as well. For FY22, Arlo is calling for $490-$510 million in revenue, representing growth of 13-17% y/y while also calling for low-single-digit pro forma operating loss margins. Note as well that the company believes it can double the 13-17% y/y growth rate in 2023.
For investors who are newer to this name, here's a recap of what I believe to be the key bullish drivers for Arlo:
Best-in-class category leader. Arlo has been highly reviewed by major tech publications like CNET and PCMag and is considered one of the top home smart cameras. In addition to this, Arlo is one of the most prominent security companies to promote DIY installation, versus other cameras that required expensive technicians for installation.
A return to schools, offices, and normal life means people may be leaving the comfort of their homes all day for the first time in a while. They may think about wanting to have a smart camera system like Arlo in place after they've gotten so used to keeping an eye on their home for so long. And with the rise of e-commerce and package delivery, a video doorbell camera becomes more critical than ever.
Huge TAM. Arlo estimates the market for home security to currently stand at $53 billion. With less than ~$500 million in annual revenue, Arlo has plenty of room to expand and innovate in this space. Given as well that there is no clear leader in the home security camera market, Arlo has a chance to take the crown.
Partnerships with some of the largest retailers in the country. Arlo products are sold through resellers like Best Buy (BBY), Costco (COST), Amazon (AMZN), and others. Arlo's visibility to consumers is unmatched, and the company is well-positioned for retail sales growth ahead of the holiday season.
Building a subscription base. Arlo is moving away from being a pure hardware products company. Paid subscriber accounts, reaching more than 1 million as of Arlo's most recent quarter, are growing at faster than a 2x y/y clip. Arlo also notes that ~65% of new hardware customers sign up for Arlo Secure within six months.
Valuation wise, at Arlo's current share prices near $8, the company trades at a market cap of just $730 million. After we net off the $175.7 million of cash on Arlo's most recent balance sheet, the company's resulting enterprise value is $554 million. Against the company's $490-$510 million revenue outlook for the current year, Arlo trades at just 1.1x EV/FY22 revenue.
The bottom line here: fundamentally speaking, this is a company with a lot of momentum behind it. Arlo frequently cites that its unaided brand awareness is very low, and the company is beginning to step up its marketing efforts and channel push in order to reach more customers. Stay long here as Arlo continues to capture more of its >$50 billion market.
Q4 download
Let's now go through Arlo's latest Q4 results in greater detail. The Q4 earnings summary is shown below:
In Q4, Arlo's revenue grew at a 24% y/y pace to $114.4 million, beating Wall Street's expectations of $135.0 million (+18% y/y) by a six-point margin. We note that Arlo's y/y growth accelerated substantially versus flat growth in Q3. Also, with Arlo exiting FY21 at a 24% y/y growth rate, the fact that the company is guiding to only 13-17% y/y growth in FY22 may be a bit conservative.
Paid account growth continues to be a key driver of Arlo's success. The company hit 1.09 million subscribers as of the end of Q4, representing 145% y/y growth.
The company's new services offering, Arlo Safe, is one way in which the company is diversifying its offerings. This app allows subscribers to quickly call in the case of an emergency, detect vehicle crashes, and track family members' location and if they are in harm's way. The service is priced at $4.99/month for individuals and $9.99/month for an entire family and can be bundled with the Arlo Secure flagship camera recording subscription as well.
Arlo has also continued to demonstrate relatively low subscriber churn. As shown in the chart below, its 2.8% account churn rate is lower than most other internet or home security services:
Arlo's continued mix shift into services (now representing 20% of overall revenue, up from 19% in the year-ago Q4) has also helped to boost its gross margins. Overall, pro forma gross margins in Q4 hit 22.9%, 50bps higher than 22.4% in the year-ago quarter:
It's key to note here that product/hardware margins are down 110bps, largely due to supply chain constraints and the decision to airfreight in order to get units to customers on time. Still, the four-point boost in services gross margins and the greater contribution of services to overall revenue helped offset the hardware margin decline and grow overall gross margins.
Pro forma operating margins, meanwhile, improved 820bps to 2.5%, up from -5.7% in the year-ago quarter. This was the first time in Arlo's history as a public company that it hit profitability from a pro forma perspective. The major driver here is that although Arlo is growing revenue at a high-teens pace, it isn't like other technology companies that are hiring aggressively to match that growth pace - in fact, Arlo's headcount of 353 at the end of FY21 is basically flat to 359 at the end of FY20. In other words, this is a company that is growing with scalability and profits in mind.
Key takeaways
Take advantage of the recent dip in Arlo to buy. Investors' initial positive reaction to Arlo's Q4 results was spot-on: with the ambitious long-term targets (especially for FY23) coupled with services/subscriber growth in Q4 and huge leaps in profitability. It won't be long before Arlo rebounds.