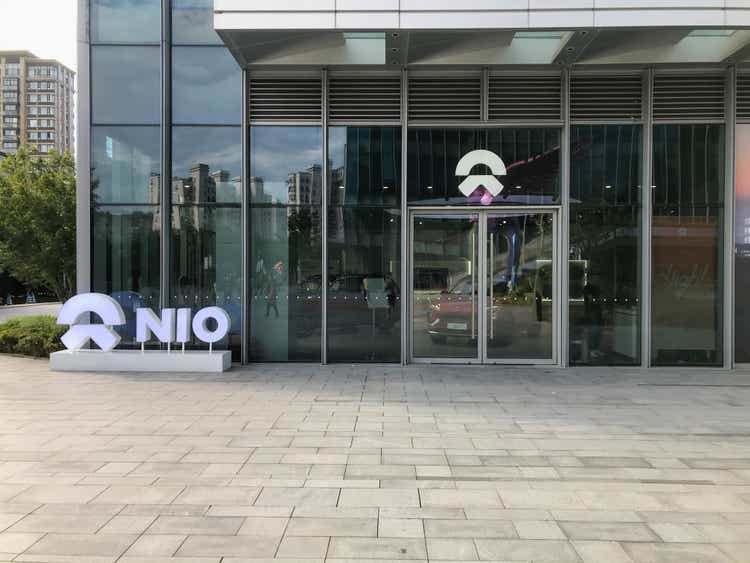 Elevator Pitch
I assign a Hold rating to NIO Inc.'s (NYSE:NIO) shares.
In five years' time, Chinese electric vehicle or EV maker NIO will be larger in size (revenue base) and witness an improvement in its profitability (gross margin expansion and becoming profitable at the net profit level). But slower-than-expected top line growth and a delay in the company's path to profitability (net profit level) in the years ahead are the key downside risks, assuming that it is less successful in mass-market penetration than what investors would expect. NIO's valuations have become more reasonable (single-digit EV-to-Revenue) following the correction in its stock price, but the stock is still more expensive than its Chinese EV peers. Considering the above-mentioned factors, I have a Hold investment rating for NIO, instead of a Buy or Sell.
NIO Stock Key Metrics
There are three key metrics for NIO that investors should focus on, namely revenue, vehicle gross margin, and deliveries.
As per its Q4 2021 financial results press release, NIO's top line increased by +49% YoY from RMB6,641 million in the fourth quarter of 2020 to RMB9,901 million in the most recent quarter. The company's Q4 2021 revenue was largely in line with market expectations, as it exceeded the market consensus' sales forecast by +1.5%.
On the flip side, NIO's revenue only grew by a marginal +1% on a QoQ basis in the fourth quarter of last year. As a comparison, revenue for its peers, XPeng Inc. (XPEV) and Li Auto Inc. (LI), expanded by +50% QoQ and +36% QoQ, respectively in local currency terms in Q4 2021. On a YoY basis, XPEV and LI's revenue growth rates were also relatively faster at +200% and +156%, respectively in the recent quarter. As NIO didn't launch any new models last year, its top line expansion has trailed its key Chinese EV peers.
In terms of profitability, NIO disclosed at its recent quarterly earnings briefing that its vehicle gross margin improved by +280 basis points QoQ and +360 basis points YoY to 20.9% in Q4 2021. The company attributed the gross margin improvement in the recent quarter to the growth in "revenue per vehicle" and cost savings brought about using a different battery, specifically the "75kWh LFP NCM hybrid battery."
However, NIO has guided for a relatively lower vehicle gross margin in the 18%-20% range for full-year 2022. In contrast, NIO's full-year FY 2021 vehicle gross margin was 20.1%. The weaker vehicle gross margin guidance for this year is largely due to expectations of higher raw material costs which will be a drag on the company's FY 2022 profitability.
Separately, NIO announced the company's Q1 2022 vehicle deliveries at the beginning of April. NIO's deliveries in the first quarter of this amounting to 25,768 units were equivalent to a +29% YoY increase and represented a new historical high. But the company's Q1 2022 vehicle deliveries only increased by a modest +3% on a QoQ basis. NIO has plans in place to launch three new models (ET7, ET5 and ES7) in 2022, and the first model, ET7, was only delivered in late-March 2022. NIO's first-quarter deliveries are still growing slowly, as the Q1 2022 numbers have not reflected the growth from new model launches yet.
In conclusion, NIO's key metrics show a mixed picture for the company. This might explain why the company's share price performance has been lackluster following its recent quarterly results announcement on March 24, 2022 after trading hours. NIO's stock price has declined slightly by -1.4% from $21.98 as of March 24, 2022 to $21.68 as of April 6, 2022.
Is NIO Expected To Grow?
In the short term, NIO is still expected to grow in 2022 albeit at a slower pace as compared to 2021.
As per the chart below, the sell-side analysts have been cutting NIO's top line forecasts for 1H 2022, after the company reported Q1 2022 deliveries and Q4 2021 results. The analysts also expect some of the company's revenue to be deferred to the second half of the year, as seen with the increase in consensus sales forecasts for Q3 2022 and Q4 2022.
Revisions To Consensus Quarterly Revenue Estimates For NIO

On a full-year basis, the market consensus sees NIO's revenue growth slowing from +108% in fiscal 2020 and +122% in FY 2021 to +75% in FY 2022, as per S&P Capital IQ data. There are a number of factors that account for NIO's slower top line expansion this year. All the players in the global automotive industry are expected to be negatively impacted by supply chain disruptions and semiconductor shortage issues, and NIO is no exception. Furthermore, apart from the ET7 starting deliveries in late-March, the company's other two models, ET5 and ES7, are only scheduled to commence deliveries in September 2022 and Q3 2022, respectively as per management comments at the recent Q4 earnings call. As such, it is natural that deliveries and revenue are weighted towards the second half of the year, which explains NIO's modest revenue growth on a full-year basis for 2022.
Separately, COVID-19 lockdowns in parts of China could also pose downside risks to production and deliveries for NIO and its Chinese EV peers, as highlighted in this March 31, 2022 Seeking Alpha News article.
With regards to profitability, I noted in the prior section of this article that NIO's vehicle gross margin guidance (declining from 20.1% in fiscal 2021 to 19.0% in fiscal 2022 as per mid-point of guidance) points to relatively weaker profitability for the company this year due to raw material cost pressure. Similarly, the sell-side's consensus numbers suggest that NIO's headline gross profit margin (as opposed to non-GAAP vehicle gross margin metric) will similarly contract from 18.9% in FY 2021 to 18.0% in FY 2022 as per financial data sourced from S&P Capital IQ.
NIO's shares are down by -32% year-to-date in 2022, and this reflects the company's slower top line growth and weaker profitability expectations this year to some extent.
Where Will NIO Stock Be In 5 Years?
In the next couple of years, NIO is expected to scale up to profitability, and this is the key medium-term re-rating catalyst for the stock.
At the company's Q4 2021 investor call, NIO noted that it expects to "achieve breakeven or reach profitability in 2024 for the full year." This is in line with the consensus sell-side forecasts as per S&P Capital IQ.
Sell-side analysts see NIO growing the company's revenue by a +51% CAGR from RMB36 billion in fiscal 2021 to RMB187 billion in FY 2025. NIO's headline reported gross margin is forecasted to expand from 18.9% to 22.4% over the same period, thanks to economies of scale. Financial forecasts for 2026 and beyond are not considered, as there is only a single analyst providing estimates. Specifically, the sell-side expects NIO to turn around from a non-GAAP adjusted net loss per share of -RMB0.52 in FY 2023 to generate a normalized earnings per share of RMB1.48 in FY 2024, prior to jumping by +906% to deliver an adjusted EPS of RMB14.93 in FY 2025.
But there are risks which could push back the timeline for NIO to achieve profitability.
NIO has historically been focused on the premium segment in the Chinese EV market. If the company is to grow its sales as fast as the market expects, NIO has to be successful with its efforts to penetrate the mass market segment. NIO's launch of the ET5 model is a key move for the company to grab a share of the mass market EV segment in China; the company highlighted at its Q4 2021 earnings call that "ET5 has attracted a wider and more diversified user base."
Nevertheless, it is too early to conclude that NIO will be able to compete well in the mass market segment. NIO acknowledged at the company's recent fourth-quarter results briefing that its mass-market EV strategy "needs to be efficiency driven." NIO also added that it has to "rethink the fundamental architecture of our product" with respect to the mass market, and these include factors like "materials" and "manufacturing technologies."
In other words, if NIO does not do well in the mass market EV segment, this could translate into a slower pace of sales growth and a longer time to reach profitability.
At the same time, NIO's efforts to pivot towards the mass market segment might also divert management attention away from its core premium segment products at a time when competition is still stiff. A Bernstein survey cited in a CNBC article dated November 2, 2021 found that "Tesla (TSLA), followed by premium German brands like BMW (OTCPK:BMWYY) and Audi (OTC:AUDVF)" were the "next most-favored" premium EV brands in China behind domestic brands.
In summary, NIO will continue to grow its top line and improve its profitability in the next five years. But the company's share price performance in the intermediate term will be dependent on the pace of its revenue growth and the time it takes to become profitable.
Is NIO Stock A Buy, Sell, or Hold?
NIO stock is a Hold for me.
NIO's Peer Valuation Comparison
| | | | | | |
| --- | --- | --- | --- | --- | --- |
| Stock | Consensus Forward Next Twelve Months' Enterprise Value-To-Revenue Multiple | Consensus Forward One-Year Revenue Growth | Consensus Forward Two-Year Revenue Growth | Consensus Forward One-Year Headline Gross Profit Margin | Consensus Forward Two-Year Headline Gross Profit Margin |
| NIO | 3.9 | +74.6% | +67.9% | 18.0% | 20.1% |
| XPeng | 3.1 | +102.1% | +63.1% | 14.0% | 17.5% |
| Li Auto | 2.5 | +92.2% | +68.1% | 21.7% | 22.1% |
Source: S&P Capital IQ
NIO's valuations are reasonable on an absolute basis (low-single digit Enterprise Value-to-Revenue multiple) following the year-to-date -32% share price correction. But the company is valued at a premium to its peers despite slower revenue growth (on a relative basis compared to peers) in Q4 2021 as highlighted earlier in this article. Moreover, NIO's consensus one-year forward revenue growth rate is lower than that for XPEV and LI, and NIO's consensus forward gross profit margins are also inferior to that of Li Auto.
Taking into account NIO's valuations and the uncertainty with respect to its future five-year outlook (mass market success is key), I view NIO as deserving of a Hold or Neutral rating.