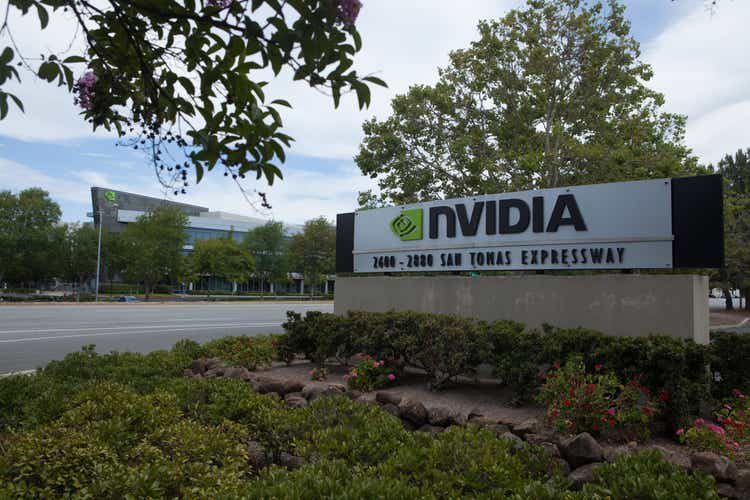 Patterns appear all over the marketplace, and while they don't always play out exactly as expected, they can give clues as to what might happen next. They are worth considering and investigating with an open mind. For example, in December, I asked what if Nvidia Of Today Is The Cisco Of 2000?
The story was mocked by many and called crazy. After all, what does stoggy old Cisco (CSCO) have to do with a high-growth company like Nvidia (NASDAQ:NVDA), which makes all these wonderful GPUs helping to expand the data center and improve gaming? The visionary CEO Jensen Huang leads Nvidia today. Cisco had this guy John Chambers, a fantastic visionary in his own right.
In reality, Nvidia today and its growth rates can't compare to Cisco. But at one point, Cisco was a blistering growth stock. Cisco's prospects were so significant that it was deemed on Feb. 13, 2000, in an LA Times story to be the first $1 trillion company. By some estimates, a dollar in 2000 is around $1.65 today. That would have made Cisco worth $1.65 trillion in today's dollar, or $1 trillion more than Nvidia today.
There's a story here, and that story tells us that when optimism is high, expectations are massive. Human psychology plays an enormous part in stocks and how much investors are willing to pay for those future earnings potential. The psychological aspect of the relationship between Cisco and Nvidia is so interesting. In December, I pointed out the Nvidia of today was very much tracking the path of Cisco from 1998 through 2002.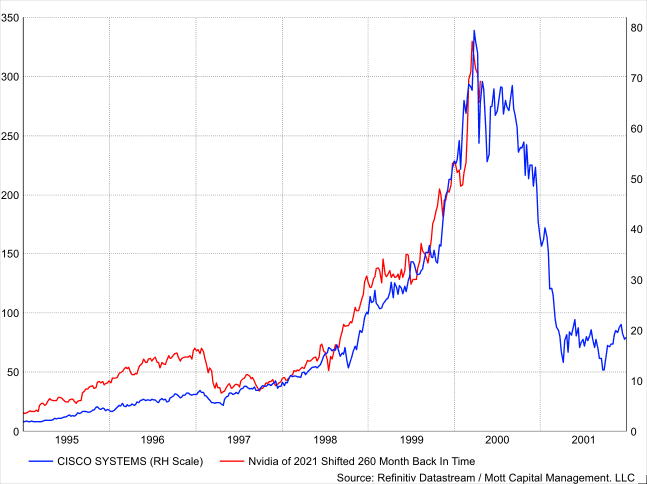 I still track this relationship, and much to my surprise, the pattern has continued over the past four months. Not only has it continued, but it has been able to make nearly all the same twists and turns along the way.
This relationship comes to an inflection point very soon, where it will either continue to work or not. By my estimates, that inflection point is about 20 to 25 days away, where either Nvidia continues to be a stock that follows its own destiny or follows Cisco's steep decline into the middle of 2001.
The relationship has nothing to do with either of these companies' fundamentals. Cisco doubled its revenue over the past 20 years, climbing to more than $50 billion per year. Meanwhile, the stock has never been able to climb back to those early century highs.
How much investors are willing to pay for Cisco's revenue stream has changed, going from an insanely high 60 times its trailing twelve-month sales to just four today. For Nvidia, its price to sales multiple has expanded too, rising to almost 34 at its peak and has fallen back to 23. It's where that ratio goes from here that will determine if Nvidia continues on the same path as Cisco or goes its own way.
Nvidia may double its revenue just like Cisco, and the stock price never rises back to all-time highs. It isn't to say that the stock won't go to new all-time highs either. The exercise tells us that it isn't always about the long-term fundamental outlook. It's more about the psychology of how much investors are willing to pay for a stock's future earnings or sales stream.
Consider that Nvidia traded for a peak price to sales ratio on a TTM basis of 15 in 2017 and in the January-February time frame of 2020, just before the pandemic. But with the help of the Fed and its easy monetary policy, multiples for all stocks expanded. At its current 22.8, Nvidia's P/S ratio would need to fall 35% to get back to 15, which would knock the stock down to $160. For the stock to rise back to $245 or its current market cap of $615.4 billion, at a P/S ratio of 15, sales would need to climb $41.0 billion from the current fiscal year 2023 estimates of $34.9 billion and actual $26.9 billion in fiscal 2022. $41 billion is certainly an achievable number for Nvidia, but it could also suggest that Nvidia does a lot of nothing over the next couple of years as sales catch up with the stock price.
The big question is where multiples will stand over the next year or two - will they rise and fall? It seems reasonable to think that if easy money ushers in multiple expansion, tighter monetary policy ushers in a period of multiple contraction. It could even send the stock's P/S ratio well below 15.
What's clear is that Nvidia's current multiple is very elevated because optimism among investors still is high, maybe too high, and the path of the stock is likely to be more challenging from here than over the past two years.
Which direction Nvidia ends up taking may or may not already be pre-determined. Only time will tell.