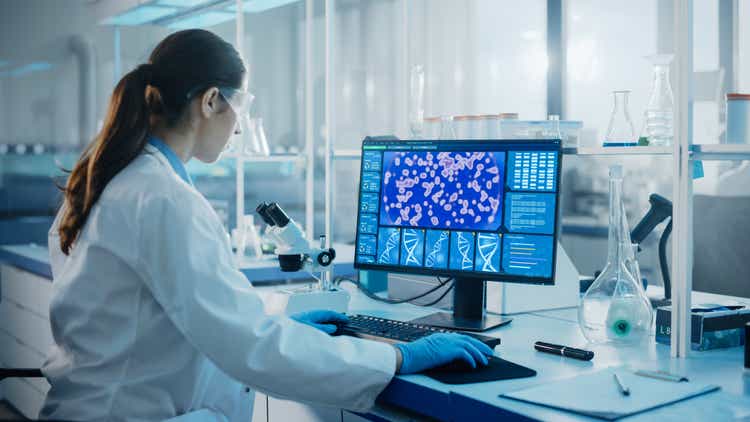 A stock that has popped up on my formula quant sorts over the last week is a small pharmaceutical business developing potentially successful treatments for cancer and blood disorders (based on a number of early trial results). Syndax Pharmaceuticals (NASDAQ:SNDX) shares appear to be under accumulation with sellers stepping back, and several cash raises have left the company with enough liquidity (without using debt) to hopefully get one or both drugs approved and into the medical delivery system by 2023-24.
Subtracting its $440 million in cash and short-term investments held at the end of December 2021 (against only $41 million in total liabilities), and using the current $19 share price, the enterprise value for its proprietary cancer/transplant drugs in research & development is a low $700 million.
Progress for the year was reported by CEO Michael Metzger during the Q4 earnings call on March 1st:
We initiated registration trials for both of our lead programs, SNDX-5613 and axatilimab. We entered into a global partnership in collaboration with a world-class partner Incyte (INCY) for axatilimab to expand the potential for this program. And we ended the year with an exceptionally strong balance sheet following $152 million upfront payment from our collaboration and $81.2 million in net proceeds from our December offering following strong data disclosures for both of our lead programs at the 2021 American Society of Hematology Medical Conference.
Drugs Under Development
Syndax's lead product candidates include the promising leukemia pharmaceutical SNDX-5613 and SNDX-6352 (axatilimab) for certain blood disorders. The company is focused on developing SNDX-5613, targeting the binding interaction of menin with the mixed lineage leukemia 1 (MLL1), protein for the treatment of MLL-rearranged (MLLr), acute leukemias and nucleophosmin 1 (NPM1), plus mutant acute myeloid leukemia (AML). A second invention axatilimab is a monoclonal antibody that blocks the colony stimulating factor 1 (CSF-1) receptor. It is designed to treat "graft versus host disease," a common complication after receiving a donor stem-cell or bone marrow transplantation.
Below are slide highlights taken from a late-March conference presentation. The first two slides explain the main drugs in its pipeline and a management forecast for 2022 research expenditures around $165 million.
The next two slides discuss the SNDX-5613 product and positive early trial phase results.
The company received a major cash payment from Incyte in 2021 for partner rights (and profit sharing) on its axatilimab pharmaceutical under development.
Building Technical Momentum
Besides the interesting test/survey results for its two drugs and a super-liquid balance sheet ($7.50 per share in cash equivalents during late December), the next piece of the investment puzzle revolves around Wall Street trading in its shares. I like to find equities with strong momentum building, even better if discovered in a small company or a name under the radar of most investors. If I can invest in a company with both strong fundamental and technical reasons for ownership, the odds of market "outperformance" or nice gains go up dramatically.
For Syndax, the chart pattern has witnessed serious improvement in momentum and relative strength over several months. One of my favorite computer sorts looking for price strength with high volume accumulation, on top of reversal characteristics, has been yelling at me to buy SNDX.
Below is an 18-month chart of daily price and volume changes, alongside a short list out of many momentum indicators in my formula. An important portion of this specific computer search design hunts for low Average Directional Line volatility (circled in blue) in concert with strong Negative Volume Index (boxed in red) and On Balance Volume (marked with a green arrow) movements. The idea is low ADX pinpoints an exhaustion in aggressive selling, while the higher NVI and OBV readings signal serious underlying buy interest.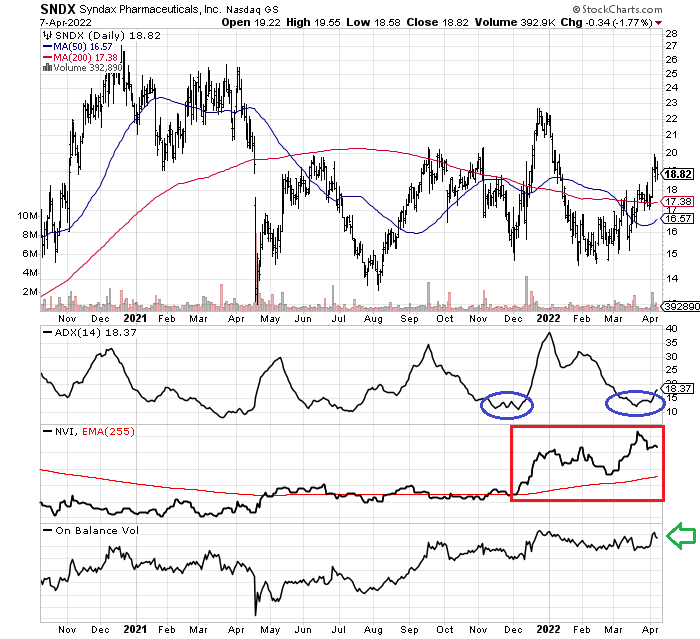 Final Thoughts
I have talked about other biotechnology and pharma favorites on Seeking Alpha the past few years, picked by my momentum formulas, with similarly strong outlooks and balance sheets. Most of them have turned into profitable investments or trades for readers. This "follow the money" strategy is not foolproof, but has helped increase the odds of success in my personal trading accounts. I am thinking Syndax fits the same bullish mold, with the potential for material gains over the rest of 2022.
Of course, if one of its two main drugs cannot meet projected endpoints in larger trials, the share quote will likely fall substantially. Wall Street valuations are assuming both inventions will eventually become sellable patented prescription drugs over time. So, trial failures are the biggest risk owning Syndax.
On the other hand, productive trials helping patients with minimal side-effects could quickly lead to a larger pharma organization like Incyte acquiring SNDX for a solid premium. Over the remainder of 2022, the share quote will largely be a daily vote on how the trials are going and whether or not significant earnings and cash flows are coming in 18-24 months.
I purchased a small stake over the last week, and suggest investors keep this speculative security at a minimum size in portfolio construction. Like any other small-cap biotech investment, big gain potential comes as a function of big risk. In my personal example, SNDX shares represent 0.3% of financial assets and less than 0.1% of my total assets. I think any position size above 1% of your brokerage account value is too risky. The good news is all retail investors can purchase minor odd lot sizes at minimal transaction and holding cost through any reputable online broker.
Thanks for reading.