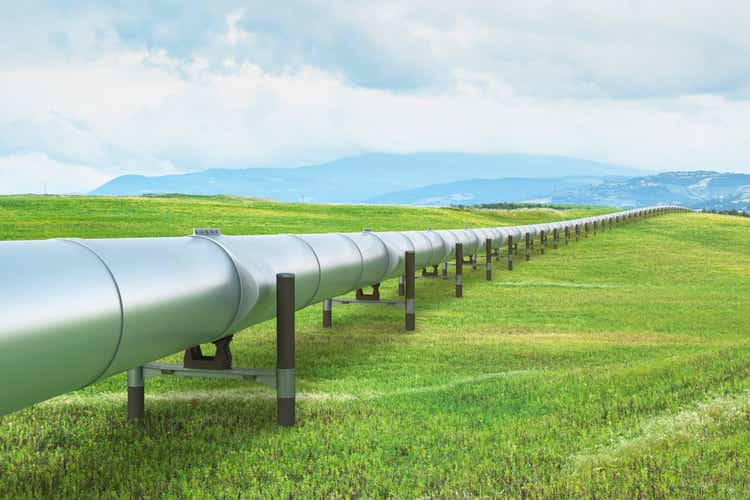 Introduction
After years of construction and billions of dollars invested, Equitrans Midstream (NYSE:ETRN) recently saw the permits for their flagship Mountain Valley Pipeline project vacated following a court ruling on biological concerns, thereby sending their share price plunging and leaving their dividend yield at a high 7.23%. Since more than half a year has elapsed since my previous article, it seems timely to provide a refreshed analysis reviewing their new outlook, which despite the MVP project setback, sees their dividends remain safe for now, although this may change later as 2022 comes to a close.
Executive Summary & Ratings
Since many readers are likely short on time, the table below provides a very brief executive summary and ratings for the primary criteria that were assessed. This Google Document provides a list of all my equivalent ratings as well as more information regarding my rating system. The following section provides a detailed analysis for those readers who are wishing to dig deeper into their situation.

*Instead of simply assessing dividend coverage through earnings per share cash flow, I prefer to utilize free cash flow since it provides the toughest criteria and also best captures the true impact upon their financial position.
Detailed Analysis
After seeing their cash flow performance defy the pressure of 2020, it subsequently remained solid during 2021 with their operating cash flow increasing slightly to $1.169b versus their previous result of $1.141b during 2020. Thanks to their lower capital expenditure and various other miscellaneous cash expenses as listed beneath the graph included above, this saw their free cash flow increase significantly to $504.9m during 2021, thereby providing very strong coverage to their distribution payments of $259.5m and leaving a further $245.4m retained. When looking ahead, the court ruling against their MVP project that was due to come online during 2022 has seen management pull their earnings guidance, thereby leaving investors guessing with only their capital expenditure guidance remaining, as per the table included below.

It can be seen that their capital expenditure guidance for 2022 is $575m at the midpoint and thus essentially the same as their $578.2m during 2021. Given their lack of earnings guidance for 2022 but similar capital expenditure as 2021, it seems reasonable to assume their free cash flow during 2022 should be very similar to 2021, thereby exceeding their dividend payments by circa $250m and making them sustainable even without any further contributions from their MVP project.
When circling back to their MVP project, it remains impossible to predict the outcome of legal and regulatory challenges, although the recent outbreak of war in Eastern Europe could inadvertently help, despite the otherwise tragic circumstances. Apart from the military consequences, this war also highlighted the strategic reliance Europe sees on Russian energy exports, most notably, gas. Even though transitioning to new gas supply is not a simple task, the ball is now set in motion, as was discussed in detail within my other article for any interested readers. One of the main alternative sources is LNG exports from the United States, which raises the prospects of a boom for domestic gas producers and their associated service providers, such as pipeline operators. Since the MVP project represents an important piece of gas transportation infrastructure, its sudden court suspension has caught the eye of senior politicians who are pushing for use of the Defense Production Act to resume completion during 2022. Whilst it remains to be seen if this transpires or any other avenues towards completion, thankfully management is keeping their support behind sustaining their dividends, as per the commentary from management included below.
"We have no plans to cut the dividend. It's not the time to address that. We're optimistic, cautiously optimistic that we have a path to completion. Our core business generates substantial cash flow to support the dividend and nothing that we've announced today changes that."
-Equitrans Midstream Q4 2021 Conference Call.
Following their solid cash flow performance during 2021, their net debt decreased to $6.805b versus its peak of $7.023b at the end of 2020. When looking ahead into 2022, it seems reasonable to expect another comparably sized decrease given the cash flow outlook, although this may change once more details come to light regarding their MVP project and resulting financial performance.
Despite their net debt edging lower, their net debt-to-operating cash flow of 5.82 remains above the threshold for the very high territory of 5.01, although if nothing else, at least it still shows a modest improvement versus its previous result of 6.16 at the end of 2020. Meanwhile, the accounting for their deferred revenue continues to see their net debt-to-EBITDA fluctuate, thereby ending the year at 6.53 and in my view, should largely be ignored in favor of their other cash-based metric.
Until their MVP project comes online, their leverage will stay very high as their circa $250m per annum of deleveraging would take approximately four years to reduce their net debt by the circa $1b required to bring their net debt-to-operating cash flow ever-so-slightly below 5.01 and thus below the very high territory. Despite presenting risks, thankfully their very high leverage does not appear likely on its own to scuttle their dividends since management has thrown their support behind sustaining their payments.
Whilst the prospect of continued very high leverage is not ideal, the bigger risk hides within their liquidity. On the surface, this may sound odd considering their respective current and cash ratios of 1.22 and 0.37 that would normally warrant a strong rating, although when digging deeper, they face risks from their credit facility covenants that sees its leverage ratio limit decreasing after 2022, as per the quote included below.
"…under the Amended EQM Credit Facility for the applicable period, the Consolidated Leverage Ratio cannot exceed, (i) for each fiscal quarter ending on and after June 30, 2021 and on or prior to September 30, 2022, 5.95 to 1.00, (II) for the fiscal quarter ending on December 31, 2022, 5.25 to 1.00, and (III) for each fiscal quarter ending after December 31, 2022, 5.00 to 1.00."
-Equitrans Midstream 2021 10-K.
It can be seen that whilst the current limit for their leverage ratio is 5.95, it will decrease as low as 5.00 following the end of 2022, which was originally meant to coincide with their MVP project ramping up and thus increasing the earnings component of their leverage ratio, thereby pushing it lower. Their leverage ratio is calculated from their consolidated debt, which ended 2021 at $6.94b, divided by the combination of their adjusted EBITDA and deferred revenue, which were $1.012b and $423.7m respectively during 2021, as per their fourth quarter of 2021 results announcement.
When computed, these variables currently see their leverage ratio at 4.83 and despite being well below its current limit of 5.95, it remains only slightly below its upcoming limit of 5.00 following the end of 2022. If their MVP project were to come online during 2022 as was planned, it would have lifted their earnings and thus alleviated this risk, although this is now uncertain and given their lack of accompanying earnings guidance for 2022 and beyond, their dividends remain risky.
It should be remembered that debt covenants are very serious limits that cannot be breached without bankruptcy and whilst they are a viable business that is likely to receive waivers if required, lenders may still pressure for their dividends to be reduced to help push their leverage lower. Despite these concerns, thankfully they face zero debt maturities during 2022 and thus they have breathing room elsewhere that keeps their liquidity adequate, as per the graph included below.

Conclusion
Ultimately only time will determine the outcome of their contentious MVP project but thankfully, it appears that if nothing else, their dividends remain safe for now during 2022 but when looking ahead into 2023, they remain risky given their lower upcoming credit facility leverage ratio covenant limit and lack of earnings clarity. Even though this situation is not perfect, their high dividend yield of 7%+ compensates and with so much negative news already swirling around the market, I believe that maintaining my buy rating is appropriate with these risks appearing priced.
Notes: Unless specified otherwise, all figures in this article were taken from Equitrans Midstream's SEC filings, all calculated figures were performed by the author.