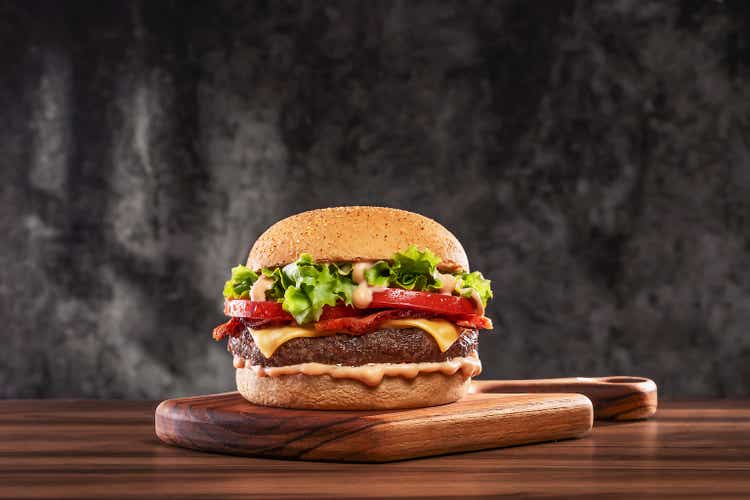 Investment Thesis
In my previous article on Good Times Restaurants (NASDAQ:GTIM), I concluded the company was undervalued on a relative basis at that time. You can read about it here. Since then, the stock is down ~21% vs. ~1% for the S&P 500. I believe the stock is now in bargain territory from an absolute perspective, trading at less than 7.5x LTM free cash flow for a company likely to grow at a mid-single-digit rate going forward. On top of that, management recently announced a buyback program worth $5 million, which represents ~11% of the current market capitalization and could unlock some value for shareholders.
Recent Developments
In my last article on GTIM, I discussed how this company offered a good risk-reward opportunity, thanks to a cheap valuation, a clean balance sheet, and unit growth opportunities.
On February 3rd, 2022, the company reported Q1 FY22 results. Overall, the results were solid and in line with what the market was expecting. In the last quarter, sales reached $~33 million, growing by ~20% YoY. Over the last 12 months, GTIM generated $5.1 million in free cash flow. This represents a free cash flow yield of ~11% assuming a market capitalization of ~$47 million.
If we look at each segment individually, I was pretty impressed by BDBB's performance. Restaurant sales increased by 31.5% YoY, from $18.7 million to $24.6 million, while delivering a 24% comparable sales increase. Sales at Good Times were flat and operating profit decreased by $0.3 million to $1.4 million for the quarter. As discussed in my previous article on the company, BDBB is currently driving the top-line growth for the company and will continue to be the main growth engine.
Let's review this quarter's results. At Bad Daddy's, restaurant sales during the quarter were $24.6 million compared to $18.7 million during last year's first quarter. We had approximately 26 more store weeks this quarter versus the same quarter last year. The result of the two new Bad Daddy's opened during fiscal 2021. As previously reported, same-store sales were 24.0% for the quarter. 37 Bad Daddy's were in the comp base at the end of the quarter. Cost of sales at Bad Daddy's was 31.8% for the quarter, a 310-basis point increase from last year's quarter. The result of higher average input costs across all our commodities, partially offset by an average 2.4% price increase during the quarter. Bad Daddy's labor costs increased by approximately 70 basis points compared to the prior year quarter to 34.2% for the quarter.

Restaurant sales at Good Times decreased approximately 0.3 million to $8.1 million driven by the reduced store weeks from one restaurant closure that occurred during the first quarter of the prior year, and a 5.9% decline in one-year same-store sales resulting from the rollover of dining room closures, which has been favorable for our primarily drive-through model.

Ryan Zink – Chief Executive Officer - Q1 FY22 Earnings Call
Speaking of BDBB, management touched on unit growth in the last earnings call. The main challenge going forward is growing BDBB in the States where the brand already opened, before expanding anywhere else in the country. I believe this strategy can prove to be the right choice given the fact that GTIM keeps a clean balance sheet and finances new units through cash flow. On the other hand, avoiding cheap leverage can result in GTIM growing at a sub-optimal level.
We are developing a pipeline for unit growth at Bad Daddy's with our expectation that new unit development will be focused in the Carolinas, Tennessee, and Alabama. We expect to fill in existing markets and also expand into adjacent markets within those same-states prior to expanding outside of those states.

Ryan Zink – Chief Executive Officer - Q1 FY22 Earnings Call
One negative aspect of the expansion plan was the decision to push back the development timeline to 2023 versus 2022 as previously expected. According to management, there is an opportunity for GTIM to open more than 2 new restaurants in FY23. That said, much will be determined by the operating context and overall market circumstances. Based on the current cash flow generated by the business ($5-6 million FCF/year), I believe GTIM will likely grow at an annual mid-single-digit rate going forward.
Due to a combination of our discipline and stringent site selection, our development timeline has been pushed back to 2023. However, we have several properties we're actively negotiating, and our actual development for fiscal 2023 will be based upon a combination of pipeline development, operating cash flow generated in the meantime, and other investment decisions affecting the use of cash.

Ryan Zink – Chief Executive Officer - Q1 FY22 Earnings Call
Lastly, the company announced a $5 million buyback program. Based on a $47 million market capitalization, this represents a ~10.6% buyback yield which should create value for shareholders if done at a cheap valuation. That said, the value of the buyback program exceeds the amount GTIM spent on CapEx in FY20 and FY19, which makes me wonder if this cash could have been used to accelerate unit growth and/or refurbish some of its old Good Times restaurants.
Today, we separately announced that our Board of Directors has authorized a share repurchase program, for the company to buy back up to an aggregate $5 million of its common stock on the open market. The timing and actual number of shares repurchased will be based upon price, business, market conditions, and other factors affecting our purchasing decisions.

Ryan Zink – Chief Executive Officer - Q1 FY22 Earnings Call
Valuation
Based on 12.5 million shares outstanding, and a price of $3.5 per share, the company has a market cap of approximately $43.75 million. In this part, I have used a discounted free cash flow model to value the business. The following assumptions have been made in the model:
Estimated free cash flow for FY22 of $5.5 million.
A 3-year FCF growth rate of 5%.
A 2% terminal growth rate.
A discount rate of 8%, based on the company's WACC.
Based on the model, GTIM's intrinsic value is close to $8 per share. If we compare that to the current stock price, GTIM is undervalued and could double over the next years if the company manages to grow at a mid-single-digit rate. Moreover, I think my model provides a conservative figure since I have not taken into account the buybacks that the company is doing.
Risks
I believe my bullish thesis has are a number of risks that must be emphasized, both corporate and industry-specific.
To begin with, inflation is at a record high, affecting commodity prices and the labor market. These 2 factors are crucial for restaurants and directly affect their profitability. Inflation is now substantially higher than projected a year ago and is becoming stickier in my opinion. Therefore, the abovementioned increase in prices can negatively impact GTIM's profitability in the short run.
Another risk factor in my opinion is related to the high level of expectations set for the BDBB brand. This is GTIM's growth engine at the moment and the brand in which the company invests most of its resources. If GTIM fails to deliver a meaningful level of growth (both unit growth and comparable sales) or grows at a slower pace than anticipated, I believe this could have a profound impact on the stock price.
Key Takeaways
In summary, GTIM is a value play, trading at less than 7.5x LTM free cash flow. I believe free cash flow could realistically grow at ~5% per year over the next 3 years as the company is opening new units and benefits from positive comparable sales in the BDBB brand. I like the fact that the company is returning capital to shareholders through share repurchases, which are done by management at a fair price. In terms of valuation, I think the stock could double over the next few years if the abovementioned free cash flow growth rate can be achieved.