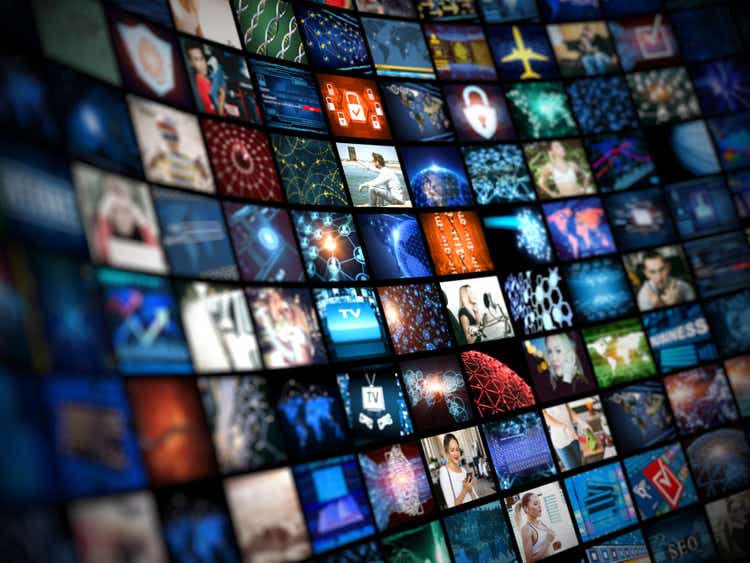 Investment Thesis
The Trade Desk (NASDAQ:TTD) is improving the way advertisers run and manage campaigns. Their innovative platform has shown to be efficacious in cutting costs and optimizing ad-targeting for its customers. The company faces obstacles, specifically with Google, but has fortified itself by focusing on underserved markets and shifting its operations towards the idea of the Open Internet. They have performed well the past five years, returning investors handsomely. As a result, the stock trades at a rich valuation.
Trends Impacting Advertising
The digital transformation has radically changed consumer spending habits and how companies market their products. Digital ad spend is expected to reach $408.4 billion in 2022, representing 55.5% of global ad spend. The transition to digital advertising, boosted by the pandemic, is impossible to ignore. This structural shift to online consumerism has forced advertising teams to change course in a number of ways. Digital media has engulfed traditional forms, resulting in a highly fragmented audience. Advertisers are faced with the daunting challenge of targeting potential customers across hundreds of virtual mediums, often with limited budgets. Data is now the digital gold for efficient and effective advertising campaigns. Additionally, many companies lack actionable insights on the efficacy of their ad campaigns, unable to adjust to a changing marketplace. The Trade Desk (TTD) aims to simplify the complexities advertisers face through programmatic advertising.
TTD's Value Proposition
The Trade Desk provides a self-service, omnichannel software platform for purchasing and managing advertising campaigns. Their platform enables ad buyers to purchase digital media programmatically on various exchanges, launch data-driven campaigns across the hundreds of digital media channels, monitor and manage campaigns in real-time with user feedback, and much more. The backbone of TTD's programmatic advertising capability is their innovative machine learning algorithm, Koa. Ad-tech machine learning utilizes millions of first and third-party data points to predict the most optimal campaigns for advertisers. Koa also automatically adjusts live campaigns as new data is inputted, simplifying the entire process. Additionally, users are able to view real-time reporting on their campaigns across multiple variables, enabling better strategic decision-making. The Trade Desk also provides customers with APIs to customize their interface and build their own proprietary ad-tech.
Differentiation
The Trade Desk has done well capturing demand for programmatic advertising, up nearly 1,950% the last five years. Clearly, they have found a way to differentiate themselves and become a leader within Ad-tech. A large part of their success is due to market positioning. The supply of advertising inventory tends to outpace demand, resulting in a buyer's market. Additionally, buyers of inventory are the ones controlling advertising budgets. For these reasons, The Trade Desk narrows its focus to the buy-side. Operating exclusively on the buy-side also solidifies trust with customers as they use their data on TTD's platform. As one can imagine, conflicts of interest may arise when a firm has data from clients on both the buy and sell-sides. The Trade Desk also understands how vital this data is to its clients. The more relevant data an ad buyer has, the more intelligent of a bid they can make. TTD purchases data via third-party providers, gathers its own first-party data, and allows customers to utilize their own proprietary data. Coupled with an efficacious machine learning program, this massive amount of data enables highly-optimized ad campaigns. TTD's platform gives customers over 500 billion digital ad opportunities to choose from daily.
Another aspect of TTD's differentiation is their use of bid-factoring to enhance expressiveness. A bid is the amount of money an advertiser is willing to pay for a digital ad space. Line items are used to exchange ads between demand-side platforms (DSP) and supply-side platforms (SSP). When someone visits a page, their data is collected and a request is sent to an SSP to see if any line items in its inventory match. DSPs then make bids on these line items. Traditional software brings in line items separately making it difficult to optimize bids. TTD's bid factoring approach solves this issue, saving advertisers both time and money.
"Bid Factors automatically adjust the bid the DSP is authorized to make based on how important an individual characteristic is to an advertiser. For example, an advertiser could decide to increase the bid for Women 18-34, but not for men. In the same bid, they can also increase or decrease the amount they're willing to pay by time of day, device type, or any of hundreds of other factors."

Competition & Threats
The Trade Desk's competition within programmatic advertising consists mainly of many smaller, private companies and a few larger firms. Reviews from Gartner highlight TTD's superior platform with most users rating them higher in the following categories:
Better at service and support

Easier to integrate and deploy

Better evaluation and contracting
Being a pure-player in ad-tech, the Trade desk is able to focus on investing in platform improvements and providing top-tier customer support. TTD's largest competitor, Google (GOOGL), has had major control over the ad-buying space with around 40% estimated market share. Regardless, the Trade Desk has managed to take ground against Google, holding 6-8% estimated market share of digital ad spend.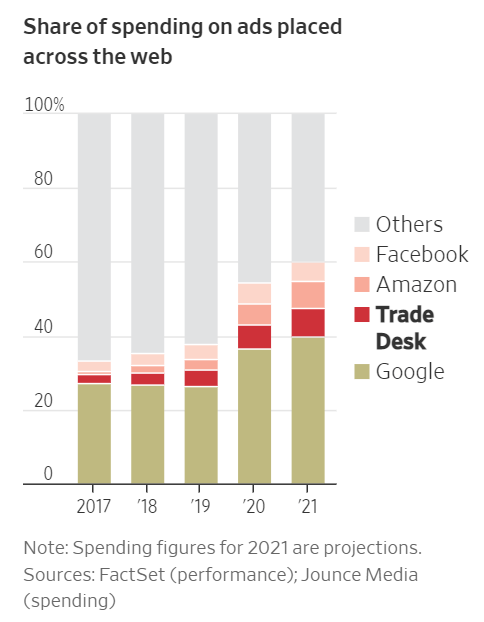 Big-tech firms like Google and Meta (FB) are able to essentially monopolize advertising and inhibit competition with their massive platforms. Google also will stop using third-party cookies, giving them exclusive control over user's first-party data for ad-targeting. Though this presents a significant risk for TTD, they have shielded themselves in a few notable ways.
The Trade Desk has bolstered itself against Google by concentrating on emerging areas of advertising where Google has less of a footprint, namely connected TV (CTV) and audio. 82% of TV households have a CTV with 39% of adults streaming on a daily basis, according to Leichtman Research Group. Another finding by smart TV company Vizio showed that linear TV viewing makes up about one-third of TV viewing, down from 60% just two years ago. As this structural shift takes place, advertisers are pouring more dollars into the CTV and streaming domains.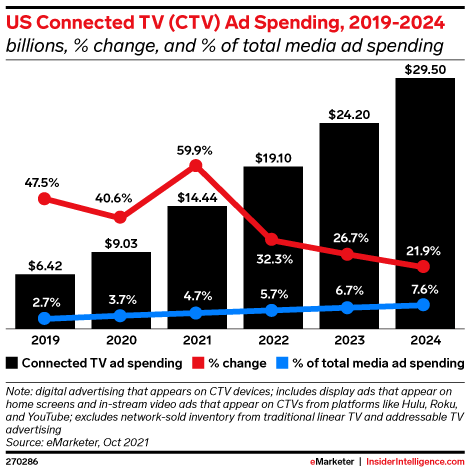 The Trade Desk has doubled-down on its CTV operations, now reaching 90 million households and 120 million devices in the US alone. Google has been ramping up operations in CTV mainly through YouTube TV, but the ground is much more level for competition in this space.
Another aspect of TTD's competitive durability is their strategic partnerships. The company has over 225 partnerships, many of which are publishers such as Spotify (SPOT), TikTok, Fox, and NBC Universal. These publishers are able to post ad spaces on TTD's platform without the need for a middleman. The Trade Desk also partnered with Walmart (WMT) to create its own DSP. This allowed TTD advertisers to use Walmart's proprietary omnichannel customer data to drive greater returns on ad spend (ROAS). This is huge given Walmart's massive reach and sheer amount of data. Advertisers want retail data to help them better allocate digital ad spend.
Antitrust concerns against walled-garden companies like Google have grown as they move to gain more control of the advertising market. Alternatively, The Trade Desk is focused on creating ad-targeting technology centered around the idea of an open internet. The company's main initiatives are Unified ID 2.0, Solimar, and recently announced OpenPath.
Unified ID 2.0 is the Trade Desk's open source replacement for Google's third-party cookies while keeping user privacy a priority. It asks users to provide consent to an ad- publisher via their email address, then creating an encrypted universal identifier. The key value-adds are the independence of such an identifier, whereas Google is aiming to control data normally collected by third-party cookies. Solimar was built for the changing landscape of the internet. It removes the reliance of advertisers on walled-garden companies but still equips them with the right tools to optimize campaigns within the open internet. It has seen widespread adoption and high efficacy as highlighted in the company's Q4 2021 transcript. Lastly, OpenPath simplifies the Open Internet supply chain, cutting out intermediaries and adding transparency, specifically for CTV. It allows advertisers to better understand the value of each ad impression and improve operational efficiencies. As these open source protocols see greater adoption, the internet, its users and TTD stand to benefit.
Financials & Valuation
The Trade Desk has seen strong topline growth with an average of 45% YoY the last five years, while gross margin has expanded to the low 80s. Its growing cash position is nearing $1B with only $284M in debt, giving it robust balance sheet strength. Both cash flow from operations and free cash flow have steadily increased the last half-decade, even as TTD continues to invest in growth. TTD has relatively little shareholder dilution with repurchases keeping up with issuances. Insiders also own nearly 10% of outstanding stock, indicating aligned incentives between management and shareholders. Below is a table of comparative financials between TTD and its peers. Keep in mind the sizing differences of TTD and its competitors.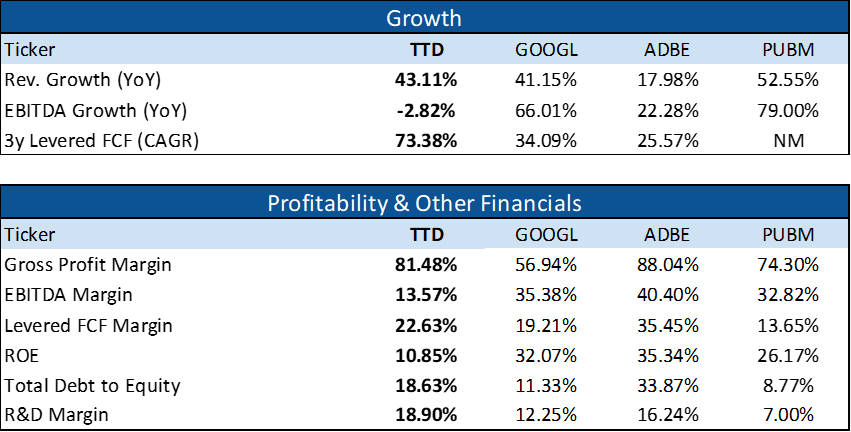 TTD has historically traded at elevated valuation multiples and has recently seen an improvement. However, TTD is still sitting at a rich valuation compared to peers.

Jamin Ball's Substack, "Clouded Judgment", tracks the valuation of a universe of software/cloud stocks. Currently, the overall median EV/NTM Revenue multiple is 9.0x, with the top 10 companies trading at a median of 25.8x. TTD is trading near the top of this universe at 20.51x.
Additionally, I ran TTD through a basic DCF model that estimates present value based on FCF margin and projected revenue growth. Here are my assumptions, estimates, and model results.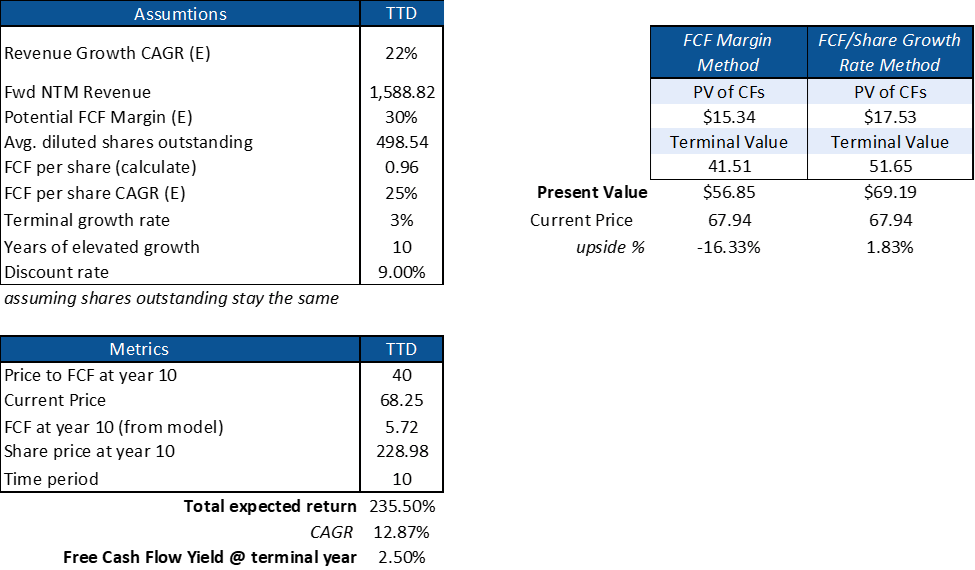 This model assumes no share repurchases or issuances. Firms tend to repurchase shares as they mature, which would change the model output. DCF models are built on a number of different assumptions which can be faulty and shouldn't be relied fully upon. Given this fact, I ran a sensitivity analysis to measure the impact of differing growth rates and FCF margins on the model output.

TTD is more expensive than its peers but given its historical performance and growth potential, it makes sense. As of now, I believe it is a short-term hold and a long-term buy. I would look to add more in the $50s and low $60s.
Risks
I touched on a few of the Trade Desk's biggest risks which were its larger competitors and their significant control over the advertising space. Specifically, Google removing third-party cookies and Apple's iOS data privacy changes. I believe the Trade Desk has sheltered itself well from these threats as previously stated. Recently, growth stocks were hit hard. TTD escaped much of this turbulence being down only 24% ytd. TTD's profitability gives them some defense against more downside, but with such a high multiple, their stock still carries contraction risk in the near term.
Conclusion
The Trade Desk is a high quality company with strong growth prospects. They are mission-driven, enabling advertisers to navigate the future of the internet. Their innovative platform gives them a strong value-proposition and moat. The company stands to benefit from tailwinds within CTV, ecommerce and the Open Internet. TTD has proven its ability via solid financials and growth but trades at a handsome valuation. Therefore, long-term investors should add slowly as multiples compress or as strong performance continues.