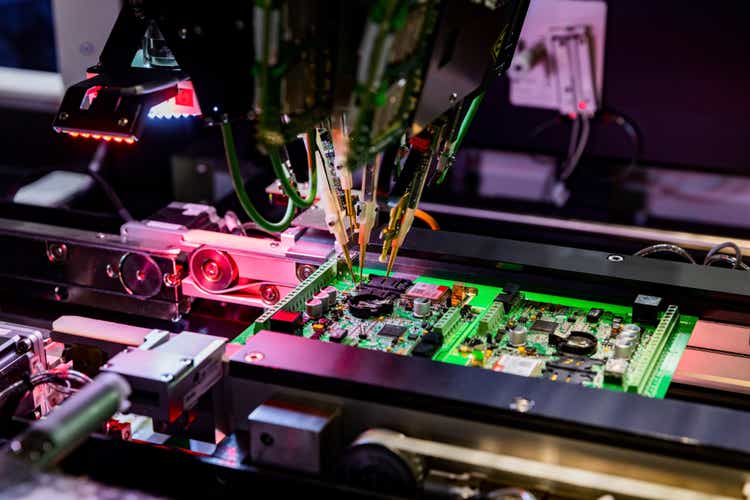 The group of semiconductors are generally high-multiple, high-volatility growth stocks that tend to make big moves in both directions. They're highly sensitive to economic growth, so in the current recession scare the market is dealing with, the group has been hammered once again.
However, there are some semiconductor stocks that just look inexplicably cheap, as is the case with the subject of this article, Alpha and Omega Semiconductor (NASDAQ:AOSL). The stock has sustained some technical damage in the past few weeks, but I think it is pricing in a recession or worse, and is therefore too cheap.
On the price chart itself to start with, we can see the predominant trendline from the beginning of this massive rally from last year coming into play during this bout of selling. If AOSL cannot maintain this trendline, that will indicate pretty significant technical damage. However, the stock is simultaneously hitting price support at $44 and the trendline, so odds are good that if the bulls are going to make a stand, it would be here.
If that level were to fail, there's a final support level at about $40, and if that one fails, look out below. If you get long AOSL, you can set your stop below the $44 level, or below the $40 level, depending upon your risk tolerance.
The accumulation/distribution line looks pretty awful during this last bout of selling, which isn't ideal. What you want to see during selling is a flat or higher A/D line, but AOSL is nowhere close to that. However, the stock is extremely oversold, which lends credence to the idea that we'll see a bounce.
The PPO histogram is -4, which is a tremendously oversold level. The 5-day RSI is showing an extreme oversold condition, and the 10-day rate of change is -31%. The way this stock has been sold is difficult to fathom given its valuation and fundamental strength.
Now, let's take a look at that fundamental case to see why I think this one has legs over the long-term.
Mega-trends support revenue and earnings growth for Alpha and Omega
We all know semiconductor revenue as a total market has exploded in recent years, and is set to do more of the same in the years to come. The rise of smart-everything for consumers, factories, businesses, etc. means that semiconductors of many types continue to grow in popularity. That's a big reason why I like the semiconductors as a group; after all, a rising tide raises all ships.
In AOSL's case, we can see this rising tide has boosted its revenue estimates markedly and steadily over the past couple of years.
Revenue estimates for this year and next have flown higher since the worst of the pandemic, and given the way the company is performing, it certainly appears to me the odds of this continuing are higher than the odds of this being the top.
AOSL has leverage to several growing end markets, including smartphones, appliances, gaming, televisions, power supply, PCs, graphics, servers, and more. The largest of these markets for AOSL is computing, which makes up about two-fifths of revenue. However, the important thing here is AOSL has a huge amount of diversification in its end markets, and it isn't particularly reliant upon any one or two of them. To me, if we're heading into a recession, this kind of diversification should protect earnings better than a more focused semiconductor company. And if we're not, then all the better.
AOSL has focused development, among other things, on being a leader of the pack in mobile power supply, as well as smart appliances. The company reckons mobile power supply has an addressable market of about $600 million, and smart appliances is more than $2 billion. The company is set to produce less than $800 million in revenue this year, so even just these markets are big opportunities.
Considering these markets, and the others the company competes in, AOSL believes it can hit $1 billion in revenue in three years' time.
You can see the target revenue growth target is 10% to 15% per year through fiscal 2024, as the company sees growth from expanding end markets, but also its own investments in scale, as well as its competitive profile against others in those markets. Given the trajectory AOSL has exhibited, I believe it would be imprudent to bet against it at this point. And given where the valuation is, I think the risk of betting against it is much, much higher than betting on it.
As we can see below, the company actually isn't modeling any margin expansion in the years to come, indicating it will continue investing heavily in future growth as margins and profits grow.
To its credit, however, AOSL has already seen a massive amount of operating leverage in the past few quarters. Below, we have gross margins and operating margins, both as a percentage of revenue on a trailing-twelve-months basis.
Operating margins were negative from late-2018 to early-2020, but we've seen a huge amount of profitability expansion. As you can see, the reason is almost entirely from higher gross margins, as the gap between gross margins and operating margins has moved from 25% at the bottom in 2020, to 21% in the most recent TTM. In the same period, operating margins moved almost 16% higher. AOSL is indeed seeing some operating leverage, but guidance is for none, if you recall the slide above. That then implies there is some upside to margins even though the company says guidance assumes none. That, again, lowers the risk of being wrong for the bulls as guidance is for a deterioration of the company's already-in-place operating leverage.
AOSL's earnings and valuation support the bull case
It should come as no surprise that AOSL has seen a huge move higher in EPS estimates, and it is hard to argue with the below.
When you think of how the share price has fallen while EPS estimates soar, the valuation picture becomes very enticing. When you get rising revenue and rapidly improving margins, you get an EPS trajectory that looks like this, and this is the kind of stock I want to own.
Finally, let's take a look at that valuation I keep mentioning, because it surely looks like a recession is being priced in to me.
Shares go for a staggering 9X forward earnings, for a company that is growing revenue at double-digits annually, and exhibiting long-term operating margin, I cannot understand the stock being this cheap. However, therein lies the opportunity, because you have to ask yourself how much cheaper the stock could realistically get.
Could it get cheaper? Any stock can get cheaper, but the odds are firmly in favor of the bulls today. If we actually get a recession, AOSL could trade down to 7X or 8X earnings. But if we don't, and growth multiples are applied to the stock again, we could see 13X or 15X earnings in the next twelve months. Your risk is fairly low, but the rewards are quite high. It's that sort of asymmetrical opportunity that makes AOSL attractive today, and I think it's a strong buy.