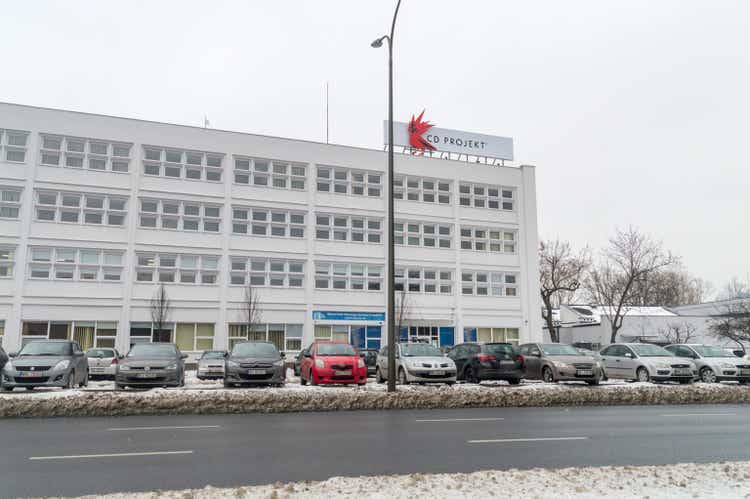 As I mentioned in my last article - and most articles that touch on gaming companies, I don't make a secret that I like gaming, and have done so for around 30 years. When I'm not running my company or writing, or doing many of the other enjoyable things in life, I'm enjoying visual and auditory entertainment in the form of video games.
So, revisiting CD Projekt (OTCPK:OTGLY) (OTCPK:OTGLF) seems logical, despite the volatility in the company that has prevented me from actually investing in the business.
While the company fulfills a very interesting requirement - investing in something that you love - that's not enough if the substance is uncertain. As we'll learn, there's some uncertainty about this "substance" still.
Let's revisit the company.
Going back to CD Projekt
We first described the company in full in my last article found here.
The recent set of results doesn't exactly cause me to have renewed, long-term faith in the company. I specified in my initial article that the company's failure in Cyberpunk 2077 will have a far-reaching consumer confidence impact. As I see, this has been confirmed given how the company has acted since then.
It seems all but obvious at this point that the company has more or less abandoned CP77 as a long-term project. Sure, we'll see updates and bug fixes for the game to make sure customers can't claim they were cheated. But will we see massive amounts of content, tv-shows, and spin-offs like for The Witcher 3?
Absolutely not. I'd be willing to wager money on it.
No, the signals out of CD Projekt is that the company is at least starting to move on. As I'm writing this article, it's not that long ago that the company released information that they are working on a fourth installment in "The Witcher" franchise, but with a different main character focus than the main character in the past 3 games.
There are a few other things that also imply to me that CP77 was a massive wake-up call for the company, and that, at least implied, the company doesn't want to lose its image as a consumer-centric gaming company - one of the "good ones". Which, prior to CP77, it was.
Chief among these signs is that CD Projekt has abandoned its own development engine in favor of Unreal. CP77 was built using an in-house, proprietary engine. Doing it this way gives you full control, but also increases integration complexity by a factor of several multiples. At least a part of the issue with CP77 and why it wasn't what we expected it to be was the problems with the in-house engine. CD Projekt isn't the only studio struggling with its own development engines - Bethesda is another studio famous for the limitations of its engine, that at this point is more than 10 years old.
So, a shift to Unreal will simplify things and enable the company to focus on actual development, rather than needing to make sure things work. This is a good thing - but it's also a sign of caution.
The way I view this announcement, as well as the timeframe for the production, is basically equivalent to saying "We know we really screwed up, we need to make sure our next product is 100% solid."
So, that's the way I view the recent information out of the company. To be clear with you, dear readers, I want this company to succeed. I love their products. I'm a fan of the TV show, the spin-offs, everything, really. I'm the company's biggest cheerleader - and also the company's biggest critic when they screw up.
And 3Q21, the company's latest quarter, was not a good quarter.
In 3Q21 or 9M21, digital sales of CP77 were the main revenue driver. Reviews for the product have, despite all its issues, been good. But if you believe that a total average of 76/100, which is the average overall for CP77 is what the company is in business for, then you don't know CD Projekt.
CD Projekt wants to build games that go up to 90-95/100 - like the Witcher. Despite some analysts saying the current trends are a success, they are little compared to what things could have been.
While fundamentals in terms of the company's products remained relatively solid, the company's publishing of CP77 and Witcher 3 for next-gen consoles has been delayed to early 2022. This postponement lowered the estimates and earnings for 2021. The company also had to significantly discount CP77 to drive sales due to the product's initial poor quality.
Sales platform performance for GOG was negative for 9M21, suffering negative sales for some of the company's Witcher spinoffs Thronebreaker and GWENT.
In 9M21, CD Projekt acquired two studios in North America: in March, 100% of Digital Scapes (8 employees, who previously worked on Warhammer and Dying Light, among others), which has strong know-how in the area of multi-player games and is now CD Projekt RED Vancouver, and in October, 60% of Boston-based Indie studio The Molasses Flood, whose team has developed among others e.g. BioShock (Take-Two), Halo (Microsoft), The Flame in the Flood (75/100 on average on Steam), and Drake Hollow (80/100) in the past. The Molasses Flood will be working on its own project based on one of CD Projekt's IPs.
Nothing in this quarter's results suggests that investors should be hopeful about a turnaround in cash flows or revenues in the near term. The sales of next-gen will bring in a burst of sales of old products - but the current company pipeline for 2022 and up to at least 2024 looks very thin, with very few new products on the market. That means the company will have to rely on continued sales of old games and content for those old games. As we know from historical results, these sales tend to be weak, especially compared to strong product sales years.
CD Projekt remains an interesting investment though. The company has very motivated major shareholders in the three founders/co-founders who together own 30%+ of the voting rights.
Still, a gaming company's revenue and profits remain largely on the massively successful performance and release of key products.
CD Projekt unequivocally failed with its Cyberpunk 2077 product compared to what was promised, and what it could be. I believe that and hope that the company has learned its lesson here that should be relatively basic. Underpromise and Overdeliver.
The company did exactly the opposite and actually delivered a product, that for consoles, did not actually work properly. This was a very bad precedent for the company, and they do need to recover from this.
It also should mean that the company is "cheap".
CD Projekt Valuation
So - the investment thesis for CD Projekt is simple. What you want is to buy the company at a price that guarantees a solid RoR when its next product is released.
Don't expect massive outperformance on an RoR basis until that product is slated for release - a few years. Don't expect massive yields either. The company can't afford it until then. In fact, as we move into heavier cycles of production, the company's costs will increase - take a look at the history to see how this can look.
My valuation method for CD Projekt is based on DCF, NAV, and peers, as well as looking at and weighting other analyst targets and historical performance. In DCF, I assume a standardized video games global growth number based on the revenues for GWENT, Witcher, CP77, and the Monster Slayer game starting in 2021-2022. This calls for, based on a WACC of 7.7%, an implied EV/Share of between 270-280 ZL per share, denoting a theoretical current undervaluation. However, I caution you that it's extremely difficult to account for development and production costs as we move from one phase to another - so discount this by 10-20% or so.
Peers in the group are obvious. They include Blizzard (ATVI), Electronic Arts (EA), Take-Two (TTWO), Ubisoft (OTCPK:UBSFY), and others. These trade at average P/E multiples of 21X. CD Projekt is currently at over 20X for a very low 2021 but usually trades at an average of 15-18X based on a more normalized P/E, including some of the "sales years". Still, on the basis of EBITDA, Book values and Yields, CD Projekt is at high multiples here, and I wouldn't call the business overvalued here.
For NAV, we apply a sector average multiple for the company's main sector, and a straight DCF model for the GOG segment. This brings us to around 9B ZL for the company - or just south of 90 ZL in terms of NAV/share, which is of course only around half of what the company is currently trading at.
Weighting this company in any way except if we assume a high weighting on the DCF gives us an overvaluation at today's share price. S&P Global confirms the uncertainty in pricing through a target range of 110 ZL all the way up to 233 ZL per share. I believe the targets closer to 100 ZL more accurately reflect a long-term FV target for the company. The S&P Global average is around 158 ZL/share. My own target weighs NAV heavier, and I'm at 120 ZL/share.
Still, even at S&P Global targets, the company is 7% overvalued, with all but 3 out of 18 analysts either at "HOLD", "Underperform", or "SELL".
The picture, therefore, crystallizes in terms of valuation.
The higher above that 100-120 ZL you go, the more you account for an outsized amount of revenue and cash flow growth on the company that does not correspond to historical trends given its current production pipeline.
Once the company goes below 120, I believe that this company can deliver Alpha over a 5-year period.
That's why my PT for CD Projekt is 120 ZL/share.
Thesis
My thesis for CD Projekt is as follows:
CD Projekt is an impressively-managed game company that produces some of the best games on earth. It's also had a recent fizzle in the form of Cyberpunk 2077, and this will weigh on the company for some time yet.
The company's pipeline is weighted towards beyond 2023, which means that any investment in the company needs to be forward-looking with an at least 3-5-year timeframe.
I believe you can make a credible case for a 100-200% RoR when the company's next blockbuster title releases if you buy the company at below 120 ZL/share. The further below this, the better.
This forms the current basis of my thesis.
Remember, I'm all about:
Buying undervalued - even if that undervaluation is slight and not mind-numbingly massive - companies at a discount, allowing them to normalize over time and harvesting capital gains and dividends in the meantime.
If the company goes well beyond normalization and goes into overvaluation, I harvest gains and rotate my position into other undervalued stocks, repeating #1.
If the company doesn't go into overvaluation but hovers within a fair value, or goes back down to undervaluation, I buy more as time allows.
I reinvest proceeds from dividends, savings from work, or other cash inflows as specified in #1.
This process has allowed me to triple my net worth in less than 7 years - and that is all I intend to continue doing (even if I don't expect the same rates of return for the next few years).
If you're interested in significantly higher returns, then I'm probably not for you. If you're interested in 10% yields, I'm not for you either.
If you, however, want to grow your money conservatively, safely, and harvest well-covered dividends while doing so, and your timeframe is 5-30 years, then I might be for you.
CD Projekt is a "HOLD" here.
Thank you for reading.