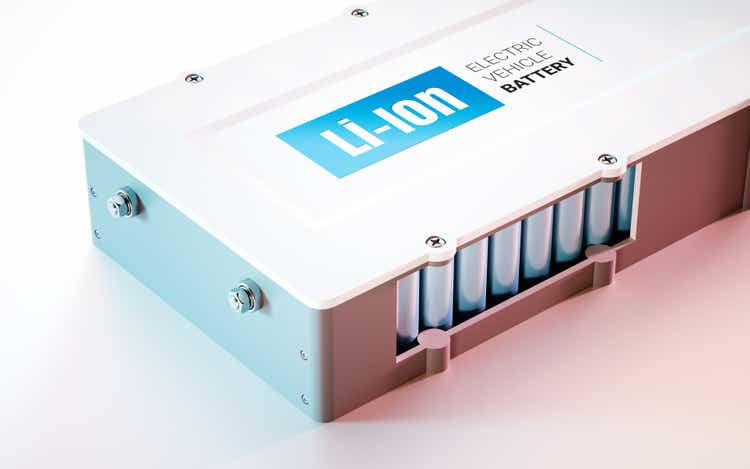 Thesis
The Biden Administration recently announced its intentions to use the Defense Production Act in efforts to try and increase domestic lithium extraction; the latest indicator of lithium's growing strategic importance. This came barely a month after the Pentagon announced its plans to boost the US' lithium stockpile and just weeks after China's government summoned that country's major lithium players to Beijing in order to discuss the current high lithium prices and supply chain robustness.
Geopolitical tensions and the technological migration from the internal combustion engine towards battery electric vehicles are leading many countries to reassess domestic natural resource policies and the importance of domestically produced lithium. This is a trend that is only beginning and will serve to push a lot of investment capital into the space. US domestic lithium production is completely inadequate to serve even a portion of future demand which will force the government to address regulatory roadblocks to new mine construction. Given the advanced stage of development of its Thacker Pass project, the first to benefit from this trend will be Lithium Americas Corp. (NYSE:LAC).
Demand Driver
Most readers are probably well aware of the growing demand for lithium-based batteries coming from the automotive sector. It extends beyond Tesla, Inc. and the Chinese EV producers and has grown to include companies like Stellantis (STLA), which just 2 weeks ago announced plans to partner with battery manufacturer LG Chem (OTCPK:LGCLF) and build a $4 billion electric vehicle battery plant in Canada that would have a 45 gigawatt-hours ("GWh") per year production capacity. The company also has plans for a second US-based plant to be announced soon. Most of the other major legacy automakers have also announced ambitious plans to add new battery plants in the coming years.
In response, the world's battery producers are planning for capacity additions that are many multiples of current production levels. Analysts at Wood Mackenzie predict that the current rate of battery plant construction will lead to a five-fold increase in lithium-ion battery capacity by 2030.
The market's recognition of this developing trend, along with the realization that current and planned lithium supply may not be enough to meet growing demand, has led to a surge in lithium prices over the last year.
Macro Outlook
However, the markets and auto industry analysts weren't the only ones to realize how important lithium has become. Its centrality to the new emerging electric world is a fact that is slowly beginning to dawn on governments as well. And this trend is increasingly evident in nationalistic policies being implemented by governments all over the world to foster, and in some cases control, domestic production.
Significant amounts of lithium have only been found in a limited number of countries, the bulk of which are located in Latin America.
And while the involvement of China's government in that country's lithium supply chain has been a well-known fact for many years, Latin American governments are now beginning to increase their role in the industry as well.
Mexico's President recently proposed nationalizing his country's lithium supply, a very negative development for Bacanora Lithium Plc's (OTCPK:BCLMF) already delayed project in the Mexican state of Sonora. If we look to Mexico's national oil producer, PEMEX, for an example of how nationalization will play out. Its poor record of exploration and development and the fact that it is the most indebted major oil producer in the world doesn't inspire much confidence. A transfer of lithium resources to a government-owned mining company might mean that significant Mexican lithium production may come online much later than anticipated.
The South American countries of Argentina, Bolivia, and Chile, which hold the world's largest concentrations of the metal and make up the Lithium Triangle have discussed creating a "Lithium OPEC". The growing wave of resource nationalism played a major role in the coup against Bolivia's ex-president Evo Morales and Chile's President has proposed nationalizing that country's lithium mines; Chile's constituent assembly even approved an early proposal of the law this past month. These developments put Albemarle Corporation's (ALB) mining operations in the country at risk.
These trends show no signs of reversing and may even speed up given the resource shortages and dislocations brought about by the war in Ukraine. This will force the US to gradually adopt more pro-mining policies to foster a domestic production base.
One of the Biden administration's core environment goals has been to encourage further development of the U.S. battery supply chain in an effort to wean the auto industry off Chinese suppliers. It allocated $6 billion to these efforts in last year's infrastructure bill and has recently turned its focus further upstream to the mining and minerals processing sector. The first signs of a shift occurred last week when the Biden administration invoked the Defense Production Act ("DPA") to encourage lithium mining.
Using the DPA will have a limited impact, as the administration will use it to mostly offer help financing potential and future projects. But its implementation is a sign that the administration is open to encouraging more US-based mining. This bodes well for the industry, as the president can probably count on significant support from the corporatist and environmental wings of his party, as well as most Republicans. In the years ahead, this will probably lead to a loosening of the environmental and regulatory burdens faced by US-based projects that are still in the development phase.
Lithium Americas
Lithium Americas is well-positioned to take advantage of this trend. The company is a lithium miner with three projects in development, two of which are in Argentina and one in the US. And it expects production at one of its two Argentinian sites to begin this year which should be a significant catalyst for the stock. Argentina has taken a relatively more business-friendly stance towards miners than its two neighbors, resulting in Lithium America's projects being subject to much less political risk.
The project that's slated to start production is the first phase of the company's Caucharí-Olaroz property, a joint venture with Ganfeng Lithium Co., Ltd. (OTCPK:GNENY) of China. Stage One has a planned average production capacity of 40,000 tpa of battery-quality Li2CO3 with an estimated operating cost of $3,600 per tonne. Under the terms of the JV, Lithium Americas' share of production will be 19,600 tons or 49% while Ganfeng gets the balance.
The company is also in the process of shepherding its 100% owned Thacker Pass, Nevada project through the approval process with the goal of starting the build-out next year. It's a property with proven reserves of almost 2.4m tonnes relative to Caucharí's 276k. LAC received all final key state permits for Thacker Pass but is still involved in a lawsuit challenging the administrative process conducted by the Bureau of Land Management when it granted Thacker Pass its Record of Decision. The company expects the case to be resolved in Q3 2022 but a negative ruling for the company is a risk for the project.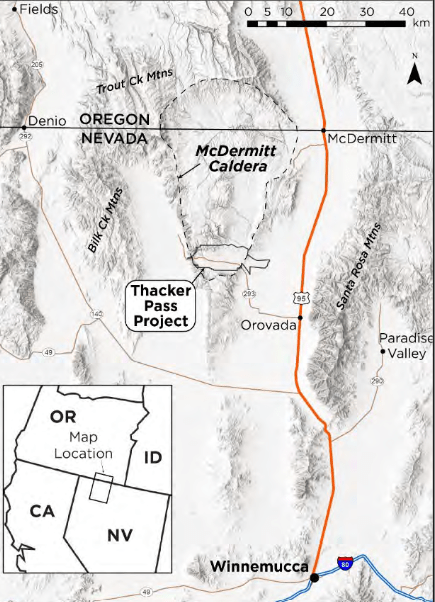 The company, which had $510 million in cash at the end of last year, could have used free cash flow generated by Caucharí to fund any additional capex requirements for Thacker Pass. However, management recently revealed that they're considering separating its US assets into a separate business. This information was made public on the same press release that discussed Lithium Americas' loan application to the US Department of Energy ("DOE"). A DOE loan could be a good source of non-dilutive financing for Thacker Pass and allow management to claim that the project is partly DOE-funded and approved. A clear advantage given how highly politicized the project has become.
Management didn't discuss the reasoning for wanting the split but given the Biden administration's push for more home-grown production, LAC could be trying to distance Thacker Pass from its Chinese JV partner in the Caucharí project. Jonathan Evans, Lithium Americas' CEO, made sure to invoke themes favored by the administration in comments accompanying the press release when he said, "The project is aligned with the national agenda to enhance domestic supply of critical minerals and has the potential to be a leading near-term source of lithium for the US battery supply chain".
Spinning off the US operations would also leave Thacker Pass as an attractive takeover target. A fully-approved lithium property in Nevada that just needed the mine's construction could attract the attention of a lithium consumer like Tesla, Inc. (TSLA). Just last week, Elon Musk tweeted out a comment discussing Tesla's getting into the lithium mining business.
Conclusion
But whether or not Lithium Americas does split into two companies, the fact that the company possesses one of the premier lithium properties in the US that's so far along the approval process makes it a stock worth holding. Growing lithium demand by the EV industry and an increased focus on developing domestic supply by both political parties will push more capital into the space and LAC is well-placed to benefit.
Risk
As mentioned in the article, the most immediate risk to this thesis is from the lawsuit over federal permission to operate Thacker Pass. A loss in the courts would force the company to appeal the decision which could result in years-long delays and possibly the project's cancellation altogether. Shareholders in the company would still have lithium exposure through the company's Caucharí project but the loss of Thacker would hit the stock hard.
Another risk is a shift away from lithium to a different type of battery chemistry by EV producers. Such a development would be a major blow to the whole industry.