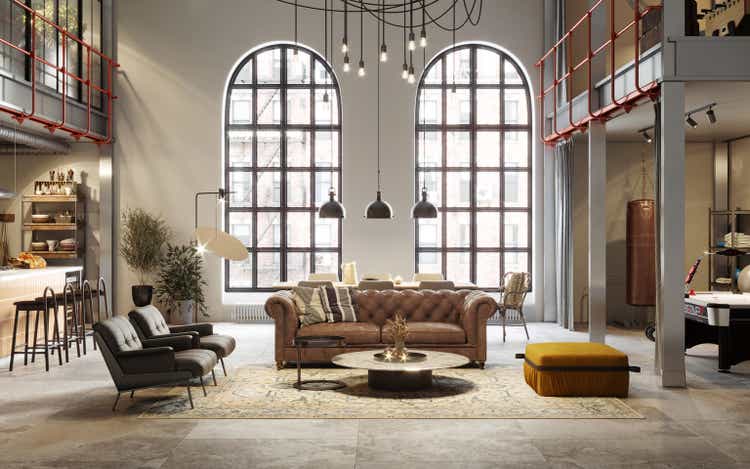 RH (NYSE:RH) dropped more than 50% from last year's high, after the market experienced uncertainties from rising interest rates which affected the home industry in general. This resulted in today's cheaper valuation. While the cost of everything rises, the management plans to make RH more affordable to the public on a per share basis with a proposed 3:1 stock split in March 2022. RH's top line remains sustainable and the company continues to improve its operational efficiency despite a high inflationary environment. Additionally, the company has $2 billion cash and cash equivalents in its balance sheet ready to be liquidated. RH is undervalued compared to my conservative fair target price of $464, which is derived from my DCF model and simple relative valuation. A test buy at today's price and slowly scaling in below $300 will provide a better entry point, given today's volatility.
Company Background
RH remains one of the leading companies in the luxury furniture market. It operates a total of 81 retail locations and 38 outlet stores across the US, Canada, and the UK. According to the management, the company has a long-term goal to expand its ecosystem globally aiming to serve a $10 trillion market opportunity. Aligned with its global brand expansion, one of the key highlights of the company is their recent international expansion in the UK, the opening of RH England with a gallery store at the historic Aynhoe Park. On top of that, RH is on track with its Gallery transformation aiming to add $5-$6 billion in the North America region and $20-$25 billion globally.
Additionally, we have secured locations for galleries in London, Paris, Munich and Dusseldorf and are in lease or purchase negotiations for galleries in Milan, Madrid, Brussels and France. The opening of RH Palo Alto, the gallery at Stanford Shopping Center, which will represent the next evolution of our highly productive prototype galleries. Source: Q4 2021 Earnings Call
On top of the improving ecosystem, RH now has grown its human resources by 30% to 6,500 employees, up from 5,000 last year. Although the company remains under pressure due to the high inflationary environment, experts project that PCE inflation rate will start to improve from 4.3% this year to 2.7% next year. RH currently has $3,758.8 million in its total revenue, which is significantly less than the management goal of servicing 1% of its $10 trillion total addressable market.
RH and Its Peers

Kirkland's, Inc. (KIRK), Haverty Furniture Companies, Inc. (HVT), The Aaron's Company, Inc. (AAN), Sleep Number Corporation (SNBR), Bed Bath & Beyond Inc. (BBBY), Williams-Sonoma, Inc. (WSM)
By looking at the table above, RH seems to be dominating this comparison. Its 5-year revenue growth of 12% snowballed to a higher net margin and eventually to a higher ROE of 85%. While investigating its gross margin of 49%, RH is relatively flat to its peers' average; HVT, AAN, and SNBR clearly win this criteria. Although producing a positive bottom line, SNBR suffers from a negative equity and that is why it does not have a meaningful ROE and debt to equity ratio. Aside from RH's strong profitability, it produced a higher current ratio of 2.91x, while its debt to equity ratio is somehow higher than its peers. This is due to an increase of long-term debt amounting to $2,197.8 million, up from $579 million recorded in fiscal 2020.

RH currently trades at a higher valuation than its peers, with its trailing P/E ratio of 15.17x compared to its 7.18x peers' average and we can easily conclude that it is currently overvalued as of this writing. However, looking closely to the trend of its peers' average, RH has a more positive future with its cheaper forward multiple. The same goes with RH's EV/EBITDA multiple- its peers' trailing average seems expensive compared to its forward counterpart, contrary to its trailing EV/EBITDA of 8.99x where we can see an improvement versus its forward 8.28x. Additionally, its multiples are relatively cheap in comparison to its 3-year average P/E ratio of 32.43x and EV/EBITDA ratio of 16.14x. To sum it up, I believe RH is relatively cheap against its peers.
An Undervalued RH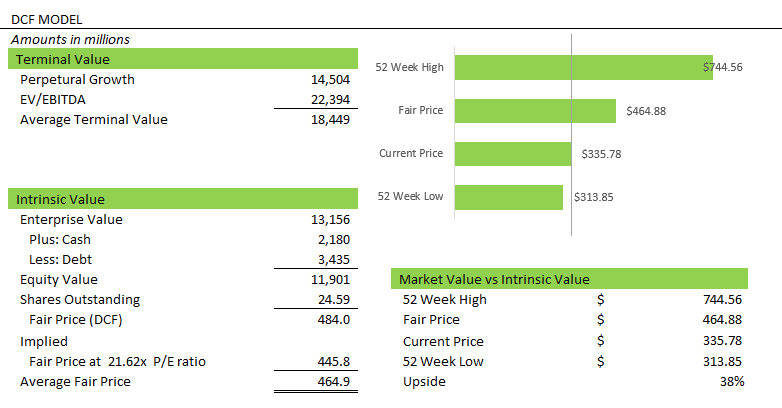 RH is undervalued compared to my conservative fair price of $464, which is derived from the average of a 5-year DCF model and simple relative valuation. The company is trading near its 52-week low, although it does not mean price will positively bounce in such an area. Investors should bear in mind that the majority of analysts are revising their revenue and earnings per share estimates downward which could affect my estimates.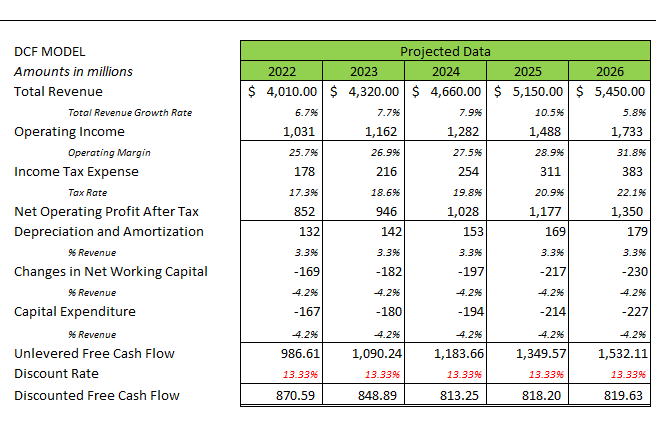 I completed my DCF model with the use of analysts' forecasts. With its current trend of an improving operating margin, I expect it to continue improving slowly in fiscal 2022 and 2023 and then improve afterwards to 31.8%. In my opinion, this is still conservative compared to its 5-year annual growth of 41%. With the company's current strategy of focusing on building and strengthening its ecosystem, in my opinion, it will sustain its growing operating margin. In fact, the management provided an acceptable outlook to its operating margin which is to be in the range between 25% and 26% next fiscal year. Going back to RH's top line, even though the company may fail to sustain its growing trend on its operating margin, a stronger catalyst is its under-penetrated addressable market as discussed by the management in their earnings call.
Our strategy comes full circle as we begin to conceptualize and sell spaces, moving beyond the $170 billion home furnishings market into the $1.7 trillion North American housing market with the launch of RH Residences, fully furnished luxury homes, condominiums and apartments with integrated services that deliver taste and time value to discerning time starved consumers.

…..

Our plan to expand the RH ecosystem globally, multiplies the market opportunity to $7 trillion to $10 trillion, one of the largest and most valuable address by any brand in the world today. A 1% share of the global market represents a $70 billion to $100 billion opportunity. Source: Q4 2021 Earnings Call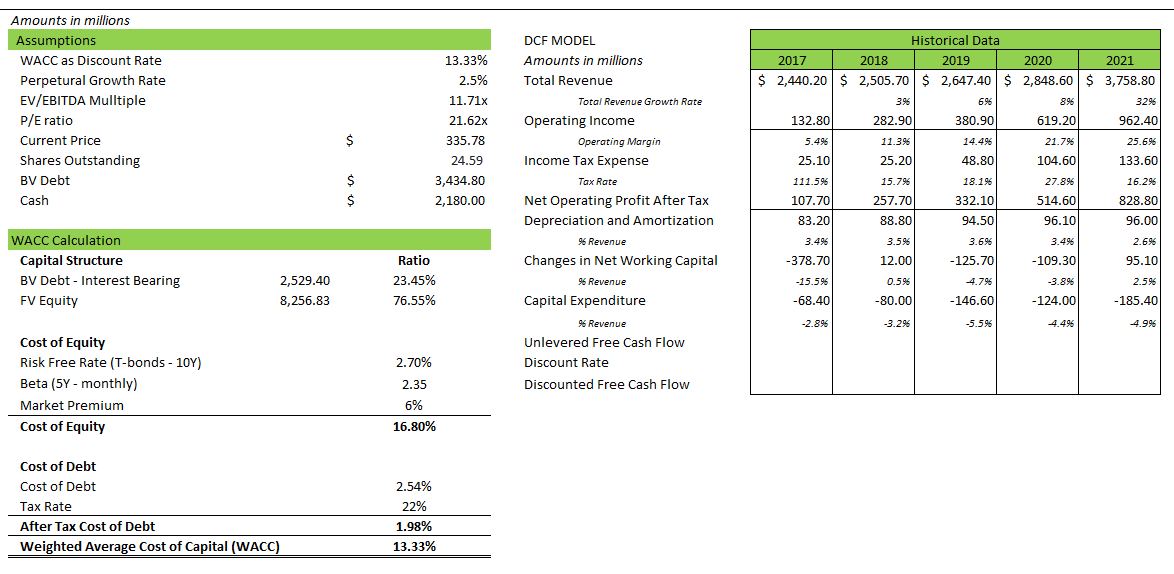 The image above details my assumptions and WACC calculations that I used to discount RH's projected free cash flow.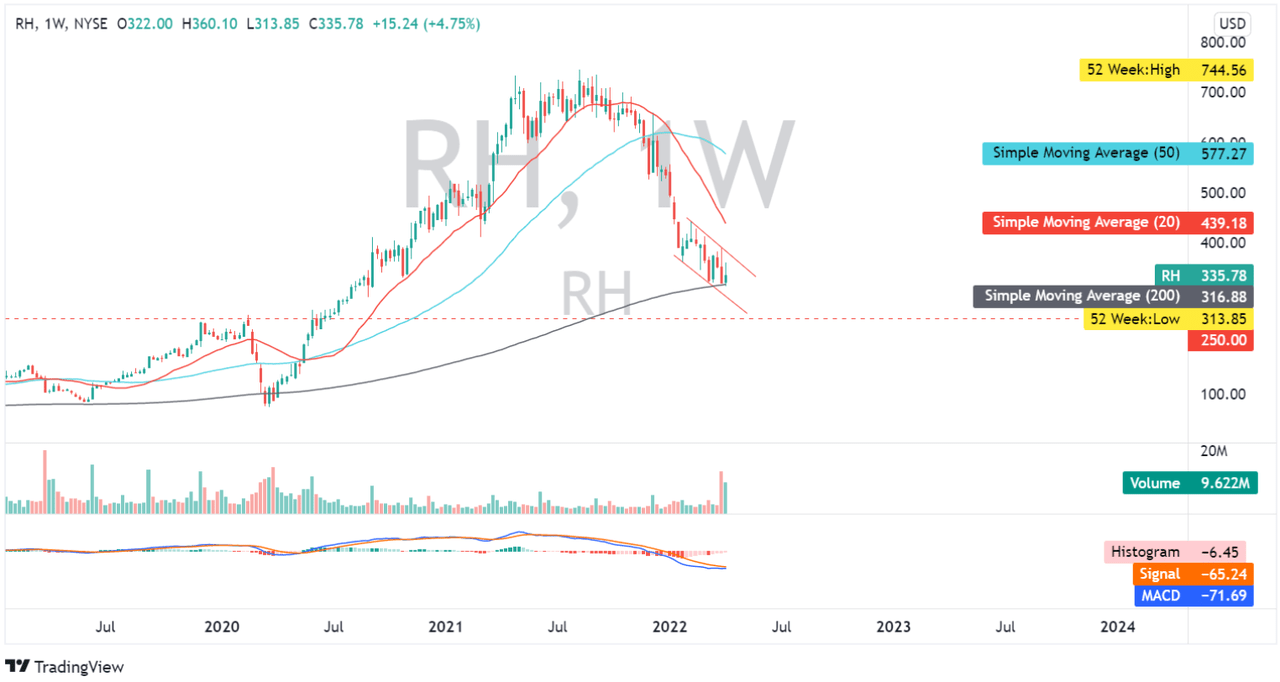 According to its 20- and 50-day simple moving averages, RH is currently in a bearish trend, with its MACD in negative territory. As of this writing, it is sitting above a significant support which is its 200-day simple moving average. I expect a quick dip and rebound like what happened in March 2020. A possible breakdown will provide an opportunity to purchase RH at a discount, and in my opinion, below $300 will provide a reasonable margin of safety.
Conclusive Thoughts
Despite the 'inflation doom' fear, RH is currently attractive in both fundamental and technical aspects. Its proposed 3:1 stock split will provide more liquidity, making it more affordable on a per share basis, particularly compared to its peer, WSM, which is currently trading at $146.92 per share. The stock split is expected to take place this spring. RH has a material cash and cash equivalent with no material debt maturing within the next two years. Additionally, the company ended its fiscal 2021 with an improving net debt of $90 million and an outstanding ROIC of 73%, which is way above its current WACC, implying strong efficiency amid temporary headwinds. RH is fundamentally undervalued and is trading at a logical support, making it a good buy on its potential dip.
Thank you for reading and good luck to us all!