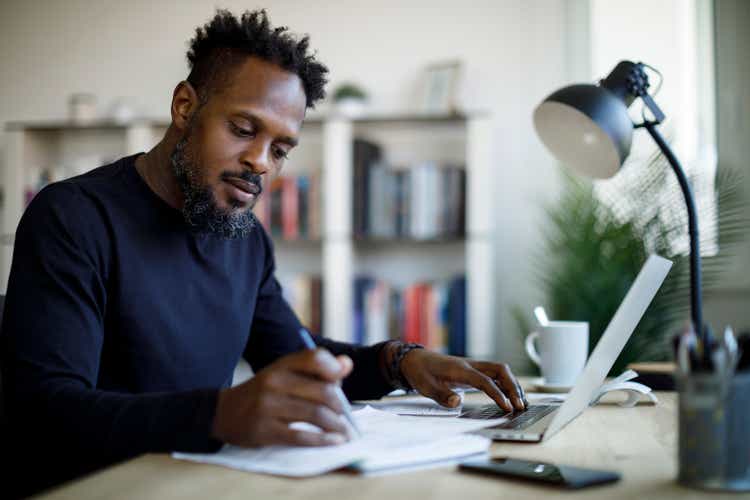 What Is A Financial Writer?
Financial writers are everyday investors like you. Long gone are the days when only brokerage analysts or fund managers and their teams wrote investment research reports. Today, investors at large can publish research and analysis on their favorite stock or investment idea, get paid for it, and share it with our worldwide audience. With more than 200 million page views each month and syndication agreements with Bloomberg and other major financial sites, Seeking Alpha's influence and exposure are second to none and is why we continue to be the world's largest investment community. If you would like to get started, learn how to be a financial writer here at Seeking Alpha. To become a Seeking Alpha contributor, the first step is to register at this page.
Becoming a financial content writer isn't difficult, and is one of the best ways to make money writing online, while bringing attention to an investment thesis you want to showcase to others. Best of all, unlike many financial writer jobs, Seeking Alpha contributors can write at their own pace. There are no volume quotas or deadlines; our investment writers choose when and how often they write. This means that Seeking Alpha contributors can wait until they have particularly strong investment research and a compelling thesis before writing, which is great news for Seeking Alpha readers as well.
What Skills Does A Financial Writer Need?
Investment experience, an interest in evaluating businesses, and strong attention to detail are key. A successful finance author isn't made by great research skills alone, however, but also by leveraging presentation skills that enable them to convey their analysis to others in a clear and convincing manner. If you need to fine-tune some of these skills, don't despair, as Seeking Alpha's Author Experience series can help new financial writers, beginning with this handy guide.
Sign up as a Seeking Alpha contributor today.