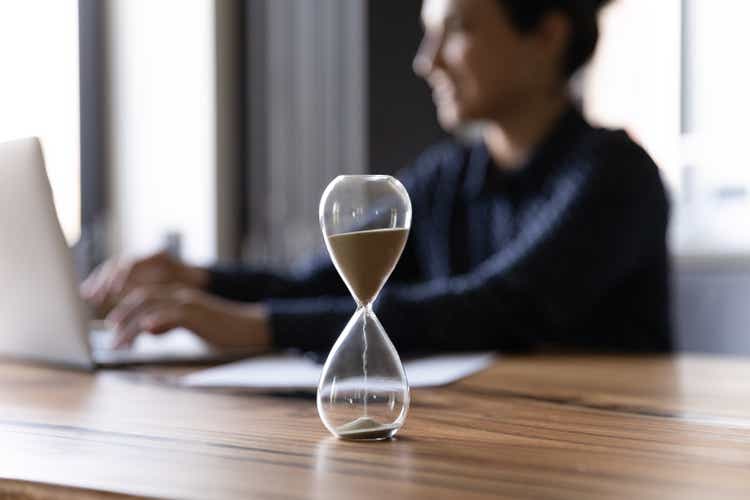 Investor Time Horizon Meaning
In the investing world, time horizon refers to the length of time an investor intends to keep their money invested. The time horizon for any investment will depend on the goals and circumstances of the investor. For example, those with short time horizons would perhaps be better off choosing investments that are less volatile and have more liquidity.
Note: Liquidity is an investment term that refers to the ease of converting an investment to cash in a short period of time. In that sense, real estate and art are illiquid because selling them can take months or years. In contrast, money kept in a savings account is extremely liquid as it can be taken out at any time.
Investors typically invest with a variety of time horizons in mind. For example, one individual might be investing to help save a down payment for a home they plan to buy in two years while also putting funds away for their children's future college expenses, and investing for retirement. These are common examples of short, medium, and long-term time horizons.
Takeaway: An investor's time horizon can be short, medium, or long-term. This could include a specific date like in exactly three years or just a general time period like over a decade.
Time Horizon Categories
There are three time horizon categories: short-term, medium-term, and long-term.
1. Short-Term Horizon
Short-term refers to a time horizon of three years or less. Because the funds are needed fairly soon, it's best to choose investments that are relatively liquid and have a low risk profile. After all, the investor will need to easily access the funds and their short-term financial goals will be impacted significantly if they lose some or all of their investment.
Popular short-term horizon investments include savings accounts, money market funds, certificates of deposit, cash, and short-term bonds.
Short-Term Horizon Investing Goals
Saving for a new car
Buying a home in the next five years
Going on a vacation
Planning a wedding
Saving an emergency fund
Short-term Horizon Investing Example
One example of a short time horizon investment is if a 25-year-old were saving to buy their first car in two years. They might transfer a certain amount every month from their checking account into a money market fund or use it to buy a certificate of deposit.
2. Mid-Term Horizon Meaning
Mid-term refers to a time horizon of three to ten years. Because there is a longer time period to save and invest, investors can choose investments that are less liquid and have a higher risk profile. Or, they can invest in a balance of diversified low and high-risk investments to balance safety with potential investment returns.
In this case, the investor won't need to access the funds for some time, and they can open themselves up to the risk of losing part or all of their funds without it greatly impacting their financial goals. As the date of funding the goal gets near, funds can be rebalanced by moving them into assets better suited for short-term time horizons.
Popular mid-term horizon investments include stocks, mutual funds, exchange-traded funds (ETFs), bonds, and certificates of deposit.
Mid-Term Horizon Investing Goals
Saving for a home
Saving for a child's education
Buying a vacation home
Renovating a home
Investing for retirement in your early fifties
Mid-Term Investing Example
An example of an investor with a medium-term time horizon is someone who is saving to renovate their home in seven or eight years. They might choose a mix of mutual funds, stocks, and bonds and then rebalance their investments when the date gets closer to certificates of deposit and short-term bonds.
3. Long-Term Investment Time Horizon Meaning
Long-term refers to a time horizon of over ten years. Because this is a much longer time period to invest, an investor could choose some investments that have higher risk and volatility but greater potential reward to maximize their return.
They might also decide to invest in assets that are less liquid like real estate. As their financial goal approaches, they should move funds into assets that are optimal for medium-term or short-term time horizons.
Popular long-term horizon investments include real estate, art, growth stocks, mutual funds, exchange-traded funds (ETFs), and bonds.
Long Horizon Investing Goals
Saving for retirement
Saving for a renovation
Saving for a larger home
Creating a legacy for family
Saving to travel in retirement
Long Horizon Investing Example
An example of a person investing with a long-time horizon is a 40-year-old saving for retirement who decides to buy a vacation property that they will rent out when not using it in retirement for income. They will pay off their mortgage in the 25 years before retirement and then can use the rental income to supplement their other retirement savings.
Why Identifying Time Horizon Is Important
Time horizon is important since it helps an investor choose the right investment vehicle.
Takeaway: For investors who were saving for long-term or medium-term financial goals, it's critical that they stay on top of their evolving time horizon. If they do, they can rebalance their portfolio to prioritize liquidity and less risk to ensure that they don't miss their financial goal because of a sudden market downturn either.
How To Handle Multiple Time Horizons
Most investors have multiple time horizons for different investments. For example, a young couple might be saving for retirement while also putting money away for the down payment on a home they hope to buy in three years.
Keeping funds with different time horizons in separate accounts can help investors stay organized. They could also seek the help of a financial planner.