Are Net Income And Cash Flow The Same?
Updated: Feb. 01, 2023
Written By:
Kent Thune
Reviewed By:
Net income and free cash flow are related but are not the same measure. Net income represents a company's accounting profit, whereas cash flow presents whether a company's cash balance increased or decreased. Learn more about the definitions and differences of these 2 measures.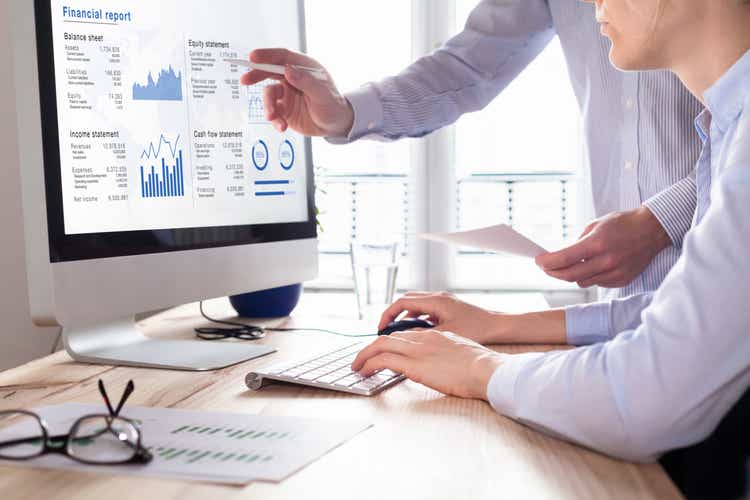 Cash Flow & Free Cash Flow Definitions
Put simply, cash flow reflects money coming into and going out of a business. Cash Flow from Operations (or CFO) reflects the cash flow attributed strictly to a company's business operations. Free cash flow represents what's remaining from CFO after expenses necessary to maintain the equipment and operations of the company.
Definitions of cash flow and free cash flow are:
Cash flow in a business refers to the amount of cash coming in and out of a company during a specific point in time. Positive cash flow means that more money is coming in than going out, while negative cash flow means the business is spending more than it's receiving.
Cash Flow from Operations (CFO), or sometimes referred to as Operating Cash Flow, reflects only the cashflows directly related to a company's business operations.
Free Cash Flow (FCF), is the amount of operating cash flow remaining remaining after a business pays for necessary upkeep of its equipment and operations. Investors commonly look at FCF to assess the cash flow strength of a company. Free Cash Flow reflects cash that a business can use to invest in growth or other value maximizing purposes.
Net Income Definition
Net income is an accounting measure that reflects the difference between the amount of revenue that a company earns and total expenses for the same period. If total expenses exceed revenue, this company has realized a net loss. To calculate net income, total expenses are subtracted from total revenue. Often referred to as "the bottom line," net income is reported by public companies on both quarterly and annual income statements.
Cash Flow vs. Net Income
Cash flow and net income share some similarities but they are different items with unique calculations and purposes. The cash flow statement and the income statement are completely different financial statements.
Cash Flow:
Refers to the net amount of cash generated by a company over a specific period of time.
Calculated by subtracting total cash outflow from total cash inflow.
Cash flows are typically fully objective measures, and not impacted by decisions surrounding accounting methods.
Cash flow may also be more volatile than net income.
Net Income:
Net Income is an accounting construct, and refers to company earnings for a given period, which reflects accounting revenues less accounting expenses.
Net income reports how much of a profit a company generated after paying all of its expenses. This profit can then be presented on a per share basis (Earnings Per Share).
Management teams often have some leeway in revenue recognition and the categorization and calculation of some expenses.
Net Income can be misleading because positive net income doesn't always reflect the reality of the business. Cash flow analysis is sometimes a better metric for assessing a company's financial health.
Free Cash Flow vs. Net Income
Free cash flow and net income are not the same.
Free Cash Flow:
Must be manually calculated by finding cash flow from operating activities on a company's cash flow statement, then subtracting out capital expenditures for maintenance purposes.
When positive, FCF indicates a company's potential for investing in growth or paying dividends to shareholders.
FCF be more effective than net income for measuring a company's financial health.
Net Income:
Can be easily found by looking at "the bottom line" of a company's income statement.
Is commonly reported on a per share basis as EPS.
When positive, net income indicates that a company's accounting revenue exceeds its accounting expenses. If accounting expenses exceed accounting revenue, the company will have incurred a net loss for the period.
When to Use Net Income vs. Free Cash Flow
Net income is a good starting point for determining the profitability of a company but free cash flow is often a focal point for determining if a company is a good investment. Cash flow measures may also detect business problems like growing inventory balances, or troubles with collecting Accounts Receivable.
Bottom Line
Net income and cash flow have similarities but they do not share the same meaning or purpose. For example, net income reflects a company's accounting profit but free cash flow can be a better indicators of the true economic value a company is creating.
This article was written by
Kent Thune, CFP®, is a fiduciary investment advisor specializing in tactical asset allocation and portfolio management with a focus on ETFs and sector investing. Mr. Thune has 25 years of wealth management experience and has navigated clients through four bear markets and some of the most challenging economic environments in history. As a writer, Kent's articles have been seen on multiple investing and finance websites, including Seeking Alpha, Kiplinger, MarketWatch, The Motley Fool, Yahoo Finance, and The Balance. Mr. Thune's registered investment advisory firm is headquartered in Hilton Head Island, SC where he serves clients all around the United States. When not writing or advising clients, Kent spends time with his wife and two sons, plays guitar, or works on his philosophy book that he plans to publish in 2024.
Analyst's Disclosure: I/we have no stock, option or similar derivative position in any of the companies mentioned, and no plans to initiate any such positions within the next 72 hours. I wrote this article myself, and it expresses my own opinions. I am not receiving compensation for it. I have no business relationship with any company whose stock is mentioned in this article.
Seeking Alpha's Disclosure: Past performance is no guarantee of future results. No recommendation or advice is being given as to whether any investment is suitable for a particular investor. Any views or opinions expressed above may not reflect those of Seeking Alpha as a whole. Seeking Alpha is not a licensed securities dealer, broker or US investment adviser or investment bank. Our analysts are third party authors that include both professional investors and individual investors who may not be licensed or certified by any institute or regulatory body.