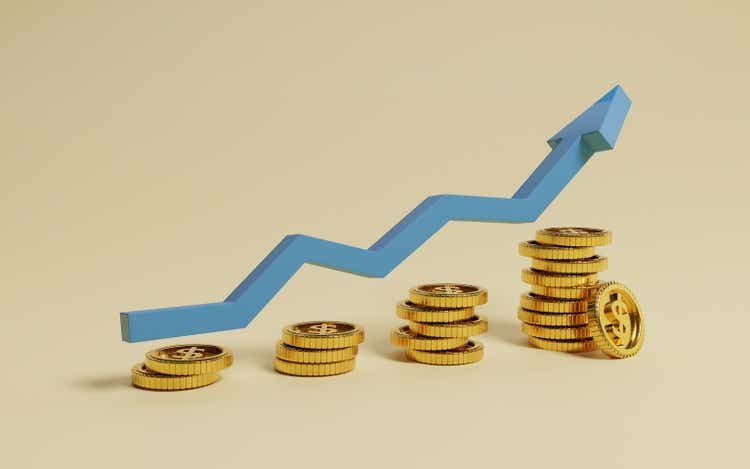 Certificate of Deposit Definition
A certificate of deposit (CD) is a savings account that holds a fixed amount of money for a fixed period of time, such as six months, one year, or five years. In exchange, the issuing bank pays interest. When someone redeems a CD, they receive the money they originally invested plus interest.
CDs vs. Savings Accounts
Certificates of deposit, or CDs, are a type of savings account that offers a fixed interest rate for a specific time period. Savings accounts, on the other hand, are more liquid than CDs. This means that the investor can access their funds at any time, although they may incur a penalty for doing so. Savings accounts also typically offer lower interest than CDs.
How CDs Work
CDs are insured by the Federal Deposit Insurance Corporation (FDIC) up to $250,000 per depositor, per account type, at each bank or credit union. This means that the money in a CD is backed by the full faith and credit of the United States government.
When someone opens a CD account, they agree to keep their money on deposit for a set period of time. The longer the term, the higher the interest rate will be. But if an investor withdraws their money before the end of the term, they'll often pay a penalty. Let's take a look at a few more attributes that make up a certificate of deposit:
Fixed Interest Rate: Many CDs offer a fixed interest rate for the entire term.
Length of Term: Terms on a CD are typically offered in three-month increments (3 months, 6 months, etc..) up to 1 year and then are offered in 2-year, 3-year, or 5-year terms.
Withdrawal Penalties: The federal government sets a minimum withdrawal penalty on CDs but not a maximum so the penalty will vary by financial institution offering the CD. The withdrawal penalty is currently 3 months of simple interest, whereas there is no mandatory minimum withdrawal penalty for a savings account.
Auto Reinvestment: Many CDs will auto reinvest to a CD of the same term at maturity unless they stipulate otherwise. Once it is reinvested investors can't withdraw without paying the penalty.
CD Rates
Certificates of deposit offer a fixed yield for a specific time period. During that time period, the money will earn interest expressed in an annual percentage yield (APY). The rates you will typically see can be between 0.80% to 3%. Currently, you can find rates between 1%-1.20% for a 1-year CD, which is higher than the typical 0.60%-0.80% from a high-yield savings account.
When it comes to CD rates, there are a few things to keep in mind.
The longer the term of the CD, the higher the interest rate will be. This is because an investor is agreeing to leave their money in the account for a longer period of time and needs to be rewarded to do that.
CD rates are affected by market conditions and the level of interest rates.
It's important to compare CD rates from different banks before choosing one. Each bank offers different rates, so it's important to shop around to find the best deal.
CD Taxes
The money earned from a CD is considered taxable investment income. In addition, if you withdraw money from a CD before it reaches maturity, you'll likely have to pay a penalty.
Important: Be sure to discuss any tax implications with your financial advisor before investing in a CD.
Types of CDs
There are several different types of CDs to choose from, each with its own set of benefits and drawbacks.
Traditional CDs: a fixed-term account that offers a higher interest rate than a savings account. The money deposited into a traditional CD is locked in for the duration of the term, so it's important to choose a term that aligns with your financial goals.
No-Penalty CDs: similar to a traditional CD, but it allows an investor to withdraw their money early without incurring a penalty. This type of account may be a good option if you're not sure how long you'll need to keep your money deposited.
Step-Up CDs: a type of CD that offers increasing interest rates over time. This type of account can be a good option if looking for a higher return on this investment.
Jumbo CDs: a type of CD that requires a minimum deposit of $100,000. They typically offer higher interest rates than traditional CDs.
IRA CDs: a type of retirement account that can be purchased in an IRA account and that offers tax-deferred growth.
Key Takeaway: Choosing the right type of CD is an important part of getting the most out of the investment.
Pros & Cons of a CD
Investing in a certificate of deposit has many benefits but there are also a few drawbacks that should be considered before opening one. Let's take a look at the pros and cons that come with a CD.
Pros
Higher interest rates than a savings account
The interest rate is fixed for the whole term
Deposits are FDIC-insured up to $250,000 per account holder
CDs can be a great way to save for short-term goals
Cons
Investors may be subject to a penalty if the money is withdrawn before the end of the term
The interest rate on a CD may not keep up with inflation
CDs typically have a minimum deposit requirement
Investing in CDs vs. Stocks
When it comes to investing, there are a lot of options available. Two popular choices are CDs and stocks. But what's the difference between these two options?
Stocks are a type of investment that can offer both growth and income. When buying stocks, you're buying a piece of a company that can be worth more or less in the future. Unlike a CD, you can cash out your stocks at any time. Stocks will have a much higher expected rate of return but will incur much more volatility. Investing in individual stocks also can lead to permanent losses.