Meme stocks can take investors on a wild ride, both up and down, and it's important to understand them in order to decide if they're right for you.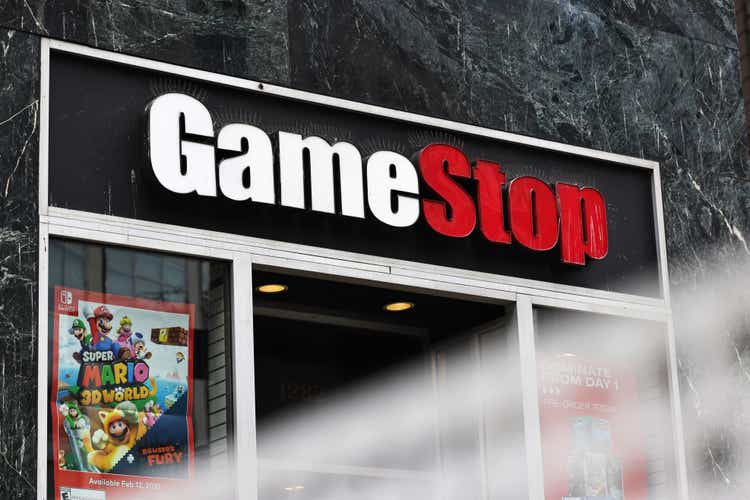 What are Meme Stocks?
According to the Merriam-Webster dictionary, a meme is "an idea, behavior, style, or usage that spreads from person to person within a culture." A meme stock is one that gains popularity among retail investors through internet memes shared among traders on social media platforms such as Reddit and Twitter. Especially popular is Reddit's subreddit WallStreetBets (r/wallstreetbets).
Meme stocks often trade at premium valuations and exhibit extreme volatility. The recent rise in meme stocks can be attributed to a variety of factors including an increased number of retail investors interested in speculative opportunities and the greater accessibility to trade stocks for cheap via apps like Robinhood.
How Meme Stocks Work
To understand meme stocks, let's go back in time to January 2021 at the height of the COVID-19 pandemic when a high number of people were stuck at home. Let's also discuss short selling.
Short Selling
When a company's stock trades for a premium valuation, their shares become the target of short sellers. Short sellers are often institutional investors or hedge funds who bet that the price of a stock price will go down. To short sell, investors:
Borrow & sell shares from a brokerage with the contractual commitment they must return those shares at a later date.
Buy back the same number of shares but at (hopefully) a lesser price in the future.
Return the borrowed shares plus interest to the brokerage, hopefully earning a profit.
The period between the time that the borrowed shares are sold and when they are repurchased and returned to the broker is an especially vulnerable time. If the share price were to rise rather than fall, the short seller would be forced to repurchase the shares at a higher price than they sold them for and they would lose money.
In short selling, risk is a big factor. When an investor takes a long position by buying shares of a stock, their loss is limited to the total cost of the shares. By contrast, when an investor takes a short position, there is no inherent limit as to how high that stock's price can rise, making the investor's potential loss theoretically unlimited.
Short Squeeze
When investors start buying the stock of a company that has been shorted, thus pushing up its price, it creates what's known as a short squeeze, where short sellers are forced to buy shares in order to have something to return to their broker, thus driving up the share price even further. This process is known as covering a position.
It's also important to understand the impact that short sellers have on companies. When there is high short interest on a stock, executives may have a more difficult time making business decisions as they have to deal with increased pressure from investors. In addition, the company's ability to raise new capital for investment may become more limited.
Phases of a Meme Stock
Early Adopter: a small number of investors who begin to buy shares causing the share price to rise, these investors may discuss their purchases on social media.
Middle: market watchers notice the increase in volume and share price and they start buying, further increasing the share price.
FOMO: investors who have a "fear of missing out" pile into the stock, raising the price still further.
Profit-Taking: investors who bought during the Early Adopter phase begin selling which causes other investors who fear losing money to also begin selling and the share price drops.
Next Cycle: after dropping, the stock's price may remain the same for a period of time until something triggers buyers' interest once again.
With meme stocks, it is the early adopters who usually make money, and those entering the market at the FOMO phase are usually too late to make a profit.
History of Stock Market Memes
Normally, these clashes are between behemoths such as hedge funds but, in January 2021, something unusual happened. Users on WallStreetBets began criticizing large financial institutions and hedge funds for shorting struggling stocks such as the video gaming and consumer electronics retailer GameStop (GME) and the movie theater chain AMC Entertainment (AMC).
Retail investors responded to calls to action on social media by buying large numbers of shares in those companies which caused a short squeeze on those shorting the stocks. By beating hedge funds at their own game, retail investors were possibly expressing their anger for the part hedge funds played in the 2008 recession, and they were celebrating the democratization of the stock market.
Meme Stock Examples
GameStop (GME)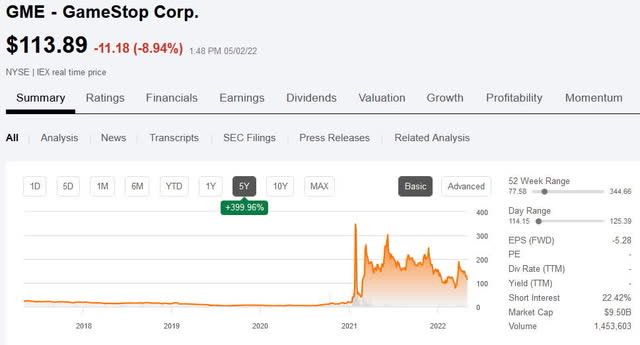 By January 2021, GameStop had been struggling due to competition from digital distribution services and the fact that people didn't frequent their stores due to the COVID-19 pandemic. As its price declined, GameStop attracted the attention of short sellers. As we can see from GameStop's price chart, for all of 2020, GameStop's stock was priced around $17.25, reaching a low of $2.57 in April 2020. Then due to online hype, on January 26, 2021, GME's price jumped to $147.98. That same day, the CEO of Tesla Elon Musk, tweeted a link to the WallStreetBets subreddit that included the caption, "Gamestonk!!" GameStop's price rose to $347.51 on January 27, 2021, and it reached a high of $483 on January 28, 2021, before dropping back down to close at $193.60. According to The Financial Times, on January 27th, trading volumes exceeded their peak which was set in October 2008 during the financial crisis.
As the retail investor buying frenzy reached its peak on January 28, 2021, Robinhood halted sales of GameStop, citing their inability to post sufficient collateral at clearing houses in order to execute their clients' orders. There were howls from investors, politicians, and business people who accused Robinhood of manipulating the market. To date, dozens of class-action lawsuits have been filed against Robinhood, and the U.S. House Committee on Financial Services and the Justice Department have both taken a close look at Robinhood's behavior.
Following January 2021, the price of GameStop has continued to whipsaw, and as of May 3, 2022, it is trading at $118.23. Analysis of social media posts by cyber security companies suggested that automated bots may have contributed to the hype of GameStop's stock and that of other stocks as well as the cryptocurrency Dogecoin. Following its meme stock status, GameStop created a secondary offering of 8.5 million new shares at an average price of over $200 per share, raising almost $1.7 billion while some of the hedge funds that were victims of the short squeeze had such heavy losses that they were forced to close.
AMC Entertainment (AMC)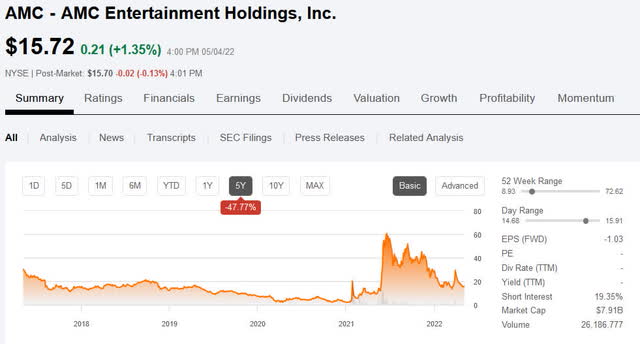 Until January 2021, AMC was trading at around $4 per share, thus putting it in penny stock territory. Due to AMC's high level of short interest, retail investors drove up its price to $63.97 by May 2021. AMC took advantage of its meme stock status and created a series of secondary offerings which raised more than $1.5 billion in Q1 of 2021.
BlackBerry Ltd. (BB)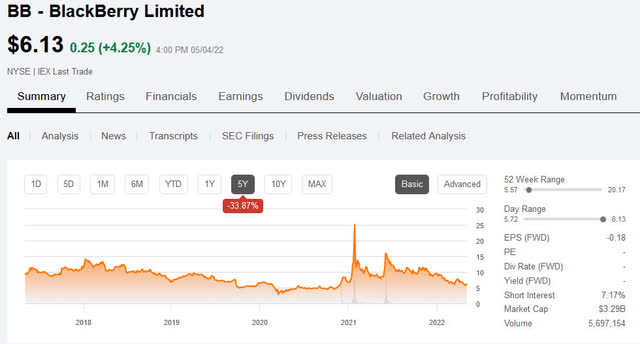 Another heavily shorted company was BlackBerry Ltd., the Canadian maker of the famous BlackBerry phone which, in essence, was killed off by Apple's iPhone. Beginning in January 2021, BlackBerry's price was driven up by retail investors from around $9 to a high of $28.77. Today, Blackberry provides security solutions and Internet of Things software, especially for the auto industry.
Nokia (NOK)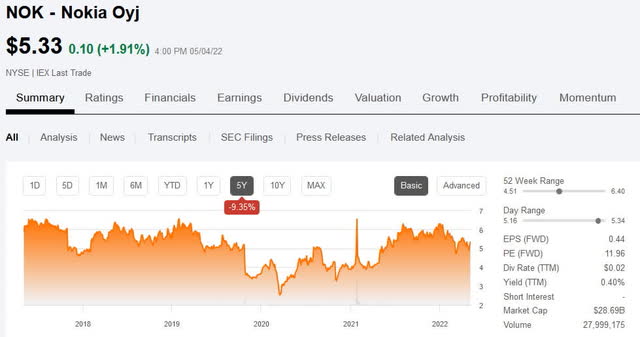 Phone maker Nokia began being discussed on WallStreetBets in January 2021 due to the large number of hedge funds and institutional investors who had shorted its stock. Of all the meme stocks, Nokia had the largest market cap and it operated in more than 130 countries worldwide.
When retail investors drove up Nokia's price causing its share price to rise by 106% in a single day, it created a short squeeze. Nokia's price then fell back down in the following days. Today, Nokia provides telecom infrastructure equipment.
Bed Bath & Beyond (BBBY)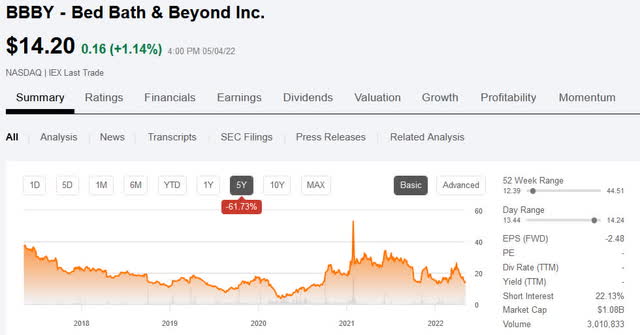 In 2020, partially due to the COVID-19 pandemic, home furnishings retailer Bed Bath & Beyond was forced to close over 20% of its stores across the U.S. This attracted short interest, but once retail investors jumped in during January 2021, its stock rose by around 60% by June 2021. Today, Bed Bath & Beyond is growing its business in brick-and-mortar stores and on the internet.
Popular Investment Meme Terms
In meme stock online communities a particular slang has developed:
Apes: members of meme stock communities
BTFD: acronym for "buy the f***ing dip" (an iteration of "buy the dip") which means buying a stock after its price has declined
Diamond hands: those who hold onto a stock despite dips in its price
FOMO: "fear of missing out" which means jumping onto the meme stock bandwagon
Hold the line: don't sell despite price volatility
Paper hands: those who sell when a stock's price dips
Tendies: profits that are defined as how many chicken tenders can be bought with them
To the moon: the notion that a stock's price could rise to extraordinary heights
YOLO: "you only live once," meaning take a risk.
Meme Stonks
"Stonk" is a deliberate misspelling of the word "stock" that first appeared in 2017 and is often used to imply that someone has only a vague understanding of financial transactions or makes poor financial decisions. Prior to January 2021, the term "stonk" had mostly appeared on Twitter, Reddit, and other social media platforms but the GameStop short squeeze brought it into wider usage, and it started appearing in the financial press.
The face of "stonks" is "Meme Man", a metallic-looking 3D humanoid character who is a common image that is posted as a reaction to posts on Reddit and Twitter. Meme Man is often displayed standing in front of a stock price chart that has an upwardly trending line. Besides having tweeted the word "Gamestonk!!", in June 2020 when Tesla Inc. shares were soaring in price, CEO Elon Must tweeted the word "stonks" alongside an image of Meme Man.
Investing in Meme Stocks
By their very nature, meme stocks have extreme price volatility, and in the aftermath of the January 2021 meme stock frenzy, retail traders have become much more aware of risk tolerance and to factor it into their trades. Meme stocks have also caused traders to be more aware of what sources they use for investment research.
There is no doubt that it can be exciting to be a part of an online investing community and to make money quickly, however, experts recommend that retail investors create a diversified portfolio of which meme stocks are only a part.
Bottom Line
Meme stocks have brought many more retail investors into the market, democratizing it, however, people can write pretty much whatever they want on Reddit or Twitter, with certain exceptions, so what is written there may not always be reliable. Investors must be able to differentiate between what is deserved and what is undeserved hype.
This article was written by
Marcia is a former high school math teacher, technical writer, author, and programmer. She stays on top of worldwide news about science, government policies, finance, infrastructure, and medical issues. She is always "sniffing the wind" for the latest trends and directions, and keeping her readers abreast of these developments.
Analyst's Disclosure: I/we have no stock, option or similar derivative position in any of the companies mentioned, and no plans to initiate any such positions within the next 72 hours. I wrote this article myself, and it expresses my own opinions. I am not receiving compensation for it. I have no business relationship with any company whose stock is mentioned in this article.
Seeking Alpha's Disclosure: Past performance is no guarantee of future results. No recommendation or advice is being given as to whether any investment is suitable for a particular investor. Any views or opinions expressed above may not reflect those of Seeking Alpha as a whole. Seeking Alpha is not a licensed securities dealer, broker or US investment adviser or investment bank. Our analysts are third party authors that include both professional investors and individual investors who may not be licensed or certified by any institute or regulatory body.