Call me crazy, but when I analyze investments I'm usually looking for things like earnings cash flows and book value. Nowadays, most investors are simply looking for the hottest new product or concept when investing in stocks and valuation is simply an afterthought.
When looking at Intuitive Surgical (NASDAQ:ISRG) we can see that the stock is richly valued at 43X earnings, but the company has such a strong history of meeting or exceeding analyst earnings estimates that paying such a high multiple is okay given ISRG's fairly reliable 25% or so earnings growth rate. While I look for stocks trading at a PE ratio that is lower than the company's growth rate, I admit that for a quality stock like ISRG paying 1.5X the growth rate is acceptable under certain circumstances. While ISRG is a high beta momentum stock, the momentum behind the company's business fundamentals justifies the high price of the rallying stock. At 31X forward earnings and at a 25% growth rate, some growth investors would consider ISRG undervalued. Personally, I think ISRG is an okay speculative play provided investors use stop loss orders or buy put option protection to insure their portfolios against capital loss. In any event, we think investors can own ISRG provided they have an exit strategy and don't hold the bag during market corrections like we saw last summer.
Mako Surgical (NASDAQ:MAKO) on the other hand, looks to be overvalued and over-hyped. The metrics of valuation simply do not make any sense to us and we question why investors are willing to pay 17X book value, 21X sales, or 20X EV/EBITDA for a company with no earnings. The market looks more irrational to me than it has at any point since 2008, so this valuation bubble is likely nothing new -- many stock traders are so used to the bubbles that they buy overvalued stocks and simply set stop orders in case the bubble pops. They sit on high beta stocks with large profits in their accounts because it earns them money like clockwork. Yes, ultimately many of these momentum names blow apart completely but with a hard stop loss in place investors don't have to be left holding the momentum bag.
In other words, if you want to own MAKO and ISRG you should consider setting stop loss orders before you trade these names long or short. That said, I think ISRG is a much more compelling investment idea given current valuation ratios. That said, MAKO could be bought out by a larger company like ISRG so investors who want to short MAKO should consider selling bear call spreads or buying calls to hedge their short position. Anyone caught short in Successfactors (NYSE:SFSF) before the buyout learned that just because a stock is expensive does not mean that another company won't buy it out at a ridiculous multiple.
(Click to enlarge)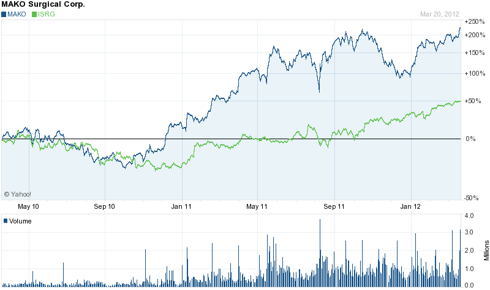 Disclosure: I have no positions in any stocks mentioned, and no plans to initiate any positions within the next 72 hours.