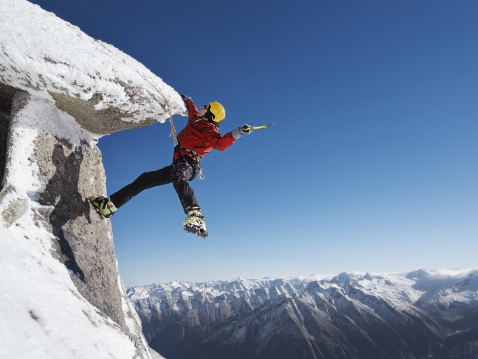 This is my second look at Horizon Therapeutics (NASDAQ:HZNP), an interesting midcap biotech that has been struggling of late. In this article I evaluate its investment merits following its Q1, 2022 earnings release and earnings conference call (the "Call").
Horizon's Inflammation Portfolio Is Crashing
Horizon reports its revenues in two segments, inflammation and orphan. Its inflammation segment consists of the following FDA approved therapies:
Each of these four medicines is struggling. PENNSAID, the revenue leader of the four, generated revenues of $35.4 million during Q1, 2022 compared to $45.8 million for Q1, 2021, down ~25% Q/Q due to a combination of lower net pricing and lower sales volume.
The other three played follow the leader. Each fell by varying percentages for segment-wide Q/Q net sales decline of 40% from a total of ~$84.9 million for Q1, 2021 to $50.9 million for Q1, 2022. VIMOVO, the revenue laggard of the four, was down to $0.9 million for a Q/Q loss of ~80% from $4.3 million.
This was Horizon's second year of dropping Q/Q sales in its inflammation section. Inflammation net sales shaved 18% Q/Q from $110.5 million in Q1, 2020 to Q1, 2021's $84.9 million.
Horizon acquired US rights to PENNSAID 2%, a second generation product to PENNSAID 1.5%, from Nuvo Research in 10/2014 for $45 million cash. It initially generated large returns by increasing its price.
PENNSAID was cited in 2018 Blue Cross article as among the top ten therapies contributing to unsustainable price increases along with its Horizon inflammation stablemate VIMOVO. Judging by Horizon's decelerating revenues for its inflammation segment and its 10-Q (p. 11) discussion of possibly taking future impairment charges on its inflammation reporting unit's goodwill, inflammation's days of wine and roses are coming to an end as competitive pressures ramp up.
Horizon's Orphan Segment Is All About Growth And Potential
While Horizon's inflammation business is likely to diminish further as time goes by, its far larger and more significant orphan segment looks set to stoke significant growth. Q/Q net sales growth for its sundry orphan therapeutics are shown below: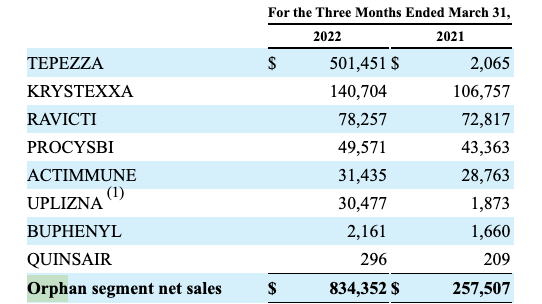 With the exception of BUPHENYL (sodium phenylbutyrate) and QUINSAIR (levofloxacin), each of these eight orphan molecules has grown its quarterly net sales to significant dimensions. TEPEZZA (teprotumumab-trbw), which the FDA approved for thyroid eye disease [TED] in 01/2020, has grown into a real horse of a therapy.
Horizon has boundless ambitions for this therapy as illustrated by the slide below:
Its path towards this goal was dealt severe blows by the pandemic. First came the nationwide closure of many ophthalmologist offices. Next came its 12/2020 TEPEZZA supply disruption by reason of Defense Production Act orders.
Despite these setbacks, Horizon persevered as shown by its chart above and has grown TEPEZZA net sales dramatically with far more projected to come. TEPEZZA is not Horizon's only molecule that it has pegged for blockbuster peak sales.
It has blockbuster ambitions for its KRYSTEXXA in treatment of chronic gout in adult patients refractory to conventional therapy as described below:
Horizon is looking for an expanded label for KRYSTEXXA in accordance with its sBLA for its administration in combination with methotrexate to produce improved treatment response rates. The FDA established a PDUFA action date of 07/07/2022 for this application.
Horizon's third therapy which it anticipates to have blockbuster potential is its UPLIZNA which it acquired in its 02/2021 Viela Bio deal. Horizon described its UPLIZNA blockbuster ambitions below:
During the call, CEO Walbert offered significant color on Horizon's UPLIZNA relaunch. He noted that Horizon was finding some patients who were treatment naive but the majority were switching from rituximab.
As shown by its pipeline slide below, Horizon has a nice bench of new therapies and expanded indications which should expand its revenues over time:
Horizon's Shares Have Ramped In Recent Years But Are Experiencing A Pullback
As shown by the price chart below, Horizon's shares have bounced between excessive exuberance and excessive pessimism. Exuberance drove it to a peak PE of 26 in late 2021, dropping to <15 in early 2022. It recovered partially and briefly in early 2022 only to drop back to its current (05/08/2022) PE of 14.59.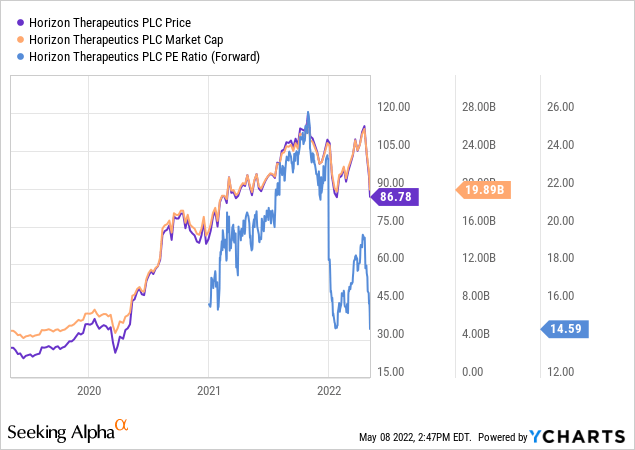 Does that make Horizon a bargain? I suspect that it is, but I am hesitant given the current environment for biotechs. Of the ~19 biotech-themed ETFs the only two that have had positive YTD returns are both oriented to the short side. The run of long-focused biotech ETFs are down for the year ~35% YTD.
Horizon's 03/01/2022 Q4, 2021 earnings release dated 03/01/2022, reported beats on the top and bottom line with growth oriented guidance. It edged the market up to a partial recovery from its earlier fall-off that had no apparent triggering news. Similarly, Horizon's 05/04/2022 Q1, 2022 earnings beat saw momentary perturbations of a rally but left the stock fundamentally unchanged.
Absent today's, 05/08/2022, unforgiving biotech market environment, Horizon would definitely be a buy. Its financial performance and its key execution on its priorities are all strongly positive as reflected by its company highlights slide below:
Conclusion
In a more supportive market environment, Horizon would be a buy for investors after its recent pullback. Its cash situation is solid; its therapies in its orphan division have shown strong growth with potential for more.
Horizon presents a nice setup for investors who are willing to buck the tide of pessimism that is swamping biotechs in this market.