Registered Investment Advisors (RIAs)
A registered investment adviser, or RIA, is a financial firm that provides investment advice to clients. RIAs and their advisor representatives are fiduciaries who are legally bound to act in the best interests of clients. Find out what RIAs do, how they get paid, and how they may benefit clients.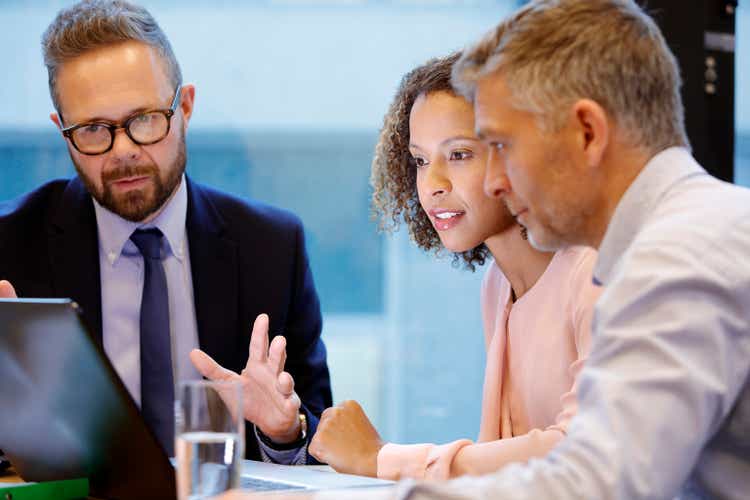 What Is an RIA in Finance?
An RIA, or registered investment adviser, is a firm that provides investment advice, financial planning, or wealth management services for clients in a fiduciary capacity. RIAs are registered with the SEC or they may register with a state governing body. The SEC and state regulatory bodies ensure that RIAs serve clients as fiduciaries.
RIA governance under the SEC comes from the Investment Company Act of 1940, which was designed to minimize conflicts of interest that may arise between advisors and their clients. Therefore, the Act established that RIAs serve as fiduciaries, requiring RIAs and their representatives to act in the best interests of clients and follow an established set of rules.
1. Must Be Registered With SEC
RIAs with over a certain level of assets under management are required to register with the SEC. Depending on the state they are located in or the number of clients in a specific state, RIAs may be required to register with a state governing body. Advisors working for an RIA are called invest advisor representatives, or IARs, and
2. Must Uphold Fiduciary Duty
As a firm under the Investment Company Act of 1940, an RIA must be a fiduciary, which requires the firm and the advisor representatives to act in the best interests of clients and they must avoid conflicts of interest concerning products and services offered to clients. Some RIAs are dually registered as both RIAs and broker dealers. In this capacity, the RIA is only required to serve as a fiduciary for clients under the RIA model.
3. Must Meet FINRA Compliance
RIAs are required to meet certain compliance requirements with the Financial Industry Regulatory Authority, or FINRA. FINRA administers online applications and filing system for registering RIAs and their representatives, as well as the administration of Form ADV, which is an annual required filing.
Individual IAR vs. RIA Company
A Registered Investment Adviser, or RIA, is a firm. An Individual Advisor Representative, or IAR, is an individual who works for an RIA. Thus, an individual cannot be an RIA.
Note: One way to remember the IAR vs. RIA difference is that an advisor is an individual (the title ends in 'or') and an adviser is a company (the title ends in 'er'). However, both spellings (advisor and adviser) are generally used and accepted interchangeably.
What Does an RIA Do?
RIAs provide a range of advisory services, including financial planning, investment advice, and wealth management. Thus, RIAs may generally advise on a number of financial areas other than investment advice, including:
Investment management
Retirement planning
Budgeting
Debt repayment
Estate planning
Insurance analysis
What Do RIAs Charge?
RIAs generally charge fees based upon a percentage of assets under management, or AUM. The average RIA fee is 1.17% per year, according to a recent RIA industry study. Fees are generally tiered, meaning that fees typically decrease as AUM levels rise. RIAs may also charge fixed rates or hourly rates.
For example, a client with $200,000 in assets might have an annual charge of 1.50%, paying $3,000 per year in fees, while a client with $1,000,000 would be charged a lower percentage rate, such as 1.00%, paying $10,000 per year in fees.
A fixed rate charge, or a flat dollar amount for a financial plan for example, may range between $1,000 to $3,000, while an hourly rate may be $150 to $300 per hour.
State vs. SEC Registration
All RIAs are governed by the SEC but registration with the SEC is generally required only for firms with assets under management between $30 million and $110 million. RIAs with assets below $25 million are prohibited from registering with the SEC and must register with their state of principal business.
Difference Between RIA and Broker-Dealer
An RIA is a registered investment advisory firm that provides financial advisory services in a fiduciary capacity whereas a broker-dealer is an individual or organization that executes investment trades on behalf of clients or another organization. Other distinctions between brokers and RIAs are the suitability vs. fiduciary standards and the method they charge for their services.
For example, an RIA is required to act as a fiduciary, which means that they are required to act in the best interests of clients and have not conflicts of interest. A broker or broker-dealer generally must adhere to a suitability standard, which means that recommendations must be suitable for a clients goals and risk tolerance.
Also, RIAs can only receive compensation from clients and not a competing interest, whereas broker-dealers not acting as fiduciaries may get paid by commission.
Who Benefits From Working With an RIA?
Individuals benefitting from working with an RIA are those that prefer to work with a fiduciary, who is required to always act in the best interests of clients. As a fiduciary, the RIA cannot have any competing interests, which means that they tend to be more client-centered than advisors or brokers that are incentivized to sell products that pay commissions.
FAQ
RIAs make $60,000 to $150,000 in salary for management, sales, and marketing roles, while total compensation may range from $64,000 to $205,000 total cash compensation, according to a recent RIA compensation study by Schwab.

 

The difference between a financial advisor and an IRA is primarily in the types of services they offer. An RIA is a registered investment advisor, which is a firm that may provide financial advisory, investment, or wealth management services in a fiduciary capacity. A financial advisor may or may not be a fiduciary and generally provides broad financial planning services, such as retirement planning and insurance.
This article was written by
Kent Thune, CFP®, is a fiduciary investment advisor specializing in tactical asset allocation and portfolio management with a focus on ETFs and sector investing. Mr. Thune has 25 years of wealth management experience and has navigated clients through four bear markets and some of the most challenging economic environments in history. As a writer, Kent's articles have been seen on multiple investing and finance websites, including Seeking Alpha, Kiplinger, MarketWatch, The Motley Fool, Yahoo Finance, and The Balance. Mr. Thune's registered investment advisory firm is headquartered in Hilton Head Island, SC where he serves clients all around the United States. When not writing or advising clients, Kent spends time with his wife and two sons, plays guitar, or works on his philosophy book that he plans to publish in 2024.
Analyst's Disclosure: I/we have no stock, option or similar derivative position in any of the companies mentioned, and no plans to initiate any such positions within the next 72 hours. I wrote this article myself, and it expresses my own opinions. I am not receiving compensation for it. I have no business relationship with any company whose stock is mentioned in this article.
Seeking Alpha's Disclosure: Past performance is no guarantee of future results. No recommendation or advice is being given as to whether any investment is suitable for a particular investor. Any views or opinions expressed above may not reflect those of Seeking Alpha as a whole. Seeking Alpha is not a licensed securities dealer, broker or US investment adviser or investment bank. Our analysts are third party authors that include both professional investors and individual investors who may not be licensed or certified by any institute or regulatory body.